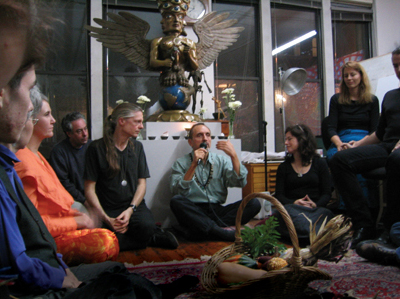 1/24/2013 - This Saturday night is the official anniversary of a ten-year unbroken chain of Full Moon ceremonies at CoSM. Ten years ago, for our 25th wedding anniversary, on December 4th, 2002, we invited fifty friends to a dinner party at Tibet House in New York during Alex's exhibition there. For that event, we presented our guests with the question: "What would it take for us to build a Chapel of Sacred Mirrors and how can we work together to manifest this vision?" Our shaman friend, Alex Stark, was firm about starting Full Moon ceremonies to pray for the Chapel. Two dear friends, Marie-Elizabeth Mundheim and John Lloyd joined that Prayer Committee and the first Full Moon ceremony was held in our Brooklyn loft on Saturday, January 18, 2003.Celebrating the Full Moon, we harness "the high tide of the spirit" toward a goal.The Full Moon is a profound symbol of the soul and a cosmic mirror, "a reflection of a greater light." At that first CoSM Full Moon, Alex Stark created a Peruvian shamanic offering which was prayed over and later despatched to the spirits to request their aid in manifesting this great gift. The gathering was held privately for a few months before we posted the monthly event on the websites, [
cosm.org
and
alexgrey.com
]. Within a year, punctuated by regular Full Moon celebrations, CoSM secured it's first home, open for five years in New York City, moving in 2009 to our current and permanent location in Wappinger, New York.
Full Moons at CoSM are always unique, always the same. The journey begins in the afternoon with a workshop. This Saturday, Jonathan Talat Phillips will offer a three-hour immersion into healing and being healed. Workshop participants dine together at CoSM before returning to the library for an uplifting spiritual variety show of music, wisdom, poetry and "wild cards." Radically welcoming, CoSM has been fortunate to include snake dancing, belly dancing, astrology, kirtan, sound healing, storytelling, performance art ... all of the arts are celebrated as a spiritual path. Come prepared to make art and dance. Stay after the ceremony for the fire circle. Look forward to making new friends and reconnecting with loved ones.  Join us for this special 10th anniversary Full Moon - there's even going to be a wedding!
To the performers, producers, staff, volunteers and guests who created 130 Full Moon ceremonies for the benefit of all and the mission of CoSM, thank you for being builders of an enduring sanctuary of visionary art to inspire and evolve the creative spirit. Full moons have been an anchor in our interaction with the world. Attuning with the rhythms of the moon and declaring our intention openly in that context, a powerful energy field has been generating, propelling us forward.
In honor of CoSM 10th Anniversary, consider a birthday gift donation to help build Entheon, CoSM's Sanctuary of Visionary Art!
For CoSM's Tenth Birthday, Become a member!