Entheurn
is a memorial urn inspired by the recent loss of Allyson's parents, as a special container to honor their ashes on our sacred altar.   Entheurn also serves well as a stash box and altar object of rare beauty.  Ryan Tottle, visionary computer sculptor of Entheon, CoSM's future sanctuary of visionary art, again gifted CoSM with this re-design adding a lid and base to create Entheurn. This extraordinary collectible and functional sculpture is now being created in BRONZE!  The antique gold patina on the surface of Entheurn will make an exquisite and elegant reminder that: "The inevitable consequence of love is the building of temples." (Alex Grey)
Collectors can pre-order Entheurn at the special price of $2500.
Entheurns are expected to arrive within two months, Entheurn can be shipped to you in time for the holidays.
Save $500 if you are among the first ten to order an Entheurn.
When Entheurn's first arrive at CoSM Shop, those still available will be $3000.
To pre-order an Entheurn, contact 
[email protected]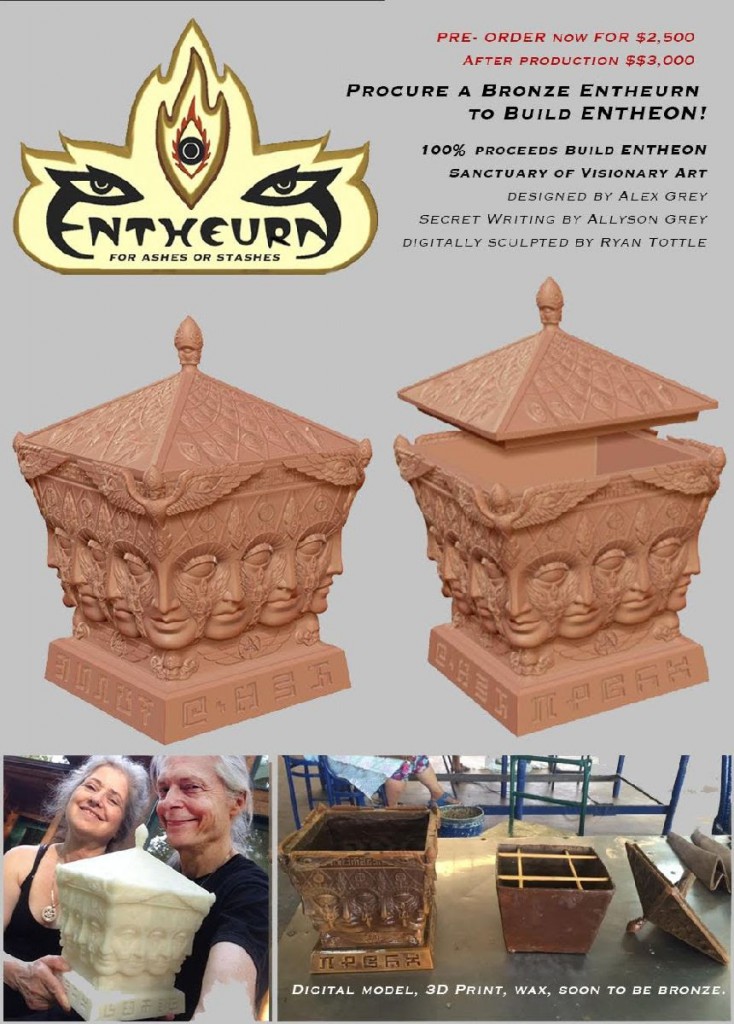 Who Is A Member of CoSM?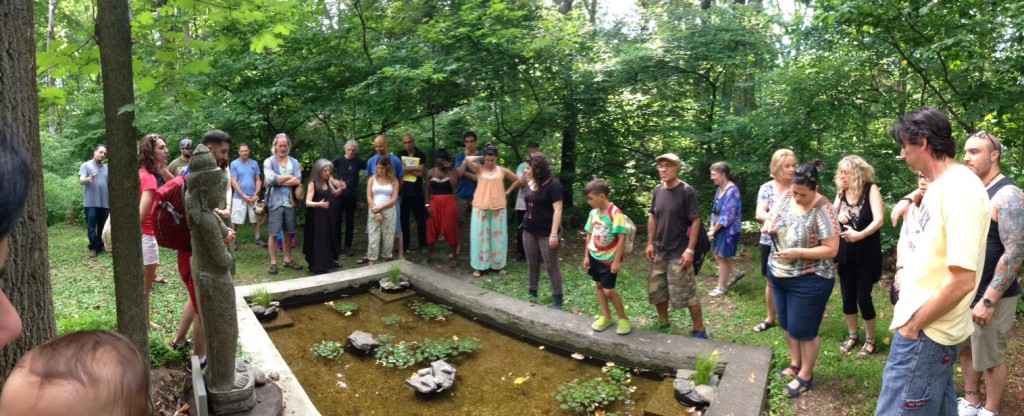 CoSM Members
getting a tour of the grounds with reflecting pond, photo by CoSM Member Dave Digenger
Thanks to the reporting and pictures gathered by CoSM Membership Coordinator, Linda Lu, we are introducing to you a few of CoSM's new members.
Thirty-five members joined or renewed their CoSM memberships last weekend prior to the Annual Membership Tour and Barbecue.
Because CoSM's August calendar includes two Full Moon Ceremonies, a second tour for new and renewing members will be held on Saturday, August 29th with another member's dinner to follow.
Can we beat our previous record of 35 member sign-ups at a Full Moon? If you have been considering becoming a CoSM member, now is the best time. Call Linda or Emily in CoSM Shop -- 845-297-2323 x103 and become a part of CoSM's essential and growing team of key supporters. Be a stand for the future of this spiritual creative organization and get all the benefits of CoSM membership.
Darren Fortunato
renewed his CoSM membership this weekend and wrote about why he is a CoSM member:
"I first learned about Alex Grey & Allyson Grey from watching YouTube videos of Beatles, Grateful Dead, and other psychedelic music. Online lectures of Terence McKenna, Aldous Huxley, Alan Watts, and other visionary and pioneering luminaries led me to recognized the absolute brilliance and importance of their art and thought.  I've felt tremendous gratitude to the Greys for articulating their vision with great intellect and courage as channels of love, wisdom, and truth.
Born and still residing in New York City, the accessibility of CoSM is a blessing that I want to experience fully in this lifetime. On my many visits to CoSM, I have met people from all over the world and been warmly embraced by a community that is very special to me. The staff and volunteers are kindred souls who have become close friends and who create and work in service to all, fully and from the heart. At CoSM, I have learned from many amazing guests and speakers. The land itself has a unique energy and spirit that provides an oasis of higher consciousness.
As a corporate attorney and banker in the city, coming to CoSM has provided a particularly important place that I truly look forward to visiting as often as I can.  We all have some particular talent. We all can contribute in a way that resonates and fulfills us. Helping to manifest the vision of community building a temple at CoSM, as articulated by artists, Alex Grey and Allyson Grey, is paramount to me. By becoming and sustaining my CoSM membership, I join with a loving, self-reflective community in creating a place that will enlighten future generations."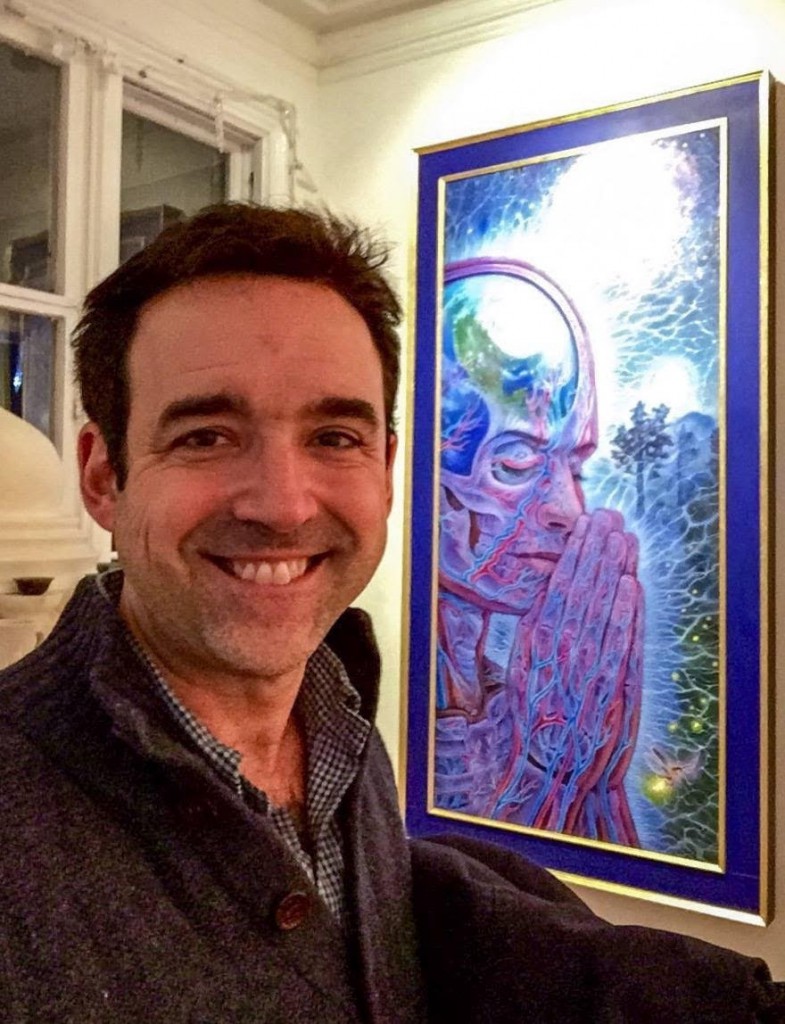 Elisha (pronounced Elija) Bivins & Rose Ruiz
became new members of CoSM last weekend at the Full Moon ceremony. Residents of Connecticut, they returned Sunday afternoon for Art Church.  Rose intends to gather dirt from CoSM's sacred land to store the magic in her handmade glass locket.
Asked for a quote for the Newsletter, Elisha and Rose replied, "Think for yourself and question…"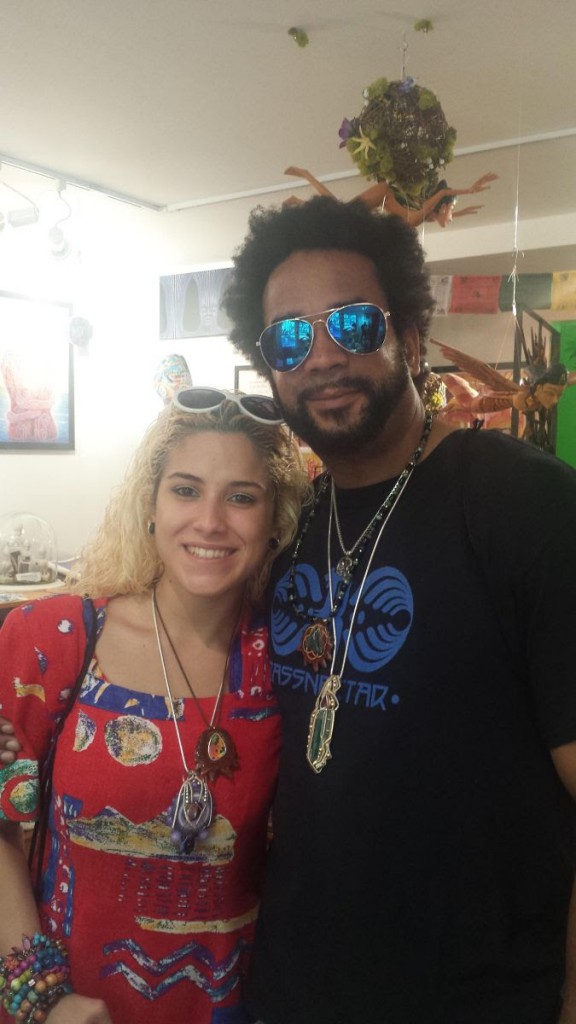 CoSM reporter,
Linda Lu
, asked 
Andrew Kemp
what made him decide to become a member?
Andrew responded, "As a moon child, I found what I was looking for."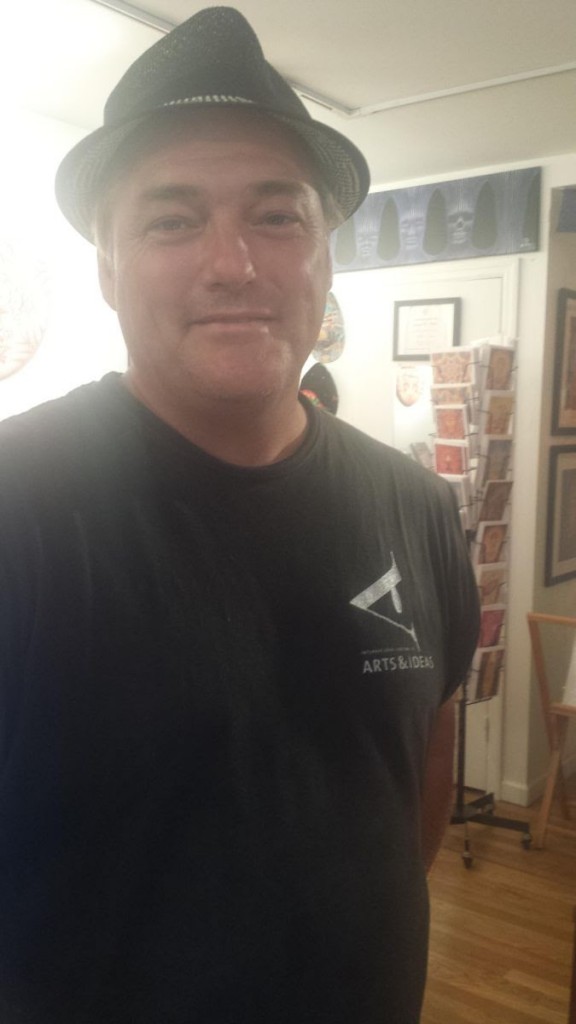 CoSM Membership reporter, Linda Lu asked 
James Reilly
, what he thought of CoSM?
James replied, "This place is amazing!"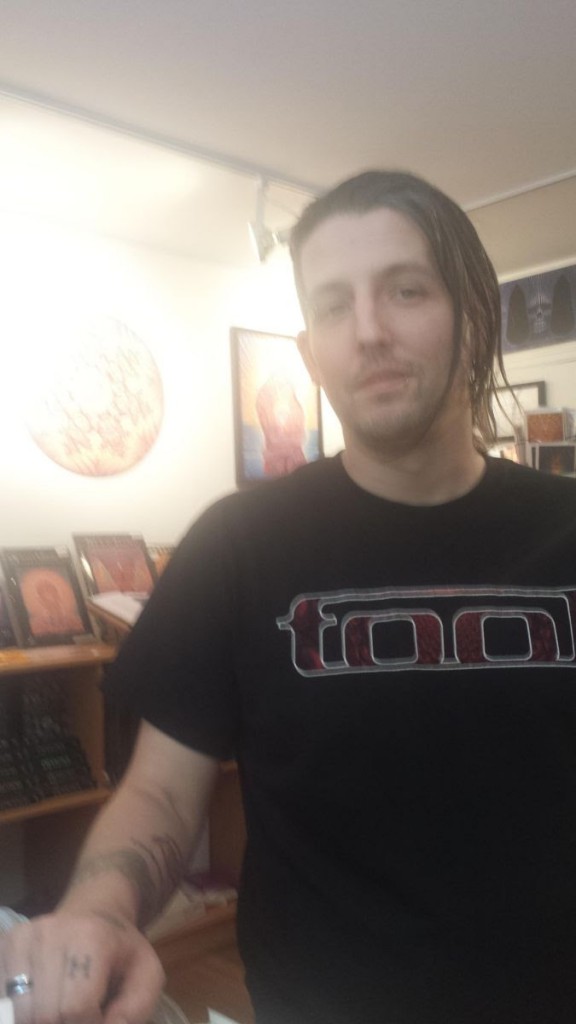 Look forward to speaking at the
Modern Knowledge Tour in Canada
. Check the event scroll for details of our daytime events in Toronto and Montreal, Saturday, August 15th & Sunday, August 16th.

Love,
Alex & Allyson