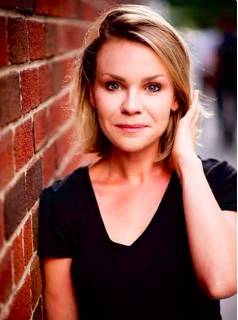 The Many Faces of the Artist
with New York Times Bestselling Author Carolyn Gregoire
followed by Q&A with Alex Grey & Allyson Grey
Friday Night at CoSM, May 27th; 8-11pm
Creativity works in mysterious and often paradoxical ways, and at every level, the creative process and personality are defined by contradictions. In the late '60s, a famous experiment conducted at UC Berkeley found that some of the most eminent creative minds of the time score in the top 10 percent of the general population on tests of mental illness — but they also scored in the top 10 percent on tests of psychological health. How can the creative person be at once crazier and more sane than the average person? This is just one of a series of head-scratching paradoxes that scientists and biographers have found to define the personality of great artists and innovators. As psychologist Mikhaly Csikzentmihaly put it, "They contain contradictory extremes; instead of being an 'individual,' each of them is a 'multitude.'" This discussion will explore the "multitudes" of the creative personality, as illustrated by new findings in psychology and neuroscience as well as in the lives of famous artists, musicians, writers and performers — and will explore how these tensions can give rise to not only the intense inner drive to create but the raw material for great works of art.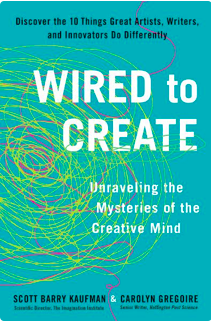 From science journalist Carolyn Gregoire and Penn psychologist Scott Barry Kaufman, Wired to Create offers a glimpse inside the "messy minds" of highly creative people. Revealing the latest findings in neuroscience and psychology, along with engaging examples of artists and innovators throughout history, the book shines a light on the practices and habits of mind that promote creative thinking. Kaufman and Gregoire untangle a series of paradoxes— like mindfulness and daydreaming, seriousness and play, openness and sensitivity, and solitude and collaboration – to show that it is by embracing our own contradictions that we are able to tap into our deepest creativity. With insights from the work and lives of Pablo Picasso, Frida Kahlo, Marcel Proust, David Foster Wallace, Thomas Edison, Josephine Baker, John Lennon, Michael Jackson, musician Thom Yorke, chess champion Josh Waitzkin, video-game designer Shigeru Miyamoto, and many other creative luminaries, Wired to Create helps us better understand creativity – and shows us how to enrich this essential aspect of our lives.
Carolyn Gregoire is a journalist and author living in Brooklyn. She is currently a senior writer at the Huffington Post, where she reports on psychology, neuroscience, human behavior and spirituality, & a contributing writer for Tricycle: The Buddhist Review. She is the co-author, with psychologist Scott Barry Kaufman, of Wired to Create: Unravelling the Mysteries of the Creative Mind. Her writing has also appeared in Scientific American, TIME, Harvard Business Review, The New Republic, Newsweek, Outside Magazine & other publications, and she's discussed her work on national media outlets including the TODAY Show, NPR & MSNBC. She is currently working on her second book.

Carolyn Gregoire is a journalist and author living in Brooklyn. As a senior writer at the Huffington Post, she reports on psychology, neuroscience, human behavior and spirituality. The author is a contributing writer for Tricycle: The Buddhist Review, Scientific American, TIME, Harvard Business Review, The New Republic, and Newsweek, among others. Gregoire discusses her work on national media outlets including The TODAY Show, NPR & MSNBC.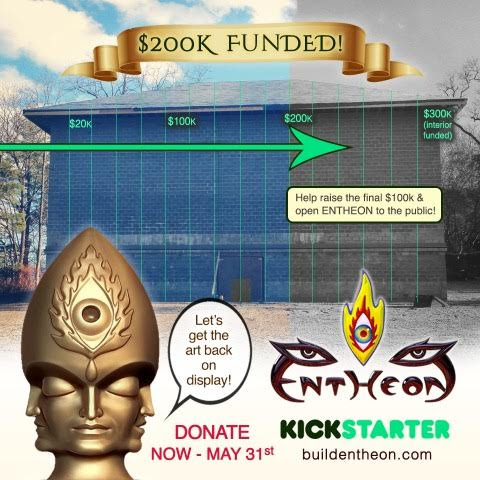 Thank you, CoSM Community!
Thank you, Family of Light, for shining your love and support on CoSM!
By your generosity, two thirds of the 300K needed to finish the interior of the building has been raised.
Fantastic! Incredible!
And there are still four days left in the Kickstarter campaign!
Miracles can happen in a few hours.
Visionary Artists transcribe their own mystical experiences, like snapshots from Heaven. These artworks help people visualize the interconnectedness of body and soul and connect with their own divine imagination.  At CoSM, the finest original Visionary Art will be shared in a temple/museum setting. This 21st century sacred art can play a role in healing and uplifting the human soul. Help launch this Visionary "ship" to inner space.  
Access the Kickstarter page through this easy link -- 
Buildentheon.com 


Distinguished visionary artists have generously donated prints and original art for this campaign. 
We bow in gratitude to all the visionary artists and to Amanda Sage for contributing her beautiful art and for bringing together these artists to support the Entheon campaign.
Andriod Jones, Michael Divine, Autumn Skye, Johnathan Singer, Aloria Weaver, Seth Lebowitz, Banjo, Eric Nez, Bridgid Marlin, Kuba Ambrose, Burgandy Viscosi, Joness Jones, Laurance Caruana, Caren Charles, Dan Schaub, Carey Thompson, Martin Wittfooth, Carrie Ann Baade, Kaliptus, Luke Brown, Ka Amorastreya Chris Dyer, Olga Kilmova David Heskin, Mars-1, Martina Hoffman, Robert Venosa, Maura Holden, Nikki Moon, Randal Roberts, Morgan Mandala, and Mark Henson. 

Be sure to check out and purchase one of these extraordinary offerings before May 31st when the campaign ends.
Stretch Rewards!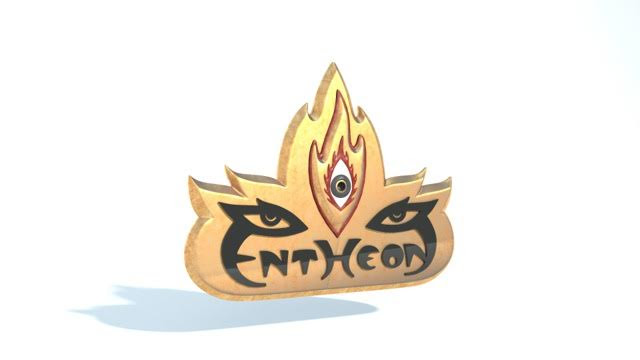 Everyone at $50 and above will receive an Entheon pin! 

If we reach $225K before the end of May 31st (Tuesday)...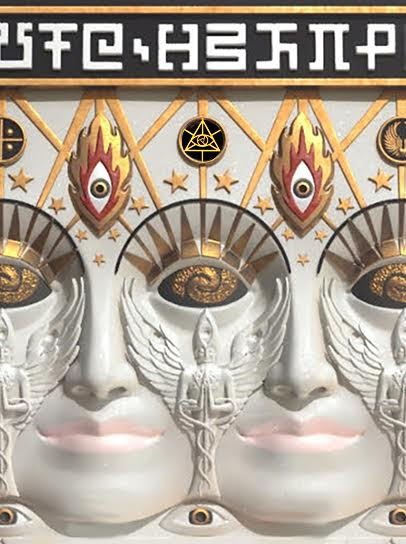 …. all Kickstarter Backers at the $50 level and above will receive this vinyl sticker in addition to their already achieved rewards.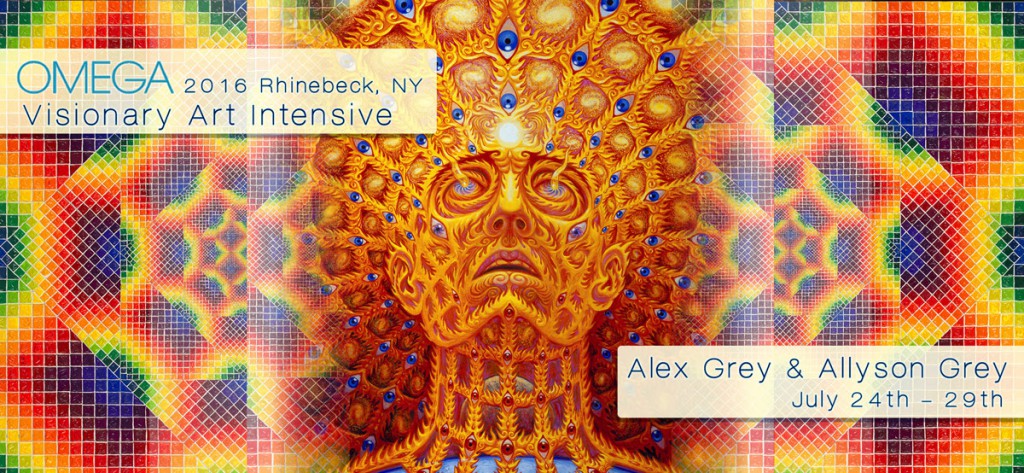 Annual Visionary Art Intensive at Omega Institute
with Alex Grey & Allyson Grey

Sunday

July 24th through Friday, July 29th
followed by a tour & barbecue at CoSM, Friday, July 24th
During the
Annual Visionary Art Intensive at the Omega Institute
, artists from around the globe gather at this holistic retreat center to open the eye of the soul and manifest their highest visions. In an empowering atmosphere, visions come into form, propelling artists to new levels by overcoming creative blocks and catalyzing breakthroughs of originality. Filled with inspiration, we dive into art history. Then, through meditation and shamanic vision practices., we guide our imagination into unexplored territory. With the presence of live models, the Body and Soul Drawing Practice illuminates our experience of energy centers channeled through the human body  The annual  "5 Minutes of Fame," an optional challenge to artists ready to powerfully share the intentions and process in their artwork, offers a valued learning experience for both performers and observers.
Here are some of the amazing artists we have met at our Visionary Art Intensive at Omega Institute, now approaching it's 26th season.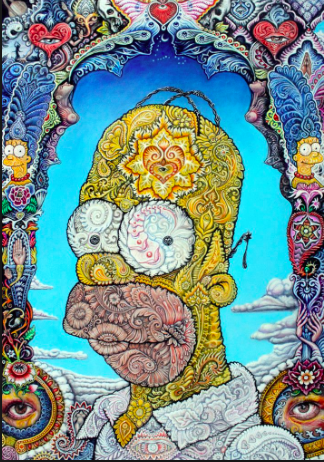 Randall Roberts & his Psychedelic Homer Simpson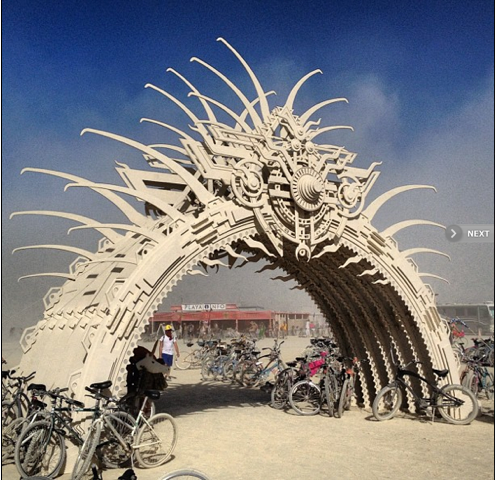 Carey Thompson, painter and sculptor, and a portal at Burning Man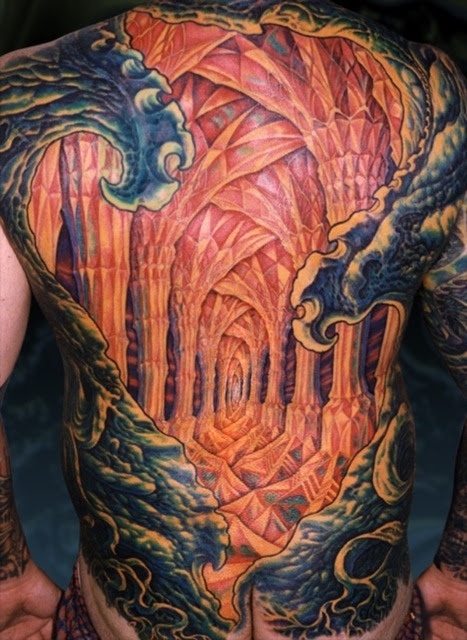 Guy Atchison, Tattoo Master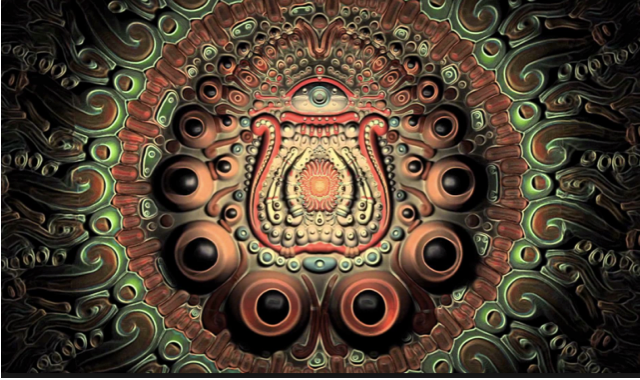 Ben Ridgeway, Visionary Animator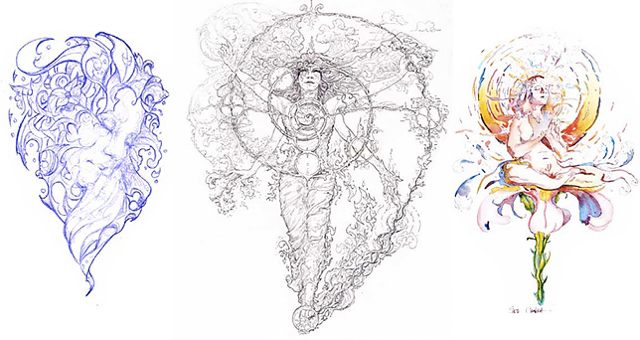 Dave Zabosky, Visionary Artist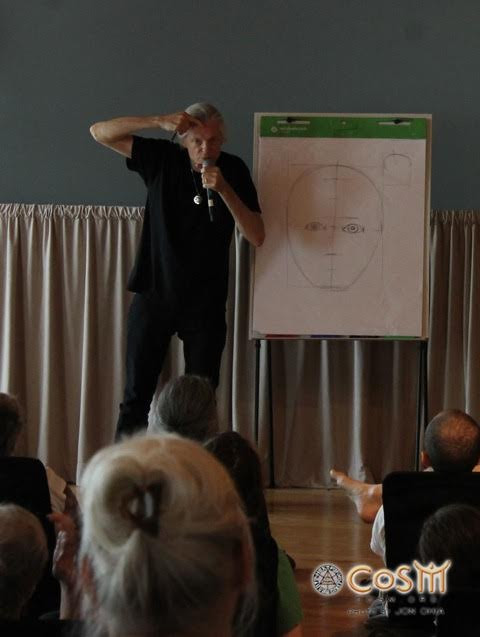 Alex Grey teaching the proportions of the face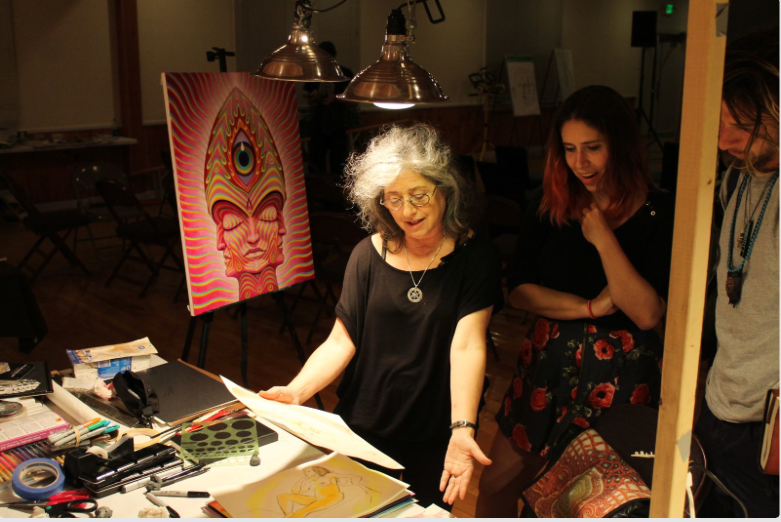 Allyson Grey shares her work with students.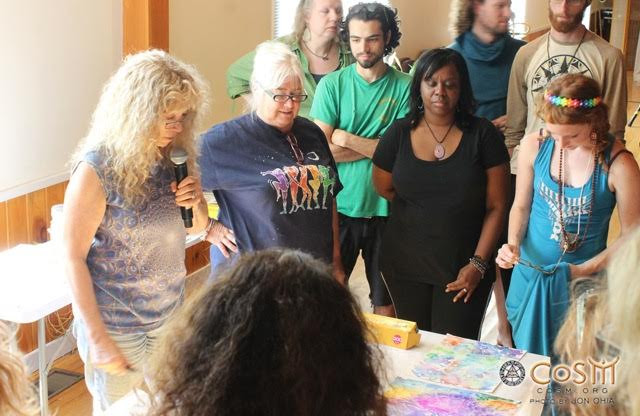 Guest artist, Eileen "Rosie" Rose offers a demonstration of "frottage."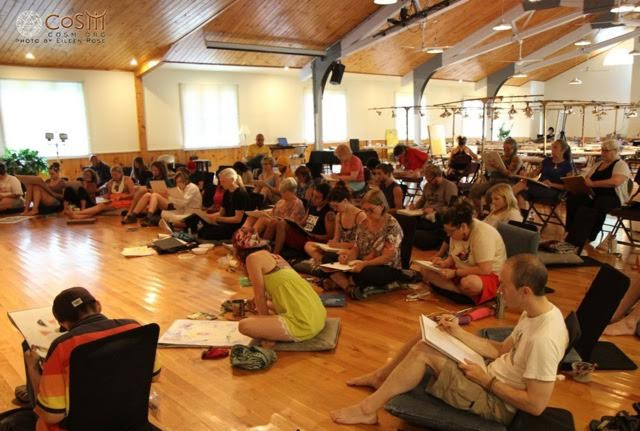 Sketching models during the Body and Soul meditation.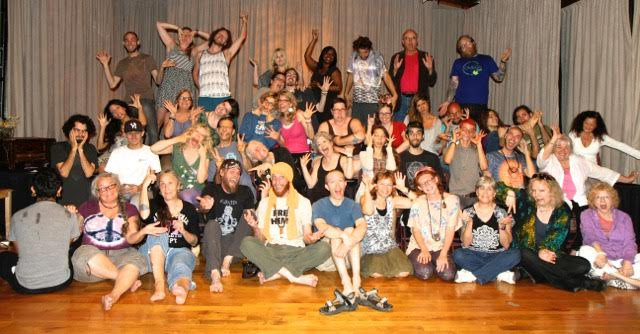 Omega Visionary Art Intensive 2014
Love,
Allyson & Alex