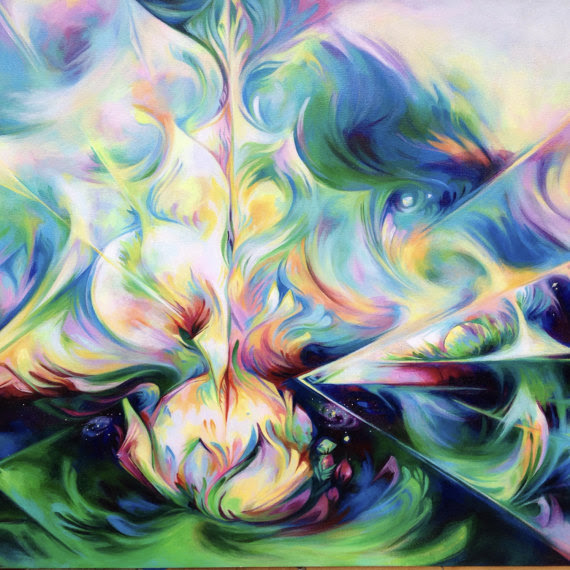 Featured art by: Hilary Astrid

Start a Painting with Allyson,
Hilary Astrid, Alex & Friends
This FRIDAY - January 26th - 28th
Whether this would be your first painting or your hundredth… whether you have been meaning to begin painting and have been procrastinating… or maybe you'd just like to start a new work while taking a rejuvenating weekend at CoSM, start a painting with us.
Turn your inner vision into outer form and develop a personal approach to design, composition, mixing and applying paint. Learn how to evolve and improve your work as you practice the art of teaching yourself. Familiarize yourself with materials and techniques that can access new ways of expressing the "eyes of your soul."
Allyson Grey's painting process
Visionary Painting
Portfolios due March 15th
Join us for the Visionary Painting Intensive at CoSM.
This workshop offers an immersive program to serious painters
at every level of experience.
PORTFOLIO REVIEW
The 2018 7-Day Painting Intensive
with Alex Grey & Allyson Grey at CoSM has two pre-requisites:
— A high level of commitment
— Previous experience as a painter
To apply for one of fifteen spaces in this summer's Intensive, please:
—  fill out the application below, and
— attach no more than 3 images (jpg)
CLICK HERE to Apply for the 2018 Painting Intensive
Full Moon Weekend at CoSM
February 3rd & 4th:
Celebrate the orb of night with visionary family and cosmic friends. Featuring ceremony, music by the extraordinary, saQi, live painting, tarot readings, a sand mandala, & more.
Check out saQi on  Soundcloud.
Come to the Full Moon Workshop when a CoSM favorite, Alan Steinfeld,
will speak of awakening to new realities by channeling a higher Master energy.
Enjoy dinner and the Full Moon Gathering, all for one price.
To honor Valentine's Day, Alex Grey & Allyson Grey will lead Art Church with an illustrated interactive discussion about Sacred Relationships. Join us, February 4th, at CoSM.
SAVE THE DATE!
Visionary Art Intensive @ Omega Institute
For ALL LEVELS of Ability & Experience
Sunday, June 24th - 29th
Visionary artists Alex Grey and Allyson Grey teach painting and drawing from the wellspring of divine imagination. In this workshop, artists at any level of experience create from the sacred ground and the mystic eye.
Through illustrated talks, vision practices, and group interaction, we empower the process of bringing our heart's iconography to outer form and examine the worldwide visionary art movement.
Using guided imagery, meditation, shamanic ascent, and live model chakra drawings of body and soul, we open the doors of the imagination to the theater of revelation. Utilizing basic materials such as graphite, colored pencils, pastels, and watercolors, we commit mental pictures to paper and discuss the aesthetic dimension of our mystical experiences. Explore art as a spiritual path and art as a career, address technical concerns, and define your creative goals.
Love,
Alex & Allyson