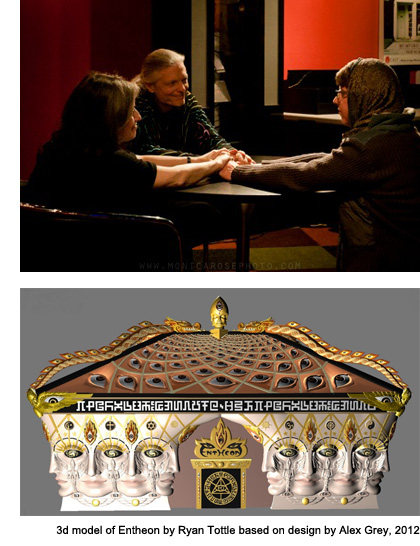 1/3/13 Newsletter:
A recent NYTimes article titled: "Building Congregations Around Art Galleries and Cafes as Spirituality Wanes" tells the story of churches seeking non-traditional alternative environments to serve the spiritual needs of growing communities. For eight years, CoSM has been been promoting the creative arts to link us with higher worlds of inspiration.
People are beginning to realize why visionary art matters: the visionary mystical experience is humanity's most direct contact with transcendental reality and is the source of all sacred art and wisdom traditions. The best currently existing technology for sharing the mystic imaginal realms is a well-crafted artistic rendering by an eye witness. Sharing and safeguarding these precious icons of interconnectedness is our task at CoSM.
Around the world a growing underground culture, a mycelium of visionaries we call the love tribe, are celebrating unity beyond nation, religion, gender, race and age. These progressive and positive people represent the already living dream of a wildly creative co-operative planetary civilization. Festivals are fruit from this subterranean mycelial body. Here today and gone tomorrow, these gatherings bring together a few hundred to tens of thousands of the Love Tribe. This underground web of intelligence awaits the emergence of more permanent fruit. Since Woodstock in 1969 over 40 years ago, our visionary culture has been wandering the planet, moving our tents and tabernacles from one deserted land to the next. It's time to build a temple in a promised land.
Through 
creativity
 we can accelerate the soul's path 
to love and evolutionary wisdom.
Our community strengthens by building sacred space together. Land and buildings give a place to spiritual community, a visible center representing commitment and success and offering a powerful impact on human consciousness evolution. Even a million dollars is a small investment for such a major impact. One hundred dollars to CoSM is the cost of membership and is a "stand" for the future of visionary culture.
The Chapel of Sacred Mirrors, CoSM, found a promised land in 2008, the same year CoSM's church status was approved by the New York State Attorney General and the federal IRS.
After two years of working with the Town of Wappinger, CoSM recently received approval to build ENTHEON.
Rhinebeck Bank has offered a Letter of Commitment for a construction loan of $1.2M. Estimates show that we only need to raise $300,000 more during the building process.
ENTHEON will be a showcase for beloved works, by emerging and established visionary artists.
Now is the time. We have never been closer to achieving our goal of building a visionary temple.
We need your help.  Please consider a generous gift.  CoSM is a church and donations are tax deductible.
Let's open Entheon in 2013.
Psychic hugs and huge gratitude to all who read the newsletter, follow our tweets and facebook, check the blog, attend CoSM events, those who buy a 
Net of Being
 book and other items from CoSM Shop, to CoSM Grail holders, and especially to members, donors, and collectors of original art. All of you weave the creativity and wisdom of CoSM into your life.  Please keep the building of Entheon at CoSM in your prayers in 2013.
Blessings to you for a peaceful, prosperous and creative year!
All our love,
Alex & Allyson Grey