[callout]
This Saturday @ CoSM:

[/callout]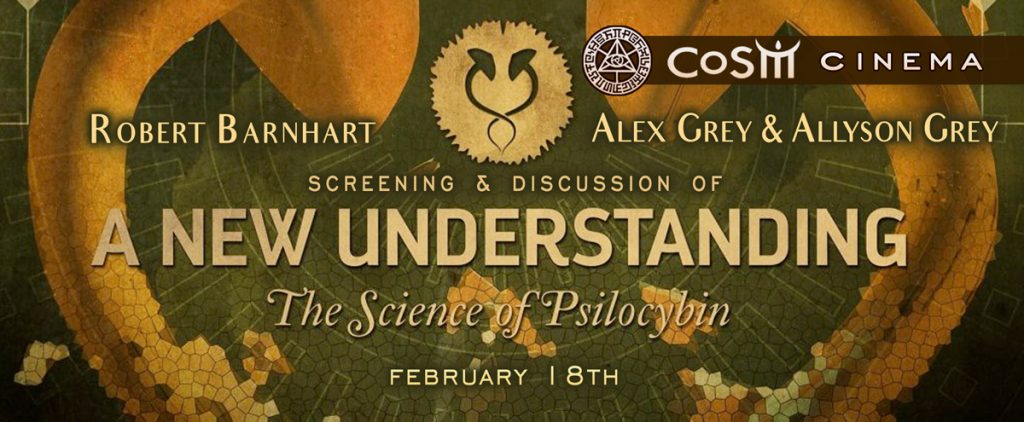 CoSM Cinema Presents
A New Understanding: The Science of Psilocybin

Screening & Discussion with Film Producer, Robert Barnhart
Hosted by Alex & Allyson
7:30 - 9:30 pm
The recent resurgence of psychedelic research confirms 1970's studies testing the power of psychedelic sacraments to profoundly alter our experience of life and death. Our society devotes formidable resources and attention to the disease of cancer, but little to treating the human being dying of the disease. A New Understanding reveals recent studies of terminally ill cancer patients offered psilocybin in a protected and conducive setting, to ease end-of-life anxiety. In a scientific and healing context, 65% of test subjects taking psilocybin, a psychoactive compound found in certain mushrooms, report encountering personal contact with the Divine, a full-blown mystical experience.
Through the eyes of patients, their loved ones, therapists and researchers, A New Understanding examines the use of psilocybin in a controlled setting to reduce psychospiritual anxiety, depression, and physical pain. The treatment aims to help the patient understand that a 'good' death is possible, and to assist the patient's family in coping with the dying process.  See the trailer: 
http://www.anewunderstanding.org
CoSM is open noon - 6pm on Saturday to wander the Wisdom Trail and sit by the fire sipping and snacking. Stay into the evening for this informative and well-produced film presentation followed by a discussion with Alex, Allyson and film producer, Robert Barnhart. Enjoy homemade snacks in the Mushroom Cafe. The CoSM Shop is an artful treasures of surprises.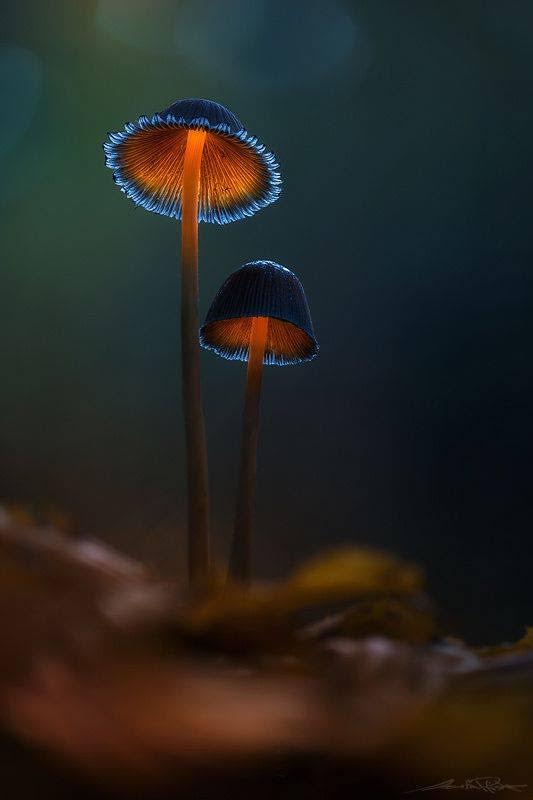 Robert Barnhart, the film's producer says:
"A New Understanding: The Science of Psilocybin is a documentary based on Federal Drug Administration approved research with the medicine psilocybin conducted by leading doctors at The Heffter Research Institute at UCLA, New York University, and John's Hopkins University. The results of the phase two studies have been published in top tier, peer-reviewed psychiatric journals. As a board member of The Heffter Research Institute and The Multi-Disciplinary Association for Psychedelic Studies, I have a long standing interest in understanding and sharing these important FDA approved research studies.
Through the vehicle of this film, compelling scientific research is communicated that may assist in changing the legality of psilocybin. Legalizing this medicine to make it available as part of a therapeutic practice to those people who can benefit from this treatment would mean accessibility for end of life patients to experience profoundly more positive states of being."
Film Producer, Robert Barnhart is a CoSM Board Member and major supporter.
[callout]
DIY Tarot
[/callout]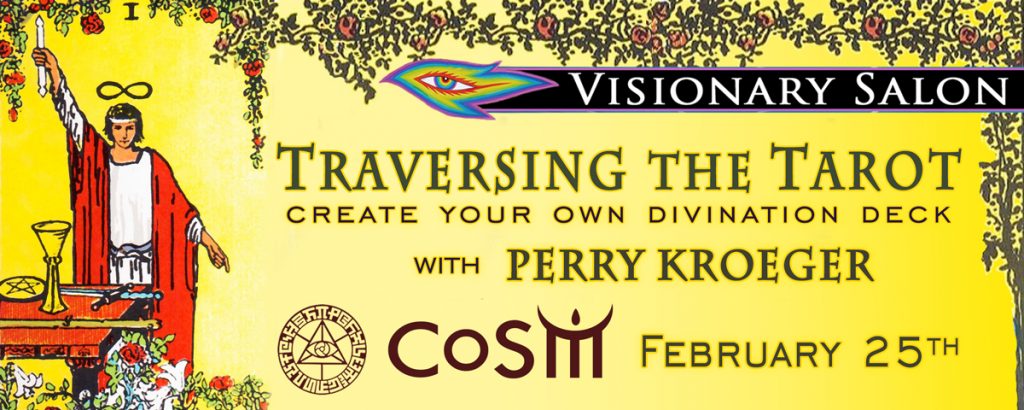 Visionary Salon: Traversing the Tarot
Create Your Own Divination Deck
with Perry Kroeger
February 25th, 1- 8 pm
Learn Tarot in a unique way; by creating your own deck!  Master painter, performance artist and tarot wizard extraordinaire, Perry Kroeger will share all you need to know about what the cards mean and support you in crafting your own deck. Perry will bring you slides, video, comedy, and inner-active fun so you can offer card readings to all. Artists in this workshop will learn card reading by making a personal collage decks with found images.
Claim your own personal mythology. Associate your distinguishing characteristics to archetypes and ancient meaning embedded in the seventy-eight cards of the Tarot. 
Perry will share his "Insight Reading" technique of self discovery, an alternative to traditional "Psychic Reading."
Artists at every level of ability and experience can connect with the Divine Imagination in this Visionary Art happening.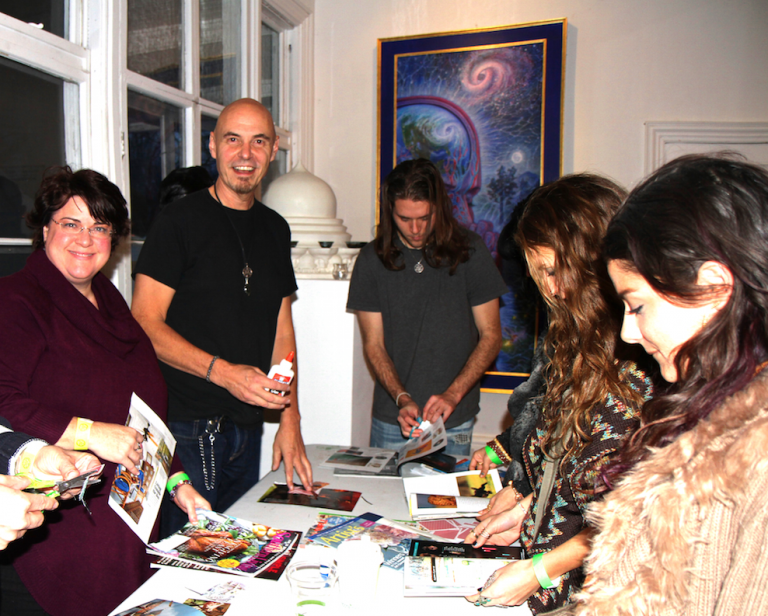 Perry Arthur Kroeger is a visionary performer, writer, designer, videographer, artist and esteemed scholar of The Vienna Academy of Visionary Art in Austria.
Perry has been a long-time artist-in residence at The Growing Stage, The Children's Theatre of New Jersey, where he creates stage sets, puppets, fantasy costumes, and graphic art.
[callout]
A & A at High Times Cup
March 4th & 5th[/callout]

Join us in Las Vegas!  Hosted by Higher Vision Cannabis, the Visionary Village will feature the creative passion for "Healing the World with Cannabis."
Meet and greet the artists, Alex Grey & Allyson Grey, and catch their special live-painting appearance on stage.
The Grey's will announce and award the brand new High Times Cannabis Cup and Honorary Medals to all the winners.
The exquisite new cup was designed by Alex Grey, incorporating Allyson Grey's Secret Writing.
At the High Time Cannabis Cup, Visionary Village will offer a world visionary art, interactive media environments, performance art, and sensation stations.
• Higher Vision Art Gallery
• Shade & Comfort Zones
• Interactive Art Installations
• Steampunk Extractor
• Body Painting Artists
• Dance Performers
• Aerial Performance
• Music curated by Street Ritual
Join a celebration of plant healing in Las Vegas with A & A — 
RSVP on Facebook!
[callout]
Plan a Winter Retreat at CoSM
[/callout]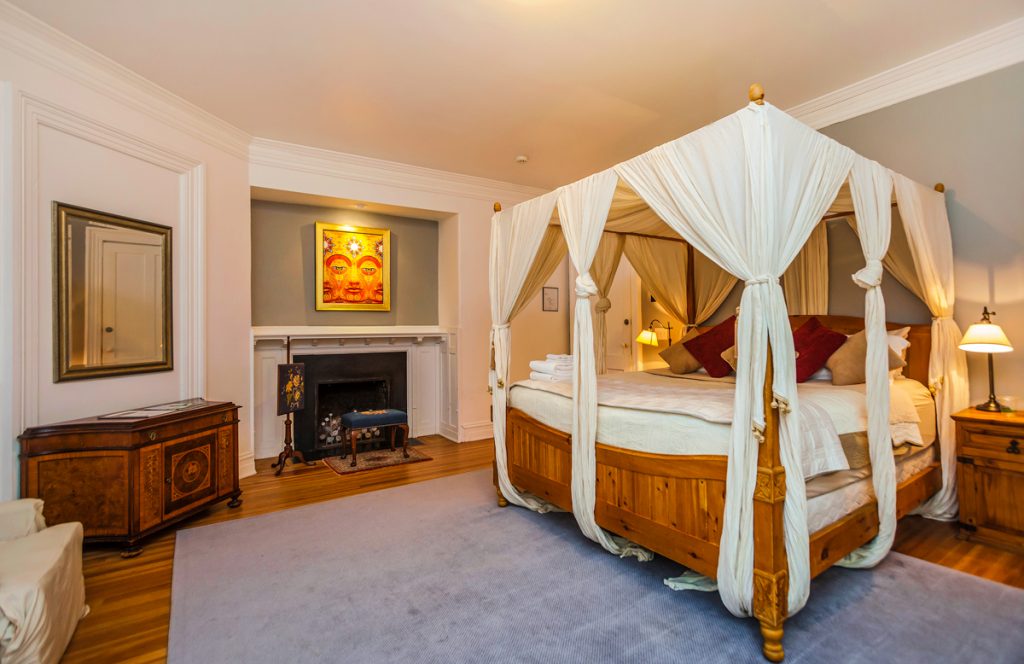 Powerfully attune with the creative force of your soul in the tranquil beauty of nature. Make CoSM a spiritual destination this winter. New "off peak" room rates are in effect! Enjoy CoSM's quiet season with a discount on all room rentals, available now through April 15th.
Amenities in the fully restored Grey House include continental breakfast, free Wi-Fi, a fascinating art and mysticism library adorned with altars and fireplaces. Bring love ones and cosmic friends for a winter walk in the woods. CoSM offers 40 acres of wooded grounds filled with hiking trails, a labyrinth walk, and site specific art installations.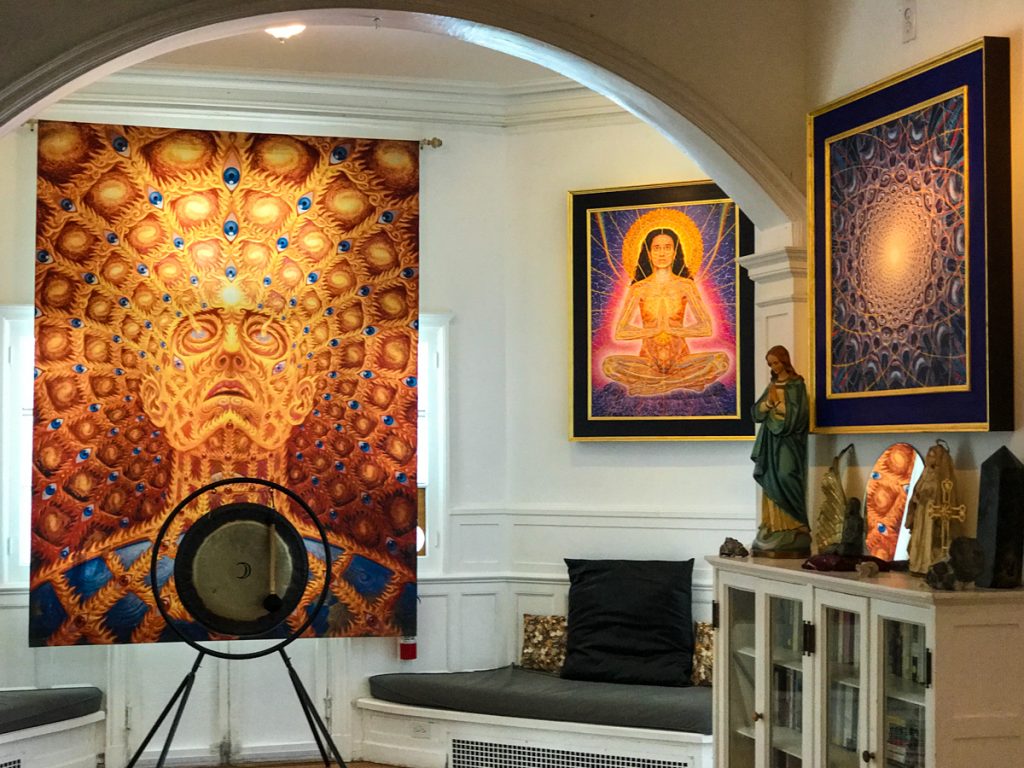 In the spirit of this shining moment when the light of the sun begins to grow longer and stronger, consider a retreat in sacred space. Art and peaceful beauty await you at CoSM. Take advantage of the off-peak season and
plan your retreat today.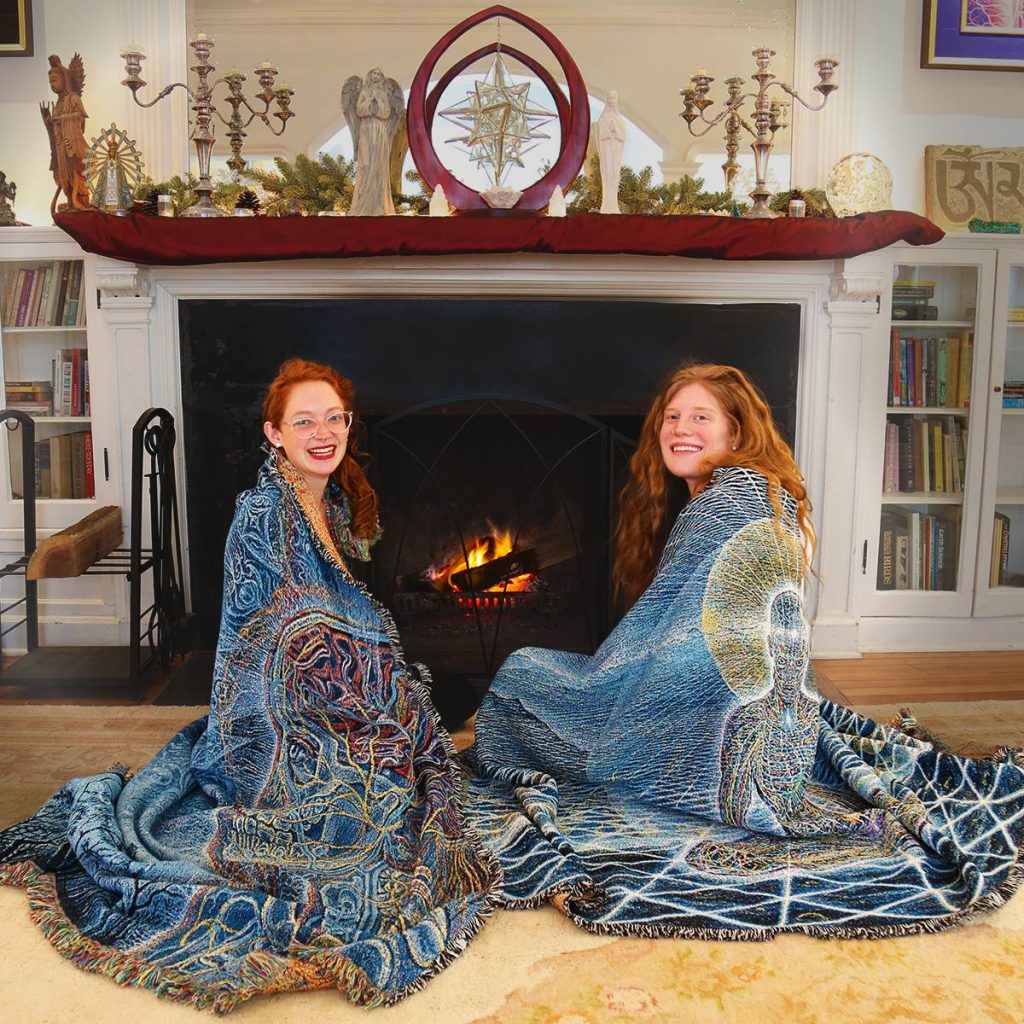 For assistance booking your overnight stay, please call 
(845) 297-2323 ext. 104
 or email 
[email protected]
. 24 hours notice preferred for reservations.
[callout]
CoSM Visionary Painting Intensive
Portfolio Application - Deadline February 28th
[/callout]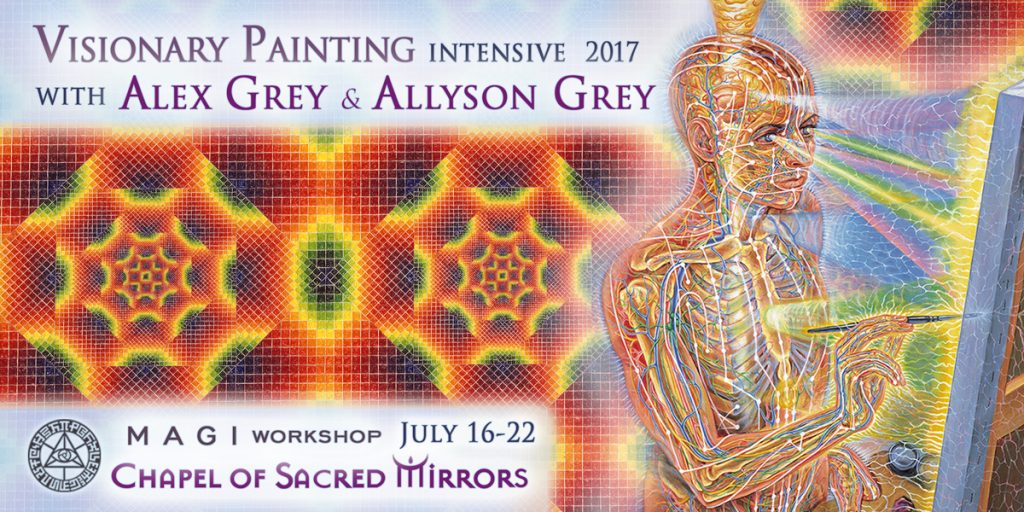 Portfolio submissions for this summer's Visionary Painting Intensive 2017 will be accepted through midnight, March 1st. This summer's painting immersion visionary painters, Alex Grey & Allyson Grey at CoSM, will be offered to fifteen accomplished artists whose art shows a degree of mastery and are ready to share and aspire to the "next level" in their artwork.
To apply for one of fifteen spaces in this summer's Painting Intensive with Alex & Allyson, please:
—  fill out the application below
—  attach three (3) images (jpg)
Deadline for Submission is February 28th
. Notification by March 15th.
Submit your portfolio
today!
[callout]
Paint this Summer with Alex & Allyson
[/callout]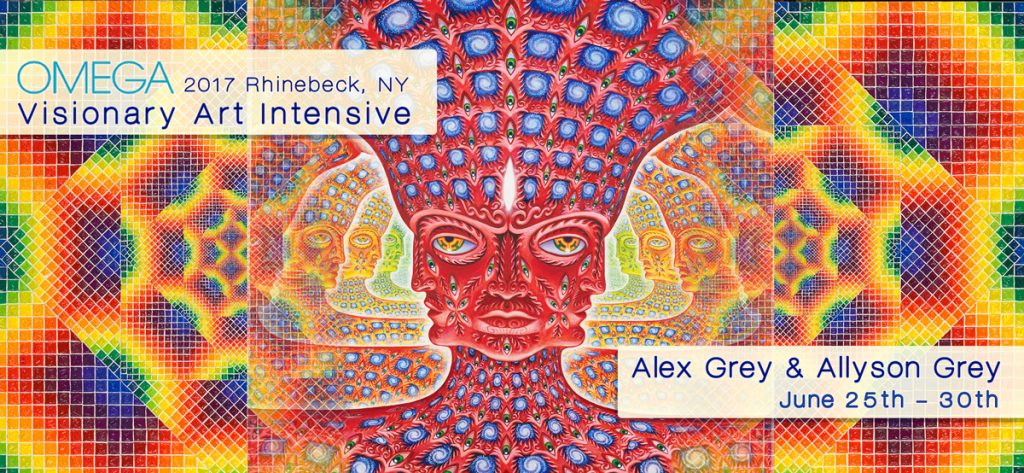 Visionary Art Intensive @ Omega Institute
For ALL LEVELS of Ability & Experience
Sunday, July 25-30
CoSM tour & BBQ to follow on Friday, July 30th.
Visionary artists Alex Grey and Allyson Grey teach painting and drawing from the wellspring of divine imagination. In this workshop, artists at any level of experience create from the sacred ground and the mystic eye.
Through illustrated talks, vision practices, and group interaction, we empower the process of bringing our heart's iconography to outer form and examine the worldwide visionary art movement.
Using guided imagery, meditation, shamanic ascent, and live model chakra drawings of body and soul, we open the doors of the imagination to the theater of revelation. Utilizing basic materials such as graphite, colored pencils, pastels, and watercolors, we commit mental pictures to paper and discuss the aesthetic dimension of our mystical experiences. Explore art as a spiritual path and art as a career, address technical concerns, and define your creative goals.
TO REGISTER:
eomega.org
.
Love,
Alex & Allyson