Friday Night @ CoSM:

Dixon's Violin
Friday, November 18th, 8pm - 10pm
This Friday, CoSM will feature "Visionary Violin: A Transformational Journey by Dixon." Not your ordinary fiddler, Dixon has taken the instrument to the next level, providing an extraordinary and unique concert experience.
Improvising on a 5-string electric violin alongside a looper, Dixon creates an all-live, one-man symphony. Guided by his remarkable personal story of life transformation, he shows the beauty of accomplishing his seemingly impossible sounds. Dixon improvises, responding to the environment, making the audience essential to the music itself. Immerse yourself in an interactive musical journey of enchanting, passionate energy that mesmerizes and inspires.
Friday night, CoSM will be open noon-6pm with dinner and Dixon to follow. Come early and purchase a meal ticket (reserve two hours in advance, please) and enjoy snacks and sweets in The Mushroom Cafe. Browse the CoSM Shop until 11pm.
A & A Join Synergetic Press & Alchemist Kitchen, NYC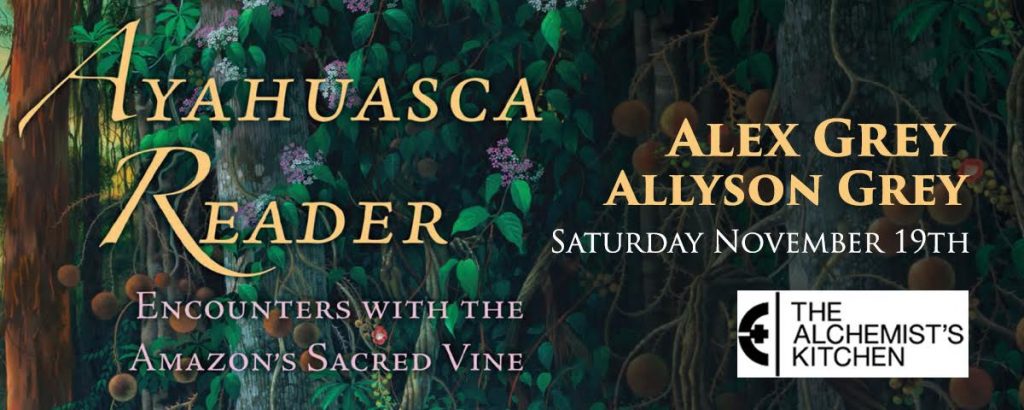 Understanding Ayahuasca:
From Indigenous Origins to Neo-Shamanism
with Alex, Allyson & guest presenters
Saturday, November 19th
Celebrate the launch of The Ayahuasca Reader: Encounters with the Amazon's Sacred Vine. Editors and select authors and artists of this volume plus leading experts on ethnobotany and ayahuasca will come together at Alchemist Kitchen in Manhattan on Saturday for an enlightening afternoon Symposium and stimulating evening Salon exploring plant medicine from multiple perspectives.
The program will trace the cultural history of ayahuasca, including traditional and neo-shamanic practices. An artistic and literary examination will highlight the inspirations from "Mother Aya," a muse of the mystical mind. Over the course of one day, speakers will enlighten us on the therapeutic potential for profound healing and inform our understanding of scientific principles that frame the ecological context supporting the precious value of this sacred brew of the Amazon.
Click on the banner and join us for this unique convergence of higher minds.
Order
your very own copy of Ayahuasca Reader: Encounters with the Amazon's Sacred Vine!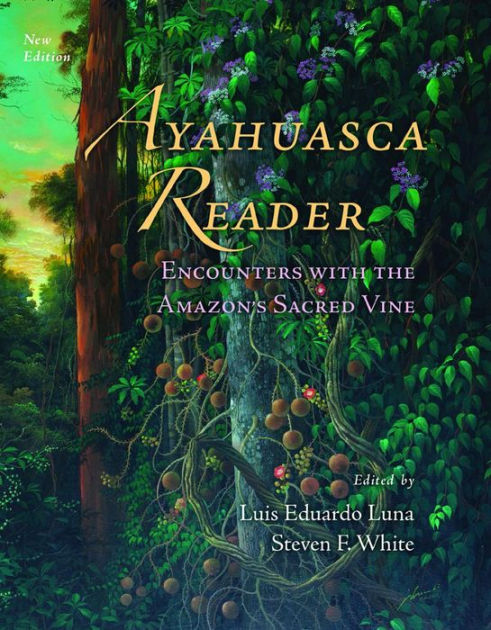 Coming up next week @ CoSM: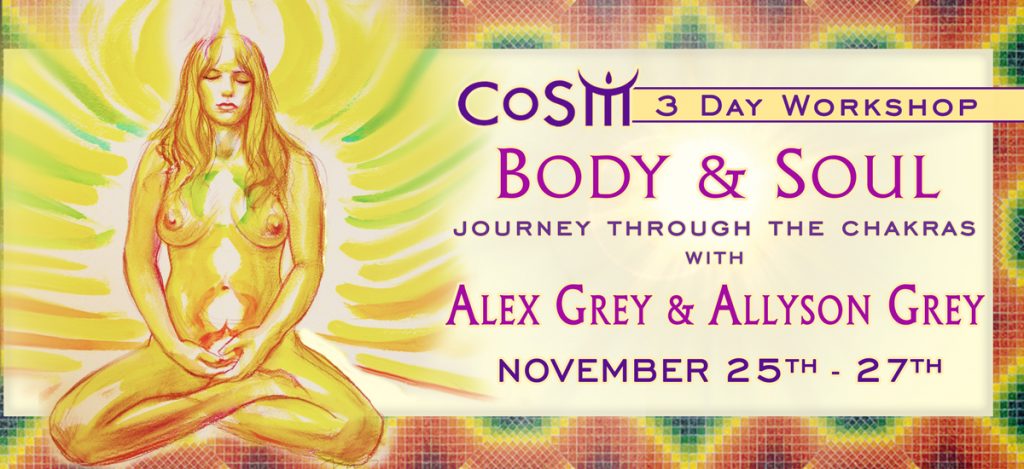 Body Soul Drawing Ritual:
Journey Through the Chakras
with Alex & Allyson
Friday evening through Sunday lunch, November 25 - 27th
As artists, we are the scintilla of universal creativity. In alignment with the Cosmic Order, following the natural flow of our own uniqueness, vision takes form. The practice of art is a healing force, connecting with and manifesting the visions of our essence.
The Body and Soul Drawing Intensive is a day-long gathering of artists envisioning our subtle light body.
Draw the invisible energy of a beautiful yogini accompanied by evocative music that resonates with each chakra,
Join Alex Grey and Allyson Grey for a drawing meditation that will include:
• Basic Instruction on proportions of the head and body,
• Vision practices that allow us to glimpse the interplay of body and soul,
• Drawings of the subtle chakra centers posed by a yogic model,
Participants will take home drawings that may be touchstones of the 
harmonic integration in psyche and soma.
All levels of ability welcome.

 A basic materials list will be sent upon registration.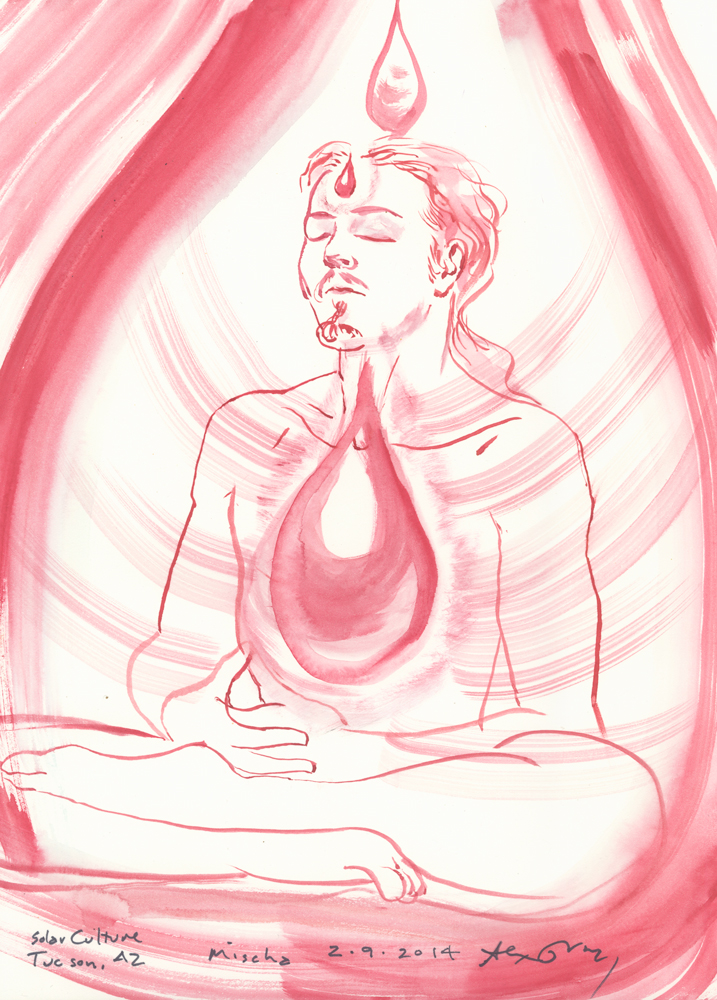 Join Alex & Allyson for a weekend of drawing from life. All levels of experience welcome. Click
here
for more information.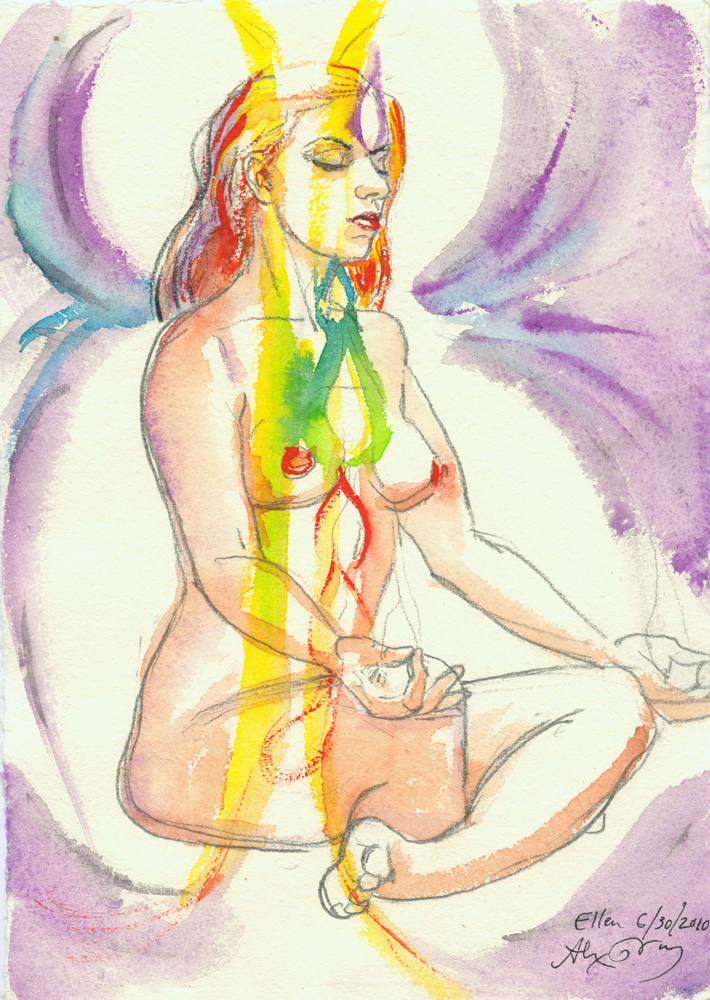 Original Watercolors
by Alex & Allyson are available in CoSM Shop!
All purchases at CoSM support building a sanctuary of Visionary Art.
Love,
Alex & Allyson