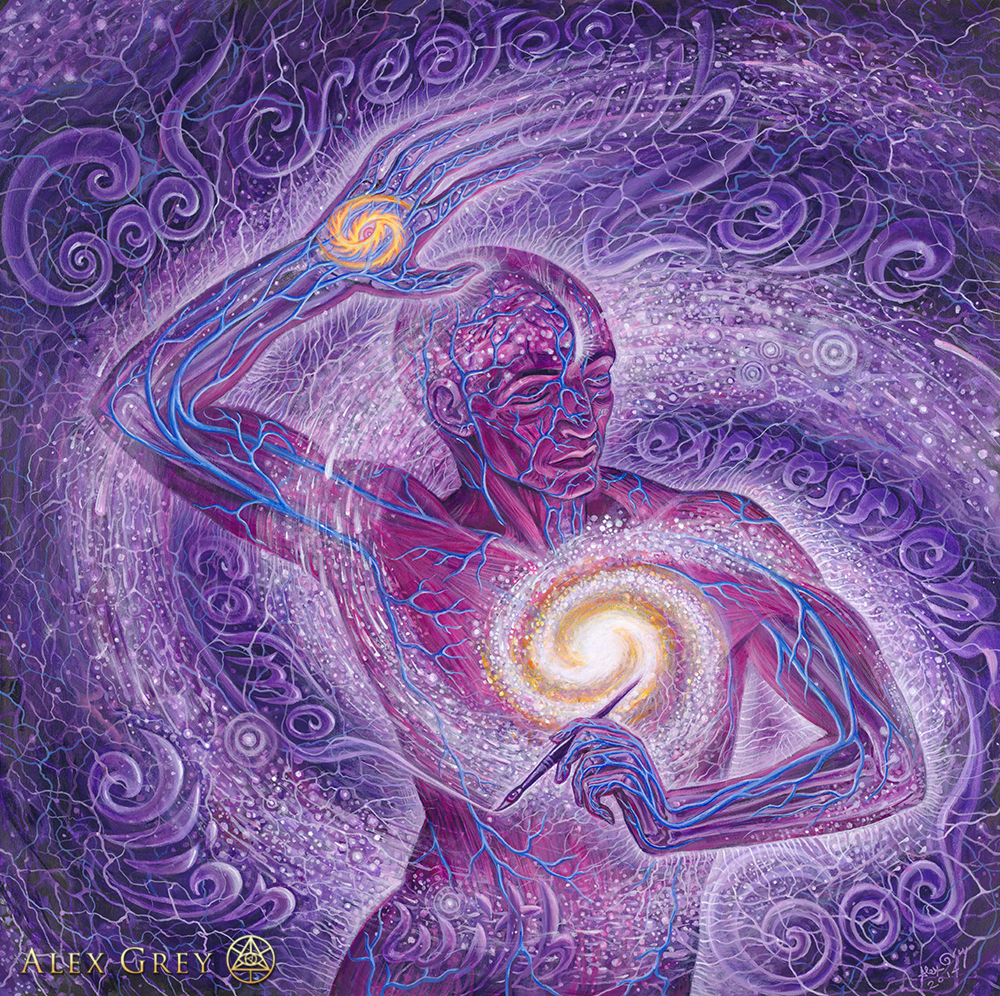 Sunday @ CoSM
Art Church
Cosmic Creativity
with Alex & Allyson
1 pm - 5 pm
Genuine creativity is not just a personal gift; it's an evolving cosmic force that expands the identity of the individual beyond the bounds of body and ego toward a sense of oneness with a larger consciousness. Many great works, from megaliths to pyramids to cathedrals, were built by groups of creators aligning themselves with universal mind.
New Order, by Allyson Grey, 2018, oil on wood panel.
Join the renowned visionary artists Alex Grey and Allyson Grey as we explore how the aesthetic experience of art can lead us to unitive mystical experience and activate our inspired action in the world.
Join us for the
2018 Winter Solstice
Celestial Celebration!with hosts, Alex & Allyson
Featuring music by
Maddy O'neal, Agent Zero,
Golden Spiral, and Smile High Club
Visuals by Johnathan Singer
7 pm - 1 am
CoSM's 2018 Winter Solstice Celestial Celebration is sure to give you the chills!
Join us December 22nd as we honor the longest night and the return of the light.
Featuring a ceremony, and live music by Maddy O'neal, Golden Spiral, Agent Zero, and Smile High Club. Live painting and live visuals by Johnathan Singer are sure to set your soul on fire!

CoSM Women's
Visionary Film
Symposium
May 30th - June 2nd, 2019
Co Presented by: Lindsay Kent
The CWVFS was founded to honor and empower female filmmakers and film appreciators. Our mission is to create a new forum for visionary filmmakers, so that their creations, empowered to heal and transform, can impact their greatest destined audiences.
Creative Liberty, by Allyson Grey & Alex Grey, 2016, acrylic on canvas.
The CoSM Women's Visionary Film Symposium is a four-day showcase of new and established female artists who are making an impact in filmmaking worldwide. From groundbreaking industry panels to workshops, premiers of feature length films to shorts, this gathering will address what it means to be a woman today through powerful and thought-provoking discussions and works of art. The Symposium will focus on works centered around our collective wisdom, and hope for our families, community and the future.
This immersion into women's visionary film will take place at CoSM, Chapel of Sacred Mirrors, a sanctuary of visionary art founded in upstate New York by Alex Grey & Allyson Grey. A celebration of life, personal growth, social responsibility, healthy living, and creative expression, this gathering of conscious women will include daily yoga, guided meditations and holistic healing workshops, juxtaposed with panels on content, industry culture and distribution. To honor this one-of-a-kind gathering, a New Moon Ceremony on Sunday night will celebrate the Divine Feminine, the creators, taste-makers, thought leaders, and fans of women-powered cinema.
Film submissions are open to all women.
SUBMIT YOUR FILM TODAY!
EARLY BIRD DEADLINE ENDS 12/14