Friday, November 29th, Join us at CoSM to celebrate the day Alex Grey turns 60! Allyson is creating a rainbow cake for the B-day bash. Internationally renowned electronic musician, GAUDI will be flying in from London to weave his rare sonic magic. Author of Tryptamine Palace, James Oroc (from New Zealand via New Orleans) will Guest Host the evening. Johnathan Singer (from Northern California) will master the exquisite mindbending projections. Our favorite movie star, Zena Lotus Grey will be joining us from Hollywood. It's the evening after Thanksgiving. Alex will be giving a rare presentation called "Transfigurations" that shows the span of his life's work, including the latest updates about Entheon!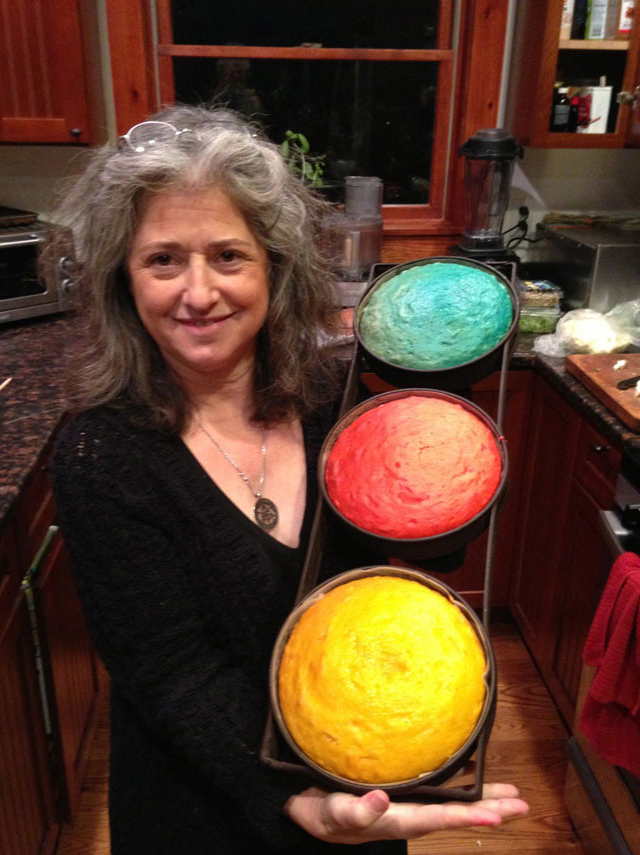 If you have gotten value out of Alex's work, make this fundraiser for Entheon your gift of appreciation. Come for the art & music, stay for the cake!
GAUDI encourages Alex & Allyson about the 60's...
CoSM Grails
The fourth edition of CoSM Grails will soon be available at CoSM Shop. Become a Grail holder and get one while they last. CoSM members and friends, Grant and Kristin Donnen Standard of Black Hills Bronze in South Dakota cast Alex's beautifully sculpted chalices in editions of ten. An exquisite altar object and Godself symbol, the CoSM Grail represents our nature as vessels of creative energy with expansive vision. See the exciting foundry work, the initiatory ceremony and ritual prayers by a Lakota elder, the pouring transformation of liquid metal into the CoSM grails.
http://vimeo.com/39385464
The Grails at the foundry.
The Grail is said to possess miraculous powers. This sacred object is most often identified with the wine goblet used by Jesus at the Passover seder, the Last Supper he spent with his family of choice, the Apostles. The myth of the Grail became renowned in the tales of King Arthur and the Knights of the Round Table who rode around armored on horseback questing for the legendary vessel. Symbol of the divine feminine and gnostic enlightenment, the grail quest can only be attained when you drink from the cup of spiritual reality.
This outstanding work of sculpture can grace your altar. All proceeds will help build Entheon, the sanctuary of Visionary Art at CoSM. Each Grail comes numbered with the CoSM Emblem cast on the bottom the Grail. With the inside plated in silver, these precious goblets are safe for drinking. Grails are each hand patinaed, each with a subtly different hue. Each is identified by a consecutive number.
Reward yourself or someone you love with this beautiful enduring treasure for the holidays. Grail Holders can help build a temple.
Love,
Allyson & Alex

Special thanks to an anonymous sender for the great photo.