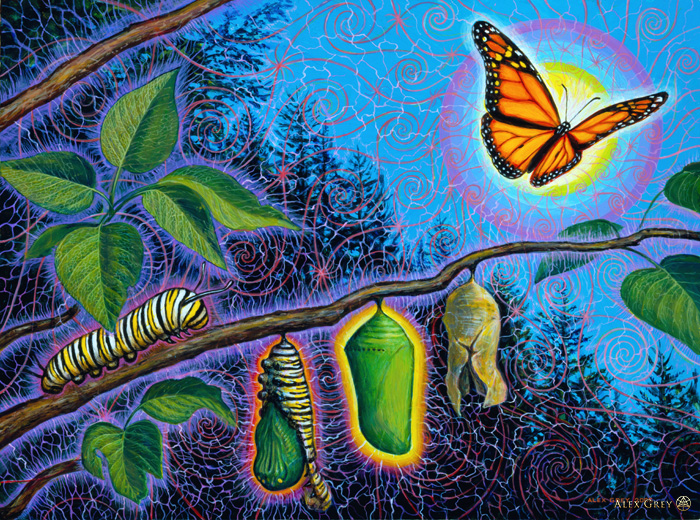 Friday Night @ CoSM:
CoSM's Grey House, The Mushroom Cafe, and CoSM Shop will be open for extended hours from 6-11 PM this Friday. Explore CoSM's Library with books on mysticism and the arts. Sip and snack in the Parlor before the blazing hearth. Contemplate paintings and sculpture throughout Grey House and the grounds. Get cozy with a journal, sketch book & colors. Bring a friend!
Enjoy your
Friday night dinner at CoSM;
a delicious, healthy meal prepared by the house chef.
Vegan and vegetarian options available.
RSVP
— Reserve a meal ticket in advance.
845-297-2323 x104
Saturday @ CoSM:
Full Moon Workshop
The Kingdom of Fungi
with Martin Bridge
The Kingdom of Fungi is perhaps one of the most overlooked elements in our natural world. One of the first life forms to take hold on land, they have built and continue to maintain the soils from which all subsequent terrestrial life grows from and depends on.


Chicken of the woods find on CoSM Wisdom Trail
In this workshop explore the fascinating kingdom of Fungi. Begin with an introduction to Mycology; building a better understanding of these beings, their function in building and maintaining soils, basic cultivation techniques and their potential utility in Bioremediation efforts.
Gain extraordinary insight on number of species and their characteristics. Enjoy a hands on demonstration of log cultivation and leave the result of our efforts as a gift to CoSM and it's residents.
Martin
is an artist and teacher who lives and creates in the Hills of Western MA. His interest in Permaculture and sustainable design and practice is a strong influence in his artwork and way of living. He has been cultivating mushrooms for seven years and they have a prominent role in his homestead's design and development. Fungi have even grown into his artwork in the form of Myco-sculptures.
February Full Moon Gathering @ CoSM:
Full Moon Ceremony
Music, Poetry, Wisdom, & More
with hosts Alex & Allyson
7:30 pm - 9:30 pm
Share art and spirit with community and join us for the Full Moon gathering, CoSM's first celestial honoring. An unbroken monthly celebration now in it's fifteenth year, each CoSM Full Moon Ceremony is an unique and crystalline experience. Join us for a performative evening of wisdom, poetry, music and art. Alex & Allyson lead the Opening Ceremony in the library beginning at 7:30pm through 9:30pm. Seating begins at 7:00pm.
Full Moon After-Celebration
Enjoy live music, interactive art making, and performance painting. Each Full Moon is an opportunity for Alex Grey to create one "Supportrait," a drawing of one guest or couple with proceeds supporting CoSM. During the After-Celebration, chat with Allyson about Art & Life . Check the progress of live painters Ill.Des, Katy McManus, and Keith Prossick, Louie Izzo and Martin Bridge. Body painting by Caren Charles and Keiara Gallodoro, Henna by Hannah, Intuitive Tarot readings by Ximon — all this awaits you at CoSM this Saturday night. Celebrate the "Orb of Night" with visionary family and cosmic friends.
Sunday @ CoSM:
Morning Yoga with Shipra Saraogi
10:00 am - 12:00 pm
Sunday, late-morning, come to CoSM for the ultimate out-of-body experience, Morning Yoga with Shipra.
A CoSM favorite, Shipra gently guides yogis & yoginis toward their body's own potential. Through illuminated guidance, Shipra leads participants toward rejuvenation on a safe journey to deepen any asana practice.
All levels of experience will be comfortably nurtured and challenged in Shipra's yoga class. Yoga begins at 10am, $10 donation requested. Mats available.
Art Church: Cosmic Christ
with Alex & Allyson
1:00 pm - 5:00 pm
Art Church, held on Sunday afternoon after the Full Moon Ceremony, is a family friendly group art practice. Sessions are inspired by music and discussions related to the creative spirit. Bring a sketch book and colors and join us for group art making with music and meditation followed by a discussion on a relevant spiritual topic. Art Church each month ends with a tour of Entheon at 5pm.
This month we celebrate both Easter and Passover.
The Christ principle of connectedness and divine enlightenment includes three levels of incarnation:
Christ as the physical incarnation, the story of Jesus of Nazereth Christ Consciousness, a principle of God Realization The Cosmic Christ, a vision of the body of Lord Jesus as the Supreme Personality of Godhead.


Detail of Cosmic Christ by Alex Grey.
Each generation re-imagines the archetype of Christ. Lifting sin unburdens the soul. Christ is the remedy for sin, the healing scapegoat that soaks up karmic damage. Christ can transform your existence with his touch, the blessing power of a spiritual master, the embodied presence of Holiness. In identifying with the Cosmic Christ, it is possible to unburden ourselves from negative self-images and forgive all others and ourselves for any actions that might have offended God, our own highest aspirations. Alex will describe his painting "Cosmic Christ," and the "garment of destiny" comprising so many stories of humanity.
The celebration of Passover, which falls on the Full Moon in April, celebrates Liberation. The end of hibernation, spring is sprouting crocuses, baby daffodils and a proliferation of floral ground cover throughout the woods. The Transfiguration of Christ celebrates liberation this time of year as well. Did you know that The Last Supper of Christ and the Apostles was a Seder, the ritual meal at the center of Passover. Join us at Art Church to discuss our own personal freedom from bondage and hear the story of Passover.
The original work, "Cosmic Christ" by Alex Grey is present in the gallery to highlight the discussion.
Love,
Alex & Allyson