Meditation on impermanence accelerates our spiritual practice because we know death awaits us all and thus, every day we live in gratitude for the rare blessing of life from our Creator. The thought of death also brings the feeling of loss and pain to our hearts, and is the source of compassion for the pain of others. Our mortality is part of the great Mystery of LIfe. Do our souls live on in some new subtle vehicle in a Heaven world?  Can the world of the living and the "not living" coincide? For most of us, the afterlife seems impossible to fathom, but some artists have tried to paint Heaven and Hell from visionary observation.
This Saturday
evening at CoSM's haunted mansion, we (the Reapers) will offer a cross-cultural historical reflection on the afterlife in a discussion of "Heaven & Hell," as portrayed throughout the history of art.  The dying plunge of exquisite leaves fire up the Hudson Valley in a blazing array of color to further remind us to appreciate Autumn in full swing. Winter is coming…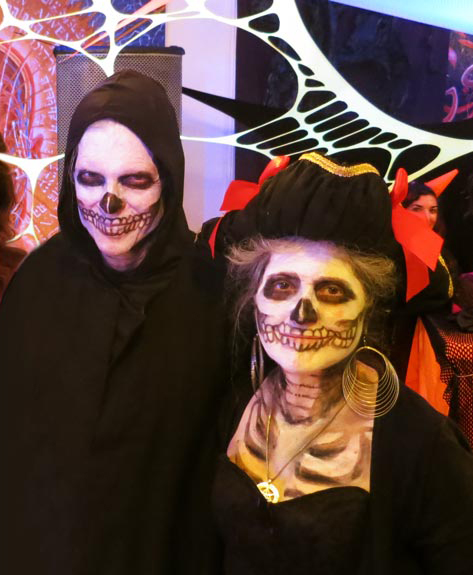 2013 DEITIES & DEMONS MASQUERADE
Celebrate this
Saturday, Oct 26th
at CoSM's 9th Annual Deities and Demons Masquerade Ball!  Come as your favorite creature, or archetypal spirit and enjoy outstanding Electronic musicians Desert Dwellers, Kaminanda, Treavor Moontribe, and many CoSM favorites like the enchanting Violinist Hannah, Thiem & Bellydancer extraordinaire, Sarah Jezebel (honored as the Witch of Salem), look for the laser light show and the fire art of Phantomime. We will also be painting with some of our favorite Supernatural Live Painting friends. Enter a Creative Vortex of Love and Weirdness!
Have a great and safe Halloween!
HEAVEN & HELL
On View at CoSM this Saturday night will be the rarely seen live painting masterpiece, Heaven & Hell a Diptych collaborative work done by 6 master artists who are also master tattooists during one day at CoSM NYC in 2005.  From Left: Filip Leu, Guy Aitchison, Paul Booth, Michele Wortman, Titine Leu, and Sabine Gaffon.
Love,
Alex & Allyson

Special thanks to Emily Holtzheuser for the great photo.