These reflections, noted during April's Art Church meditation, are offered to the community with love by Esther Weaver, CoSM member and supporter since 2002. Esther, our next door neighbor in Park Slope for many years, was unknown to us until she joined some of the earliest Full Moon Ceremonies in our Brooklyn loft. When CoSM moved to Manhattan, Esther was there, especially at the New Moon ceremony, where art as a spiritual practice emerged at CoSM. Esther and her husband Eric moved to the Hudson Valley and have remained active members in CoSM's current tranquil location. They were a stand for CoSM's recognition as a church, appearing and speaking powerfully in our favor to town officials and a few unfriendly neighbors, offering their positive perspective on our behalf. We gratefully honor Esther, Eric and all CoSM members who continue the quest for higher consciousness in our midst.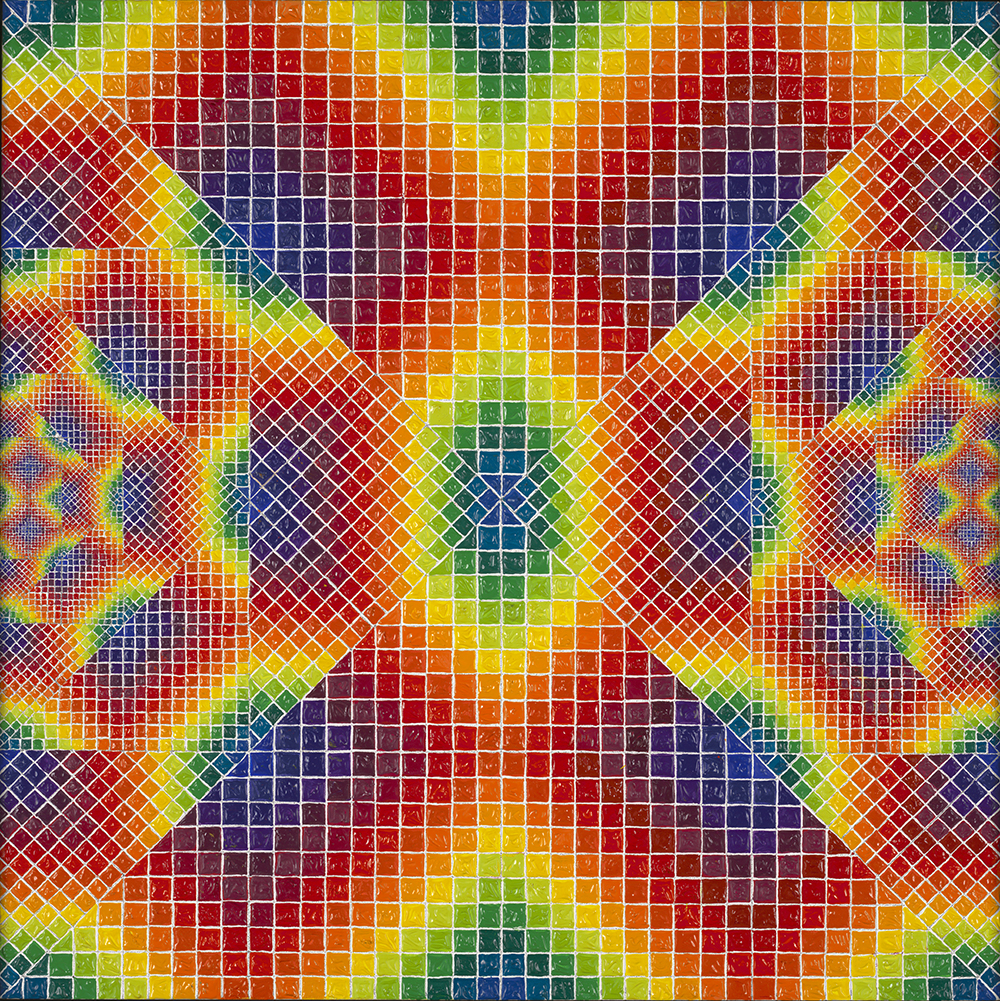 Root Emblem, by Allyson Grey

Sublime Partnership 
by Esther D. Weaver
Yesterday, while attending part of a spiritual retreat,
I began to experience a state of bliss,
And it happened again today at the Chapel of Sacred Mirrors.

When I first had this experience many years ago,
To my surprise it wasn't tied in any way
To the circumstances of my life,
And it still isn't today.
It is simply intensely joyful. 
My natural state, our natural state
Is this bliss, this ecstasy.
I've heard spiritual people say that this world
Is so much more magical than we realize,
And quantum theory certainly supports this idea.
So it's likely that our true liberation and joy
Are ultimately not based on the circumstances of our life,
But rather on something quite different and quite extraordinary.
Then why not make this world a reflection of this reality,
So everyone has the opportunity to experience
As much intense love and ecstasy as they can?
Maybe our mantra more often could be, even should be,
"Let go and be in the flow!"
And then in our moments of more engagement and creation
We will know instinctively how to create an earth
That everyone will truly want to experience and contribute to,
Raising the vibration here ever higher
Generation after generation.
A sublime world to match our sublime spirits.
And I'd like to start manifesting this possibility today,
In partnership with you!