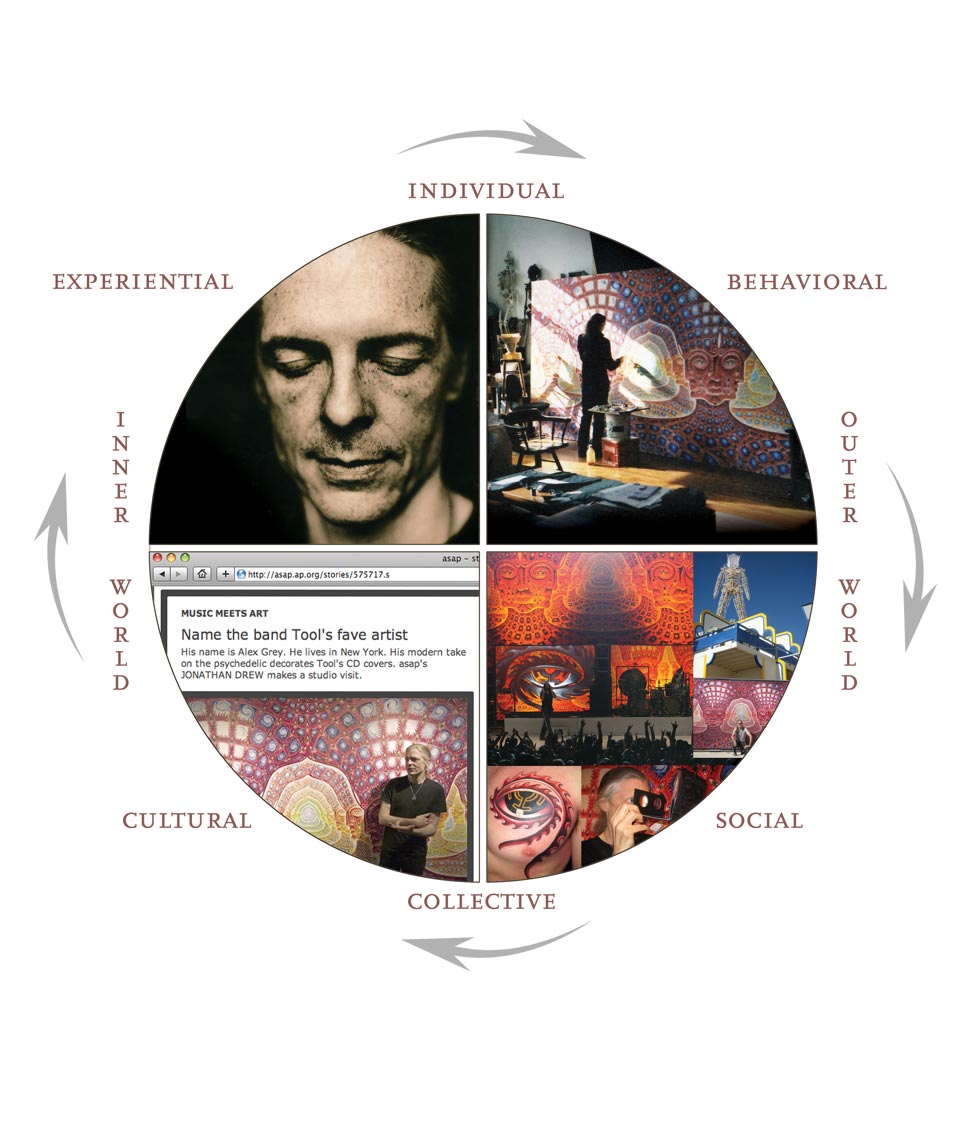 How Art Evolves Consciousness
One of Ken Wilber's chief insights of Integral Philosophy is his model of
Four Quadrants that describe the relationship between inner and outer
worlds, the individual self and the collective. I've applied his theory
to gain understanding about how art may help transform or evolve
consciousness.
First, a vision illuminates the artist's inner world; this corresponds
to the upper left quadrant in Wilber's model, the subjective conscious
interior of an individual. To use the example of the Net of Being,
this step would be when I first experienced the image on a mystical
ayahuasca journey. Second, the vision or subjective state of the artist
is expressed into an individual aesthetic artifact—such as a painting,
story, or dance. Related to the Net of Being, "outputting the vision"
took several years. Third, the artifact enters the collective systems of
aesthetic reception, the gallery, museums, newspapers, magazines, and
websites—like when the painting was reproduced by TOOL on their
album, on banners at concerts, on T-shirts and other merchandise,
and so on. Fourth, the artifact is absorbed into the meme-stream of the
cultural psyche by a public interpretation of the meaning of the artwork,
potentially transforming the collective interior. Like a tincture added to
a body of water alters the entire body, so artworks can color and anchor
a collective's understanding of itself, birthing a unique worldview of
cultural meaning for that community. The altered zeitgeist becomes
a context for the next phase of visionary aesthetic inspiration, and the
grand round of art continues on its evolutionary path.
– excerpt from Net of Being
Alex will be speaking on this subject at the TEDx talk in Maui this weekend. We are looking forward to participating in TEDx one of the greatest forums that inspire the human family.
On February 2nd we will be screening the movie
Groundhog Day
Groundhog Day
, considered by copious critic lists to be among the greatest films of all times, was released in 1993, directed by SCTV's Harold Ramis, and stars Bill Murray and Andie MacDowell. The film is one of our favorites because it joins a pantheon of America's most uplifting, morally serious, enjoyable, and timeless movies. It is among our favorites because it is an offbeat flick that is brilliantly comic while delivering exquisite ethical philosophy in a tale of transformation. If you haven't yet had the pleasure, trust us and join us for a great ride. If you've seen it, join us and and enjoy this experience of positivity with like-minded friends.
Popcorn and a non-alcoholic beverage included in admission.
Alex and Allyson will lead a discussion about the film and general merriment will follow around the fireplace in CoSM's library.
Store and cafe will be open.
Aloha,
Alex and Allyson