"
How Art Evolves Consciousness
"
Alex Grey & Allyson Grey 
Montreal, Saturday, August 15, Collège de Maisonneuve, Sunday, August 16, University of Toronto:

In our new presentation of "How Art Evolves Consciousness" specially designed for the Modern Knowledge Tour, we will weave our life and artwork and discuss how creativity can be a spiritual path that leaves a trace of one's unfolding worldview. By sharing the braided thread of our artwork over the years, we will reflect on our highest visionary experiences. A higher source of artistic inspiration offers greater consciousness expansion and deeper spiritual values embedded in the resulting work of art.
Visionary Art offers a reality view of unity with nature and cosmos. For pilgrims journeying to the sacred inner dimensions, visionary art validates glimpses of universal imaginal realms. Reflecting through our imagery the luminous richness of higher spiritual worlds, visionary art activates our lightbody, empowers our creative soul, and stirs our deepest potential for positive, transformative action in the world. A sacred view of Oneness with the environment and cosmos could transform the ongoing self-destructive abuse of the life web. Consciousness evolves when we adapt due to an ordeal or crisis. Overcoming a negative self-image and conquering a limiting fear also transforms us. Humanity hungers for creative arts that call us to transcend our fears and imagine our highest possibility as we advance toward unity and a sustainable planetary civilization.
Last time on stage together in Montreal was in 1982 at Vehicule Art Gallery in the performance "Wasteland" which contemplated the death of our species. May humanity transcend its self-destructive pathologies and begin healing the battered web of nature, rising to fulfill our higher destiny as angels of compassion and creativity in a technological age.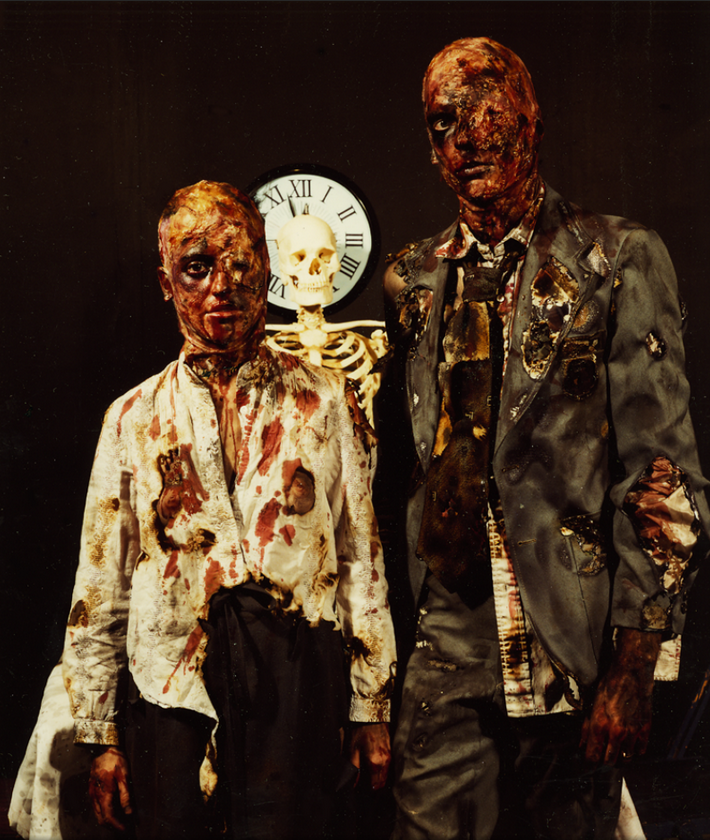 NUCLEAR FAMILY
from performance of 
Wasteland
May 7, 1982
Alex Grey & Allyson Grey
Vehicule Art, Montreal, Canada
Chris Dyer at CoSM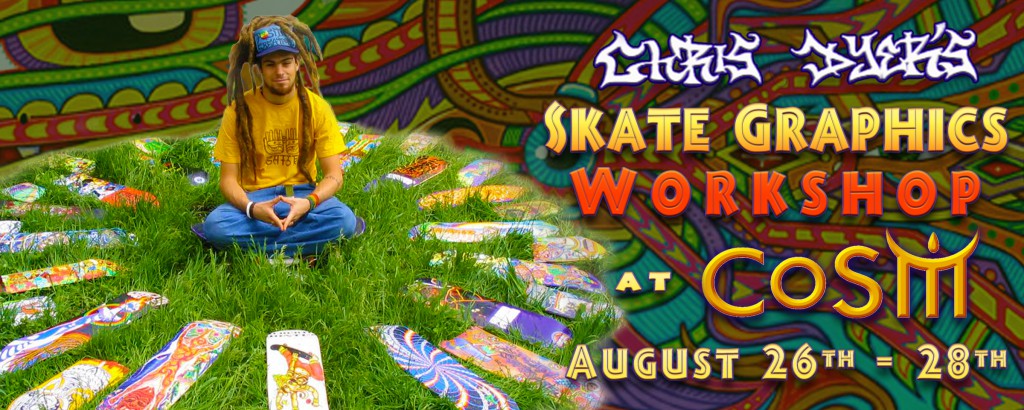 While in Montreal we will take some quality time with our favorite local visionary artist, Chris Dyer. He will be at CoSM August 26-28 to offer his very popular, very funny and full-of-great-advice workshop on painting skateboards. Whether painting the side of a building, a bus, a wall, a canvas, or an awesome busted skateboard, Chris projects his deepest, most joyful Eternal Self.
Register now to study with this contemporary visionary master.
Love,
Alex & Alyson