VISIONARY SALON: Mandalas, Monks, and the Metaphysical
with Geshe Phuntsho and the Gaden Shartse Monks
Sunday, October 18, 9am until 6pm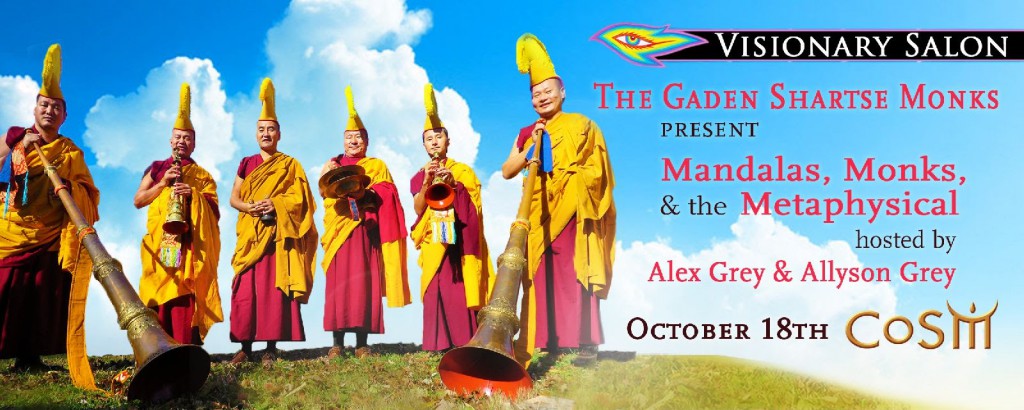 This Sunday, a very special all-day Visionary Salon featuring the creation of a One Day Sand Mandala and will host spiritual teacher, Geshe Phuntsho, inspired and guided by Buddhist philosophy who will share his insight of the 8 Auspicious Symbols, the role of art & creativity in spiritual practice, world peace, and the unity of all religions. Alex and Allyson, students of Buddhism for decades, will be a part of the discussion.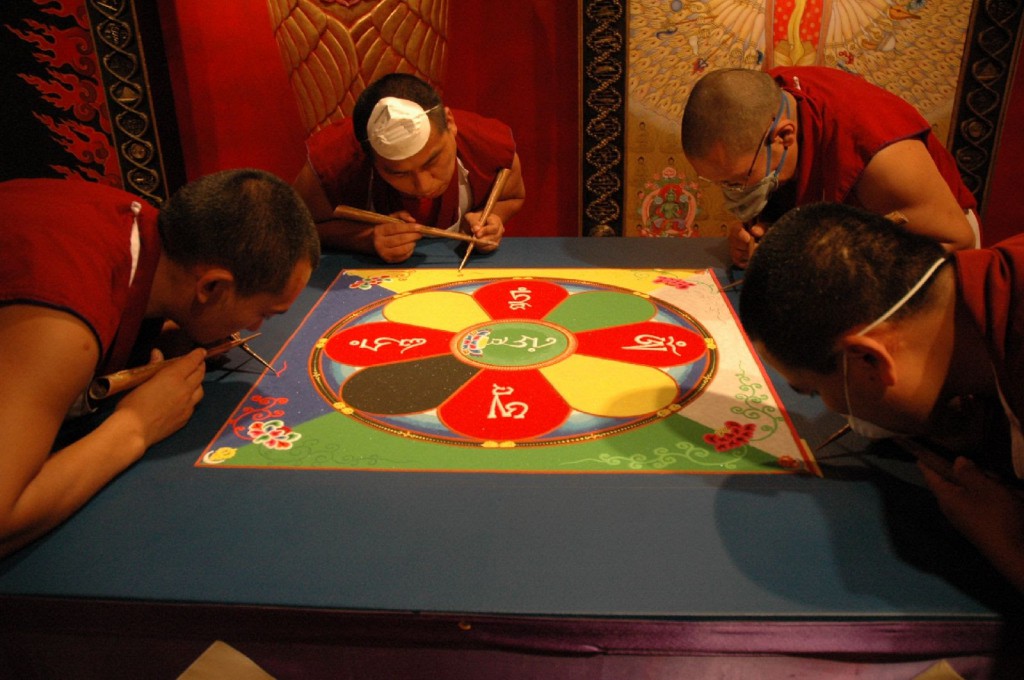 All day, you can watch the monks of the Gaden Shartse Monastery create a sand mandala in the Library. At 5pm the sand mandala will end with a Dissolution Ceremony symbolizing the Buddhist teaching of impermanence. Be there and take home with you a small bag of sand, every grain a tiny quartz crystal sacralized by a mandala manifested by Tibetan monks. Very powerful on your altar or in your garden.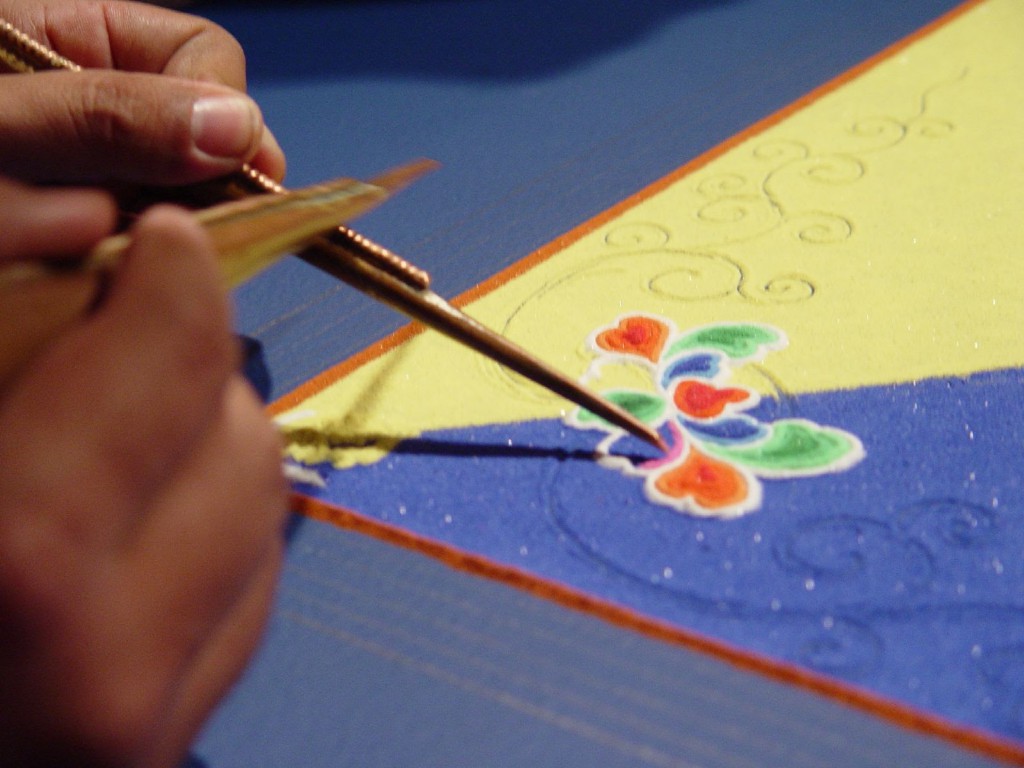 In the morning and again in the afternoon, enjoy the masterful musical stylings of CoSM's dear friend, Ray Ipolito, a multi-instrumentalist and educator whose excellence incorporates the music cultures of many nations including Burning Man. Be with us for a healing ritual performed by the Monks who will then be available for discussion on any topic. Don't miss this most precious opportunity.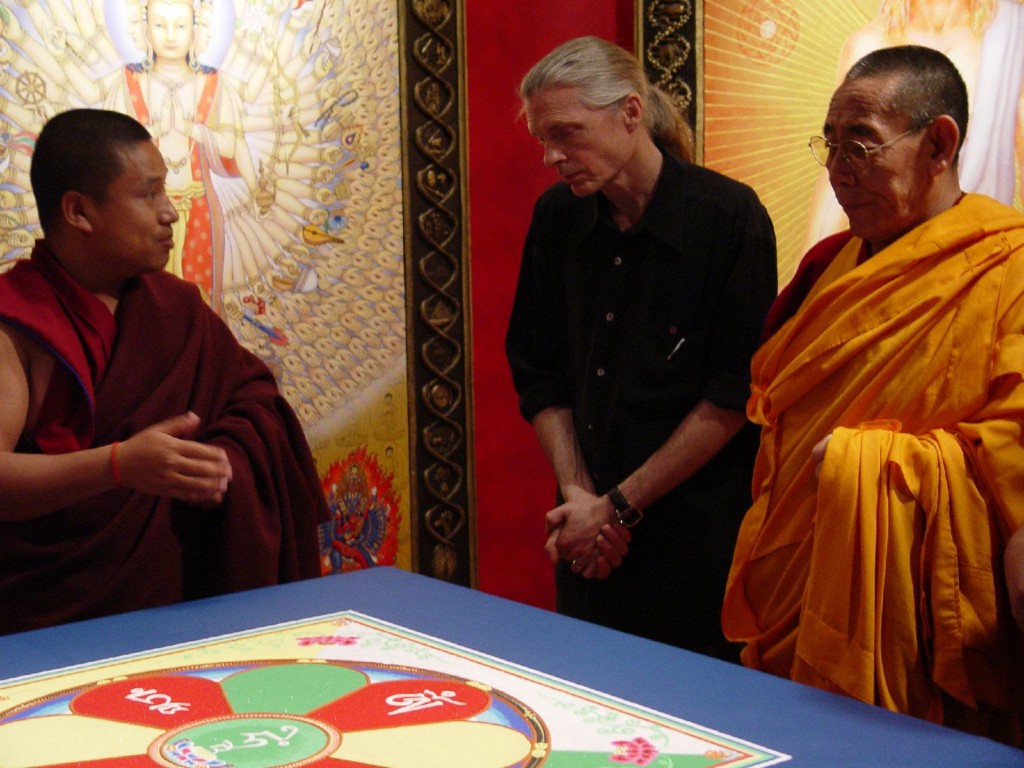 The Gaden Shartse Monastic College lives amidst lush green hills and jungle in the remote countryside of southern India. Founded in 1969, a small group of elder monks and fifteen boys, having escaped the destruction in Tibet, settled on land offered them by the Indian government in order to continue the great monastic traditions of Tibet. The monks go on tour to share their culture, practices and paths to inner peace and compassion. They offer in depth teachings and initiations of the Dharma as well as traditional Tibetan cultural performances. Proceeds from their programs are donated to the monastery. Through their successful touring, these talented and brilliant monks are able to support much needed building improvements, medical needs, teachers' salaries and general operating expenses.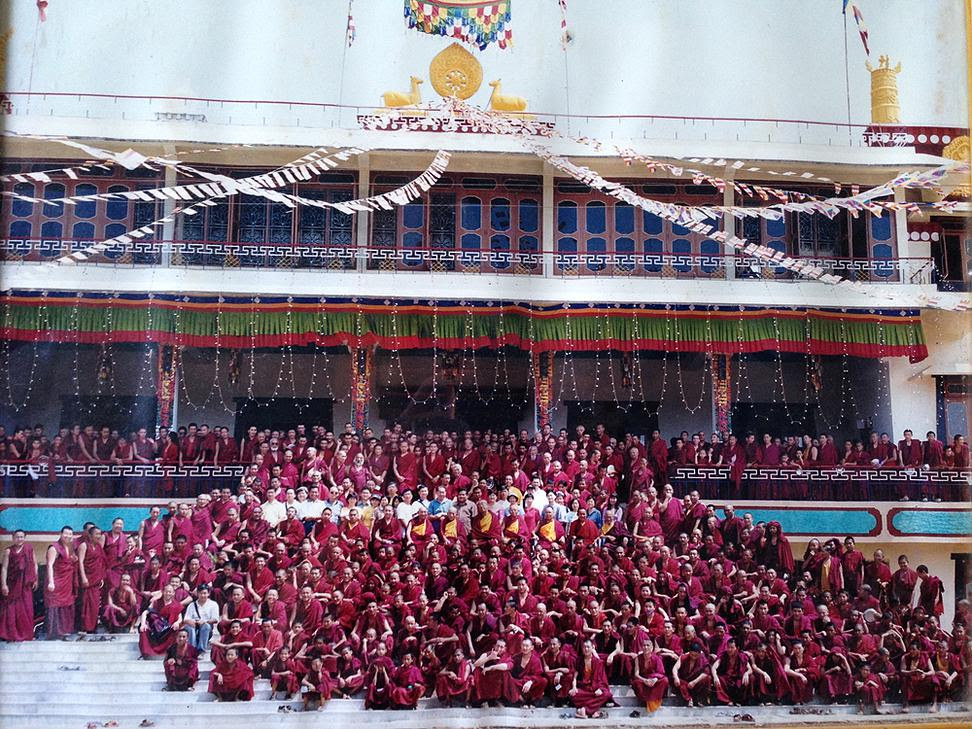 Thanks to Ray Ippolito, for bringing the Gaden Shartse Monks to bless CoSM once again.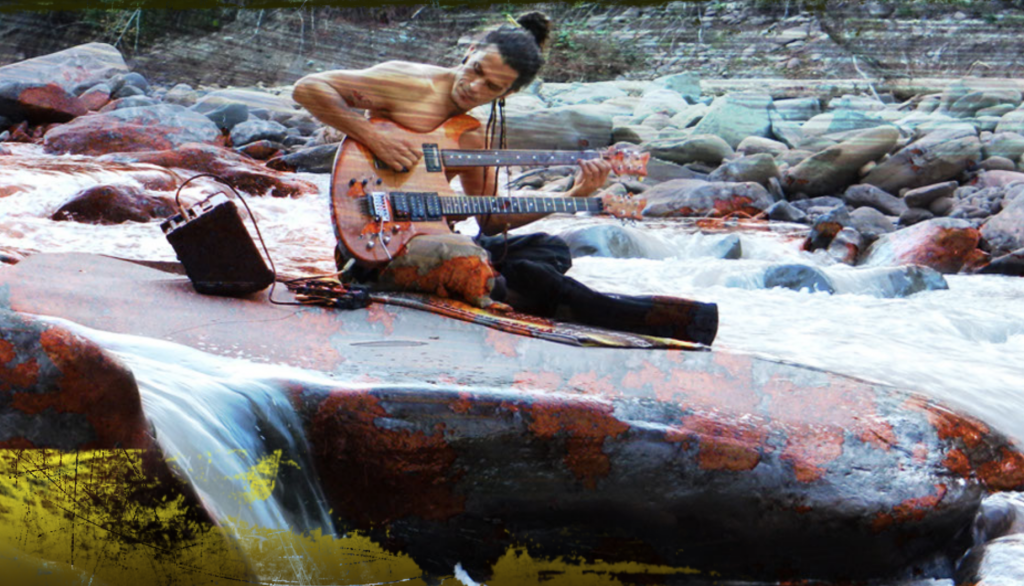 Day with the Tibetan Monks


9am  – Prayer and beginning creation of the sand mandala.
11am  – Introduction and traditional Tibetan meets ambient music, by Ray Ippolito and Lhakyi
11:20pm  – Healing ceremony Monks of the Gaden Shartse Phukhang Monastery
12-1:30pm  – Teaching and  Video of "Day in the life of a monk"
BREAK
2:30pm – Music by Ray Ippolito and Lhakyi
3pm  – Discussion w/ Alex Grey, Allyson Grey, and Geshe Phuntsho

5 pm – Dissolution of Sand Mandala Ceremony
THE ARTIST'S JOURNEY
Making Art with David Heskin & Aloria Weaver
October 28-30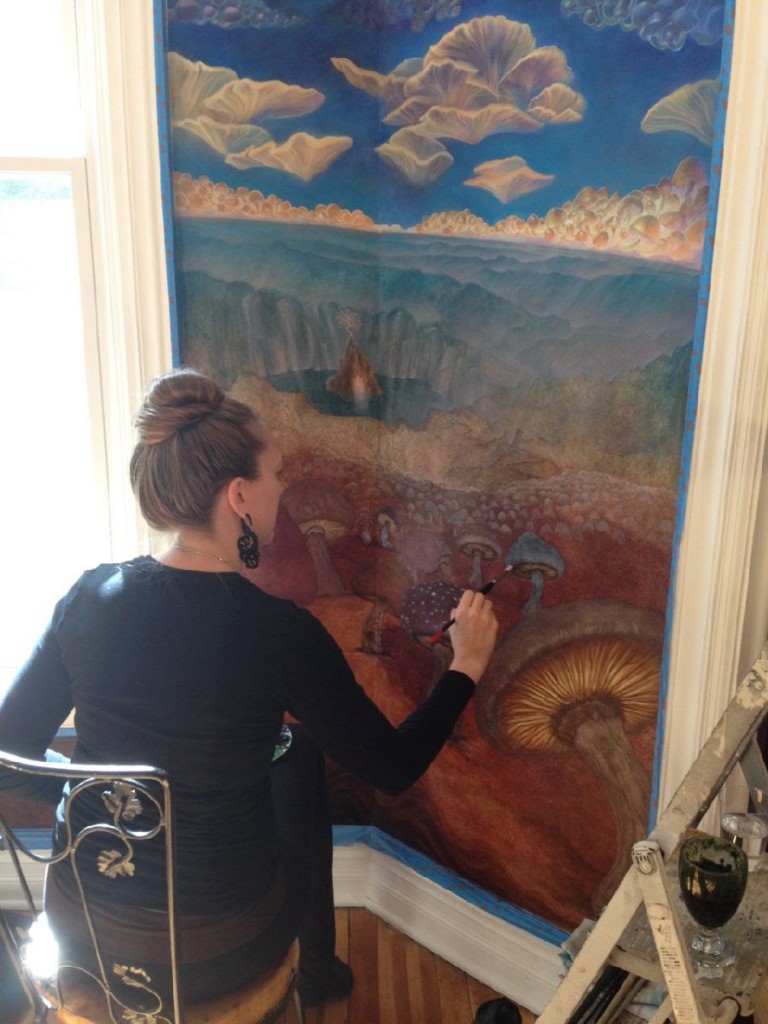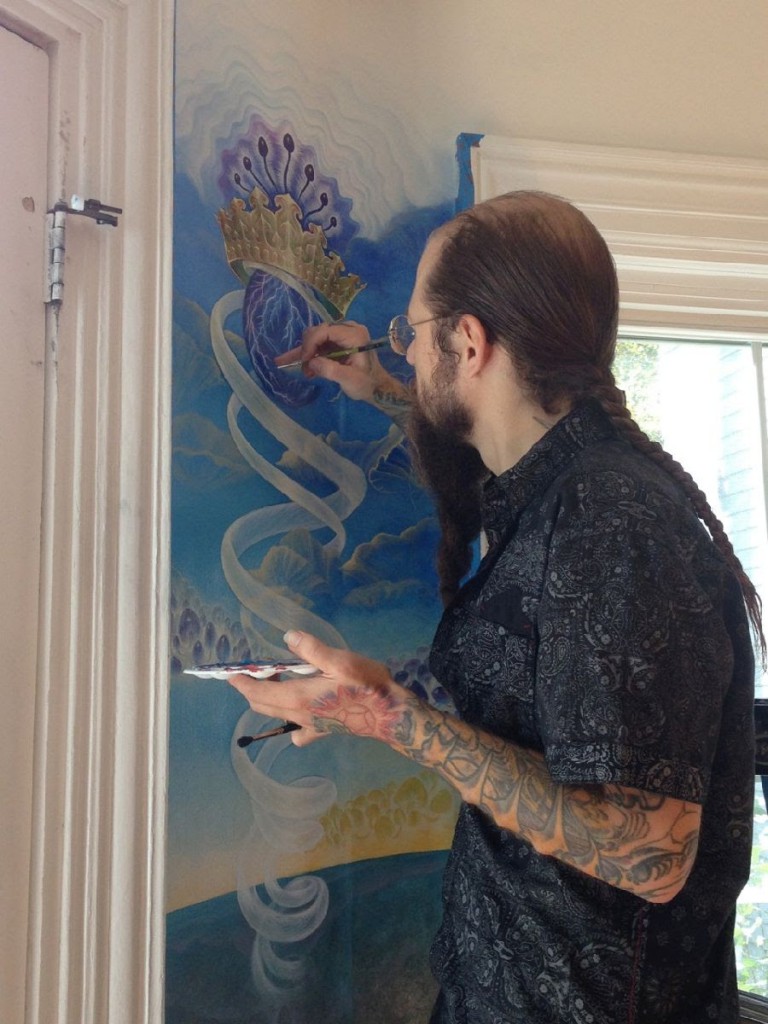 It is still possible to study painting at CoSM with Visionary Art Stars, Aloria Weaver and David Heskin. This inspired art team work both collaboratively and independently. David and Aloria empower painters to the next level of their creative development and professionalism. Founding faculty of the newly prestigious Vienna Academy of Visionary Art, this unstoppable duo turned around and started the Colorado Association of Visionary Art where they sponsor art experiences by some of the most imaginative painters of our time.
Seeing their exquisite co-lab muraling in CoSM's Mushroom Cafe would encourage Visionary Artists at all levels of ability to sign-up for this workshop opportunity ASAP. Those called to paint their visions should well consider gleaning mentorship wisdom from this dynamic motivational couple. Come for "a mythological journey of your own mystical inner landscapes,"
Give your ART-self the gift of a CoSM retreat with two celebrated Visionary Artists.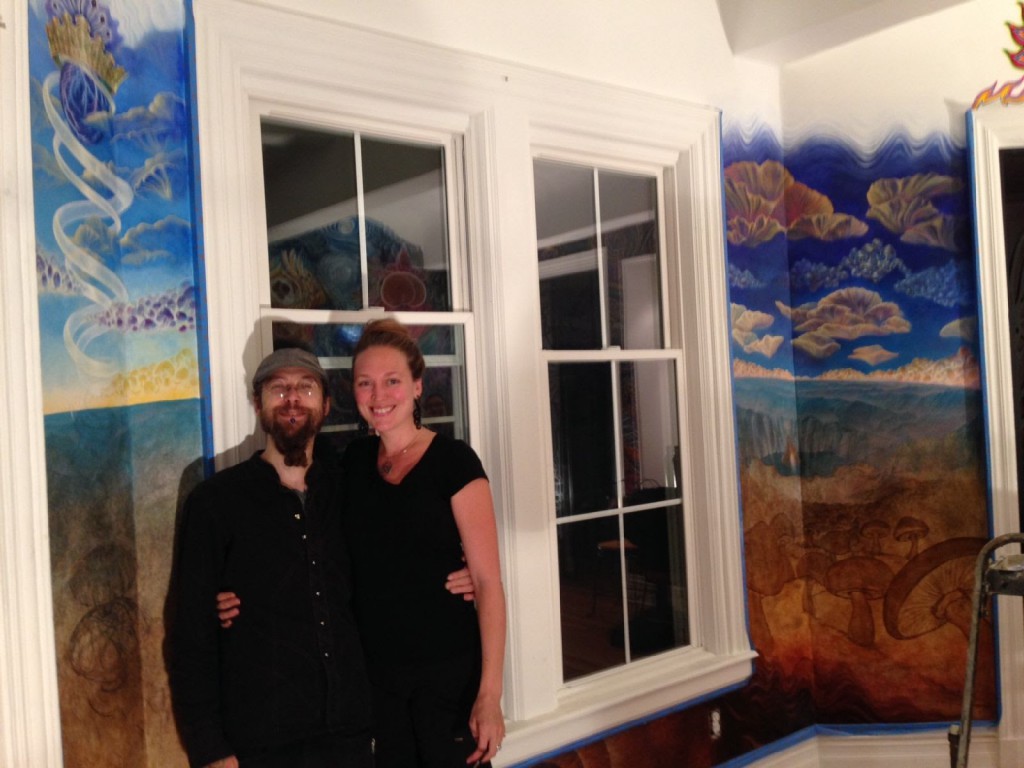 David Heskin and Aloria Weaver in front of their mural for the Mushroom Cafe at CoSM
FOOD DRIVES FEED LOCALLY
CoSM participates in the Dutchess Outreach Food Drive
Fill a grocery bag (or two) to share with others this Thanksgiving season. CoSM is partnering with Dutchess Outreach to help stock local food banks this season. All this autumn, non-perishable food items are being collected in the foyer of Grey House. When visiting CoSM this season, join with us in helping our greater community.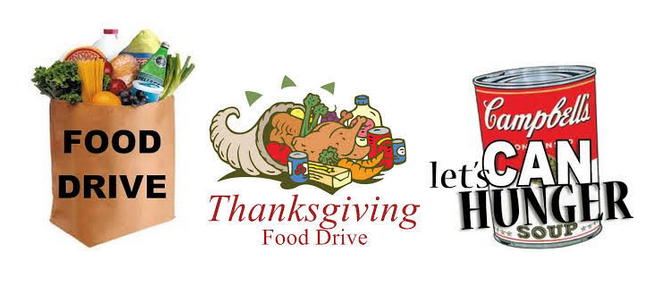 Love,
Alex and Allyson
CoSM CLOSED SATURDAY [10/17] FOR WEDDING