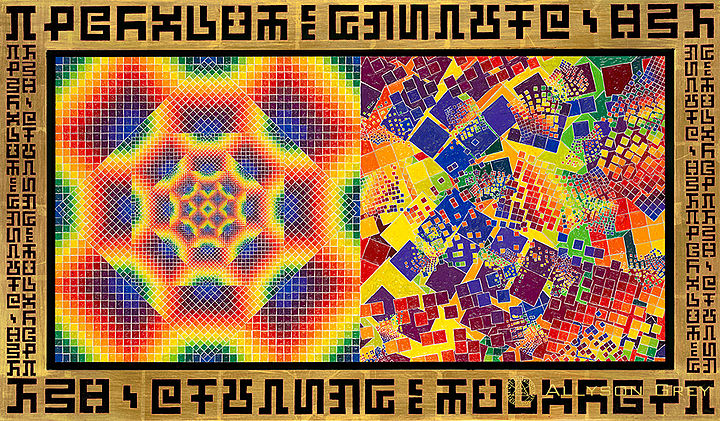 Chaos, Order, & Secret Writing, by, Allyson Grey, 2009, oil on wood panel.
Sunday @ CoSM:
Art Church
The Mission of Art
with Alex & Allyson
1 pm - 5 pm
At this Sunday Art Church, Alex and Allyson will discuss the highlights of Alex's inspirational treatise on art's power to bring about personal catharsis and spiritual awakening. Alex Grey's reflections combine art history and first-hand experiences in creating art about the subject of consciousness.
Artist's Hand, by Alex Grey, 1997, oil on wood panel.
Topics this Sunday will include techniques for exploring the deeper purpose of artistic expression and address how art can be a spiritual practice. The Art Church program includes drawing (journaling also welcome). Bring a sketchbook and colors.
Trust Your Intuition
Activate Your Highest Potential,
and Live Out Your Soul's Calling
An Interview with Allyson Grey & Christina Miglino
September 19th, 2018
Dive into a complimentary interview series with Allyson Grey and over 28 other major influencers. Hosted by Christina Marie Miglino— Soul Catalyst, Artist and Channel for Higher Consciousness.
Be a part of this Global Movement, The Divine Soul Ignited, by signing up to receive 30 days in a row, of short, yet deep interviews about connecting with your Highest Guidance, Your Soul's Mission, and Your Intuition. Let each day be a ritual for your morning or evening. Enjoy guidance from these extraordinary experts
Through these interviews you will discover:
• How to let go of limiting beliefs and tune-in to your highest available light frequency
• Practical tools for activating your spiritual gifts and healing to align with your Soul's Mission
• Strategies for clarifying your intuition
• How to be the creator of your own reality
• Free gifts, and more!
We are living in an exciting time, RIGHT NOW, where you get to REMEMBER who you are.
That you have a soul and that soul has a mission.
Align with your highest purpose and serve.
Live a full, abundant and divinely guided life today!
Love,
Alex & Allyson