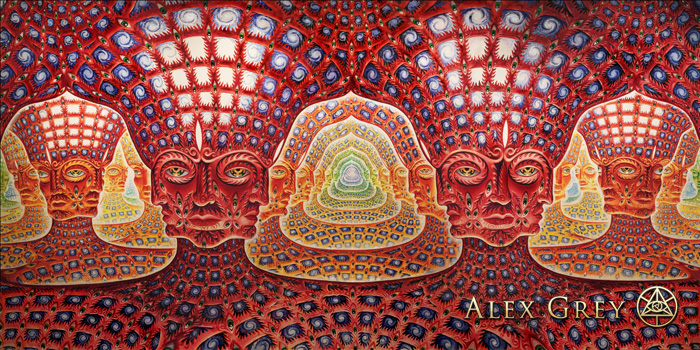 Saturday @ CoSM:CoSM's Annual Membership BBQ
with Alex Grey & Allyson Grey
Saturday, August 5th
3:00 pm - 6:00 pm
Take a tour with Alex and Allyson, who will recount the history of the land, and the past, present and future of CoSM. Outdoor Dinner, weather permitting. Rain: in the dining hall.
This is a complementary event for CoSM Members. [Not a +1 event.]
Sign up anytime before the BBQ, even at arrival.
BBQ Includes:
• Presentation and tour of CoSM, including the Grey House,
Wisdom Trail and Entheon Site
• Dinner with Alex & Allyson Grey
• Entry to Full Moon Gathering
All attendees MUST R.S.V.P. Pre-register online to reserve dinner for the BBQ.
Full Moon Gathering @ CoSM:Full Moon Ceremony
Music, Poetry, Wisdom & more
with hosts Alex & Allyson
7:30 pm - 9:30 pm
The Full Moon is a sacred mirror reflecting the greater light of the sun, just as each of us is a reflection of the greater light of God. Since January 2003, CoSM has held an unbroken chain of Full Moon Ceremonies, empowering our creative lives and praying with supportive friends for an enduring sanctuary of visionary art, a collective legacy gift to inspire the global community.
With community support, Entheon, now under construction, is closer to completion than ever before. All sacred paths share the power of love and wisdom through creative expression. Bring your artist's spirit to CoSM and celebrate the fullness of the moon in a performative evening of wisdom, poetry, music and surprises. Opening ceremony led by Alex & Allyson will be held in the Library from 7:30pm - 9:30pm. Seating begins at 7pm.
Photo by, Melissa Robin
Full Moon After-Celebration:
10:00 pm - midnight
Enjoy live music, interactive art making and performance painting.
In the Library, Alex Grey could create a "Supportrait" for you, a one-of-a-kind drawing of one guest or couple To support CoSM. Chat with Allyson about art & life. To reserve your Supportrait, call 845-297-2323 x104.
Photo by, Melissa Robin
Have your body exquisitely painted by Caren Charles. Observe live airbrush painting by John Shook. Visit with featured live painters throughout the house -- Aaron Mckusick, Hilary Astrid, Izzy Ivy, John Bertolone, Joness Jones, Linzy Miggantz, Louie Izzo, Ryan Gatt, and Sophia Ramirez.
Snacks and beverages will be available for your enjoyment through the Mushroom Cafe. Head over to the CoSM Shop and seek out artful treasures. Then hang outside by the bonfire with cosmic friends.
Photo by, Melissa Robin
Be sure to set positive intentions at the community sand mandala, facilitated by Rosie and Dr. Mike. See you Saturday!
Sunday @ CoSM:Morning Yoga
with Emily Rose
10:00 am - 12:00 pm
Sunday morning yoga at CoSM offers the ultimate mindbody stretch — with Emily.
Be gently guided toward your body's own potential. Deepen any asana practice and rejuvenate with friends of all levels of experience. Refresh & recharge, while both nurtured and challenged by the sublime yogini, Emily.
Yoga begins at 10am, $10 donation requested. Mats available.

Art Church:
Divine Feminine, Sacred Masculine
with Alex & Allyson
1:00 pm - 5:00 pm
The Divine Feminine and the Sacred Masculine are archetypes of holy possibility for the sexes attaining their greatest potential. To realize planetary transformation and justice for all, gender balance is fundamental. Art Church in August will offer an examination of the archetypes and stereotypes that define the evolution of human sexuality.
Ocean of Love Bliss, by, Alex Grey
Countless prehistoric Goddess relics portray the beauty and power we see shining through Superstar Divas prevalent in world media and pop culture. The Princess, the Virgin, the Siren, the Mother, the Witch, the Wise Woman recur in both mythology and history. The Greek Goddess of Love, Aphrodite represented fecundity, beauty and sensuality. Kali, from the Hindu pantheon, is the mother of Time and the Material World, yet also represents the Destroyer of that World.
The Sacred Man has been embodied in the character tales of Jesus Christ, Shakyamuni Buddha, Moses, Muhammad and other figures of spiritual wisdom who have offered an iconic vision of masculinity and divinity. Archetypes of the Shadow and the Light are powerfully evident in the Egyptian neteru including the Solar Diety, Horus at war with Set, the Dark Lord of the Desert & Chaos.
Adam and Eve, by, Alex Grey
Become the healing you want to see in the world, first in your own life. Examining a sacred mirror of love and self-forgiveness, helps clarify perception of others. Contemplating and modeling the "better person" we could be, and the "better relationship" we could have sets in motion a future chain of possibilities for our betterment. By imagining integral equality together, we progress toward a new sacred partnership.
Join us ready to add your reflections to a discussion on the Divine Feminine and the Sacred Masculine.
Art Church begins with art as a spiritual path. Bring drawing and/or journaling materials.
Love,
Alex & Allyson