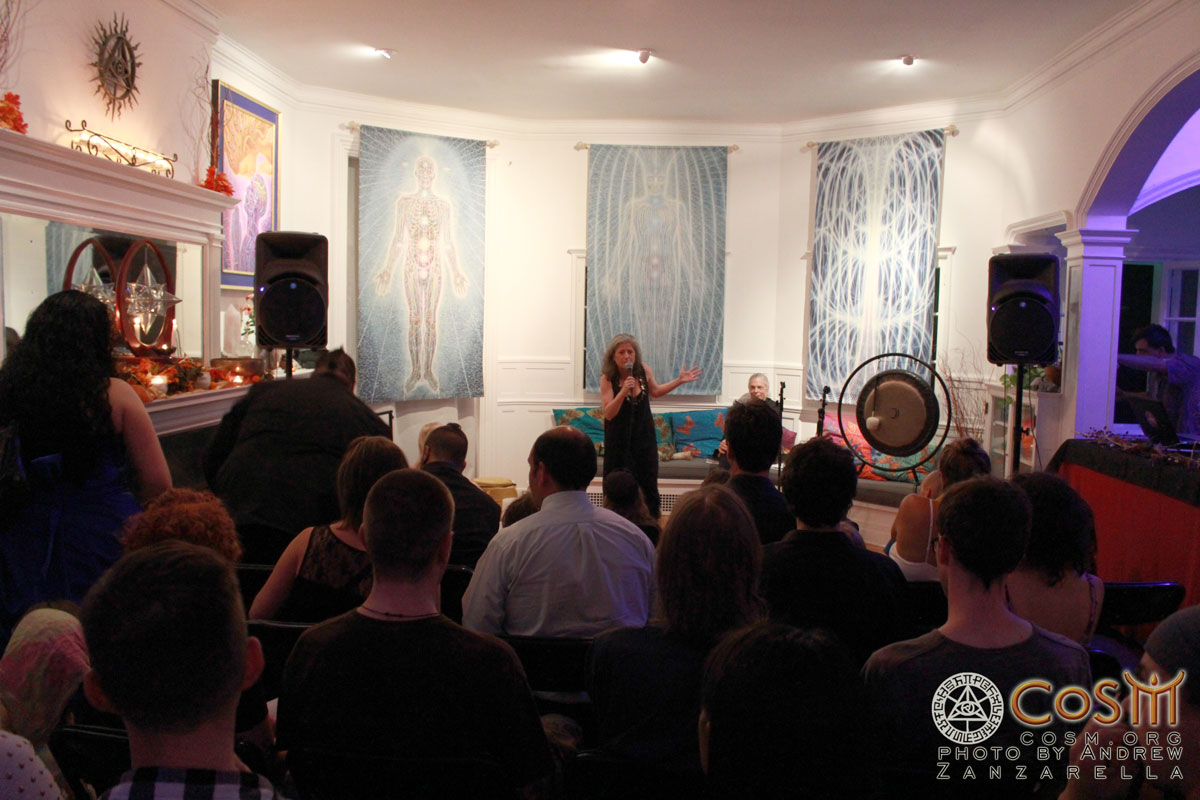 Allyson opening the Autumnal Equinox ceremony.
The Autumnal Equinox Celebration opened with "Mirrors of the Heart: A Sufi Retreat" led by author and retreat guide, Wendy Jehanara Tremayne. Wendy is the author of 
The Good Life Lab: Radical Experiments In Hands-On Living
, "a contemplative and practical guide to a post consumer life." Her program introduced fundamental viewpoints of the Sufi wisdom path, and reminded participants to contemplate nature, the ultimate teacher, to gain true knowledge, and to trust in the power of the heart to find your inner calling.
The Equinox opening ceremony, led by Alex and Allyson, started with a live crystal bowl and chime sound healing by Dana Marie, creating a meditative atmosphere in the candle-lit room. A beautiful mood was set for the wedding ceremony that followed. Grooms, David Mejia and Joe Allard came from Chicago to be married by Alex & Allyson. The newlyweds and their families enjoyed the first moments of their union with the gathered assembly as we witnessed performances of live poetry, music. Alex offered uplifting wisdom inspired by the fullness of the moon and Allyson delivered her monthly parsha, a Jewish tradition in which we reflect on our lives and intentions.
After the ceremony, a brilliant array of performances and talent filled Grey House and the CoSM grounds. The dance floor was pumping with electronic sounds from talented musicians --  D.V.S*, Skytree, Space Jesus, Shwex , bioLuMigen, Living Light, and Infinite Geometry. Alex and Allyson and many other artists painted in the library, gallery and parlor. Featured painters included Andy Reed, Jeremie Zook, Joness Jones, Ken Zeltakalns, Martin Bridge, and Sharon Stelluto. In the parlor, a sand mandala, led by Eileen "Rosie" Rose, was created collaboratively  by many artistic guests. Outside, by the blazing bonfire, aerialists of The Secret Circus performed graceful tissue dancing and acrobatics. Hypnotic fire performances by Phantomime, Fayzah-Fire, Matalvin's Firewerks, Fire Magik, Isis Jules Magnus were offered under an extraordinary laser display of Silent Stream.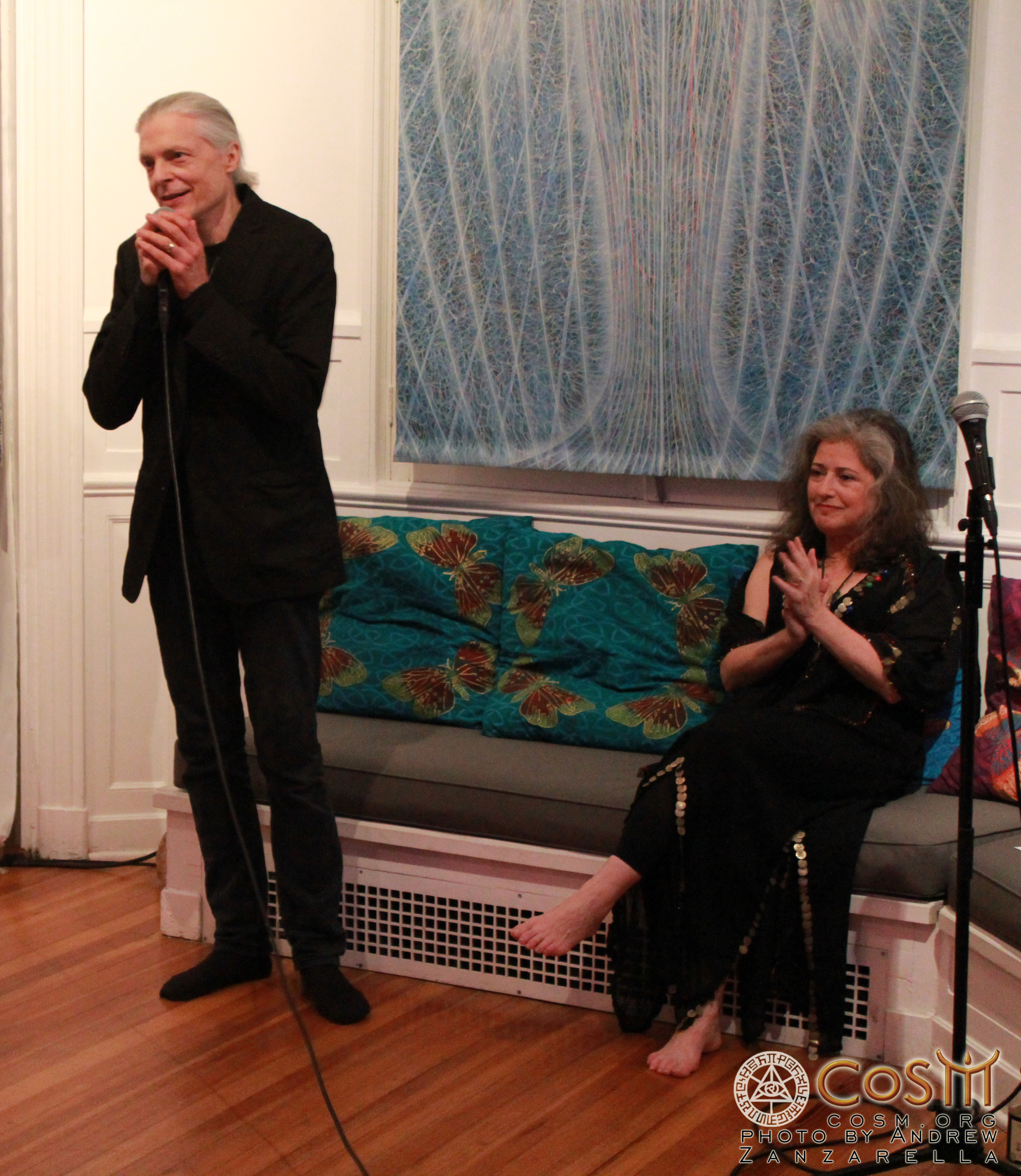 Alex speaking about the spirit of Autumn.

Dana Marie blessed the audience with a sound healing.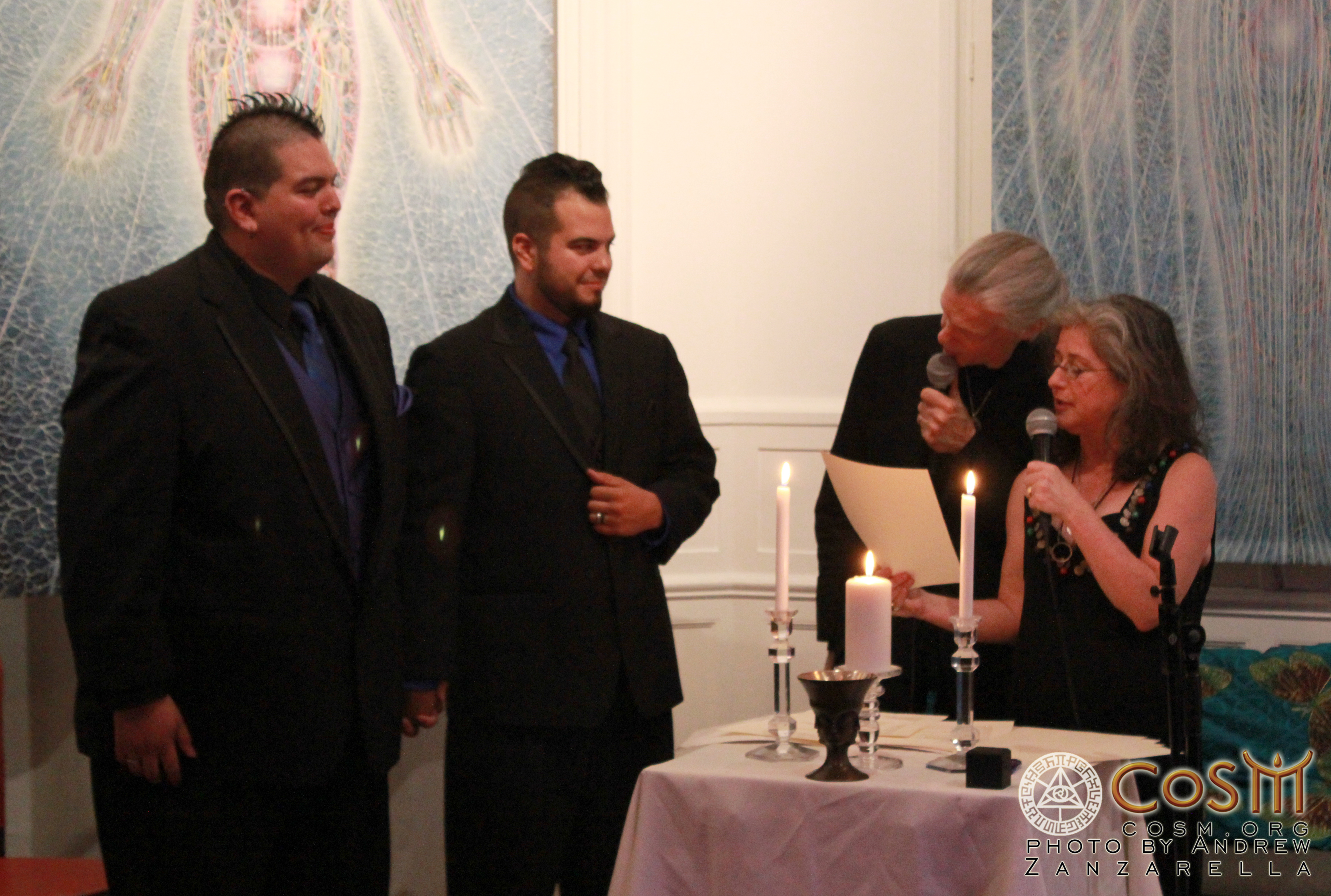 The Grey's pronounce David Mejia and Joe Allard husband and husband.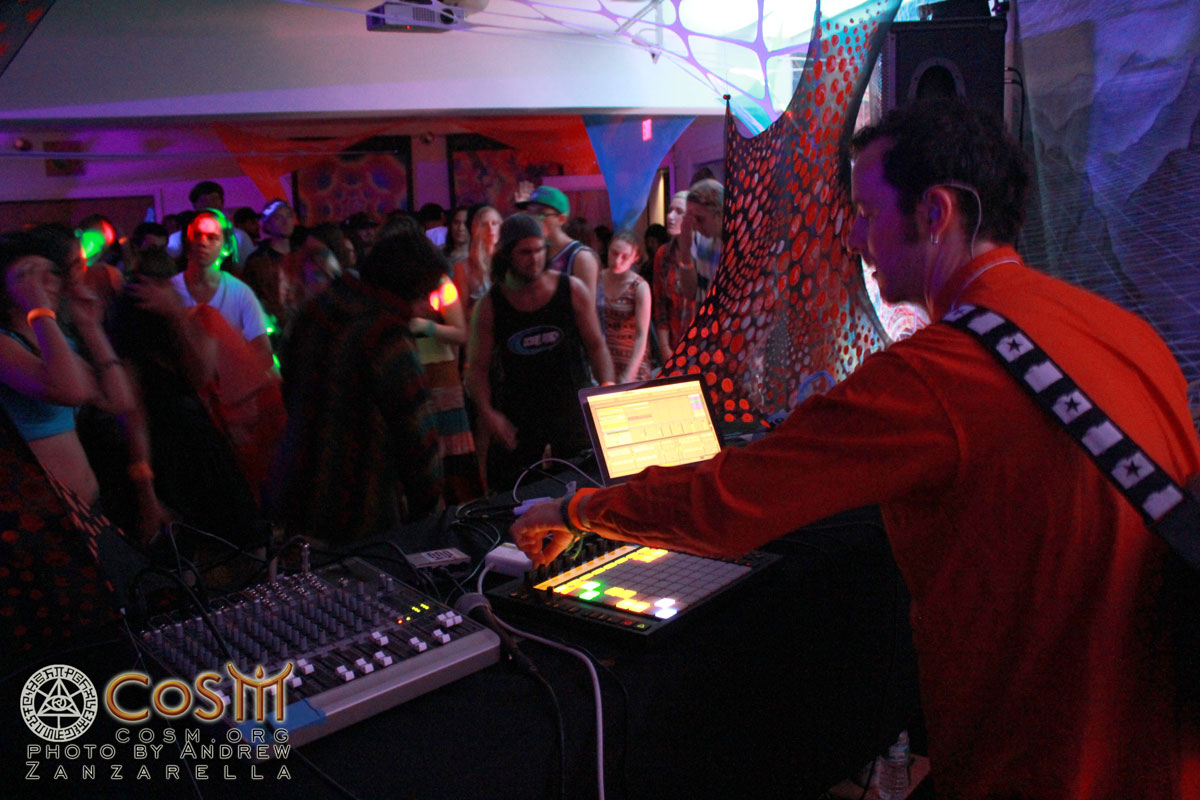 Guests groove to D.V.S.*.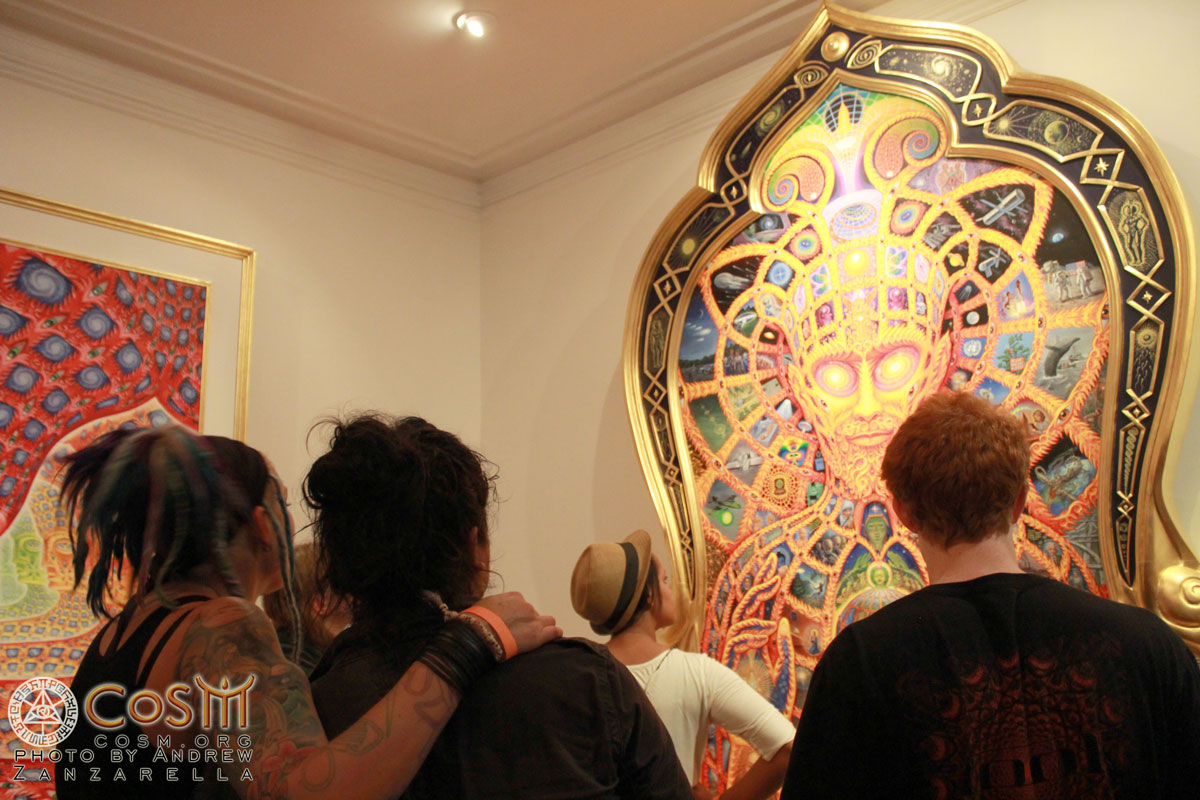 Guests in the gallery contemplating "Cosmic Christ".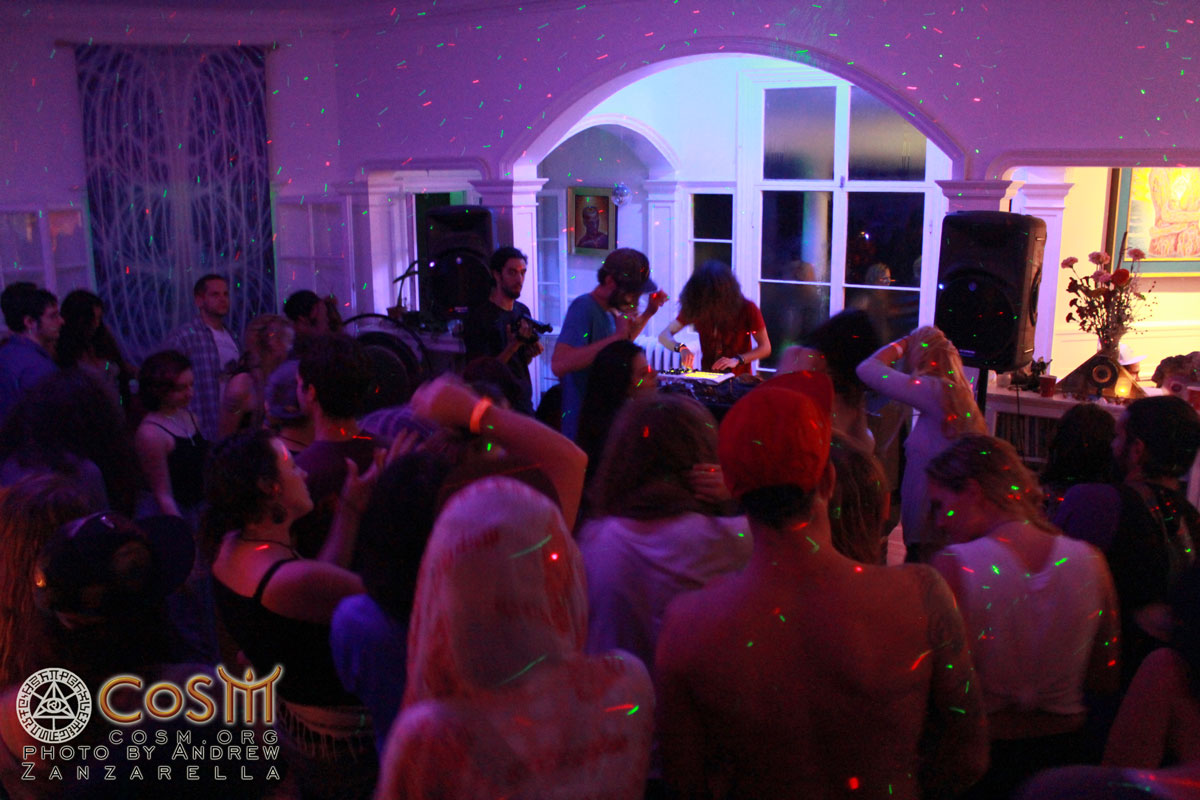 Skytree rocks the dance floor.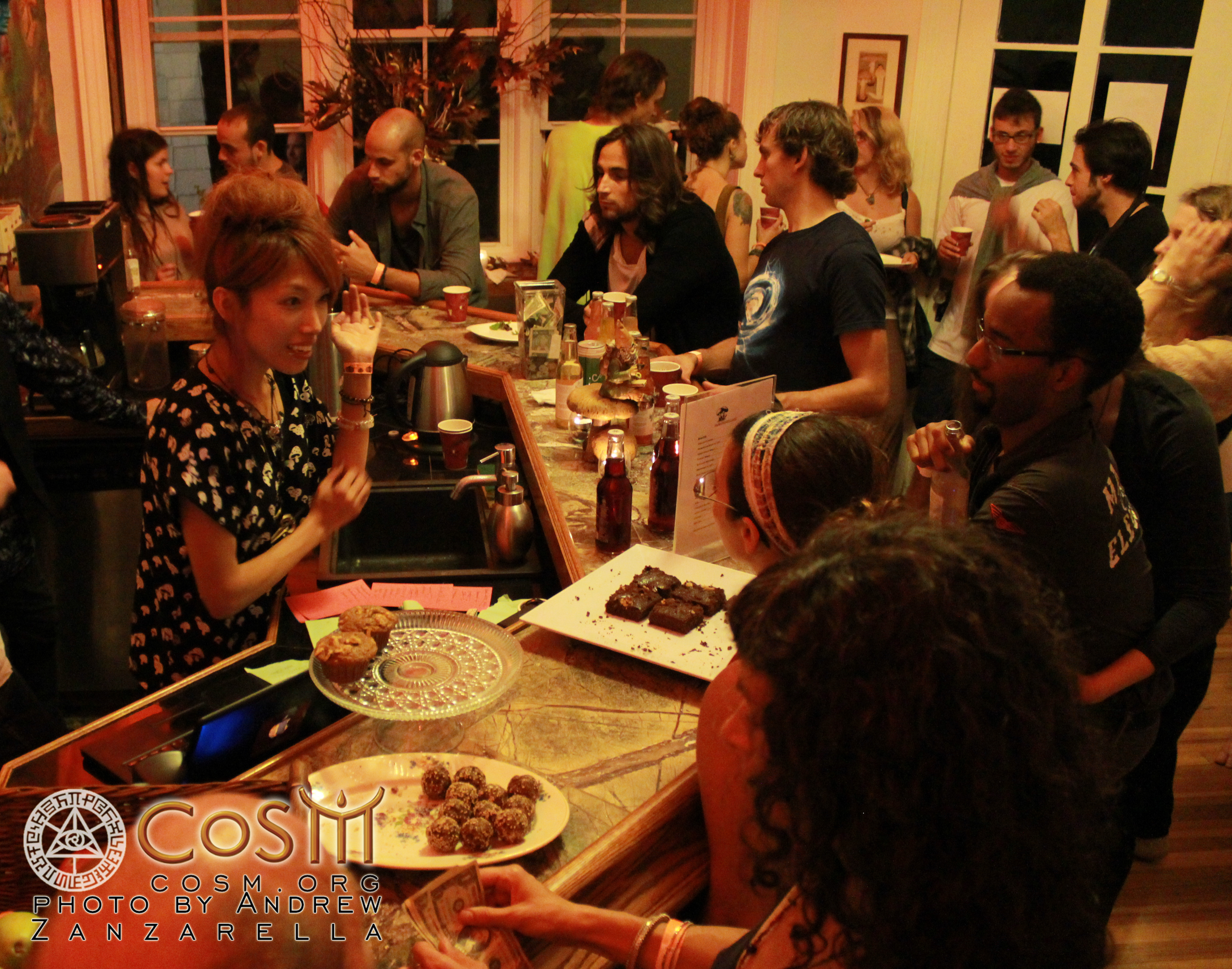 The Mushroom Cafe featured a fall-flavored menu of sweets and savories.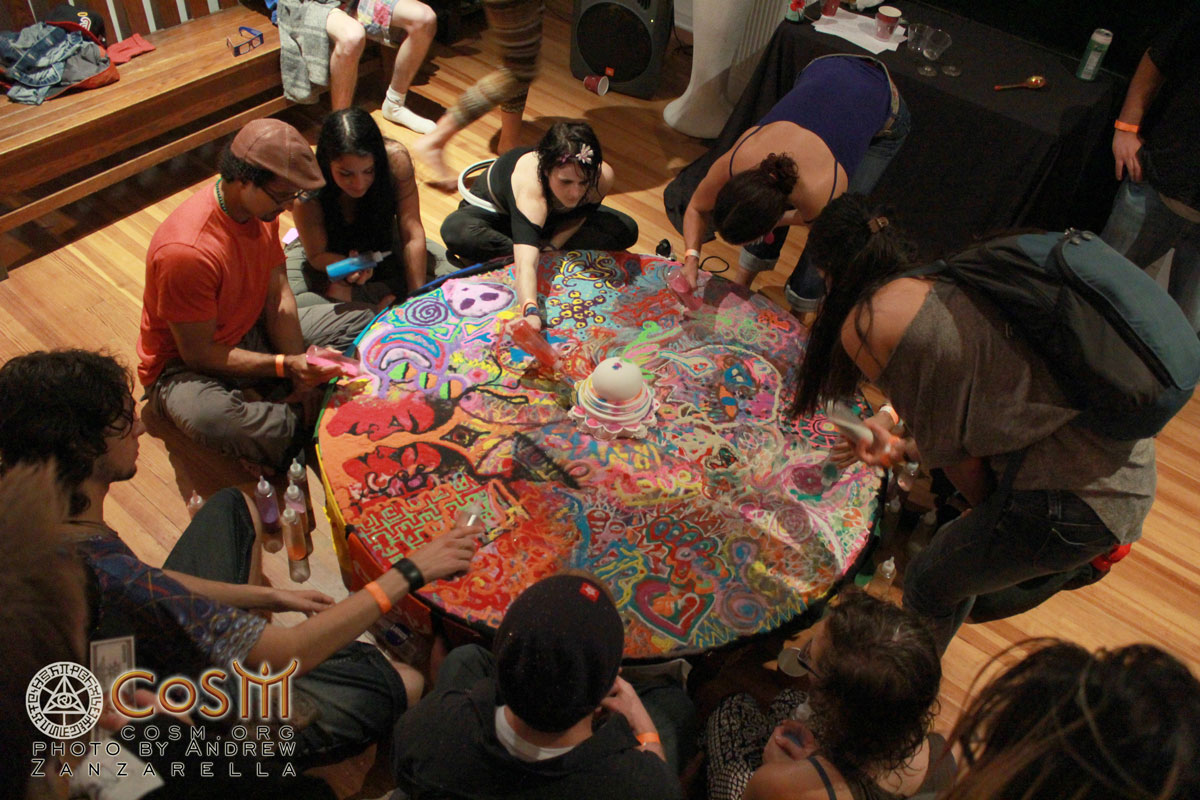 Collaborative sand mandala in-progress.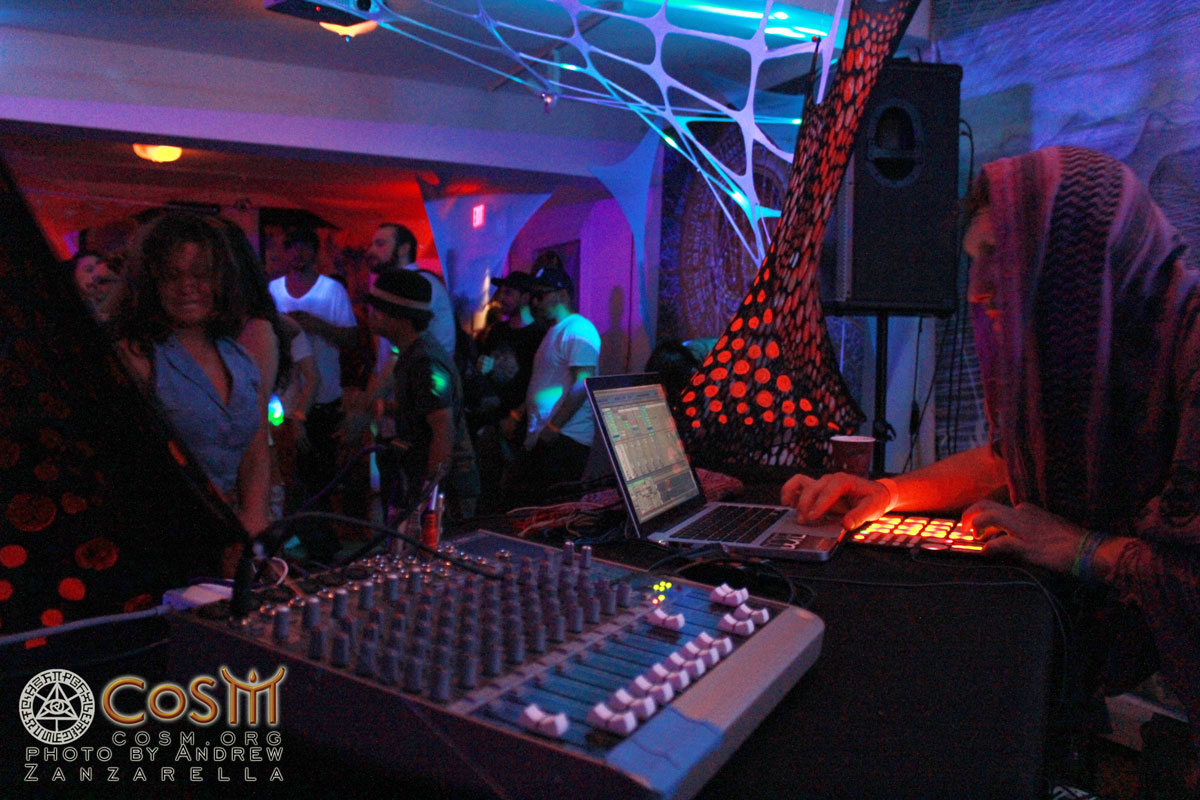 Biolumigen in the DJ booth.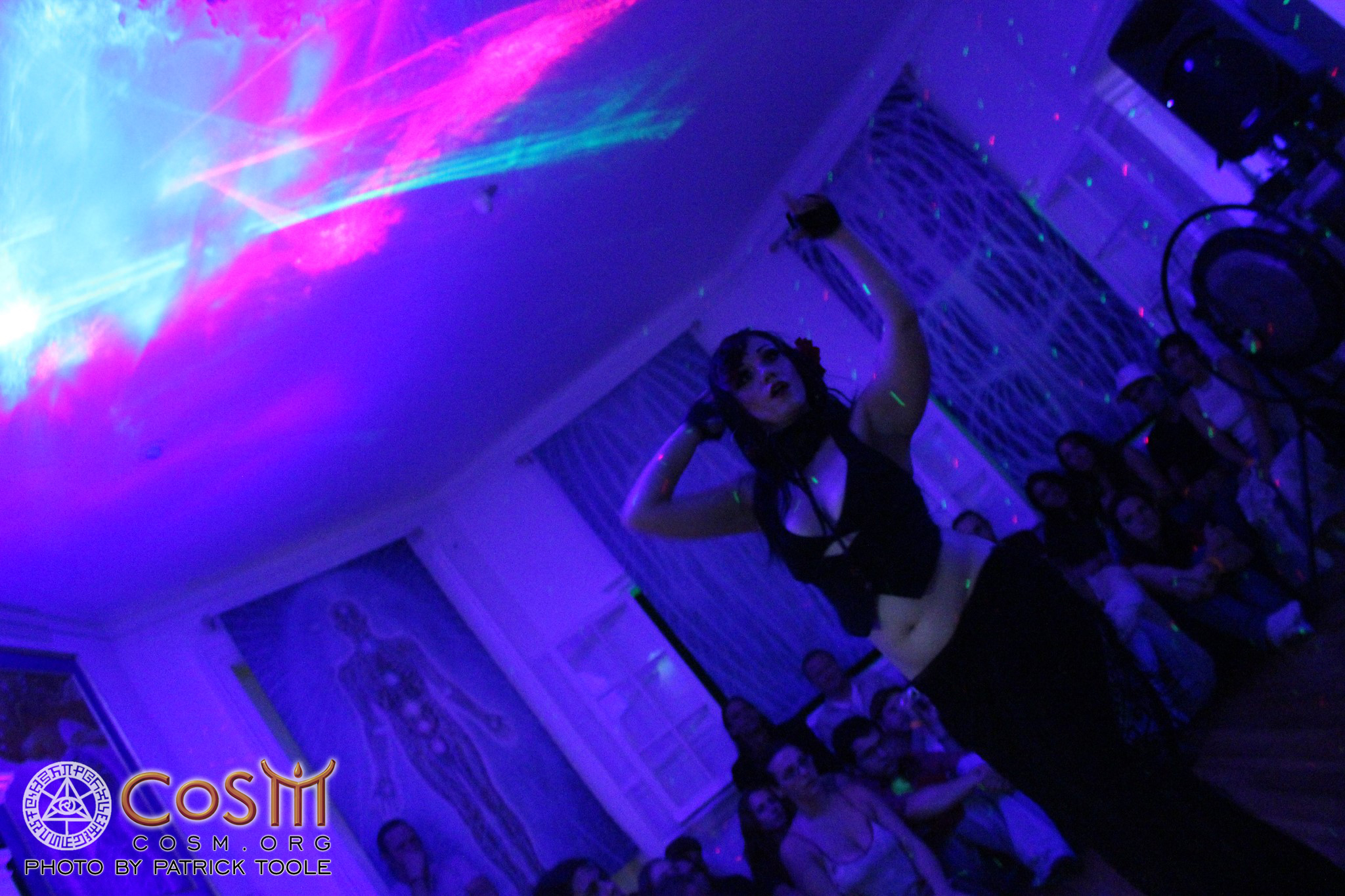 Sarah Jezebel belly dancing.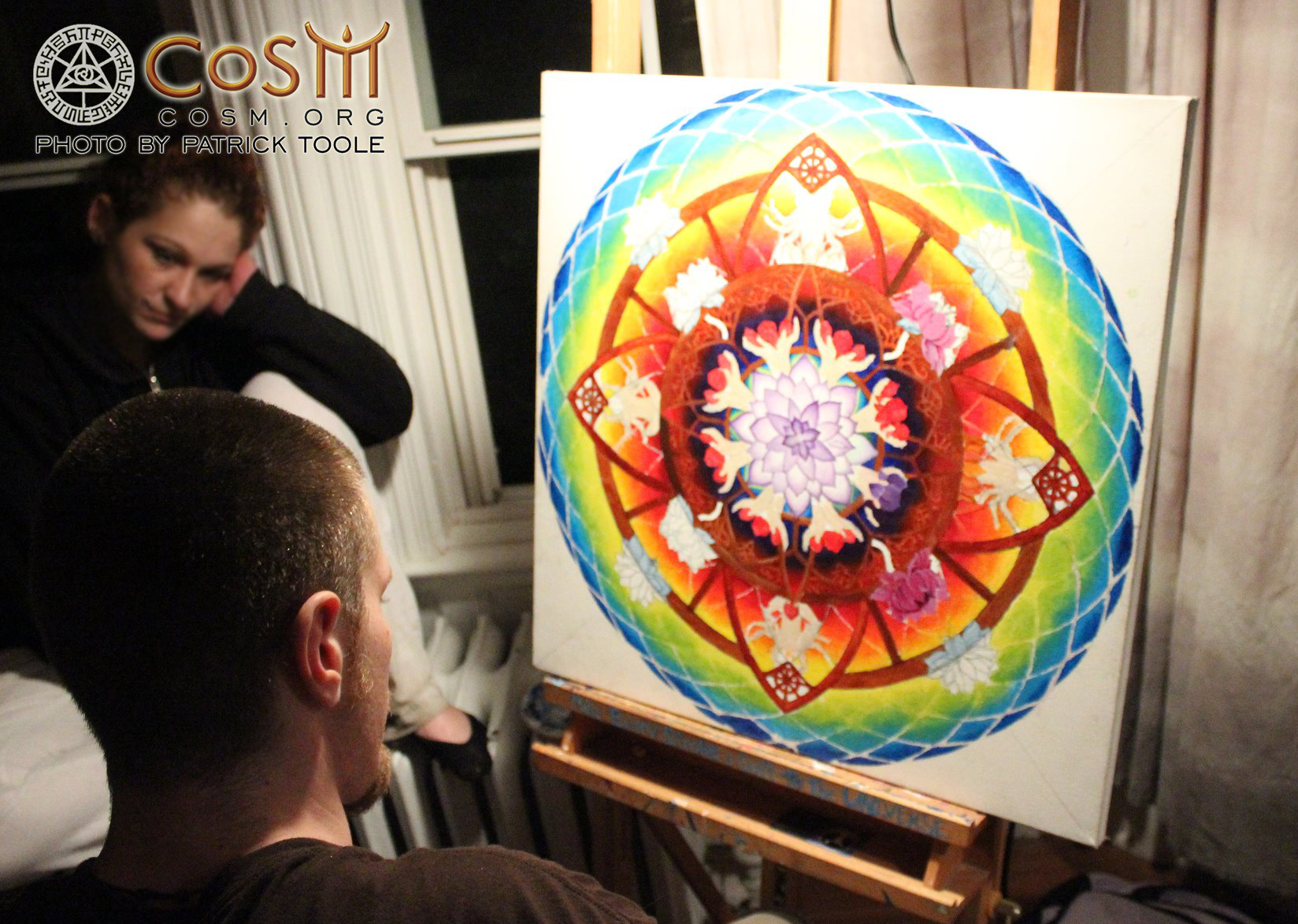 Jeremie Zook created an exquisite mandala.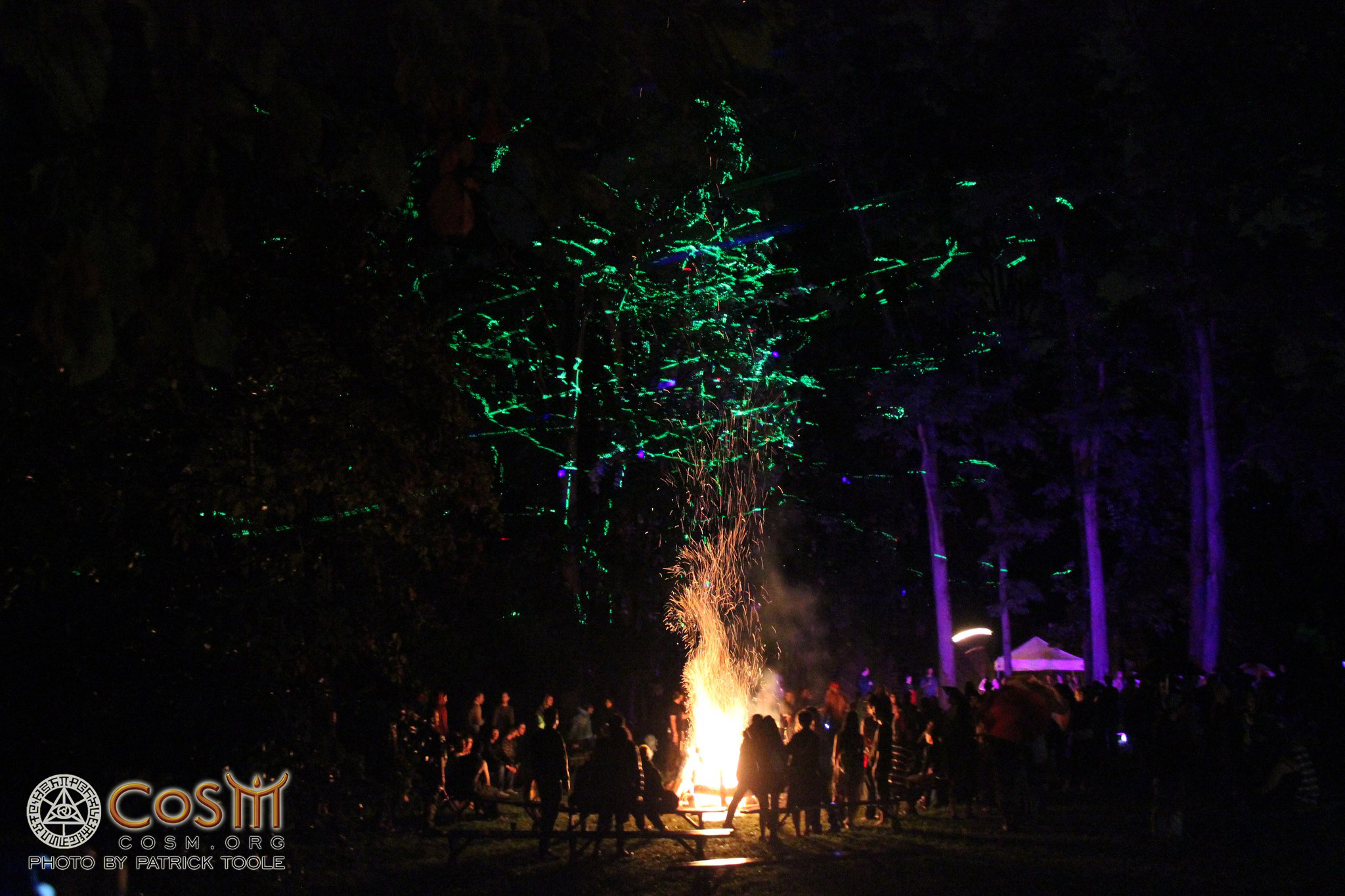 Community circle around the bonfire.