With a chill in the air come seasonal shifts and ceremonial rituals throughout world culture. For Autumnal Equinox, CoSM honors the balancing of polarities, daylight and nighttime, and celebrates our precious planet Earth, the Sun and our Cosmos, source of light and life. On the morning of the autumnal equinox, the sun rises due east on every horizon. Past this point, our sun will move northward on the horizon, and into the darker colder Fall, astonishingly colorful in the Hudson Valley.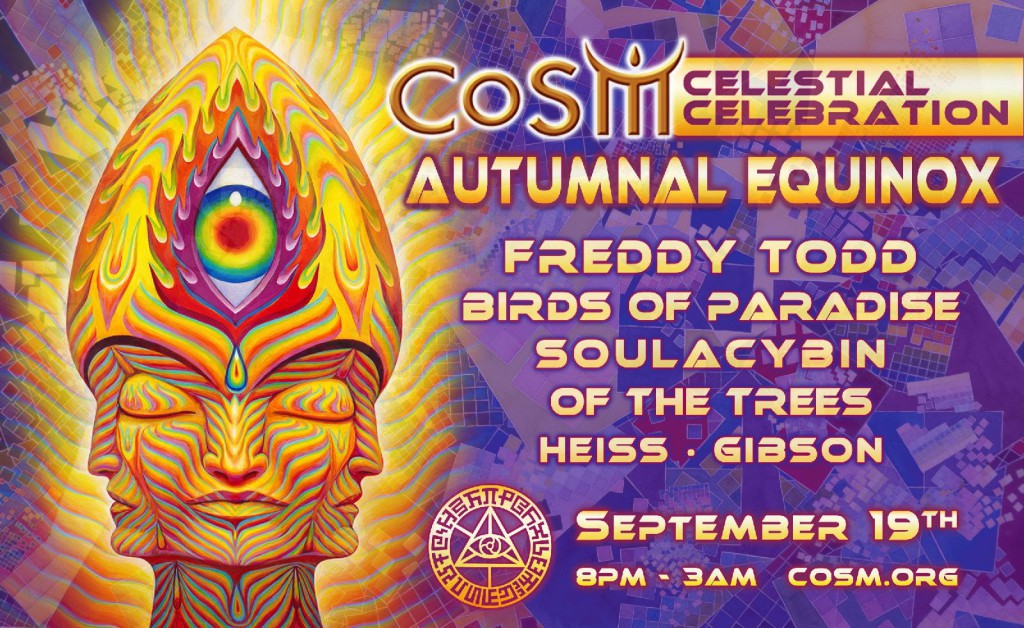 The Autumnal Equinox reveals a cosmic and spiritual order inside cycles of nature, aligning us foundationally in our psyches and planet. Join us for the opening program where we will discuss cross-cultural Equinox celebrations and share the progress of building Entheon, Sanctuary of Visionary Art. At CoSM we celebrate with music, painting, dance, communicating through all forms of creativity to bring higher dimensions of beauty to manifestation, bringing heaven to earth with our expressions. Come see all the extraordinary musical performers and visionary artists coming to CoSM for the Equinox. Live painters, including Amanda Sage, Joness Jones, Ken Zeltakalns, Seth Leibowitz, Martin Cash, Allyson Grey and Alex Grey. Come see the fire performers and musicians.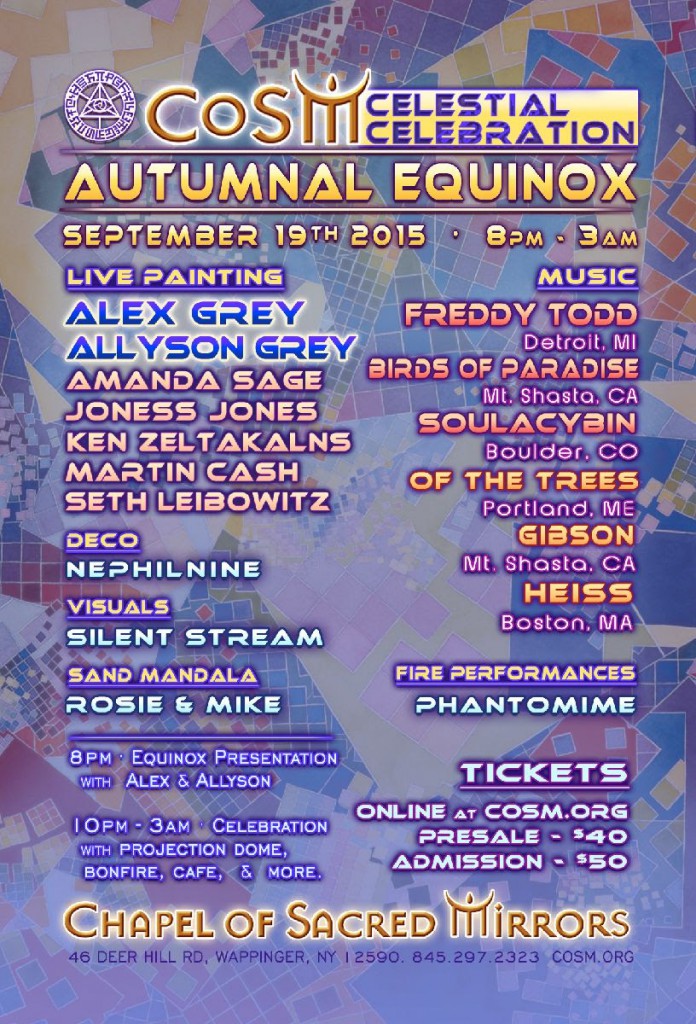 CoSM's first Chapel in New York City opened on the Autumnal Equinox in 2004. Now, eleven years later Entheon, the Sanctuary of Visionary Art is under construction amidst CoSM's resplendent natural setting in Wappinger, New York. Last year the foundation of Entheon was poured on Rosh Hashanah, Jewish New Year. This year, Rosh Hashanah was the day the concrete block walls of Entheon were completed all the way to the roofline. The galleries are taking shape and the roof is on it's way, expected to begin assembly before the end of September. With your support, we are building sacred space together. 

Gratitude to the Great Spirit for one of the greenest most beautiful summers ever!
Come celebrate the turn of seasons at CoSM this weekend!
Love,
Alex & Allyson