Alex Grey and the Sacred Mirrors series featured on
http://hyperallergic.com/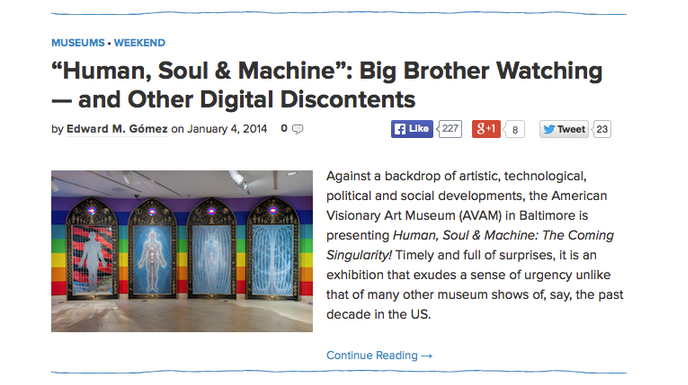 ...Elsewhere, 
Alex Grey
's series of mixed-media paintings, "Sacred Mirrors" (1980), whose four tableaux feature complex compositions, appears to ruminate on the theme of where the human soul — that old, romantic-spiritual thing — might fit into a high-tech future that is already here today.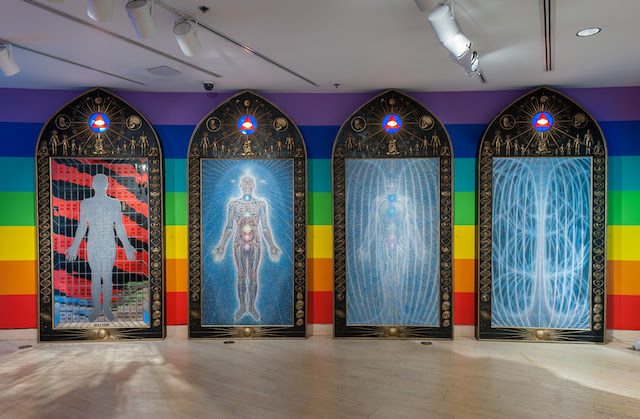 Artist Alex Grey's "Sacred Mirrors" series of paintings, left to right: "Material World" (1985–86), lead silhouette and leaded, etched mirrors; "Psychic Energy System" (1980), acrylic on linen; "Spiritual Energy System" (1981), acrylic on canvas; and "Universal Mind Lattice" (1981), acrylic on canvas (collection of the artist, photo by Dan Meyers)
Looking at Grey's paintings and other works on display, Hoffberger said, "Given the way technology is moving, do we want to become like machines? With each new high-tech invention, how do you download a 'you' into an 'it'?" Grey's powers-of-the-universe paintings, with their images of trees as fecund bodies, along with choruses of prehistoric animals, suns, eyeballs and planets, evoke an eternal, all-unifying, omnipresent spirit. Grey's art seems more all-embracing than the ecumenical posturing of those praying, chanting, bead-rattling leaders of so-called organized religions who sometimes pause to look beyond their own belief systems and pay a little lip service to the dream of
world peace.
Read the full article online here:
http://hyperallergic.com/101560/human-soul-machine-big-brother-watching-and-other-digital-discontents/