PALM BEACH BODY & SOUL DRAWING WORKSHOP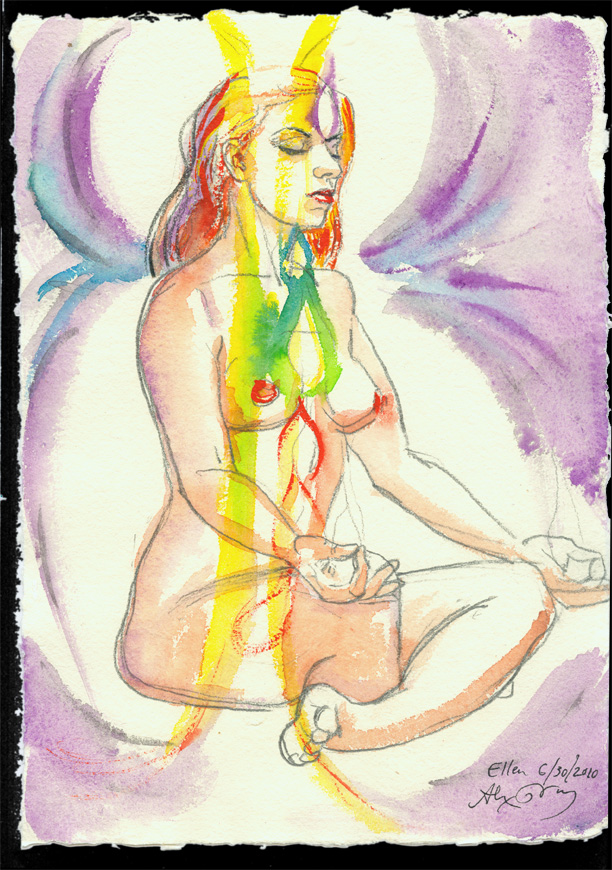 click here for tickets
Friday, May 29th -- 3-7pm
Sharpen your drawing skills as you open your third eye to glimpse and portray the subtle energies of the light body.  Many of us have felt or seen the glow of the life force around and running through our bodies. As artists, we are the scintilla of universal creativity.  In alignment with the  natural flow of our own unique vision, the practice of drawing the light body can be deeply purifying. To feel healthy and whole we connect with and manifest the visions of our essence.
Join Alex Grey & Allyson Grey on Friday, May 29th in PALM BEACH, FLORIDA for the Body & Soul Drawing Ritual workshop. Participants will first receive brief instruction on proportions, technique, and composition, next we will share a vision practice to imagine the interplay of body and soul. Then, we will create seven drawings of the body interlaced with the subtle chakra centers and aura as we gaze at a beautiful model yogini, drawings that could be touchstones of our own harmonic integration of psyche and soma.
Turn on your light body!
All levels of ability are welcome.
Materials list:
Pencils and pens for drawing
graphite pencils -- HB, 2B, 4B, 6B, (a few or all)
Colored pencils -- 20 or  more colors
Kneadable eraser and other preferred types
Pencil sharpener
Drawing pad with heavy paper -- 11" x 14"
Watercolor block (optional but recommended)
Watercolor or acrylic paint set (optional but recommended)
Good quality watercolor brushes of various sizes
Easel (optional) -- work tables will be available. Bring a travel easel, if you need one.
Students are encouraged to use the best quality material they can afford.
Love,
Alex & Allyson