Building Entheon Begins
In the month of September, forces crystallized to start building Entheon, a Sanctuary of Visionary Art at CoSM. Architectural plans were finalized and approved by the Town of Wappinger. Together with Matt Dudin, CoSM's CFO, we met with Rhinebeck Bank to close on a loan package that offers affordable financing for the main body and interior finishing of Entheon. The sculptural elements will require us to raise another $1.5M. Please consider a generous donation to CoSM at this time to forward the building of Entheon, an enduring temple co-created by community from around the world.  Along with his formidable responsibilities at CoSM, Brian James will be updating us on the progress of building CoSM's first temple. Look for all posts on the new Building Entheon Blog, found on the home page at cosm.org.

Brian James, Entheon Chief Builder and CoSM Buildings & Grounds Manager since 2008, holding the building permit for Entheon.

MESSAGE FROM BRIAN JAMES, CHIEF BUILDER OF ENTHEON:
Last Thursday, COSM received a full building permit for Entheon. After years of designing and planning, meetings and renovation we have finally been cleared to do what we came here to do. The physical building permit may have only weighed as much as the paper it was printed on, but to me it felt like I was carrying the ark of the covenant. I moved here six years ago to build an enduring sanctuary for visionary art and it's finally begun.
Alex, Allyson, and I, separately and together, attended many design meetings with our architect and engineers, town officials, our bank, builders and artisans. Because CoSM will be a public building, formidable site work to accommodate the new facility and it's occupants is required by town planners. Designing new parking areas, roads, a septic system, a well and water system, outdoor lighting, and underground electrical services are all required. The foundation of an1882 carriage house, the placement of paintings, the elevator and bathrooms, transforming a barn ceiling to a vaulted ceiling -- these are all building considerations that had to be addressed before the actual building could begin.
During the planning process, public hearings were held to listen to the concerns of surrounding neighbors. COSM appeared for two zoning board public hearings and two planning board public hearings at which neighbors appeared in favor and in protest of the organization's new building. Informal and formal meetings facilitated by the town did uncover some prejudices and concerns, but most neighbors have been supportive. After all concerns were met, a final resolution was drafted and signed by the planning board and co-founders. Only then could we get a building permit.
Upon receiving site plan approval, architectural plans went to the building department and zoning administrator for permit approval. Only after site planning and a building permit are issued can work begin. In the building process, we've learned about ourselves, our community and our neighbors. As an organization that supports the ideals love, family, eco-consciousness and evolutionary spirituality, CoSM will continue to strive for amicable relations with our social and physical environment.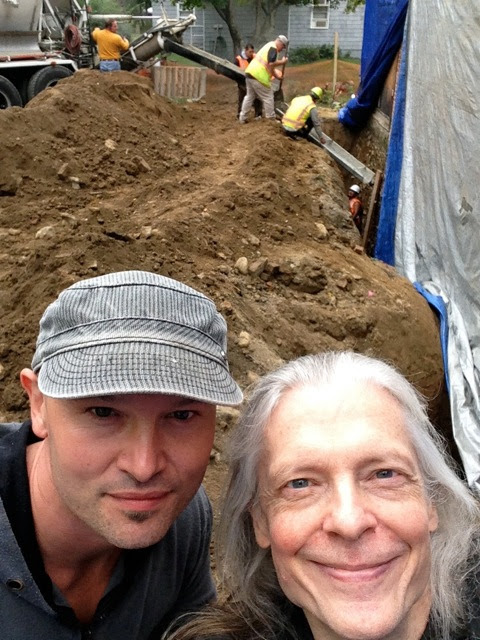 Brian and Alex at the pouring of the foundation.
Building has now begun. Grateful appreciation to all those who have helped us achieve this landmark in accomplishing CoSM's mission!
Look forward to seeing many at CoSM for the next Full Moon and Art Church coming up on Saturday, October 11 & 12.
Love,
Alex and Allyson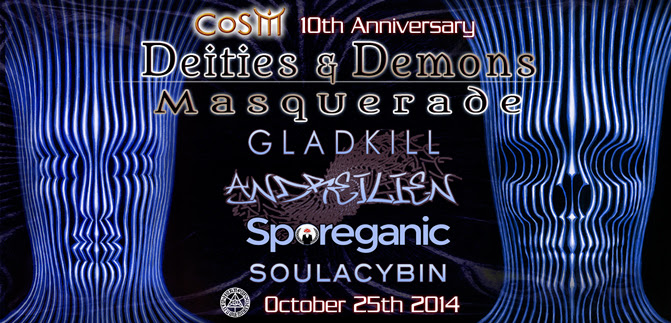 SEND A PICTURE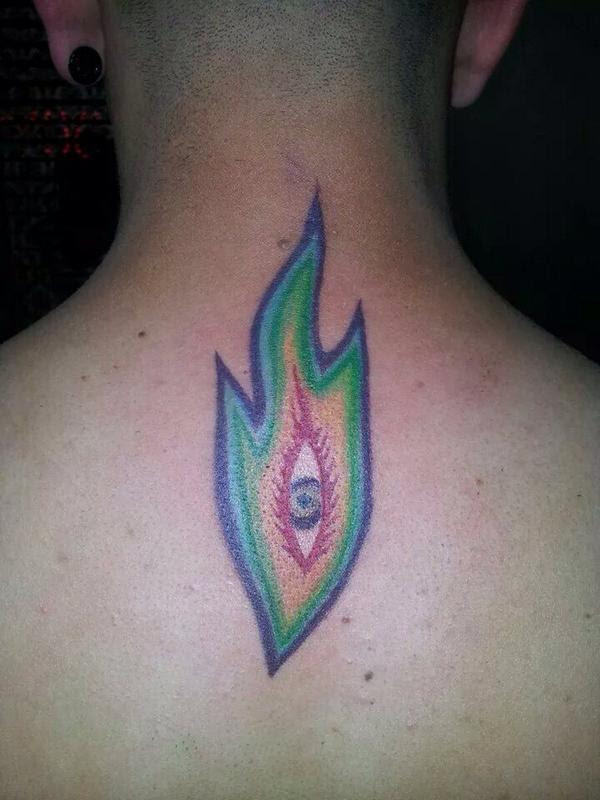 How have you brought Alex Grey's art into your life?

Send us a picture of:
your Alex Grey tattoo
Alex's art in your home
you wearing Alex Grey apparel
Alex's art on your personal altar

We will post in the CoSM Newsletter the best photos that we receive.
Please send your photos to: [email protected]
Thank you to Dario Uran from Argentina
for the great photo.
Inspired by "Flaming Tool Eye" by Alex Grey