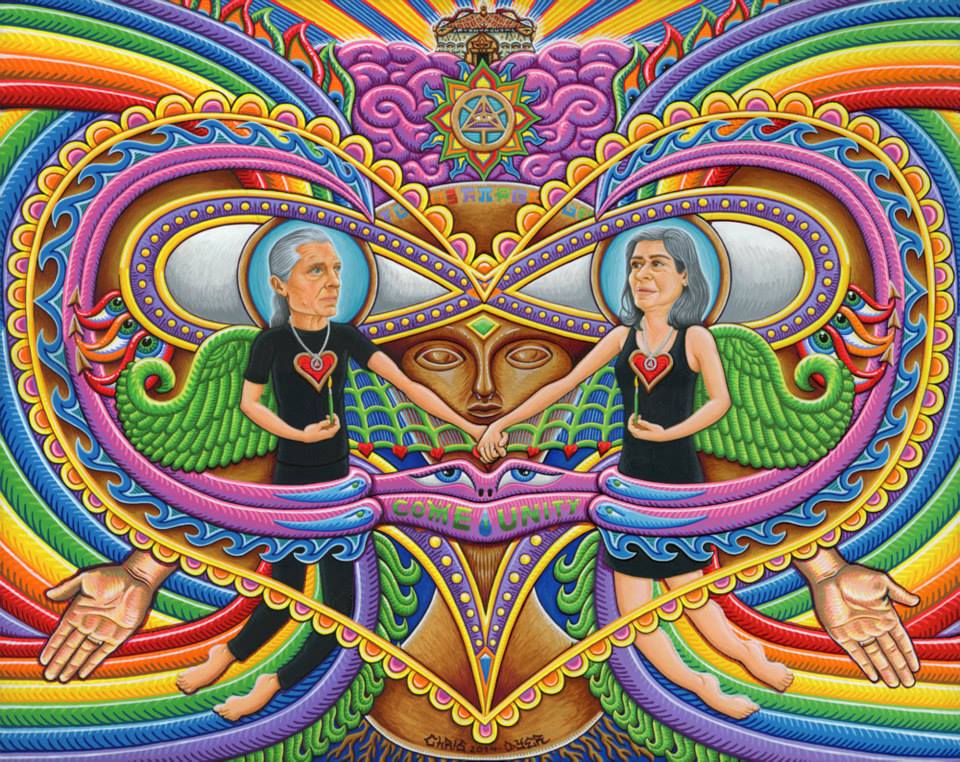 "Cosm-unity Inte-Grey-ion" by Chris Dyer
International visionary, Chris Dyer, visited CoSM to teach a Skate Graphics workshop, and stayed to contribute two new original murals; one on CoSM's Wisdom Trail, and a new addition in the Mushroom Cafe.  Chris began sharing his artistic skills with CoSM last year as an artist in residence; teaching spray painting to students on a mural that now permanently resides on the wisdom trail. He also contributed to the Mushroom Cafe mural, and was a guest artist at CoSM's Painting Intensive. This visit, Chris brought with him "Cosm-unity Inte-Grey-ion", a painting he created as a gift in honor of CoSM, initiated during the 2013 Painting Intensive.
This summer, Skate Graphics workshop participants were treated to the full history of skateboarding art, featuring plenty of images of rare boards from top artists. Chris instructed on proper paints to use, and techniques for making crisp designs. Everyone was able to take home a new custom board bearing the signature of their own unique creativity. Once the workshop was complete, Chris began work on a new spray paint mural featuring visages of florescent, psychedelic tricksters. The new mural can be found neighboring the mural created last year. The Mushroom Cafe was then blessed with hours dedicated work on a unique creation of melting patterns, releasing an enlightened realization.
Chris is planning a return visit to teach again in 2015, stay tuned to cosm.org for dates, and in the meantime,
follow Chris Dyer's art and adventures online
.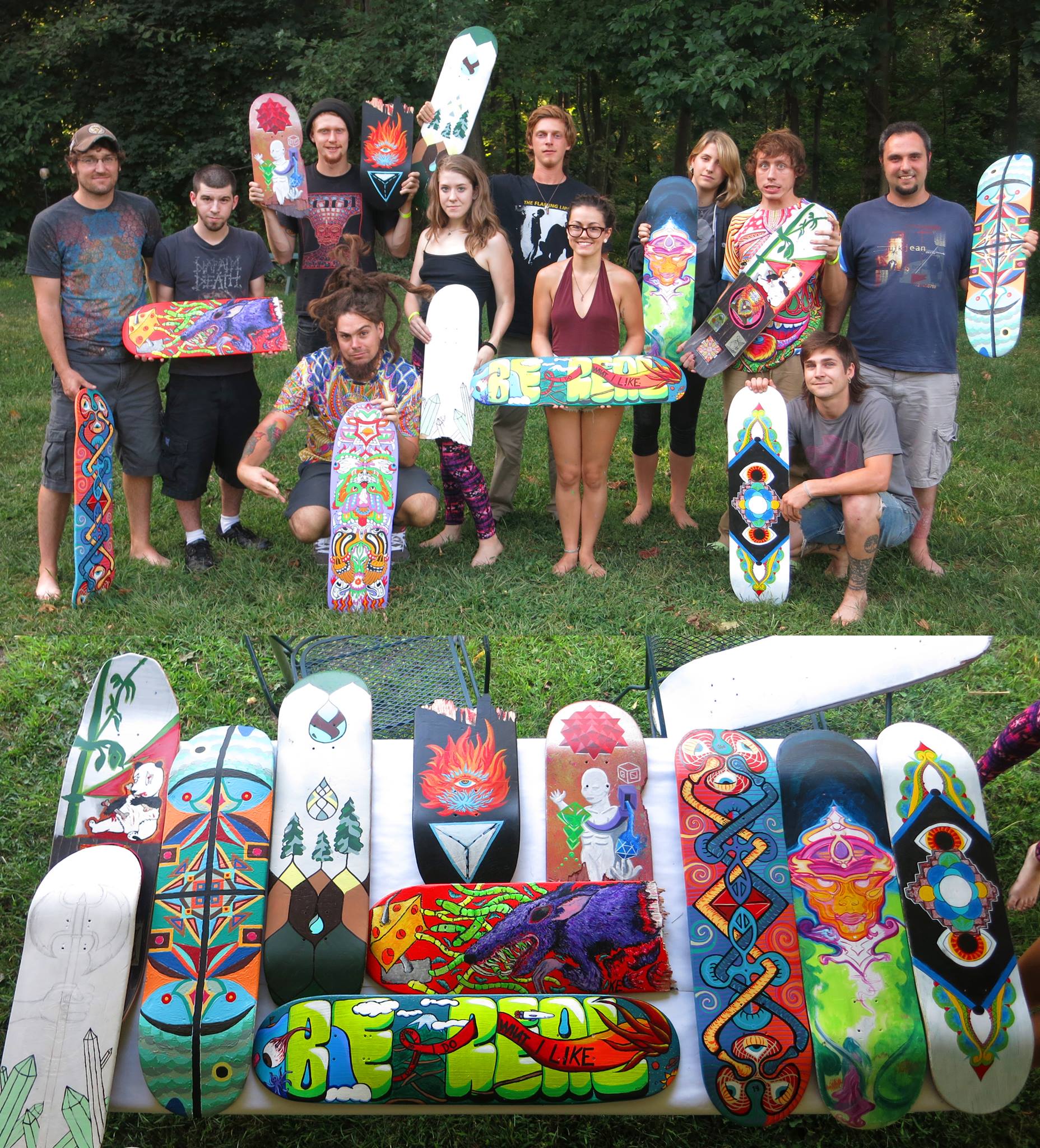 Chris Dyer's Skate Graphic Workshop class, 2014

Chris putting finishing touches on the mural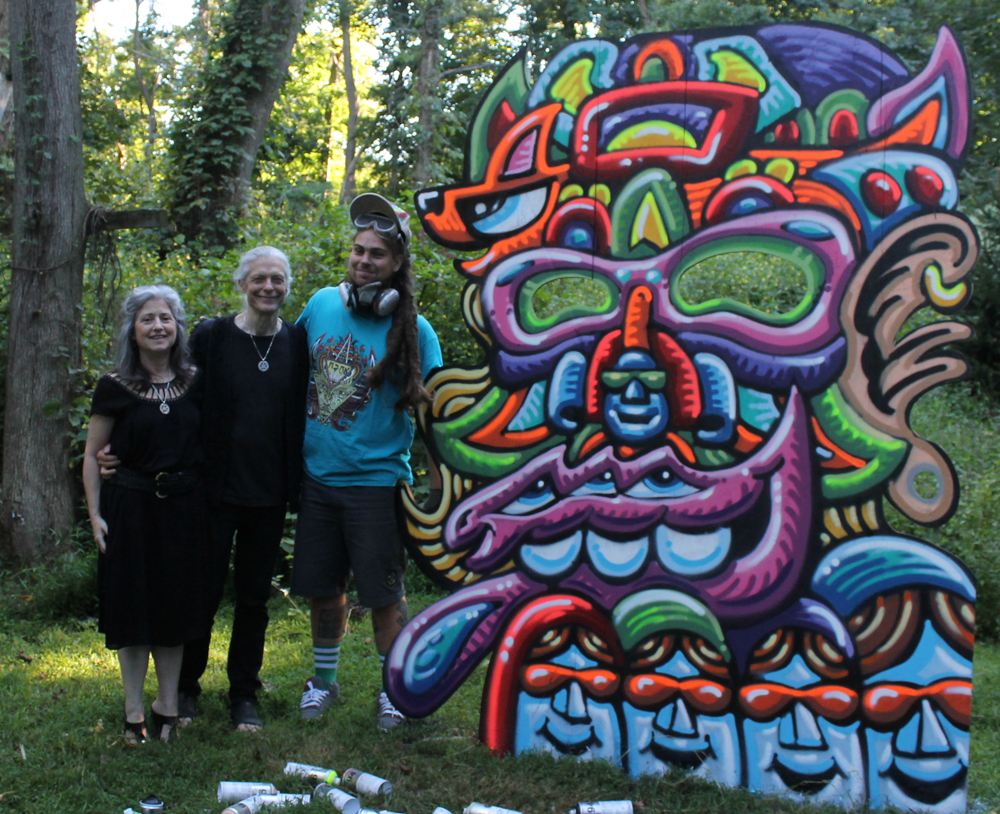 Allyson Grey, Alex Grey, and Chris Dyer stand with the completed mural