Core Values
Core values can harness our passions to their highest possibilities. Core values are the soul's values, the rules by which our soul expands, evolves or feels constricted. In this session, we will review the process by which CoSM arrived at our organization's core values, and see how this system can be used to clarify an individual's true heart. Each persons creative will is an operating system that can be continually upgraded by clarifying that one's personal core values are empowering one's highest visions for their lives as a service to the collective.  Artists use allegory to point to virtues and higher aspirations as well as to warn the viewer of the characteristics of evil and vice. In this workshop, Alex and Allyson will examine the ideas of compassion, justice, liberty, truth, goodness and charity and call out the archetypal representations of these titanic forces portrayed by Visionary Artists for millennia.
Bring a journal and writing materials for exercises that ask us to examine our own core values and create a space of profound self-reflection. How can an individual make a real difference in the world? What is acceptable and unacceptable in the various areas of your life? About what can you be counted on and are those commitments your core values by choice? Join us to explore how reframing our reality through creative expression and perception, through sacrament and prayer, we can arrive at our moral center.
Full Moon Workshop --
3-6pm Saturday, December 6th

Theosis and the Icon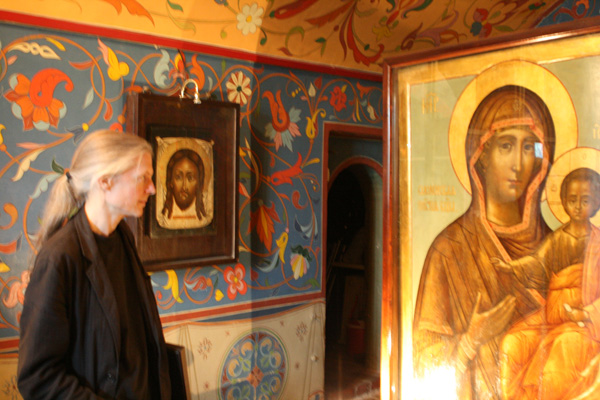 "The spiritual qualities of the icon sought to transform the flesh, to deprive it of its coarse material substance, to dissolve it in light and re-mould it in spiritual plasma. Icons are sacred images that reflect the physical and the spiritual, the human and the Divine, the visible and the invisible." 
--
A History of Icon Painting
by L. Evseyeva
Following the Art Meditation at Art Church
this Sunday
, we will examine Theosis, which means deification or divinization, and in the Orthodox Christian tradition means the spiritual practice of coming closer to God through contemplation of icons.  The process of making the icon is sacred at every stage, from preparation of the wood panel to it's ritual blessing in church.  Subjects of icons are often painted on a ground of gold, symbolically bringing transfigurative light to the body. Holy Beings glow. In Tibetan Art, there is a class of objects called "Liberation Through Seeing".  Contemplation of these artifacts can plant a seed of liberation in the mindstream of the viewer.  Art that catalyzes a spiritual transformative process in the artist and also in the viewer has achieved perhaps the highest aspiration for an art object.
Inner visions born from the divine imagination and externalized as art, provide healing and transformation for the viewer.  In the creative process we discover the power to let go of negative patterning and select from the universe the nectar available and align with the universal creativity animating the cosmos. New ways of seeing lead to new ways of being. Contemplation of a Buddha or Christ icon implants the possibility of our own enlightenment. Icons of a United World, a Sacred Planet, are essential now to implant the possibility of saving our collective lives, reverencing our Mother Nature Goddesself, The One WorldSpirit of all plants and creatures. Let's reflect on Art that can rewire our brains, suggesting a new spiritual reality.
Art Church,
1-5pm, Sunday, December 7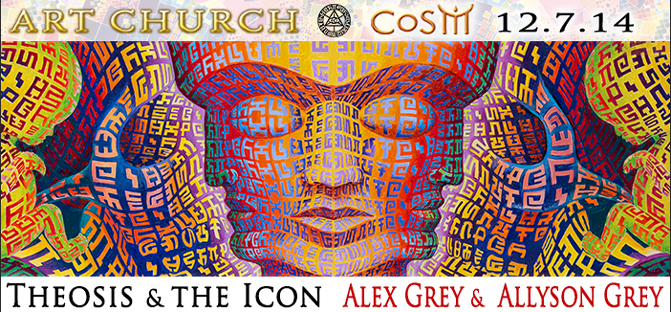 Today is our Anniversary!


Our wedding, December 4th, 1977.


Love,

Alex & Allyson