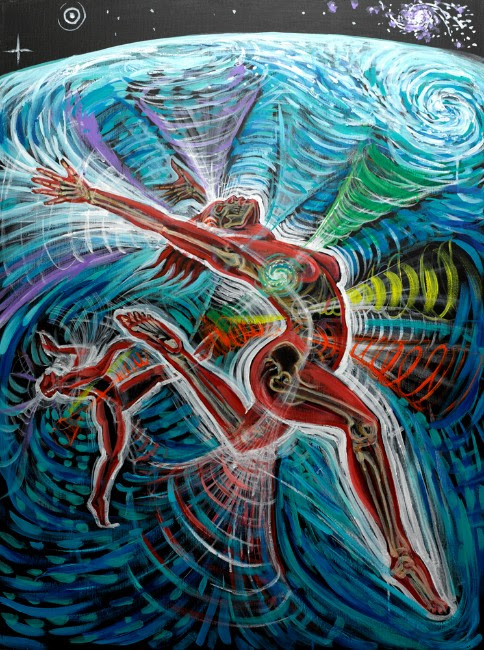 "Earth Dance" live painting by, Alex Grey

Belly Dancing
For Beginners
with Ashley Enright
Saturday, March 10th, 1pm - 3pm
Shimmy your way into the world of belly dance
with Ashley Enright this Sunday at CoSM.
This class is designed with the absolute beginner in mind, no dance experience needed! Participants will receive the benefits of increased body confidence and awareness through expanded muscle control, flexibility, and core strength. The series will introduce students to the basic movement vocabulary of belly dance. Topics may include ancient movements to modern rhythms, playing with personas, circle and partner dancing, popular Arabic rhythms used in belly dance and more.
Ashley Enright has studied belly dance in many styles ranging from classical Raqs Sharqi, to earthy American Tribal Style and folkloric dances of North Africa, to the contemporary leanings of Tribal Fusion. For her, dance is not limited to performance but an integrative art form of self-expression, transformation and connection.
Next Weekend: Celebrate the Vernal Equinox!

2018 Vernal Equinox Celestial Celebration
hosted by Alex & Allyson
with music by CharlesTheFirst,
Living Light, & Wax Future
Saturday, March 17th, 2018
The Vernal equinox is a mysterious time of balance between day and night, symbolizing a stage of inner preparation as the Northern Hemisphere tilts forward initiating spring
and the return of the light.Celebrate with Alex & Allyson this special celestial evening program.
Begin the Vernal Equinox journey with a presentation & discussion honoring the return of spring.Ceremony begins at 7pm in the Library.
Celebration continues at 9:30pm both indoors and outdoors.
Featuring live music, performance painting, a bonfire, fire performances and more!Tickets are going quick.
Secure yours now.
Euphonic Conceptions &
Legion of Bloom Present:
Bicycle Day - 75th Anniversary Tour
April 19th - 21st


This year, in honor of Bicycle Day's 75th anniversary, Euphonic Conceptions and Legion of Bloom Music will take their celebration on the world, hosting three gatherings over three days in three cities across the United States. Thus far, Alex and Allyson have signed on to return for the event in addition to internationally acclaimed producer Shpongle (Simon Posford live) and CharlestheFirst. More to be announced.

Tickets for the various stops on the Bicycle Day 75th Anniversary tour are currently on sale.


Alex & Allyson