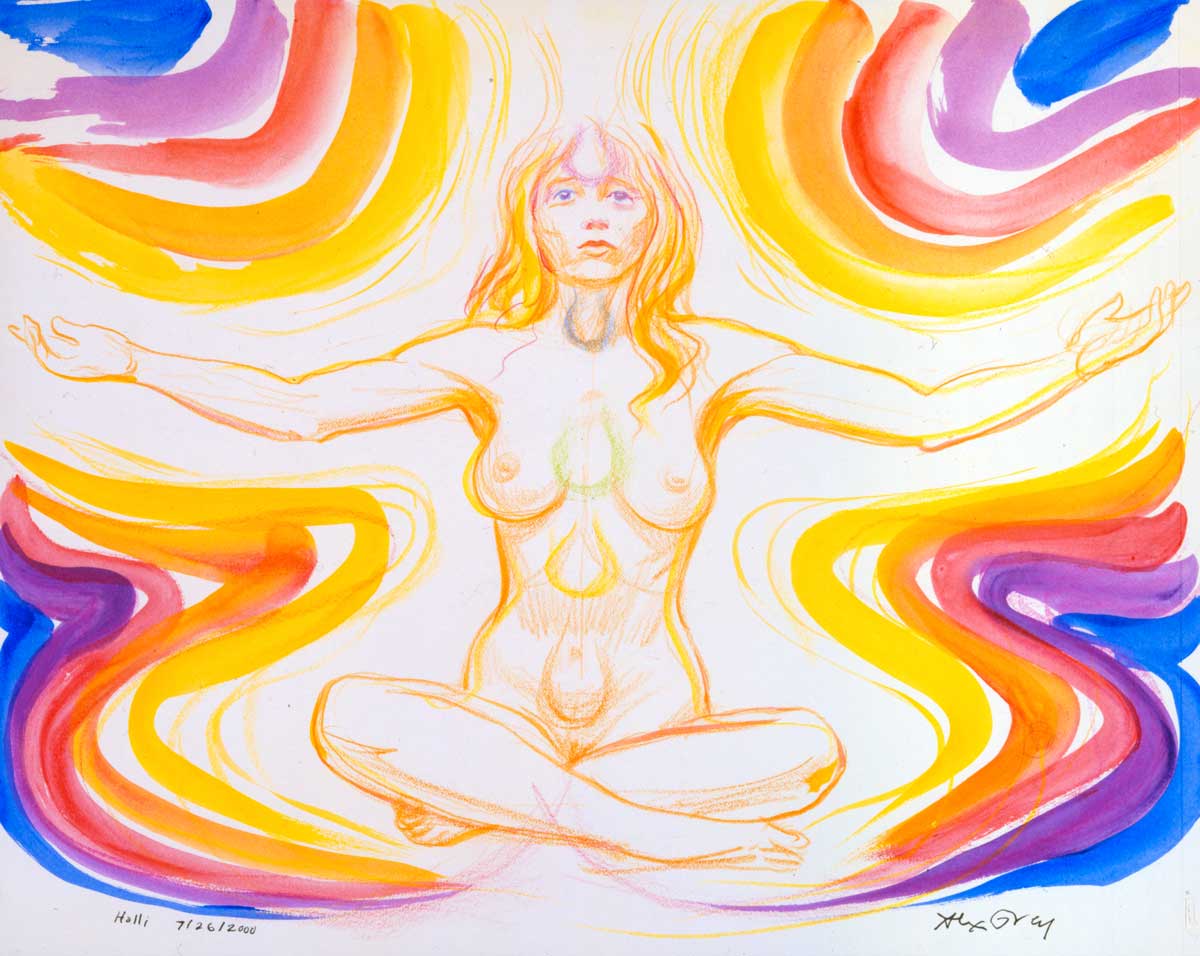 Saturday @ CoSM:
CoSM Presents:
Figure Drawing with Alex & Allyson
7:00 pm - 10:00 pm
Figure Drawing, led by Alex Grey & Allyson Grey, is becoming a periodic regular feature at CoSM. Practice and learn what is essential to hone your skill at drawing, including basics anatomy and proportions, shading & highlighting, integrating figure, space and form. Participants will portray the physical and metaphysical anatomy, with the assistance of a beautiful model and exquisite music by CoSM's premier home DJ, Jon Ohia.
Artists at all levels of experience and skill will practice rendering the human form. It's a big PLUS to bring your favorite portable supplies. Bring a travel easel if you like you use one. Tables, seating, basic paper and pencils will be available.
Let's draw together!
CoSM Open Hours:
Spring is here! Powerfully attune with the creative force of your soul in the tranquil beauty of nature. CoSM is open to the public every Friday, Saturday, Sunday & Monday, noon - 6pm.
Explore CoSM's Library with books on mysticism and the arts.  Sip and snack in the Parlor before the blazing hearth. Contemplate paintings and sculpture throughout Grey House and the grounds. Make CoSM a spiritual destination this weekend.
5-Day Workshop: Art As Prayer
with Randal Roberts & Morgan Mandala
May 31st - June 4th
Join visionary superstars, Randal Roberts & Morgan Mandala for a 5-day intensive art & painting workshop!
In this class, discover the multiple avenues of expression, with the practice of art. Over the course of 5 days,  significantly develop 1 – 2 paintings, using acrylic paint & glazing techniques. Painters at all levels of experience are welcome. Class will also include drawing exercises, guided meditation, 2-dimensional design, slideshow, art discussion and critique, and open studio.

"Solstice" by, Randal Roberts & Morgan Mandala
Participants will be guided technically through the entire painting process –  from using planning and layering to create an authentic and intuitive piece, to completing a painting and presenting our art to the world.
Exploring the process of creating art to be present – and being present to create art,  learn ways to develop your visual language and enhance your inner direction.
Click here
for details and registration.
Love,
Alex & Allyson