The creative imagination is always ready to uplift the moment, if we summon it to the task. Likewise, we can waste our visionary potential for lesser dreams. Do we not aim at the highest possibility even if we appear foolish? Our creative languages potentiate a ripple through the collective social sphere. So, what energy fields do we choose to bring into our life and artwork? In much art, the aspiration for a transcendental affect misses its potential. Art that achieves its potential would elevate the world by introducing the viewer to their own divinity.
From inner vibrations of heart and mind, the musician channels sonic energy fields, enveloping listeners in the Soul made perceptible. This is why chanting and music is part of all wisdom traditions. Music has the potential to unite and uplift the brainwaves of huge audiences. Creative languages transmit psycho-spiritual energy fields of soul renewal. Gatherings that celebrate the creative spirit fill us with inspirational vigor for life.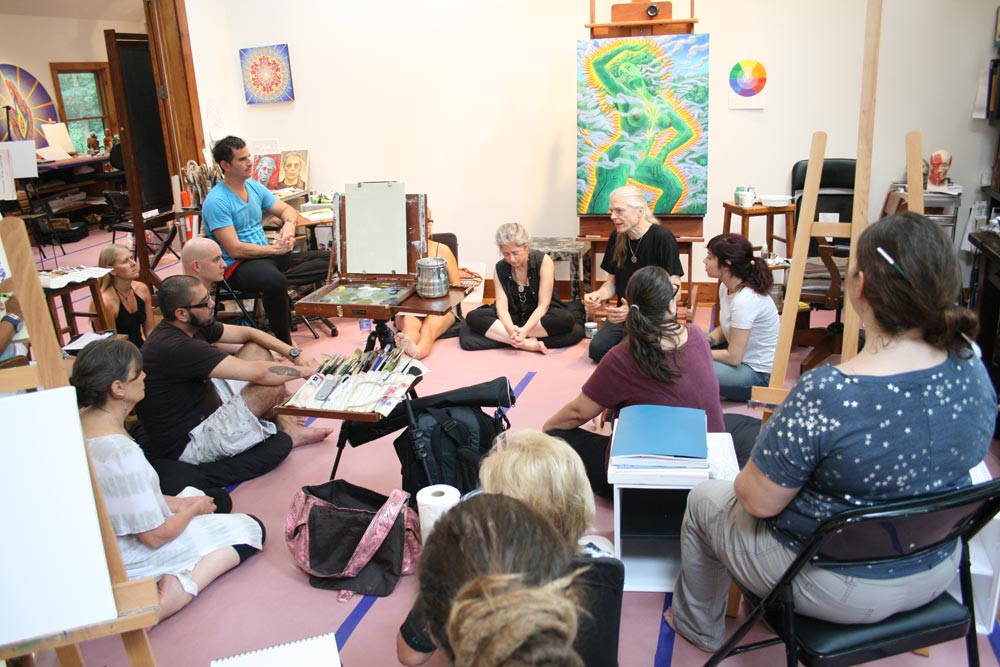 Early September is like a second New Year. Summer ends and it's time to change gears, possibly with resolutions. Burning Man pilgrims depart and disperse. Jews all over the planet celebrate the New Year as Rosh Hashanah, "the first beginning," the anniversary of creation itself, a unifying orientation for a people spread throughout the world. Celestially auspicious occasions are shared by all planetary citizens and celebrated globally. At CoSM, we celebrate the Full Moon, Equinoxes and Solstices. Join us later this month for the Autumnal Equinox. Autumn in the Hudson Valley is so exquisite, it's beauty initiated the first American art movement, the Hudson River School.
XAVI
Spend Saturday afternoon at CoSM with us as we welcome the internationally renowned artist, Xavi. From the Bay Area via Arizona, Xavi is one of the premier muralists in Visionary art today. Creator of the thirty-foot corner mural in the epicenter of "hippiedom," the famed Jammin' on Haight, Xavi is also responsible for the well-loved kinetic mural at Temple, San Francisco's premier visionary club and performance space. Take Xavi's workshop where the artist will offer approaches to accessing your uniqueness in portraying the infinite faces of the Creator by connecting with Source. Light Dinner and refreshment will be available in The Mushroom Cafe after the workshop. Following the dinner break, a Visionary Salon will feature a presentation and interview with Xavi about his art and life.
Much love and see you soon,
Alex and Allyson
Special thanks to an anonymous sender for the great photo.