Entheon Grows in Brooklyn
With spring in full bloom and the foundation of Entheon laid-in before the icy freeze, now the masons are back at work on the sanctuary of visionary art under construction at CoSM. The perimeter walls are heightening in cement block with steel reinforcement over solid footing. The steel has been ordered to frame and reinforce the body and roof so that Entheon can last a thousand years. Entheon will showcase the visionary art movement and house the Sacred Mirrors and CoSM Collection. The ornamental sculptural exterior of interconnected heads will point to the transcendent unity of all sacred paths. There are costly phases  of engineering and 3d printing now arising. CoSM invites you to play a part now in building Entheon.  Make a donation to Entheon now. Then, join us Sunday night at the Bell House in exotic Brooklyn for our FUNdraising shindig with friends, Duncan Trussel, Jib Kidder, Space Jesus and much more.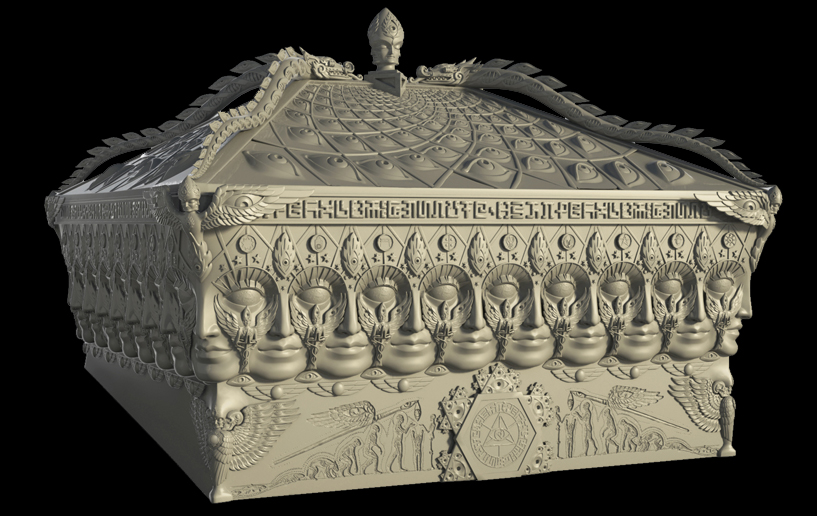 What we love about Duncan Trussell (besides his winning personality) is his salad bar of interests that combine the spiritual, the creative and the psychedelic. The Duncan Trussel Family Hour with Rick Doblin, founder of the Multidisciplinary Association of Psychedelic Studies, Jack Kornfield, leader of the Vipassana meditation movement in American, Ram Dass, psychedelic luminary and guru, plus a pantheon of musicians, actors and great thought thinkers. Duncan's podcast, based in Los Angeles, is appearing with audience for two (already sold-out) live-podcasts in super-arty Park Slope, Brooklyn at The Bell House, a warehouse turned music venue that hosts cutting edge mystics and creative minds. We have been invited to appear on both podcasts and The Bell House is hosting our benefit after event.
Even if you didn't get tickets to Duncan Trussell Family Hour at The Bell House, you can take it all in online
AND you can still join us for the Entheon Benefit with some of our truly favorite music, hosted by the inimitable, Duncan Trussell.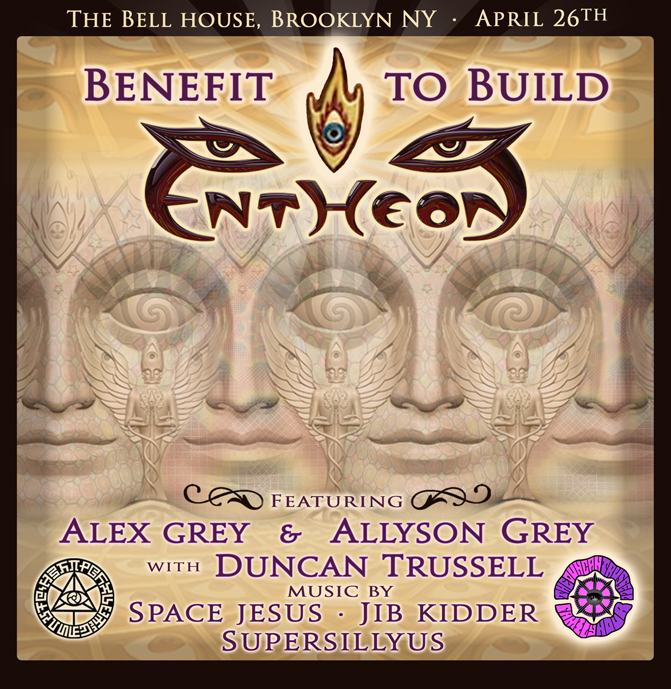 Click Here for Tickets!
CoSM BENEFIT TO BUILD ENTHEON
with ALEX GREY & ALLYSON GREY
Hosted by Duncan Trussell
with extraordinary music by
Jib Kidder, Space Jesus, Supersillyus
Sunday, April 26, 2015, 10:00 pm
The Bell House, Park Slope, Brooklyn, New York
 $20.00
We hope to see you soon!
Love,
Alex & Allyson