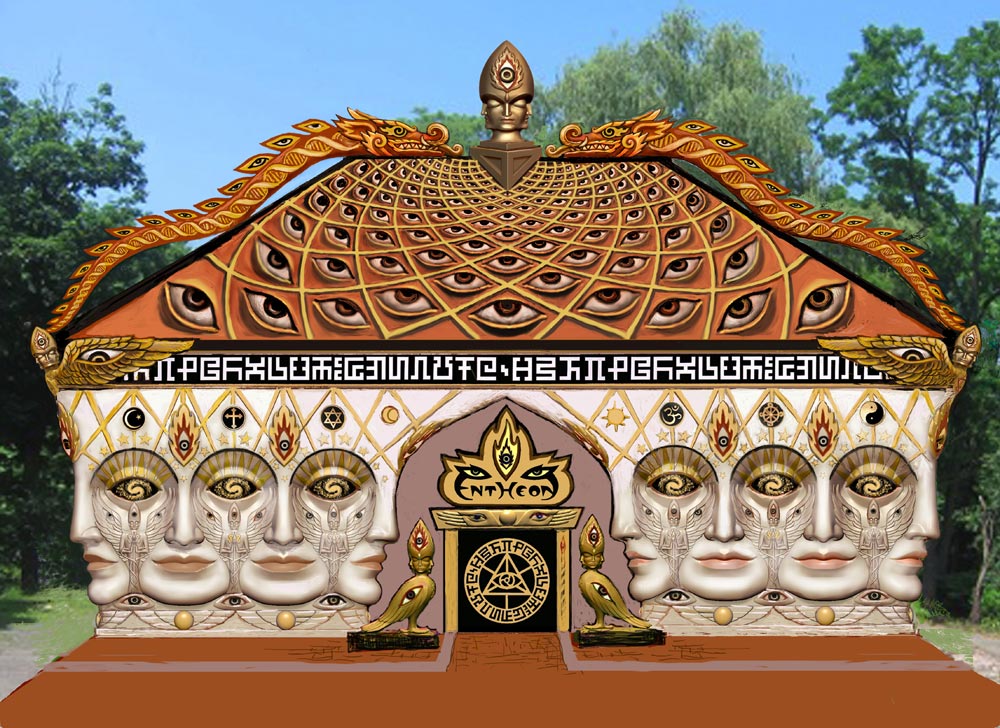 WHAT IS ENTHEON?
Entheon means a place to discover the God within.
At CoSM, Entheon is the sanctuary of visionary art now under construction. The architecture of Entheon points to the transcendent unity of all religions. A continuous band of identical Godheads clad the structure. A symbol above each eye represent the many world wisdom traditions.  Angels of creativity wield an artist's brush held in alignment with these sacred symbols. Like tears of mercy, the angels fall from the eyes of the many-faced Godhead, bridging the realms of humanity and divinity.
Why does visionary art matter? Because visionary mystical experiences are humanity's most direct contact with God and are the creative source of all sacred art and wisdom traditions. The best currently existing technology for sharing the mystic imaginal realms is a well-crafted artistic rendering by an eye witness.
The first exhibition at Entheon will be the entire series of twenty-one Sacred Mirrors plus thirty additional works of art by Alex Grey and Allyson Grey. The extraordinary building design will utilize twenty-first century technologies in 3D modeling and printing to create architectural elements and an entirely sculpted surface. With your help, Entheon will be an enduring sanctuary of visionary art to inspire and evolve the creative spirit.
Estimated cost to build Entheon, complete with elevator, bathrooms, parking, a paved road with lighting... all amenities required of a two-story public building, is about $1.5M.
Our construction loan will not cover the entire amount and we need your help.
Imagine the day you will visit Entheon. Now be a part of realizing that vision.
Please make a generous donation to CoSM and co-create Entheon with us.
The Chapel of Sacred Mirrors will bring you face to face with your soul and move you to a a new level of enlightenment.
— Deepak Chopra