A striking new cultural space is taking shape in New York's Hudson Valley. Alex Grey and Allyson Grey, co-founders of CoSM, Chapel of Sacred Mirrors, have launched a Kickstarter campaign to build Entheon, sanctuary of visionary art, to ask for support to complete the build. Entheon will offer a three-story, 12,000 square foot exhibition of the finest original artwork of the Visionary Art movement, where precious paintings, drawings, sculpture and moving image resonate with the highest states of consciousness. A room with cathedralesque latticework ceilings and archangels will display the Grey's acclaimed Sacred Mirrors series.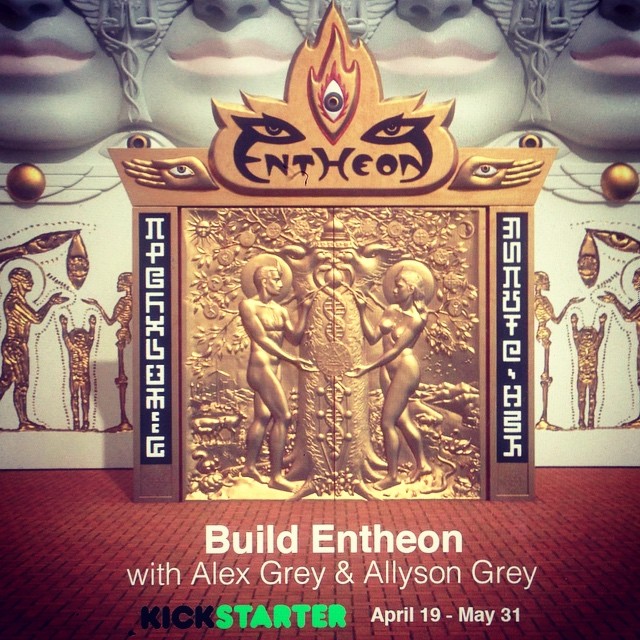 Entheon has been under construction since Autumn 2014. The walls are up, the roof is on, and the interior spaces are framed and insulated. A successful Kickstarter campaign will allow CoSM to complete the interior exhibition spaces, and initiate the unique sculptural countenance of Entheon. Entheon is targeted to open in late 2017.
Academy Award winning Disney 3D sculptor, Ryan Tottle [Frozen & Zootopia] collaborated for two years to transform Alex's drawings into the 3D model that will be printed out, cast in concrete and form the countenance of Entheon.
First Floor of Entheon
The Entheon Portal will feature Alex's bronze sculptural relief, Creating a Better World, doors depicting Adam and Eve as artists returning to the Garden, painting a new world and harvesting the Tree of Wisdom.

Enter MAGI Gallery, exhibiting original artwork by leading masters of the International Visionary Art Movement. Entering Entheon, each visitor may spin the World Prayer Wheel. The Entheon Museum Shop will offer affordable originals, limited editions, books and posters of the genre. For this campaign, 27 of the world's finest Visionary Artists have accepted the invitation to join CoSM by offering their work to help raise funds. The Visionary painter, Amanda Sage, who is also a board member of CoSM, has helped organize this gift to the Entheon Campaign.
A shrine in Entheon will be dedicated to Alex's artistic collaboration with Grammy Award winning band, Tool. The Psychedelic Reliquary will host treasured artifacts and ephemera, including the spectacles of Dr. Albert Hofmann and the ashes of Timothy Leary. A bust of Visionary artist William Blake on an altarpiece will accompany an account of the history of visionary art.
Second Floor of Entheon
Enter the Chaos, Order and Secret Writing world of Allyson Grey. Through devotionally labor intensive paintings and ink drawings, her Mystic Abstractions point to the fabric of spectral light at the foundations of consciousness.
Allyson Grey's "Chaos, Order, and Secret Writing"
Alex Grey's original paintings Kissing, Copulating, Pregnancy, Birth, Nursing will be exhibited on one long wall. Displayed on the second floor will be relics and rarely seen early footage of the Grey's provocative performance art rituals that led to the creation of Entheon. Also on view will be Gaia, one of Alex's most beloved monumental paintings, a prophetic work visually articulating the plight of our environment. Painted in 1989, Gaia portrays the Twin Towers with two airplanes headed toward them.
Third Floor of Entheon
"The mission of art is to make the soul perceptible."
– Alex Grey
Many of Grey's most transcendental masterworks including, Theologue, a fifteen foot long ethereal landscape with meditating figure, and Net of Being featured on the album of Grammy award winning band TOOL, along with Allyson Grey's Jewel Net of Indra will line the walls of the Great Hall, meeting place for community gatherings.
Enter the brick archway into the Chapel of Sacred Mirrors. Reflect on 21 stages of the self, transforming from the physical body into pure infinite love energy and discover the creator within.



Sculptural Countenance of Entheon
Entheon, April 2016
Entheon, sculptural exterior, artists concept
If the Entheon Kickstarter campaign raises over $200,000, CoSM will begin the concrete sculptures surrounding Entheon. Ornamental concrete specialists in the Hudson Valley just 30 minutes from CoSM will create giant 3D print-outs of the sculptural features of Entheon. From those print-outs, molds will be made to cast the elements, the faces, the angels, dragons, steeplehead and soulbird guardians in super-strong fiberglass reinforced concrete with a surface of crushed crystal aggregate.
It will take many unique molds to realize all of Entheon's exterior features. The engineering to attach the sculptures to three stories of brick, steel and concrete will cost $65,000. To complete the sculptural exterior will be $1.5 million.

Emerging from the Angels of the Four Directions, DNA Dragons of Consciousness Evolution, ascend to the Steeple Head, the One.
The Steeplehead of Entheon suggests the people of four directions coming together in visionary oneness, a pinnacle of Sacred Unity where humanity meets divinity.
Secret writing represents the language of creative expression. Allyson Grey's Secret Writing forms a band between the roof and faces. Comprised of twenty unpronounceable letters, this original alphabet corresponds to the nameless presence existent in all sacred writing, the spirit imbedded in communication that cannot be reduced to concepts.
What is CoSM?
The Chapel of Sacred Mirrors, CoSM, is an oasis for cultural and spiritual renewal in the Hudson Valley of New York. A trans-denominational church, celebrates and practices creativity as a spiritual path. Alex Grey's art portrays the individual as a Sacred Mirror reflecting not only what we are now, but what we can become when our greatest potential of wisdom and compassion is activated. A permanent collection of original paintings and sculpture by Alex Grey are prized within the CoSM collection of art. The finest original work of the Visionary Art Movement will be on display at Entheon, CoSM's sanctuary of Visionary Art.
A Brief History of CoSM
Alex Grey and Allyson Grey met in art school, married and have been partners sharing a studio for forty years. Alex Grey's first monograph "Sacred Mirrors: The Visionary Art of Alex Grey, portrays his Sacred Mirrors series of 21 paintings and two etched mirrors, inspired and named by Allyson, depicting the body, mind and spirit of an individual.

Life Energy by Alex Grey, 1978
Together the Grey's sculpted the 21 ten and a half foot frames that offer the series a transformational context.

In 1996, the Grey's co-founded Chapel of Sacred Mirrors, a radically welcoming spiritual/cultural center celebrating creativity as a spiritual path. CoSM events began in the Grey's loft in Brooklyn, 2004, and soon moved to a rented Manhattan loft where Full Moon Gatherings became the context to build a Chapel for the Sacred Mirrors and the well-loved CoSM collection.


After five years in the Chelsea gallery district, CoSM moved to a retreat center 65 miles up the Hudson to build an enduring sacred space.
Previous Kickstarter Success
In 2013, thanks to the outstanding support of 1,510 backers, the first Entheon Kickstarter Campaign shot the project forward to fund architectural and engineering plans. With those funds, the bank came through with a construction loan and the build was initiated.
From 2014 to now Entheon has proceeded from foundation, three stories high with a roof.
Thanks to an electronic network of supportive friends, CoSM connects with a worldwide "Love Tribe," encouraging friends to check out the unique and exclusive rewards of art and spirit, altar objects and gorgeous imagery that is being made available for this Kickstarter Campaign.

The current Entheon Kickstarter campaign will run for 40 days from April 19 - May 31 (the anniversary of the Grey's first date in 1975). The historic project champions independent artists, through right effort, realizing a lifelong vision to build original sacred architecture. CoSM invites the creative visionary community to build Entheon together.
What People Say About the Art of Alex Grey and Chapel of Sacred Mirrors

"The Chapel of Sacred Mirrors will bring you face to face with your soul and move you to a new level of enlightenment." –Deepak Chopra, best selling author and spiritual leader
"Grey's vision of a flawed but perfectible mankind stands as an antidote to the cynicism and spiritual malaise prevalent in much contemporary art." -- New York Times
Alex Grey's artworks bring together the tangible outer worlds investigated by scientists – full of molecules, bodies and stars – and the intangible visionary inner worlds – full of light, shadow and spiritual beings known mainly to mystics.
 – Albert Hoffman, Chemist, Nobel Prize Committee
"Alex Grey is seeing through my eyes."
 --Timothy Leary, professor and leader of the word-wide "Love Tribe"
O swiftly spinning 21st century Human! We've already missed out on Rumi, Blake, Swedenborg and Gibran, but we've been sent a comforter for our time flowering from the same vine.
His name is Alex Grey.
--Rebecca Hoffberger, Founding Director, American Visionary Art Museum
Alex Grey's Sacred Mirrors, like all great transcendental art, are not merely symbolic or imaginary; they are a direct invitation to recognize and realize a deeper dimension of our very own being.
-- Ken Wilber, Philosopher and Author
Alex Grey is one of the great art mystics of our time. The works are truly stunning – luminous and bizarre, grandly conceived and vividly colored…
-- Donald Kuspit, Art critic
"Alex Grey's art, with its New Age symbolism and medical-illustration finesse, might be described as psychedelic realism, a kind of clinical approach to cosmic consciousness. In it, the human figure is rendered transparently with X-ray or CAT-scan eyes, the way Aldous Huxley saw a leaf when he was on mescaline."
-- Holland Cotter, New York Times
The Co-founders of CoSM / ENTHEON
The mystic paintings of Alex Grey articulate realms of psychedelic visionary consciousness, revealing interwoven energies of body and soul, love and spirit, illuminating the anatomical core of each being. Alex's visual meditations on the nature of life and consciousness, the subject of his art, have reached millions through his five books, the exhibition and extensive reproduction of his artwork, speaking appearances including a popular TED talk, stage sets for major rock bands, video animation, and Grammy award winning album art.
http://www.alexgrey.com
Allyson Grey, MFA, is a painter, social sculptor, and Alex's creative collaborator, life partner and studio mate since art school in 1975. Allyson's paintings essentialize a world view of chaos, order and secret writing: the material world, the interconnected realm of energy + light and the sacred symbols of creativity. Through private consultations and her blog on art and life, "Ask Allyson," she serves as a muse to artists worldwide.
http://www.allysongrey.com
Alex Grey & Allyson Grey
Together the Grey's co-founded the Chapel of Sacred Mirrors (CoSM), a spiritual retreat center for artists outside of New York City. On the forefront of a movement in which painters join musicians on stage, the Grey's have painted together live on Broadway stages and sold-out theaters, clubs and festivals in dozens of international cities across five continents. As long-time advocates of "cognitive liberty," a growing international "sacramental culture" has embraced the Grey's as important mapmakers and spokespersons for the visionary realm.
The Grey's state that it is only with the extraordinary support of the whole CoSM Staff that the
Kickstarter Campaign
is up and running.
MEDIA CONTACT INFO:
Kickstarter Campaign Leader: John Harris, Operations Manager
[email protected]
CoSM, 46 Deer Hill Road, Wappinger, New York
845-297-2323 x103
KICKSTARTER VIDEO TEAM:
The CoSM Kickstarter Campaign video brought together the talent of accomplished artists including --
Video Editior -- Zena Grey, actor, host of Lost & Found Film Club, Creative Content Producer for Buzzfeed/SnapChat.
http://www.imdb.com/name/nm0340720/?ref_=nv_sr_1
https://www.facebook.com/LostFoundFilmClub/videos?ref=page_internal
Digital Effects, Edge Visual
Jackie Cooper & Edward Dawson-Taylor;
For Disney, Microsoft, Pixar, Lucas Films and more..
• http://www.edgevisual.co/ • Instagram: @edgevisualvr
• Twitter: @edgevisualcg • Facebook: www.facebook.com/edgevisual
3D Sculpting -- Ryan Tottle & , Academy Award winning Disney animator. {Frozen; Zootopia] -
ryantottle.blogspot.com/
3D Sculpting -- Alena Wooten-Tottle; Academy Award winning Disney animator. {Frozen);
alenawooten.blogspot.com/ ;
3D Animation -- Maurice (Mo) Caicedo
mocaicedo.com/
Videographer -- Louie Schwartzberg
https://movingart.com/
Videographer -- Shay Motion
https://www.youtube.com/user/ShayMotionFilms;
https://www.facebook.com/shaymotion/info/?tab=page_info
Motion video artist -- Jonathan Singer
johnathansinger.com/
Music by Tipper
tippermusic.net/
Music by Koan
https://www.facebook.com/koantunes/
Visionary Art Organizer for Entheon Kickstarter -- Amanda Sage,
artist/clothing designer
amandasage.com