IN MEMORY OF FALCO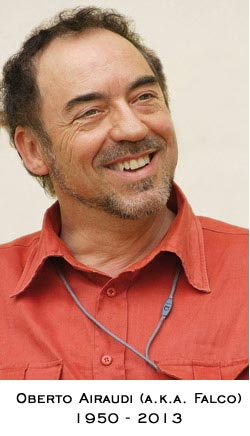 This week we mourn the loss of Falco, a visionary artist and spiritual leader of the Federation of Damanhur, an evolutionary community in Italy. Falco died this past week at the age of 63. We met Falco in 2007 as we were working on the art book Damanhur, Temples of Humankind, published by CoSM Press. We send our dear friends at Damanhur condolences and healing prayers at this powerful time of transition.
In 1978, spiritual leader Oberto Airaudi (a.k.a. Falco) had a vision of sacred temples built inside of the mountain -- and the digging commenced. The Temples of Humankind were a secret from even the closest neighbors for the next twenty years as artists, artisans and builders excavated and created the equivalent of a five-story subterranean building. Merging ancient mystic customs and principles with contemporary consciousness and philosophy, this tiny utopia, guided by the visionary artist, Falco, has manifested an eco-conscious, self-sustaining society offering Damanhur's temples as an exquisite gift to the world.
History hinges on the lives and actions of great individuals. Building the Temples of Humankind at Damanhur was a mission from a higher spiritual world. Falco inspired a community to bring heaven to earth. His vision of an underground temple captivated the imaginations of a community of artists and artisans who gathered around him to realize this prophetic vision. The powerful sharing of a revelation founded a great people, the Damanhurians, with their own constitution, their own money, school, stores, restaurants, galleries, rituals and ceremonies, their own temples. Perhaps in past lives Falco was Horus himself, returned to liberate the world. People have rearranged their lives to gather and create around him. Living according to his own vision, individualistic, an attractor, a visionary artist and spiritual leader, Falco inspires our admiration and awe and activates our highest intentions as artists and community builders.
Today Falco's mythic story hearkens to the aliveness of Spirit in each of us and the drive to build antennae to the higher dimensions of world teachers and cosmic cousins. They beckon us to evolve as a species and embrace the diversity of the human religious quest, recognize our common unity as world citizens and save the precious lifeweb. The message we receive from Falco, a mystic artist and storyteller for our times, is that the path of science, creativity and spirituality united can form the alchemical incubator needed for a sustainable relationship with nature and a future for the human species.  Damanhur and the many works of Falco stand as a lighthouse of hope and higher possibility as we navigate the stormy seas of the 21st century.
– Foreword excerpt by Alex Grey & Allyson Grey to Falco's book Path of the Initiate Book II, published by Oracle Press.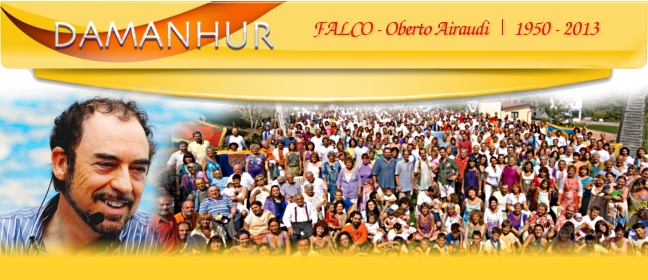 Tribute to Falco from the Oracle Institute:
http://theoracleinstitute.org
/
tribute-to-oberto-"falco"-
airaudi-founder-of-damanhur
Love,
Allyson & Alex