[callout]
Friday Night @ CoSM


[/callout]

Transformational Cosmic Sound Meditation
with Evan Worldwind
7:00 pm - 10:00 pm
Sharing the journey, we design a mental altar and plant seeds of peace, love and prosperity. Experience a transformational Cosmic Sound Meditation with Artist Dream Family — didgeridoo, drums, flute, and ambient sound, incorporating techniques engaging Body Temple Meditation (Chi-Kung) and Neuro-Linguistic Programing.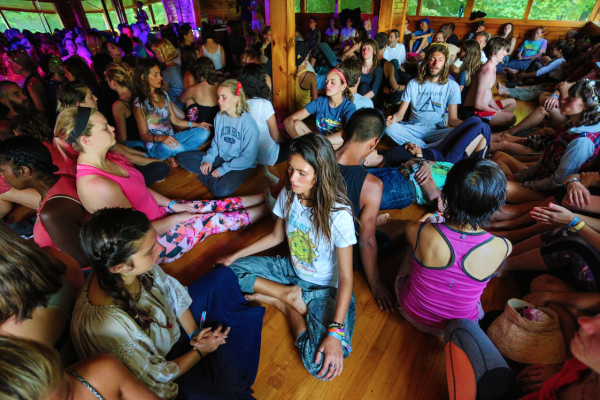 Begin with a simple design set of Chi-Kung Temple Exercise Meditation. Lay back in sacred comfort immersed in live sound instruments and ambient enhancement. Perhaps you will make an internal cosmic discovery. Shift perspectives Join us at CoSM this Friday and delve deep into a sound bath.

Evan Worldwind
is a certified Neurolinguistic Design Engineer, a Hypnosis Therapist, a student of the TAOIST philosophy, a practitioner of the Classical Yang Style Family Tai Chi, a musician, performer, and teacher of the mystical didjeridoo. He believes that if you want to help people, you must first start the process within yourself, the one who needs healing is the healer within.
Come early and enjoy
Friday Night Dinner
, a delicious meal prepared by the house chef.
RSVP for dinner
-- Reserve a meal ticket in advance.
845-297-2323 x 103, 104, or 106.
Enjoy heavenly snacks & beverages in The Mushroom Cafe. The parlor and library will be open to contemplate music, art and gaze into the fireplace. Browse  through The CoSM Shop. Bring friends, a sketchbook and colors to draw by the fire.
---
[callout]

Saturday @ CoSM:


[/callout]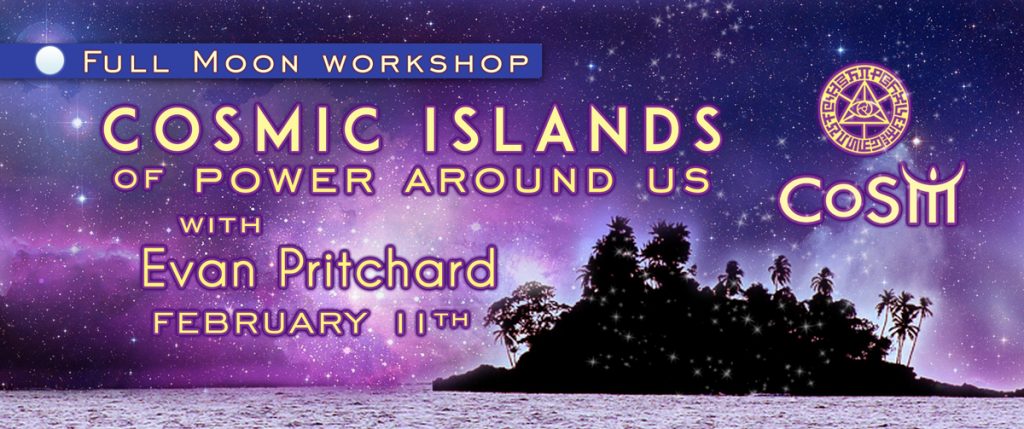 Full Moon Workshop
Cosmic Islands of Power Around Us
with Evan Pritchard
3:00 pm - 6:00 pm
The Algonquian people (a Native American culture group of our region) knew how to live off the land and would seek certain configurations of land and water, to establish their political and economic centers. Choice locations were especially rich in sustainable resources and offered multiple-combining features that included the confluence of rivers, the crossing of trade routes, fording places, bends in rivers, waterfalls, estuarine valleys, and the head of the tide. At the center of most of these spots was an island connecting the waters and the roadways, cosmic islands of power where great leaders, sachems, medicine men and women, would meet and practice ceremony.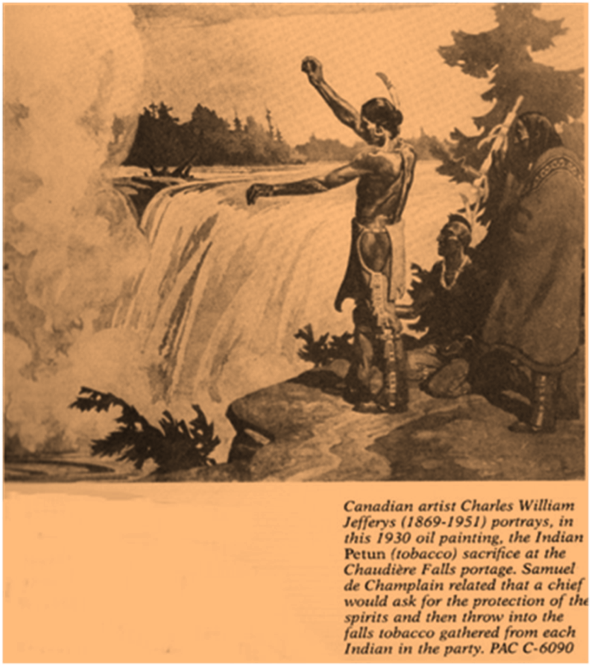 Every Native ceremony includes fire lighting: fire joined by water, earth, and air at a power spot where everything in the cosmos connected. Many of these "rendezvous" spots became US or Canadian capitals. Professor Pritchard will present an illustrated talk on the occult significance of our bioregional area, revealing secrets concealed beneath our state capitols. In this seminar, Professor Pritchard will enlighten us to the shamanic matrix upon which our own society is still based and take geomancy to a new level.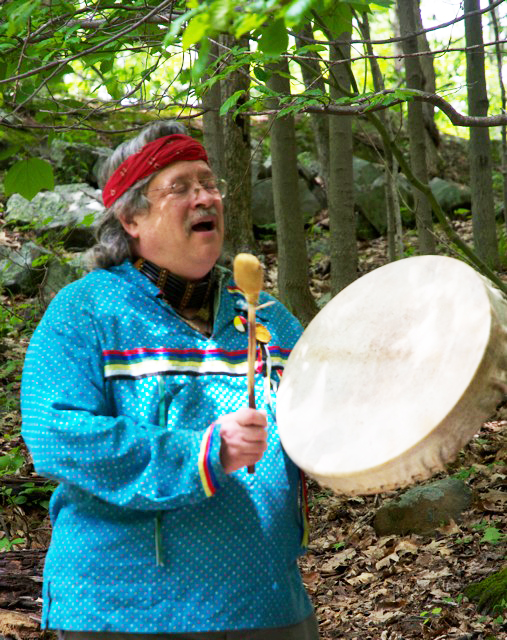 Professor
Evan Pritchard
, of Mi'kmaq and Celtic descent, is the director of the Center for Algonquin Culture in New York and the author of thirty books on Native American culture, including the critically acclaimed Native New Yorkers, No Word For Time, Bird Medicine, and Henry Hudson and the Algonquins.
[callout]
February Full Moon Gathering @ CoSM:


[/callout]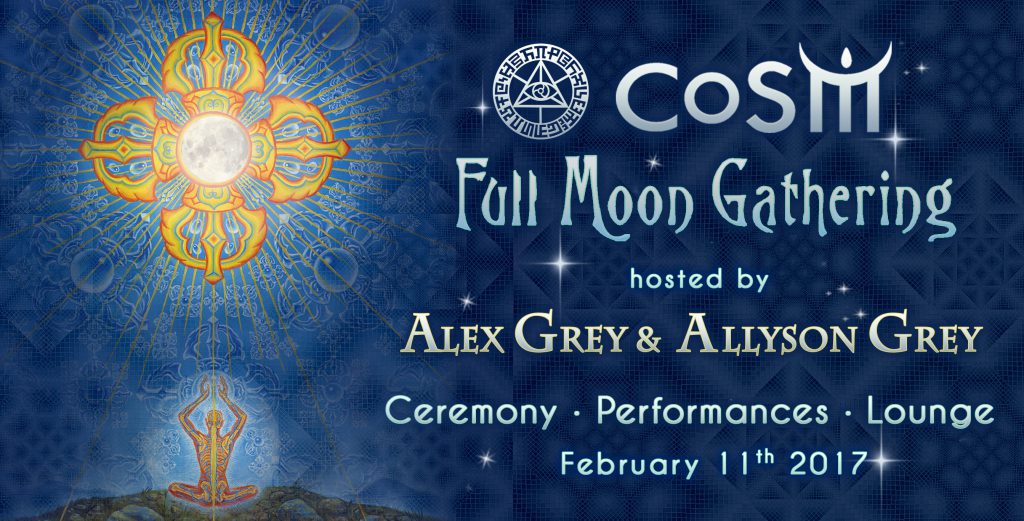 Full Moon Ceremony
 Music, Poetry, Wisdom and More
with hosts Alex & Allyson
7:30 pm - 9:30 pm
Share art and spirit with community and celebrate the return of the Full Moon. Full Moon gatherings occur monthly and each celebration is an unique and crystalline experience. Join us for a performative evening of wisdom, poetry, music and art. Alex & Allyson lead the Opening Ceremony in the library from 7:30pm - 9:30pm. Seating begins at 7:00pm.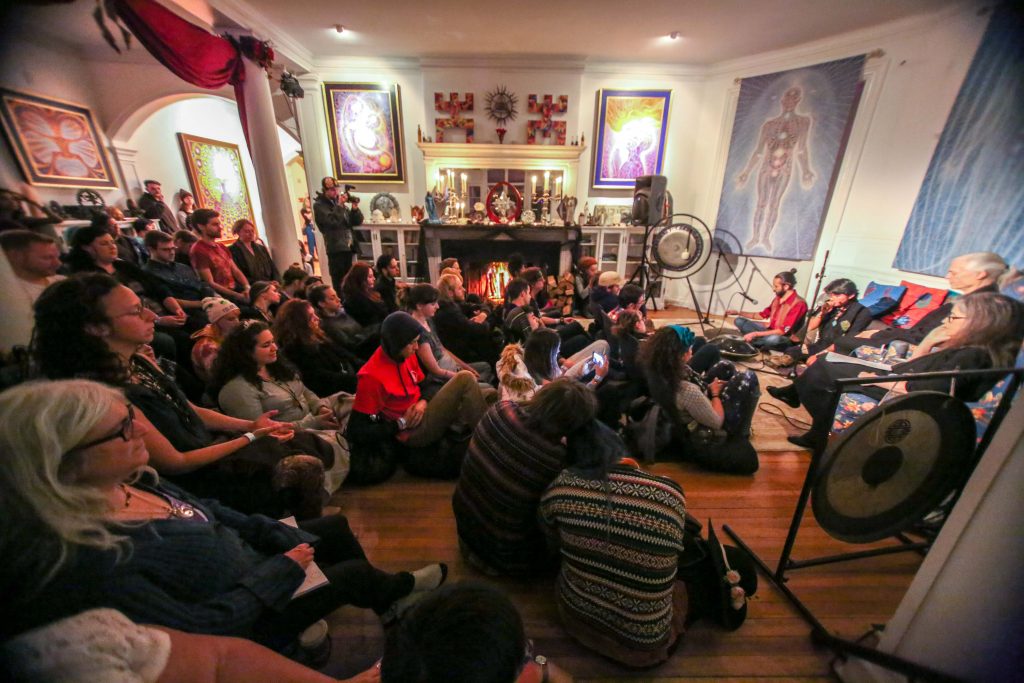 Full Moon After-Celebration
Enjoy live music, interactive art making, and performance painting. Alex Grey loves to create one "Supportrait," a drawing of one guest or couple with proceeds supporting CoSM. Chat with Allyson about Art & Life during the After-Celebration. Check the progress of live painters Clinton Reynolds, Hilary Astrid, Melissa Morgan, Joness Jones, Perry Kroeger and Ryan Gatt. Celebrate the "Orb of Night" with visionary family and cosmic friends.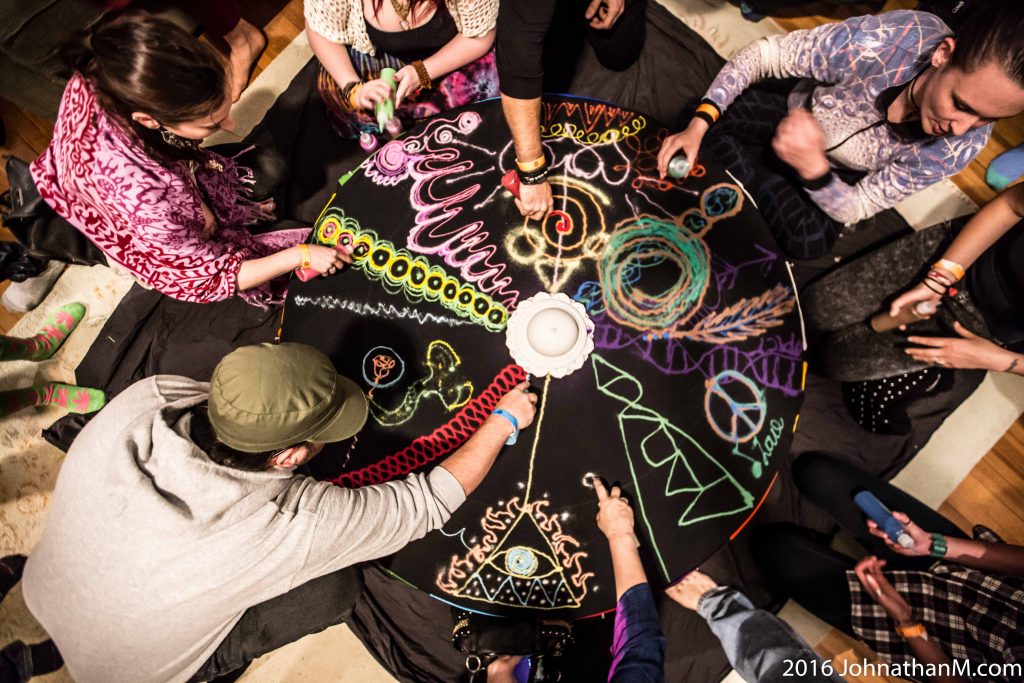 ---
[callout]

Sunday @ CoSM


[/callout]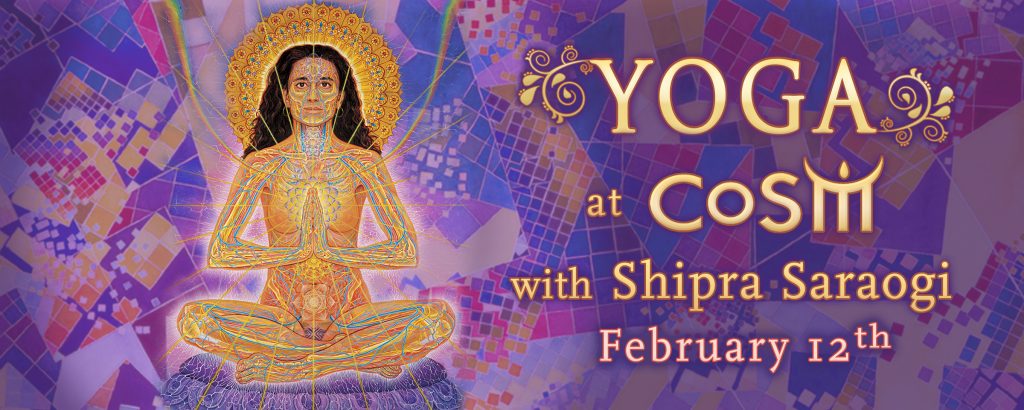 Morning Yoga
with Shipra Saraogi
10:00 am - 12:00 pm
Sunday, late-morning, come to CoSM for the ultimate out-of-body experience, Morning Yoga with Shipra. A CoSM favorite, Shipra gently guides yogis & yoginis toward their body's own potential. Through illuminated guidance, Shipra leads participants toward rejuvenation on a safe journey to deepen any asana practice.
All levels of experience will be comfortably nurtured and challenged in Shipra's yoga class. Yoga begins at 10am, $10 donation requested. Mats available.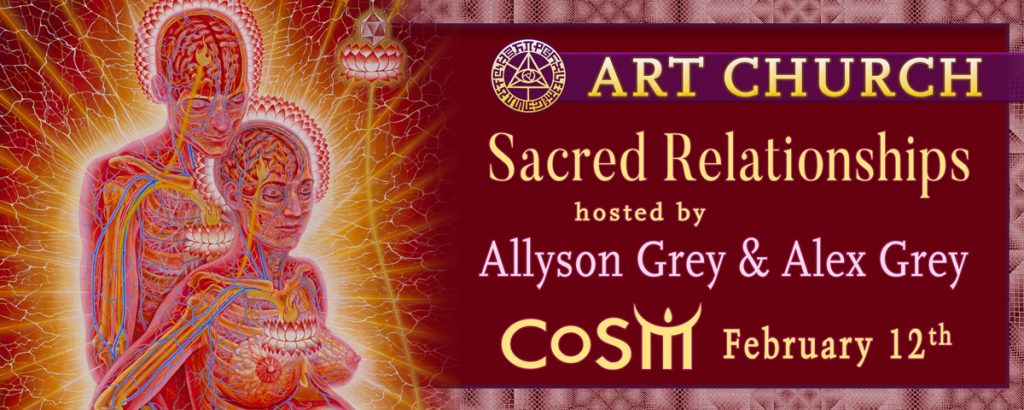 Art Church: Sacred Relationships
hosted by Alex & Allyson
1:00 pm - 5:00 pm
To honor Valentine's Day, Alex & Allyson, will lead Art Church with an illustrated interactive discussion about Sacred Couples. Join in on a discussion on why successful relationships are evolutionary. Hear how biological strategies like adaptability, symbiosis and "survival of the fittest" apply to relationship choices and sustainability. What is the anatomy of a healthy disagreement? Can "reciprocal altruism" result in a holy love pact that lasts a lifetime?
It is our experience that a transformative bond can activate a spiritual/creative life and open a universe of possibilities otherwise unimaginable. Come to CoSM for the entire Art Church journey that will start and end with art making and discussion of how we can have the undeniable treasure — a life in love.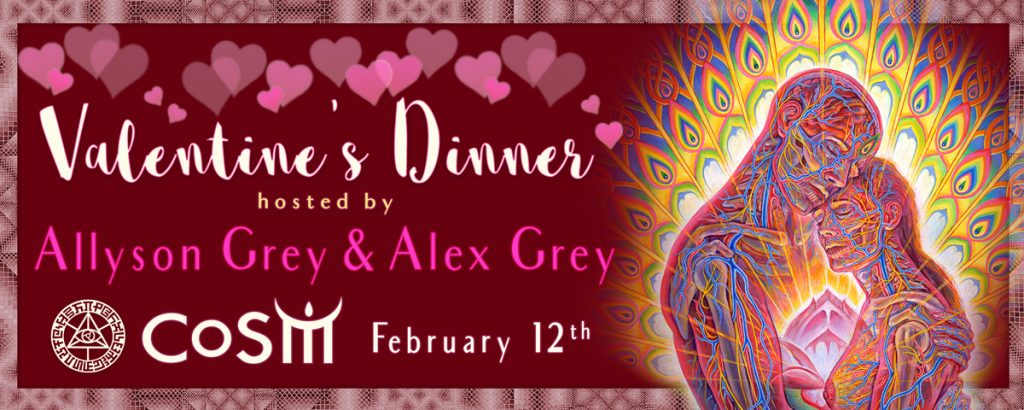 Valentine's Dinner
hosted by Alex & Allyson
6:00 pm - 10:00 pm
Why we fall in love is a mystery, but how we make our relationships work and last a lifetime has been studied and analyzed. The description of an ideal mate transcends physical appearance or material success. Qualities that one couple might treasure could be repellent to another. A pleasing balance of intimacy, passion and dependence is an interpersonal matter that may differ for any couple. Character flaws in our partners have to be expected. None of us are perfect but what is unacceptable? Are there any constants that can be identified, common criterion that make relationships work universally?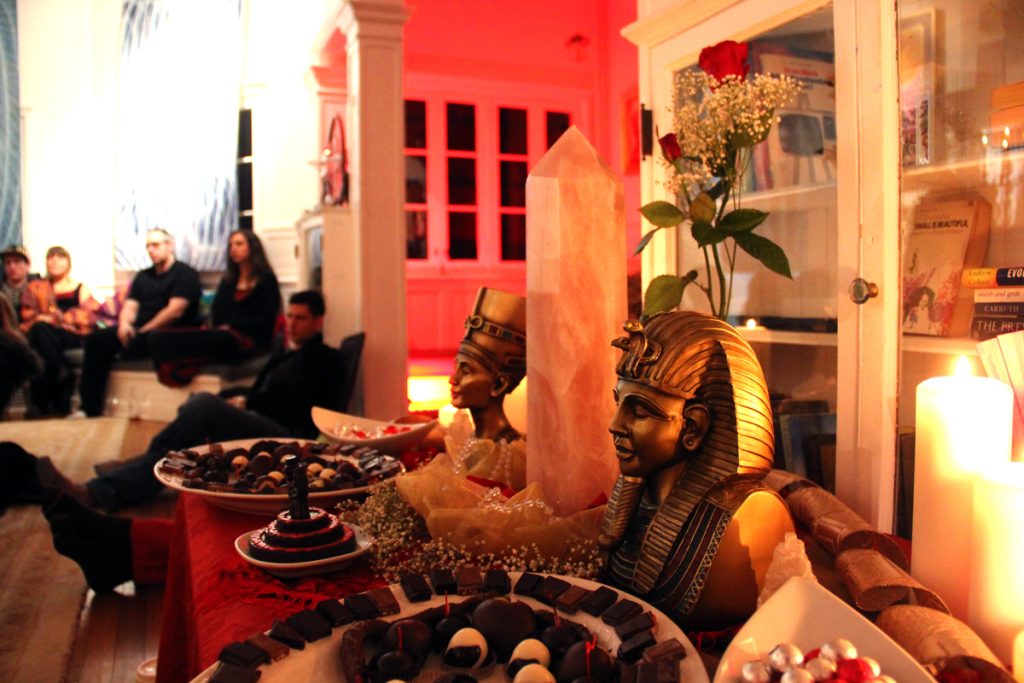 Join Alex and Allyson for dinner and discussion about love and partnership. A romantic dinner including desert, champagne and chocolate. Singles and friend couples welcome. Celebrate love and life this Sunday at CoSM.
Love,
Alex & Allyson