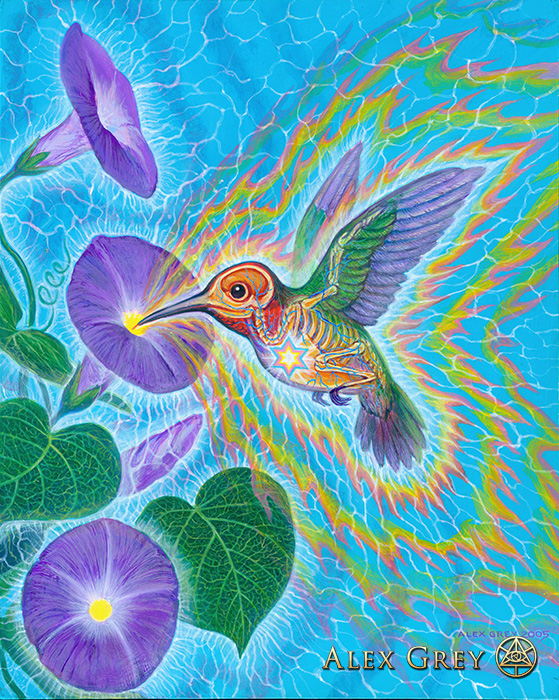 A&A @ Spirit Rock Meditation Center, CA
Saturday, May 20th.
At the Intersection:
Psychedelics and the Buddhist Path
To Benefit
Spirit Rock Retreat Center, Woodacre, California
with Allan Badiner, Alex Grey, Allyson Grey & Special Guests
Celebrate the new edition of Zig Zag Zen: Buddhism and Psychedelics, edited by Allan Badiner and Alex Grey. Jack Kornfield will welcome guests and provide a prologue before introducing the afternoon's speakers who will lead us on an exploration of the intersection of psychedelics and the Buddhist path. Topics include psychedelic medicine, philosophical and existential exploration, current scientific findings, as well as a nuanced view of the place of psychedelics in healing the mind. Special guests will include: Rick Doblin, Ralph Metzner, Allyson Grey, Michael Stone, Stanislav Grof, Don Lattin, James Fadiman, Aurianna Joy and Erik Davis.
Saturday @ CoSM:
Healing Through Adversity
Full Day Workshop with JP Sears & Chris Grosso
1:00 pm - 10:00 pm
What does it mean to accept yourself fully in all of your perfect imperfections; to take an honest, fearless look at your naked self and stay there, acknowledging both the frailty and the glory in the same glance?In this workshop, JP Sears, the man behind the wildly popular Ultra Spiritual Youtube Videos, and Chris Grosso, author of Indie Spiritualist and Everything Mind will address this question, guiding participants to use their difficult life experiences as catalysts towards spiritual awakening through various meditations, compassion practices, dialogue and more.
CoSM Open Hours:
Spring is here! Powerfully attune with the creative force of your soul in the tranquil beauty of nature. CoSM is open to the public every Friday, Saturday, Sunday & Monday, noon - 6pm.
Explore CoSM's Library with books on mysticism and the arts.  Sip and snack in the Parlor before the blazing hearth. Contemplate paintings and sculpture throughout Grey House and the grounds. Make CoSM a spiritual destination this weekend.
CoSM Presents:
Figure Drawing with Alex & Allyson
Saturday, May 27th, 7:00 pm - 10:00 pm
Figure Drawing, led by Alex Grey & Allyson Grey, is becoming a periodic regular feature at CoSM. Practice and learn what is essential to hone your skill at drawing, including basics anatomy and proportions, shading & highlighting, integrating figure, space and form. Participants will portray the physical and metaphysical anatomy, with the assistance of a beautiful model and exquisite music by CoSM's premier home DJ, Jon Ohia.
Artists at all levels of experience and skill will practice rendering the human form.
It's a big PLUS to bring your own sketch book, pencils, watercolors, a portable easel, if you have one...whatever you like to use. Paper and pencils will also be available. Let's draw together!
5-Day Workshop: Art As Prayer
with Randal Roberts & Morgan Mandala
May 31st - June 4th
Join visionary superstars, Randal Roberts & Morgan Mandala for a 5-day intensive art & painting workshop!
In this class, discover the multiple avenues of expression, with the practice of art. Over the course of 5 days,  significantly develop 1 – 2 paintings, using acrylic paint & glazing techniques. Painters at all levels of experience are welcome. Class will also include drawing exercises, guided meditation, 2-dimensional design, slideshow, art discussion and critique, and open studio.
"Solstice" by, Randal Roberts & Morgan Mandala
Participants will be guided technically through the entire painting process –  from using planning and layering to create an authentic and intuitive piece, to completing a painting and presenting our art to the world.
Exploring the process of creating art to be present – and being present to create art,  learn ways to develop your visual language and enhance your inner direction.
Click here
for details and registration.
Love,
Alex & Allyson