Gene Keys
with Richard Rudd, Elijah Parker, Teresa Collins, and Marshall Lefferts
The Gene Keys are a universal inner language whose primary intention is to awaken our highest purpose in life, a purpose that is encoded within our physical DNA. To catalyze the release of our full creative genius we must activate that code and unlock the Gene Keys.
Humanity may be on the verge of a major shift in consciousness. The Gene Keys system proposes that the way we think and feel, our consciousness, can directly affect the DNA that shapes our destiny.

Sixty-four universal archetypes divine a holographic matrix of space-time represented in the Gene Keys, a systematic transmission of living wisdom present throughout the universe. A similar eightfold geometric breakdown of sixty-four distinct aspects underlying the cycles of all creation, are found as well in the Chinese I Ching Book of Changes. The current Gene Keys form was founded and developed by Richard Rudd, who will be skyping in with the workshop facilitators at CoSM.
Come to the workshop this weekend
and examine your personal profile through the lens of the Gene Keys. Discover spheres of radiance and purpose that will activate your Core Stability. In light of this revelation, identify the blend of archetypal dynamics unique to your life's journey.
The Reflecting Pond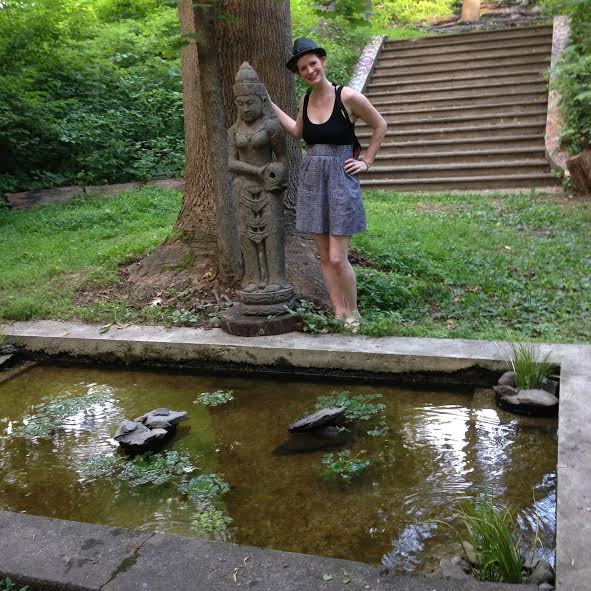 One of CoSM's newest beloved staff, Grace Walters made a significant contribution to the grounds in spearheading the beautification of CoSM's Reflecting Pond. Found buried in the woods some years ago by Alex, the pond has been upgraded over the years by staff members and volunteers, especially our mason friend, Joey Styles. After Oscar scraped out the muck, Grace cleaned and refilled the pond adding plants, fish and a tiny solar fountain.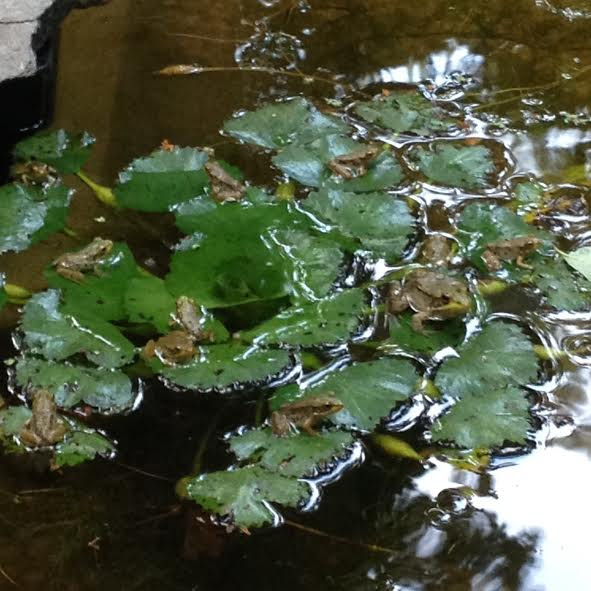 Then she and other staff members added the frogs, transporting them from the overpopulated pool area. Then, from the woods came a frog massacre by a local cat! To save the many remaining frogs, Grace discovered and acquired a solar flashing motion detector to scare off predators. It seems to be working, and as the frogs grow up, they hop into the woods sometimes. Our amphibian relations need all the help they can get.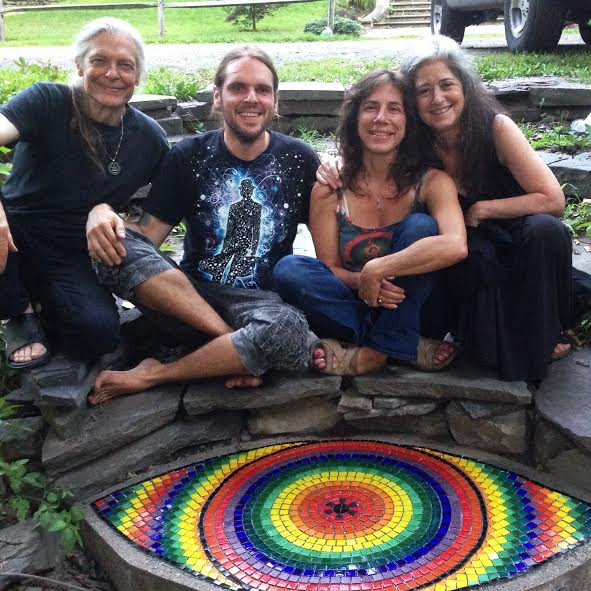 A & A with Vishnu Das and Corrine Feldman, August 2015
Then along came our dear friends and mosaic artists, Corrine Feldman and Vishnu Das to brighten the entire reflecting pond area including the stairway from the office area down the wisdom path. Years ago, Corrine and Vishnu Das came to CoSM from Maui and Ashland, Oregon to create an eye pattern with broken plates designed by Alex, a spectral cement stair mosaic transformation. This summer they returned to tile the Reflecting Pond, honoring a design that Allyson Grey calls "Perfect," representing the endless, uninterrupted field of spectral mandala. Rimming the pond, these bright diamonds contribute exquisite and enduring beauty to a walk on the Wisdom Trail.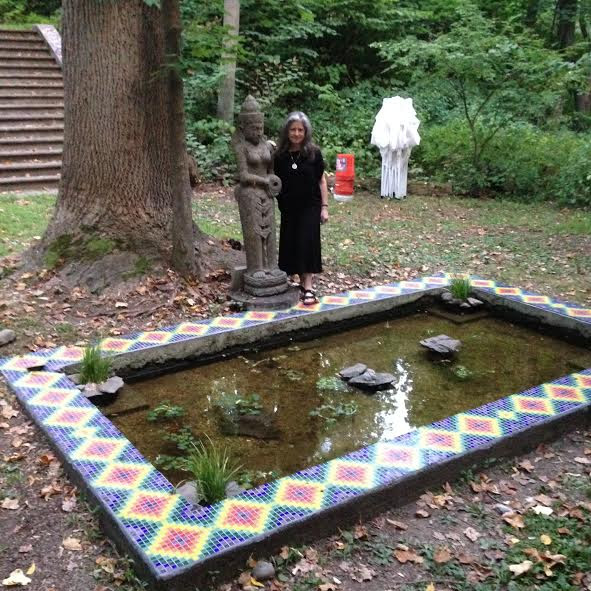 Allyson with the recently upgraded reflecting pond at CoSM, now featuring a pattern inspired by her paintings and lovingly contributed by Corrine Feldman and Vishnu Das.
We thank our staff and creative friends who have blessed CoSM with their hearts efforts. Come to CoSM this summer season and see Wisdom Trail features, wooded beauty, strange and beautiful painted visions and Entheon, CoSM's Sanctuary of Visionary Art, now under construction. Consider
becoming a member of CoSM
and building sacred space together to inspire a global community.
Chris Dyer coming to CoSM
!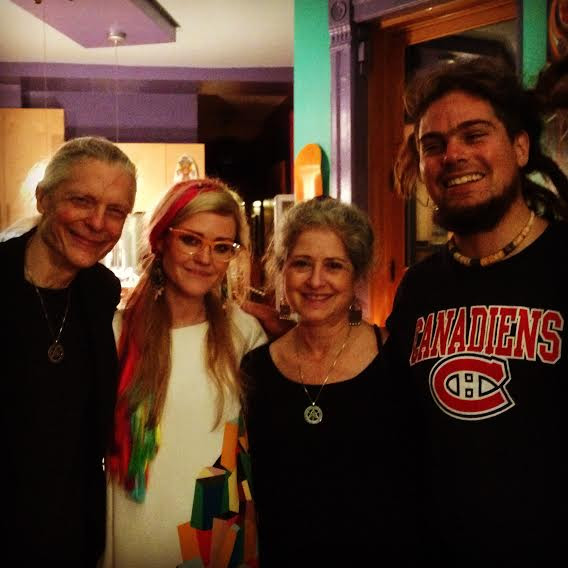 We met with Chris Dyer and his wife Valerie this past weekend in Montreal and got to see his newest creation, an enormous painting with his shamanic spirit beings in most painstaking detail. CoSM is honored to once again host
Chris Dyer's Skateboard Graphics workshop
. Don't miss this opportunity to learn from one of the most inspiring visionary artists of our time.
Love,
Alex and Allyson