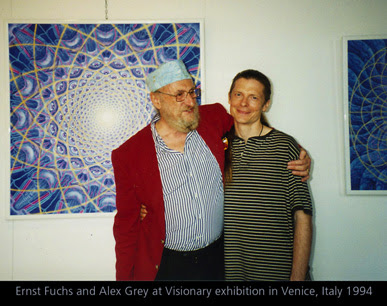 Maestro Ernst Fuchs Joins the Light
Ernst Fuchs, co-founder of the Vienna School of Fantastic Realism, whose paintings and writings helped inspire the global visionary art movement, died Monday at the age of 85. The legacy of Ernst Fuchs will blossom as long as artists aspire to portray dimensions of visionary inner space.  Fuchs directly influenced H.R. Giger and Mati Klarwein as well as Robert Venosa, Brigit Marlin, and dozens of others, but even if they never studied with him, all visionary artists look to him as a superlative master.
He is known mainly for his dazzling draughtsmanship and paintings of psychedelic cherubs or biblical scenes, such as Moses and the Burning Bush, and numerous portraits of Christ. He was also an internationally recognized sculptor, stage designer and print maker, composer and poet.  Fuchs was the one of the first contemporary artists able to evoke multidimensional luminous worlds of psychedelics and share his experiences taking peyote.
Paintings by Fuchs include bizarre, exquisite, uncanny beings, esoteric religious symbolism and detail comparable to Van Eyck.  He revived the traditional mixed (mische) technique, using egg tempera to build forms in grisaille then glaze with oils for luminous depth.  Amanda Sage, long-time assistant painter to Fuchs, now teaches the technique to artists at CoSM  Fuchs inspired so many artists, the Vienna Academy of Visionary Art was founded to train artists of the future.  Along with the visionary art community world-wide, we join in grief for the loss of the master and send our condolences to the Fuchs family.
If you journey to Vienna visit the artist's amazing villa designed by 19th-century Austrian architect Otto Wagner, now a museum displaying a vast treasury of masterworks by the late great Ernst Fuchs.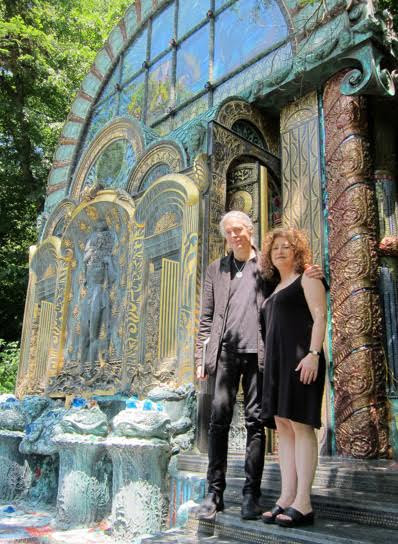 Alex & Allyson visit Ernst Fuch's Nympheanum
Visit CoSM Shop -- An Entirely New Site
Check out CoSM's latest and greatest upgrade, the new and improved
CoSM Shop
. With the help of web designer, Phong, Tech-Heroes, Torrence Miller and Johnny Harris, with the support of the CoSM Media Lab, Jon Ohia and Joness Jones, our CoSM Shop is ready for action at a new level.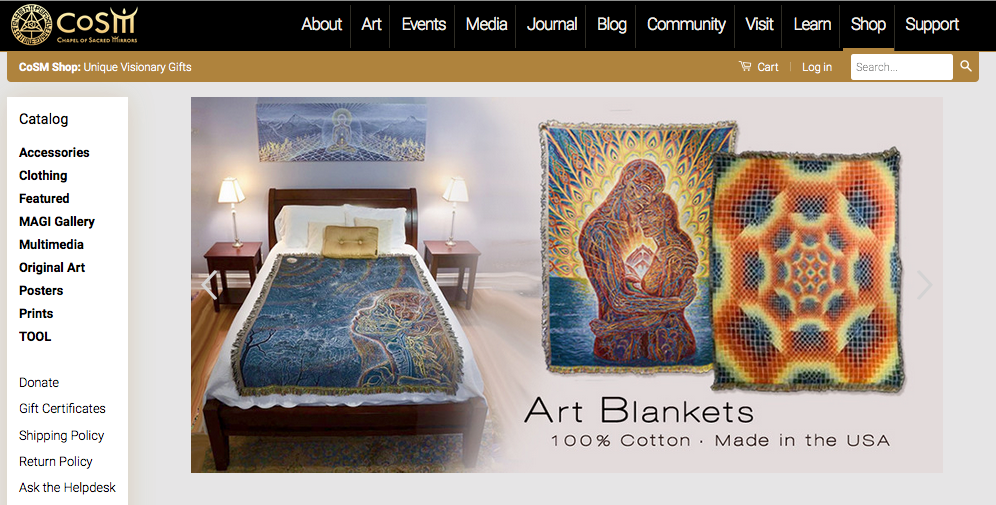 CoSM Shop now offers:
-- A giant range of shipping options with international shipping costs SLASHED!!
-- Clear upgraded appearance with mobile functionality
-- Expanded payment options
-- Most beautiful gifts are easier to order
-- …and as always, proceeds help build a sanctuary of Visionary Art
This season, think of all the friends and family that would appreciate a gift from CoSM Shop and "make a bridge of love" with your holiday gift  from CoSM Shop online.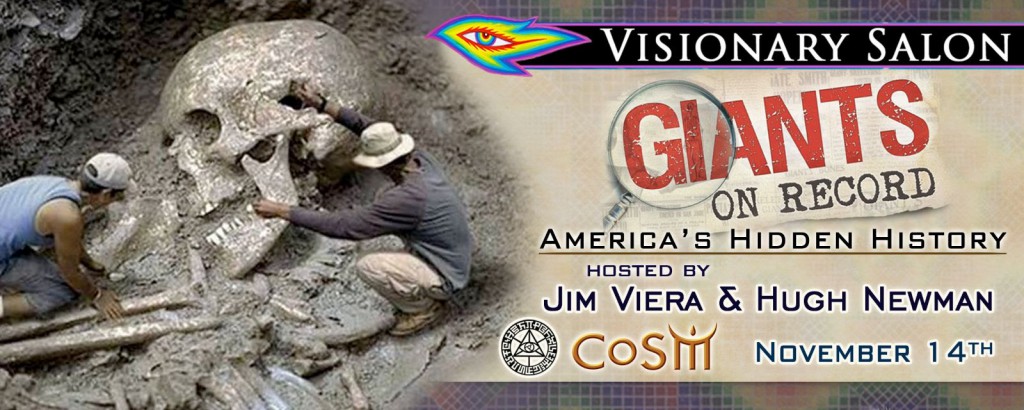 VISIONARY SALON: GIANTS ON RECORD
Saturday, November 14, 2015, 7:00 pm - 10:00 pm
On Saturday, join Alex and Allyson for a
Visionary Salon
featuring two stars of The History Channel, authors, explorers, lecturers and experts on Megalithomania
We may have thought giants were just part of folklore, but recent research and evidence suggests that giants may have lived in North America. Discoveries into mounds and megalithic sites have uncovered over fifteen hundred reports of a giant race, some with double rows of teeth, horned skulls, powerful jaws, and elongated craniums, who ruled the continent since at least 7,000 BC.
Mostly found in ancient mounds, documented accounts and photos support the existence of beings ranging in height between 7-12 feet with some as tall as 18 feet. Strange bronze armor often accompanies these remains bearing red and blonde hair. Though discovered in North America, the unusual skulls and physique of these giants suggest unidentified origins. Why has the history or these being been carefully hidden?
In New England, Florida, Ohio and California, thousands of giant skeletons have been exhumed that mysteriously vanished after the involvement of the Smithsonian Institute, a group of museums and research centers administered by the U.S. government.  When the Native American Act of 1990 forced the removal of bones from museum display, only reports, photos, excavations and eye-witness accounts, even from Abraham Lincoln, remain as evidence of giants roaming this land eons ago.
Hugh Newman, explorer and megalithomaniac, authored the book, Earth Grids: The Secret Pattern of Gaia's Sacred Sites. A regular guest on The History Channel's "Ancient Aliens," he was featured on The History Channel's "Search for the Lost Giants.". Spokesman and organizer of conferences on Megalithomania, Hugh's writing and lecturing is in demand worldwide.
www.megalithomania.co.uk
 and 
www.hughnewman.co.uk
Jim Vieira, creator of the online blog "The Daily Giant,"  has collected fifteen hundred newspapers and scholarly accounts of giant skeletons found in North America, A star of the History Channel TV show "Search for the Lost Giants,"  Jim presented a prestigious and later censored TedX talk.
Jim (left), Hugh (Right)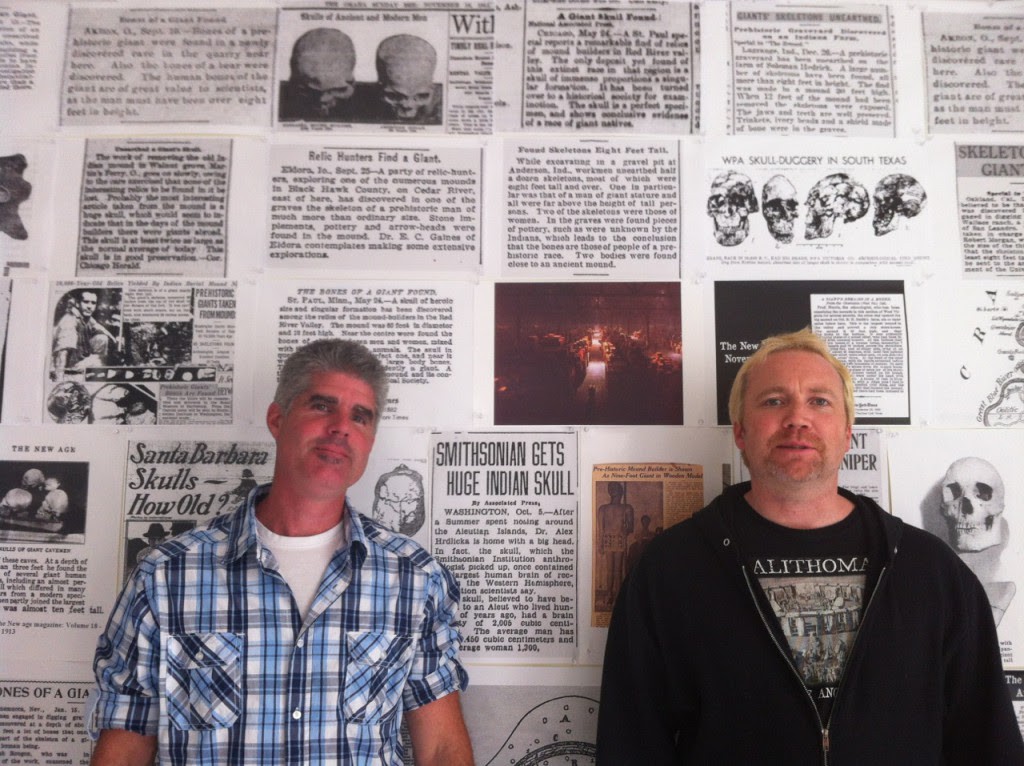 LATE FRIDAY @ CoSM
Mark your calendar and join us after hours on
Friday, November 27th
as we live-paint to the extraordinary music of MAMALAMA, an uncommon orchestration of harp and ethereal voice, cello, violin, hammered dulcimer, upright bass, piano, french horn, and choral voices. Like walking into a dream, Mamalama seamlessly weaves world music (Native American, Middle Eastern, Celtic), classical minimalism, early/sacred/renaissance, psychedelia, indie-chamber music, and vivid lyrical mysticism. Truly an extraordinary sound experience not to be missed.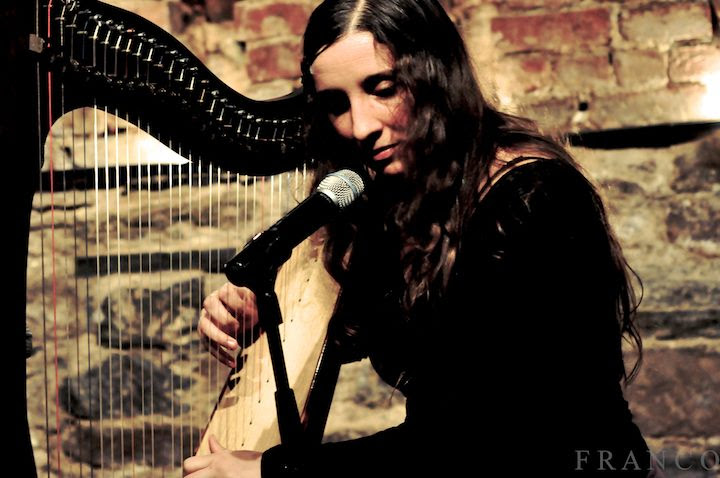 CREATE A DIVINATION DECK @ CoSM before the FULL MOON
Saturday afternoon, November 28th, visionary performance artist, comedian, writer, designer, videographer, and awesome painter, Perry Kroeger will show us how to  "Create Our Own Divination Deck." What better way to understand tarot than to associate our personal mythology and intimate archetypes to the ancient knowledge of tarot.  A three time Broadway veteran, Perry Kroeger has created theater art from New York to Bangkok to Moscow. As artist in residence at The Growing Stage, Perry creates stage sets, puppets, and graphic art for a year-round schedule of musical plays. His cartoon series "Perry Kroeger's ROCKS (enlightenment without getting stoned)" was recently featured in Natural Awakenings Magazine.  To see how much fun you are going to have joining his creative workshop, check out Perry's imaginative and authentic video bio: http://www.perrykroeger.com/#!bio/c15yd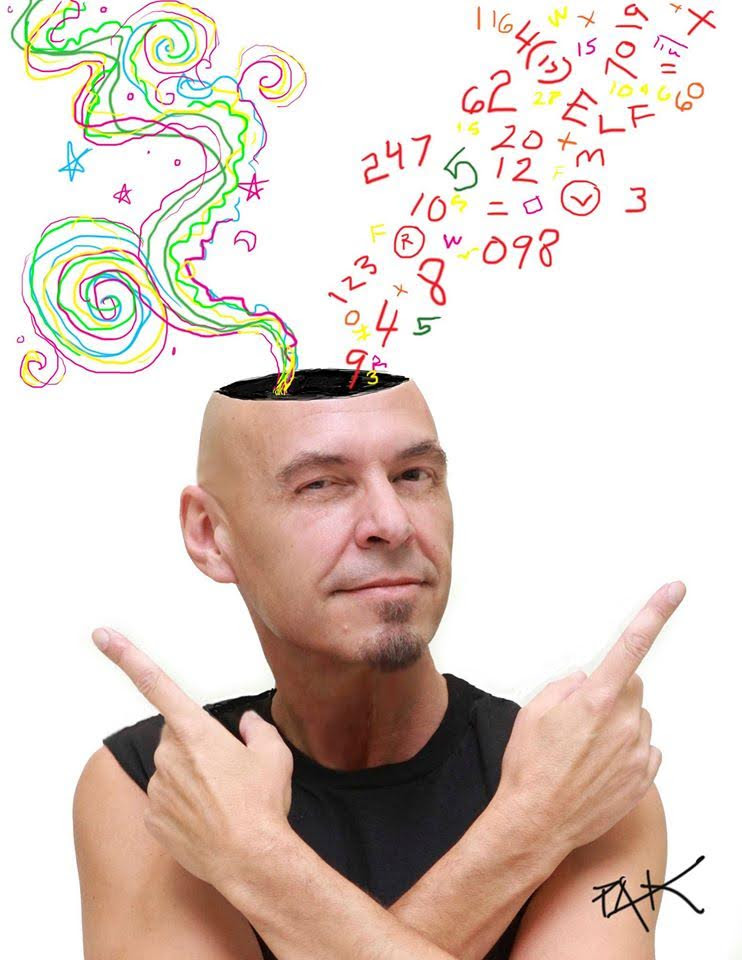 ALEX'S BIRTHDAY @ the NOVEMBER FULL MOON (after Thanksgiving)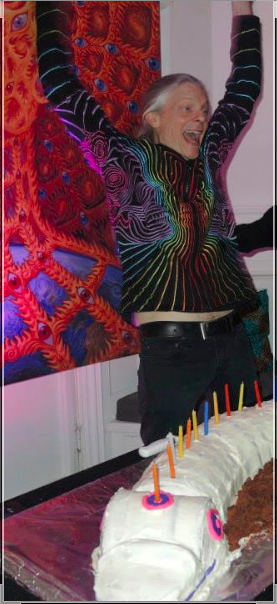 The
November Full Moon Ceremony
at CoSM falls on Alex's birthday! Why not make it a weekend at CoSM?! Be there for the afternoon workshop, the ceremony, the electronic music of Bogtrotter and Tempi, the and fire circle performances, the live-painting, the projections and body painting, The Mushroom Cafe, CoSM Shop (for all of your holiday giving, of course)… and stay for Alex's birthday cake which will be cut at midnight.

Whenever you visit CoSM, bring gifts of food to help others in our community.  CoSM is partnering with Dutchess Outreach to help stock local food banks this season. Collection of canned goods and non-perishable food items is open throughout the season. Bring contributions to the collection box, located in the foyer of the Grey House.
Love,
Alex & Allyson