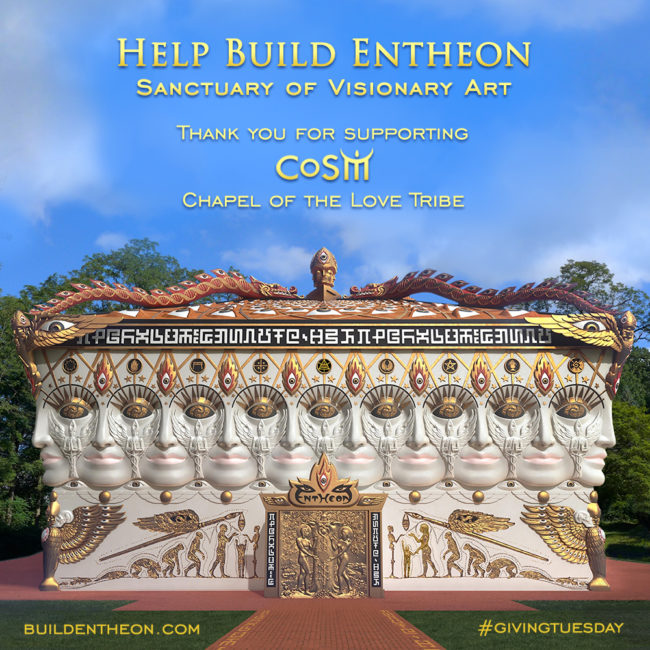 Dear Spiritual Friend,
Thank you for your connection with CoSM, Chapel of Sacred Mirrors. With the love and care of a global community, CoSM has made great progress this year toward building Entheon, an enduring Sanctuary of Visionary Art.  Entheon will be a place to honor the mystical visionary experience through devotional works of art.
The interior of Entheon has heat and air conditioning, humidity control and insulation. There is a sprinkler system throughout each floor. Electricity and security is installed. Colors are selected for walls that are all taped and primed for final painting. This week, the four-story stairwell is being completed and will soon have cases to show wonderful works of visionary art — The Visionary Vine Gallery.  Seven complete bathrooms, three ADA compliant, will accommodate many visitors. A 3 story elevator will soon be installed for handicapped accessibility. There is 12,000 square feet of floor space in Entheon to exhibit art and hold ceremonies and celebrations. We are closer than we have ever been and excited as can be to see the galleries taking shape.
The entry hall, the All One Gallery, will feature original paintings and sculpture by accomplished and celebrated Visionary Artists from around the world. To honor a heroic donation and major gift of $250,000 from Dr. Bronner's Soaps, this gallery of the International Visionary Art movement is named the All One Gallery, reminding us of Dr. Bronner's favorite affirmation for world peace and unity, "All One or None."
There is much "site work" still going on. Over a quarter mile of road expansion and paving, plus lights along the driveway and parking areas must be completed before receiving permission from our town to invite visitors to Entheon. A definitive date for opening is still unclear and is ultimately the decision of the Town of Wappinger. Our aim is to complete the interior by May 2018,  opening soon thereafter. Stay tuned.
To complete the building and site work we need your financial help. Please join with us in raising $250K for the interior and $250K for site work. CoSM is a church and a 501(c)3 non-profit organization. As CoSM volunteers, all of our resources are dedicated to sustaining CoSM.
With the help of the Holy Spirit and CoSM community, we have accomplished a great deal. This giving season, please consider a generous contribution and join us in building Entheon. Bring the Sacred Mirrors and other inspiring artworks back on view to remind us that each one of us is a reflection of the Divine.
Love and appreciation,
Alex & Allyson
For a one million dollar gift the 21 ft high heads could all be made and placed on the building. We cannot borrow any more money from the bank without paying back the loans we currently have.
Exterior of Entheon with Steeplehead
Interior of Chapel of Sacred Mirrors on 3rd fl of Entheon
There will be two 8 foot tall Soulbirds.
Kissing Sculpture of Alex & Allyson