"Gratitude is heaven itself." is attributed to William Blake, Alex's favorite Visionary Artist Poet Philosopher.
Sometimes we feel like we ARE in heaven, there is so much to be grateful for. Thanks first to CoSM staff and volunteers who make everything happen at CoSM. Thanks to Members and the Boards of Directors & Advisors are a stand for CoSM's future. Thanks to the worldwide Visionary Art movement that furthers an eco-conscious universal spirituality that is integral, inclusive and coalescent. To the many artists, musicians, dancers, performers, builders, and creators who have made significant contributions to CoSM -- our thanks to you is profound, indeed. Our deepest gratitude to the Cosmic Creator for the gift of life. To the spirit of infinite oneness reflected in our soul, our creative passion to make something good, true & beautiful happen in the world, all praise and thanks.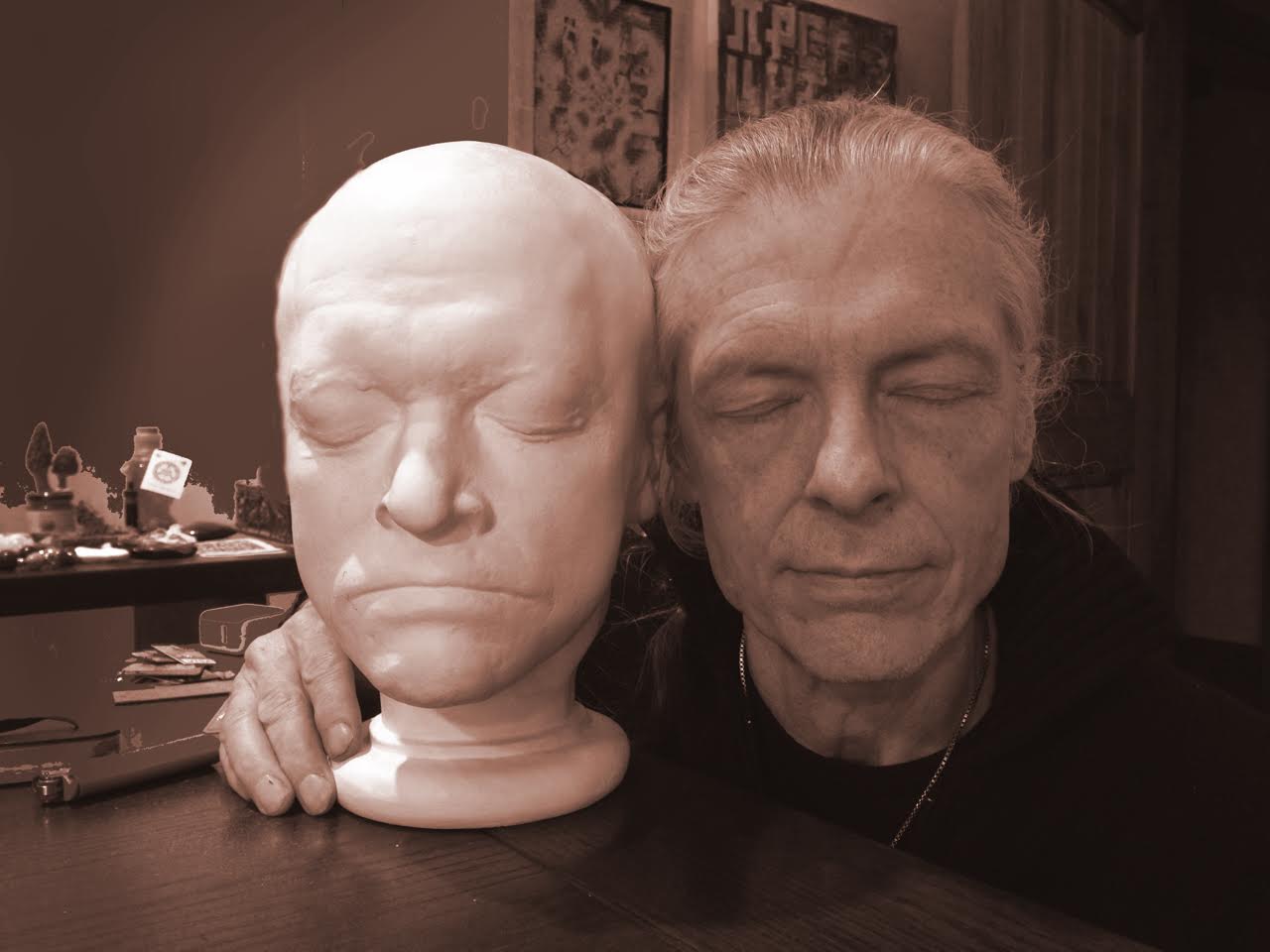 Alex with bust of his favorite Visionary Artist Poet Philosopher. Happy Birthday,
William Blake who's birthday is

November 28th

.
(Alex's is

November 29th

,

this Saturday

).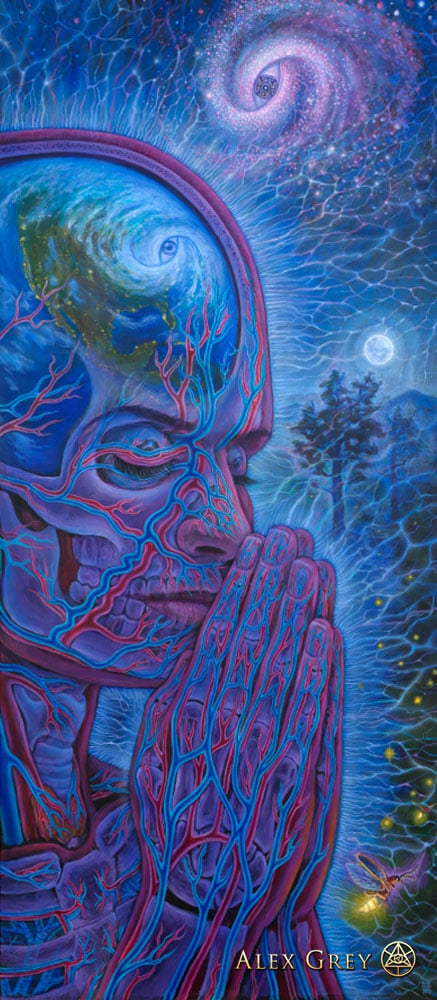 THIS SATURDAY

: ALEX'S BIRTHDAY!
Perhaps you've felt uplifted by Alex's art or inspired by his spirituality of love and creativity. Please come celebrate Alex's birthday with friends
this Saturday
.  Multi-instrumentalist electronic musician composer, David Starfire is coming all the way from Los Angeles, California to play his eclectic fusion of world beat dance music. Johnathan Singer will be flying in from Northern Cali to share his meticulous multidimensional kaleidoscopic remixes of Alex and Allyson's art as visionary portals to mystical psychedelic realms. Frank Heiss will be journeying down from Boston to offer his electronic-sonic connection to the Divine. The evening will begin early with a fireside tribute, a visual history at which blessings will be welcome.  Every 11/29 Alex does a ritual self-portrait. This night, it will be live at the dance floor. Music and live-painting will fascinate throughout the Visionary Victorian. Collaborative art making. Body painting. Surprises. Cake for ALL, and OH, what a cake we are planning. CoSM Shop is the place to do all of your holiday gift purchasing in one visit -- all proceeds support CoSM and help build Entheon, Sanctuary of Visionary Art, now under construction!! Just when the turkey leftovers are about gone, it's
Saturday
night. You are warmly invited to spend the evening at CoSM celebrating Alex's birthday with music, dance, refreshments and merriment. Bring the family.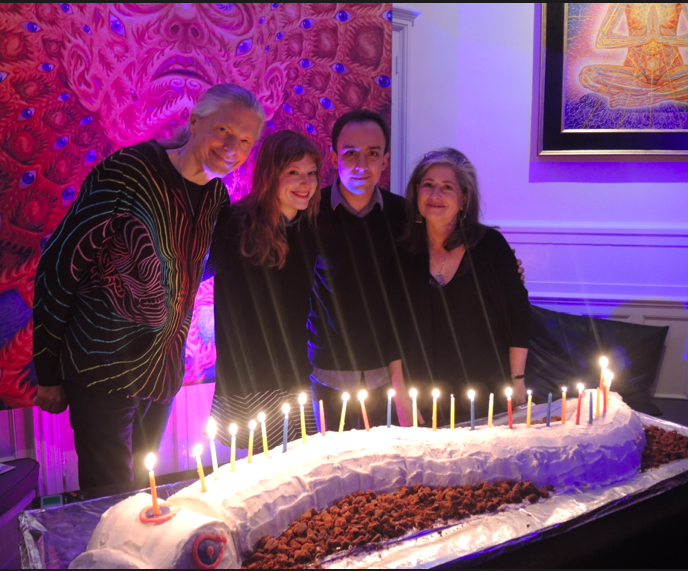 Alex, Zena, Brendt & Allyson at Alex's 60th Birthday Celebration, 2013.
DECEMBER FULL MOON

The following
Saturday, December 6th
, join us for the mystical 144th in an unbroken chain of Chapel of Sacred Mirrors Full Moon ceremonies. Since January 2003 we have gathered with a community of friends in the intention of building sacred space and a sanctuary of visionary art. A conscious creative community comes together every
Saturday
nearest the Full Moon to reflect the divine together and manifest the mission. If you wonder what goes on at a CoSM Full Moon, take a ten minute video journey edited by Zena Grey. This delightfully essentialized journey offers the spirit of the evening including a glimpse of after-ceremony highlights.
ENTHEON UPDATE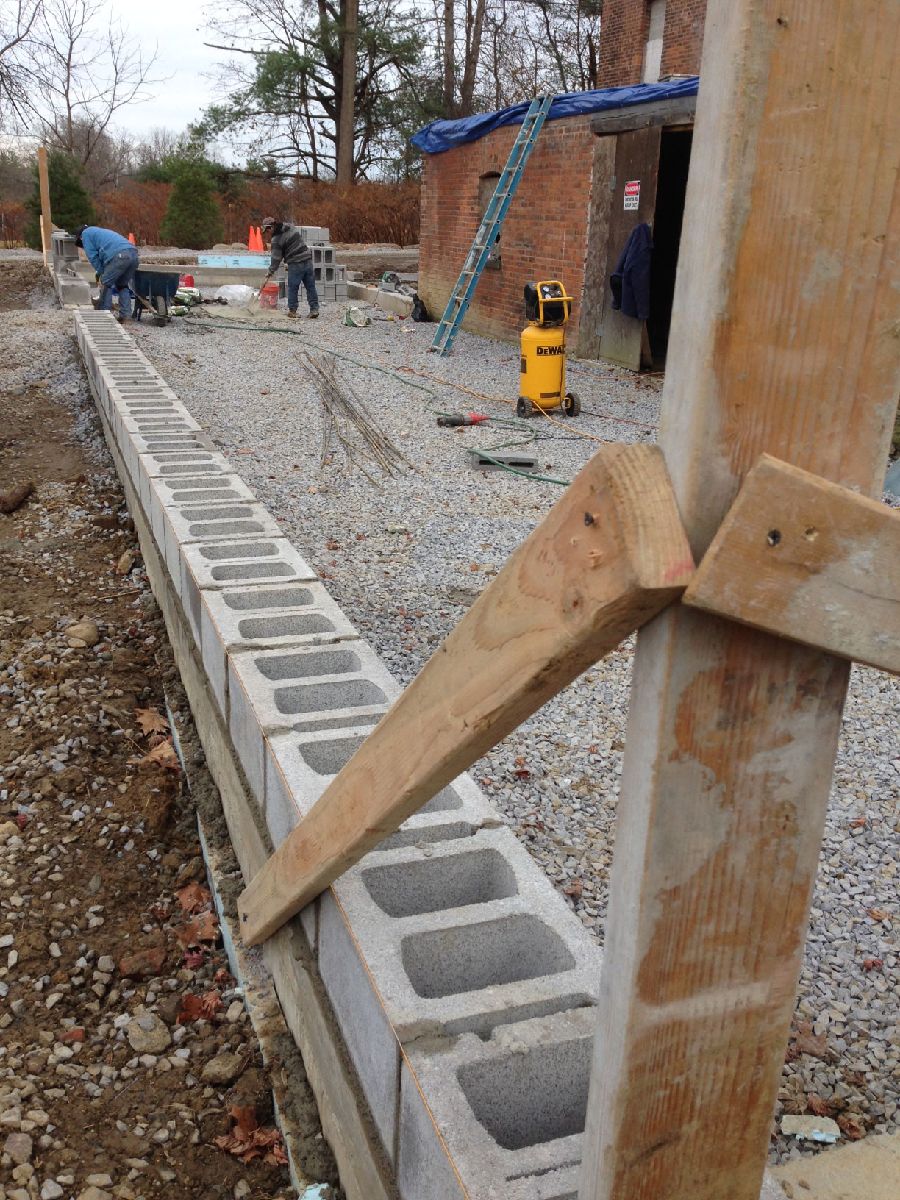 Today we received cement blocks for building the walls of Entheon. Brian has been preparing the site for winter and the masons are making progress.  The corner stones will be laid this week! The picture below shows a thick bed of stone being laid as part of the foundation of the Narthex Gallery.  The ten inches of stone is tamped together providing a base for coming layers of concrete.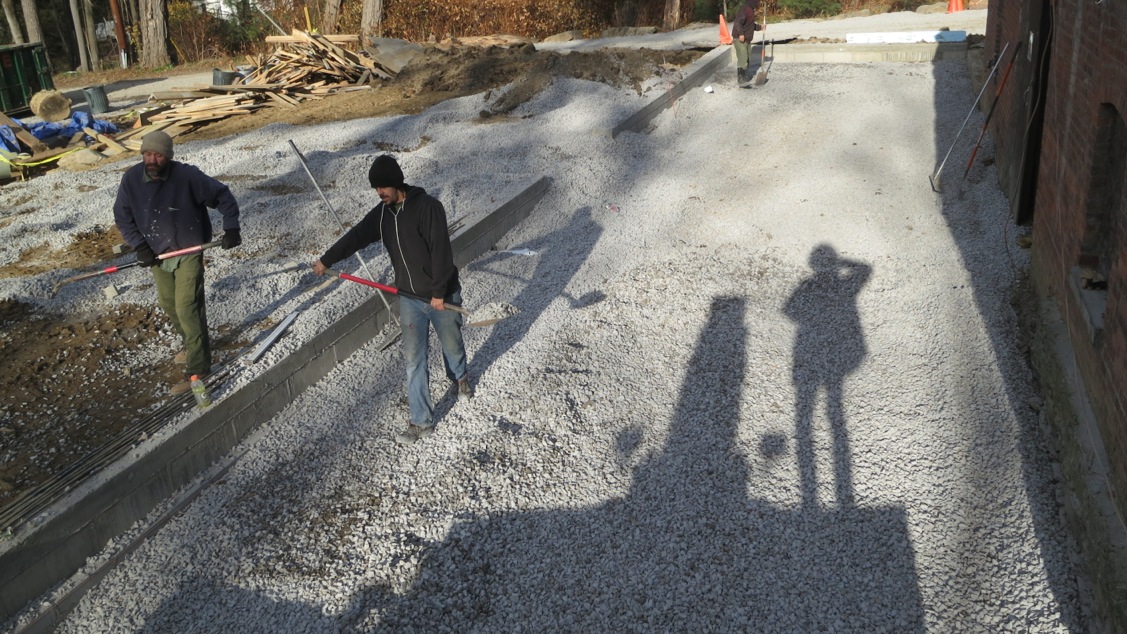 Jeffrey and James stoning the Narthex Gallery foundation of Entheon, November 2014
See you at CoSM soon!
Love,
Alex & Allyson