One day in 1977, we walked into an exhibition of large mandalic and mystical canvases explaining the multidimensionality of the universe through diagrammatic revelations with carefully hand-applied letters of crystal clear writing all over every work. The meticulous paintings and drawings were by genius artist, Paul Laffoley, living near us in his Boston studio called The Visionary Cell.  We had very little money but could not leave two of his beautiful drawings behind. One was entitled, "Levogyre," a detailed and accurate description of a levitating gyroscope, a device for which the physics had not yet been discovered, and a piece entitled, "The Alchemy of History is the End of the Future."
We have always cherished those drawings portraying fantastic machines and temporal cosmograms.  These works will be on display at Entheon, CoSM's sanctuary of Visionary Art.  Paul became a friend and great inspiration as a unique inventive creator of his own authentic visionary art. On Monday, this 80 year old maestro died of congestive heart failure. His previously unseen works of sculpture and painting were recently on view at his unforgettable exhibition at Kent Gallery NYC.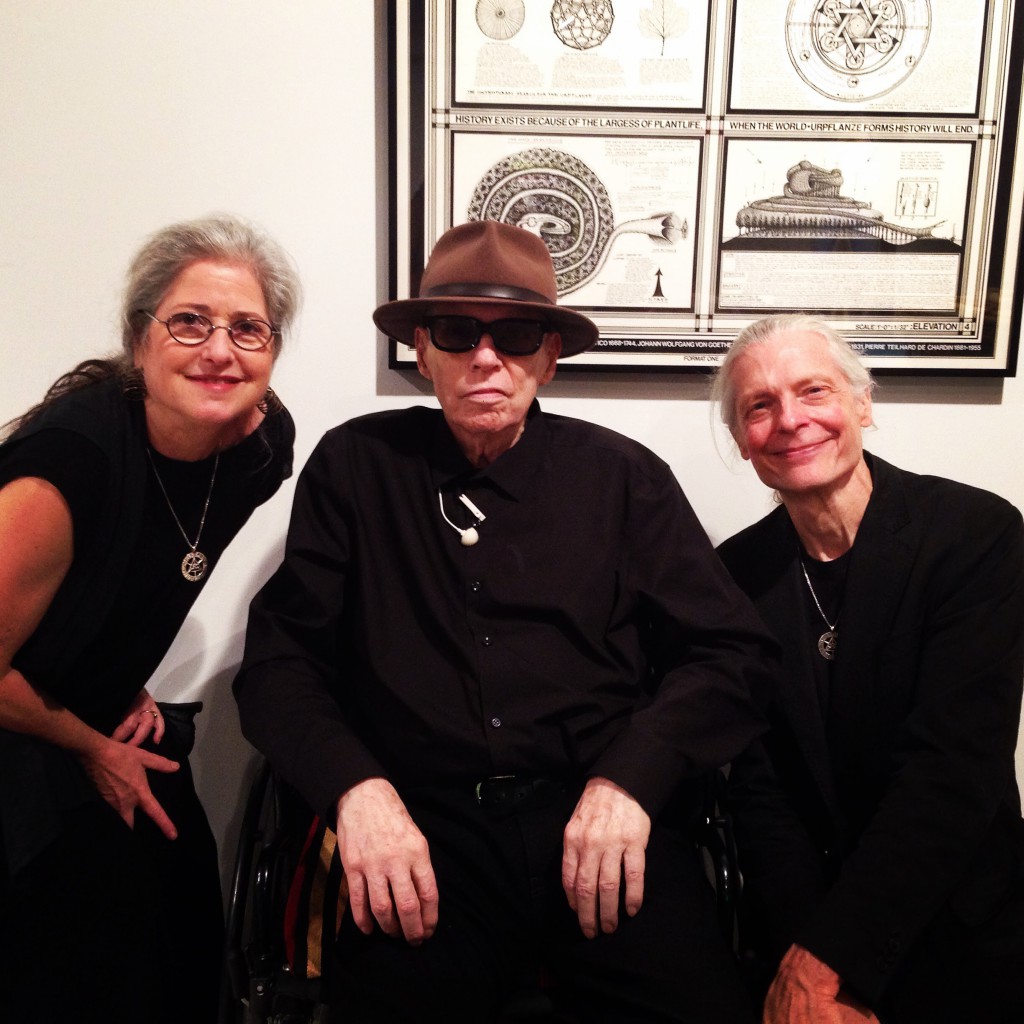 Allyson and Alex with Paul Laffoley, September, 2015, Kent Gallery, NYC
Paul was trained as an architect and at one time worked in NYC as an assistant to visionary architect Frederick Keisler. He also worked on architectural planning for the World Trade Center.  Moving back to Boston in 1965 he made his first painting in the basement of his parent's home. Diagramming reality came naturally to his encyclopedic cross-referencing mind.  To contemplate Paul's work is to encounter ufology, idealist philosophy, alchemy, psychology, technology, morality, a touching memorial to his mother, prophetic visions and the shape and meaning of history.
Doug Walla, the director of Kent Gallery was a close friend to Paul and helped bring his work to audiences and museums around the world. Paul's work began to attract an increasing following in his late career with shows at the Palais de Tokyo (2009), the Nationalgalerie/Hamburger Bahnhof Berlin (2011), and the Hayward Gallery, London, the Henry Art Gallery, Seattle, and the Yerba Buena Center in 2013.
In 1989, Kent Gallery compiled and published the first monogram on Laffoley entitled The Phenomenology of Revelation.  His first museum retrospective was in 1999 resulting in the publication of the second Laffoley monograph entitled Paul Laffoley: Architectonic Thought-Forms: 1967-1999, to the Brink of the Bauharoque.   Forthcoming in March of 2016, the University of Chicago Press will be releasing the long awaited book entitled 
The Essential Paul Laffoley
. He was a kind radiant soul who brought higher dimensions into form to evolve our consciousness, and he will be deeply missed.