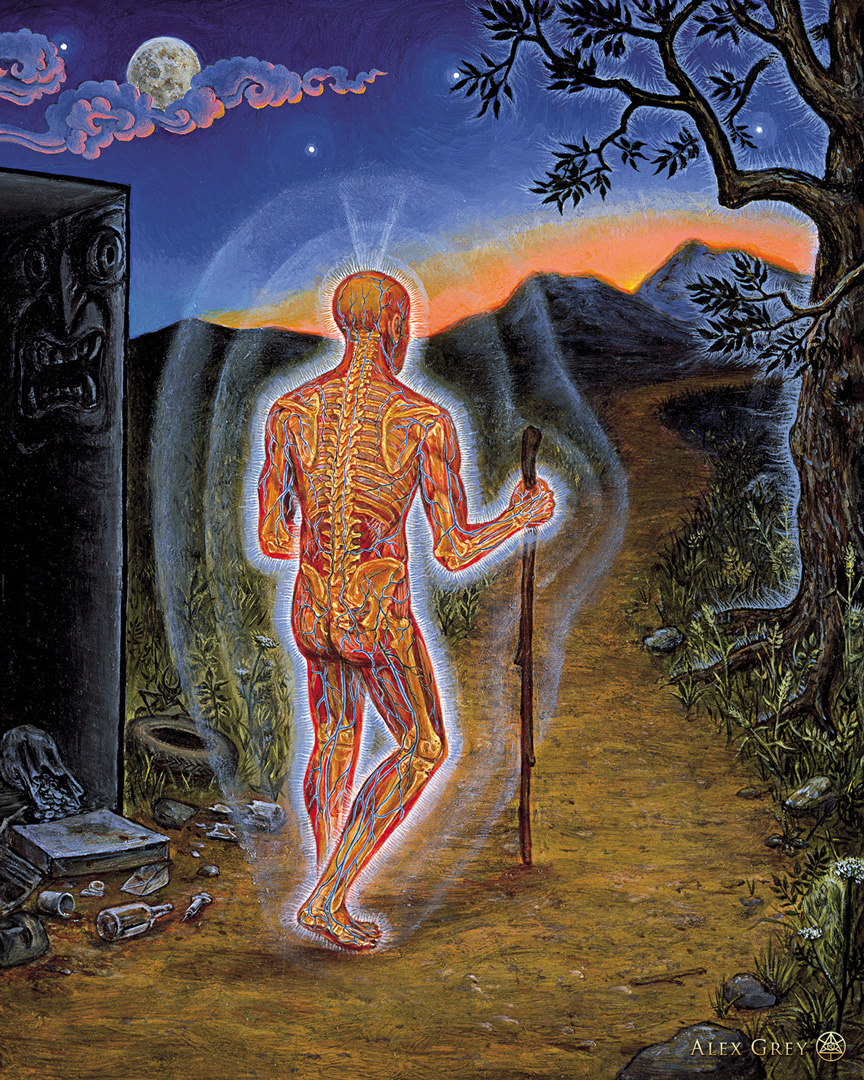 Friday @ CoSM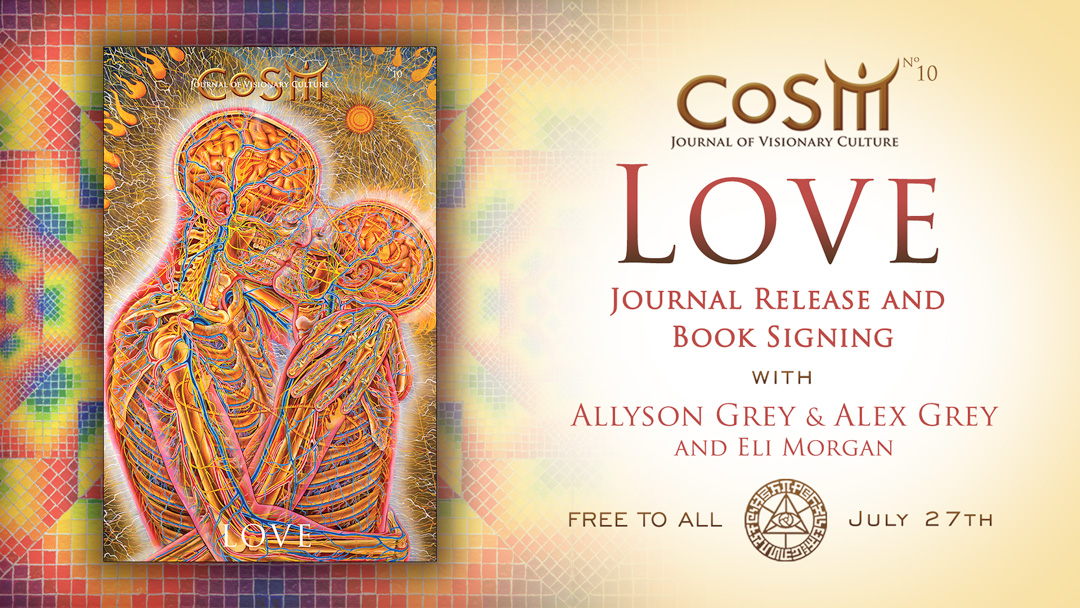 CoSM Journal Vol 10: Love
Journal Release & Book Signing
with Allyson Grey & Alex Grey & Eli Morgan
7:30 pm - 10 pm
"The measure of love is to love without measure."


—St. Augustine
Join Allyson Grey, Alex Grey, and Eli Morgan
for a special book release event at CoSM celebrating the art and wisdom of love.
Together we will flip through the entire journal sharing art and wisdom of love along with insights and stories about the design journey.
Celebrating creativity as a spiritual practice, the Chapel of Sacred Mirrors co-creates CoSM Journal of Visionary Culture to support its Core Mission to build an enduring sanctuary of visionary art to inspire every pilgrim's creative path and embody the values of love and perennial wisdom.
Join us in the love.
SIGN UP TODAY!
Saturday @ CoSMFull Moon Workshop:
Aligning with the Nature Field
Taoist Chi Kung with Dr. Mike Garger
3 pm - 6 pm
Dr. Mike Garger leads Chi Kung and elements of Taoist Yoga and Chinese medicine to serve as a guiding framework for our thoughts and actions.
This program is designed to:
- Help us develop an understanding of the principles upon which our bodies and the nature field function.
- Provide tools in the form of basic focuses and exercises that will produce alignment and power in our physical, mental, emotional and energy bodies.
This workshop is basic and straightforward. No previous experience needed. Take part and enhance your energy field with the principles of resonance and synergism!
Enjoy dinner & entry to the Full Moon gathering all for one price.
SIGN UP
Michael F. Garger, DC, has been teaching Chi Kung and other aspects of Taoist Yoga as well as maintaining a chiropractic practice for the past 28 years.  Intergrating Eastern and Western disciplines, he has developed a program that inspires and prepares individuals to connect to and apply the laws of nature so that they can live harmonious and powerful lives.
July Full Moon Gathering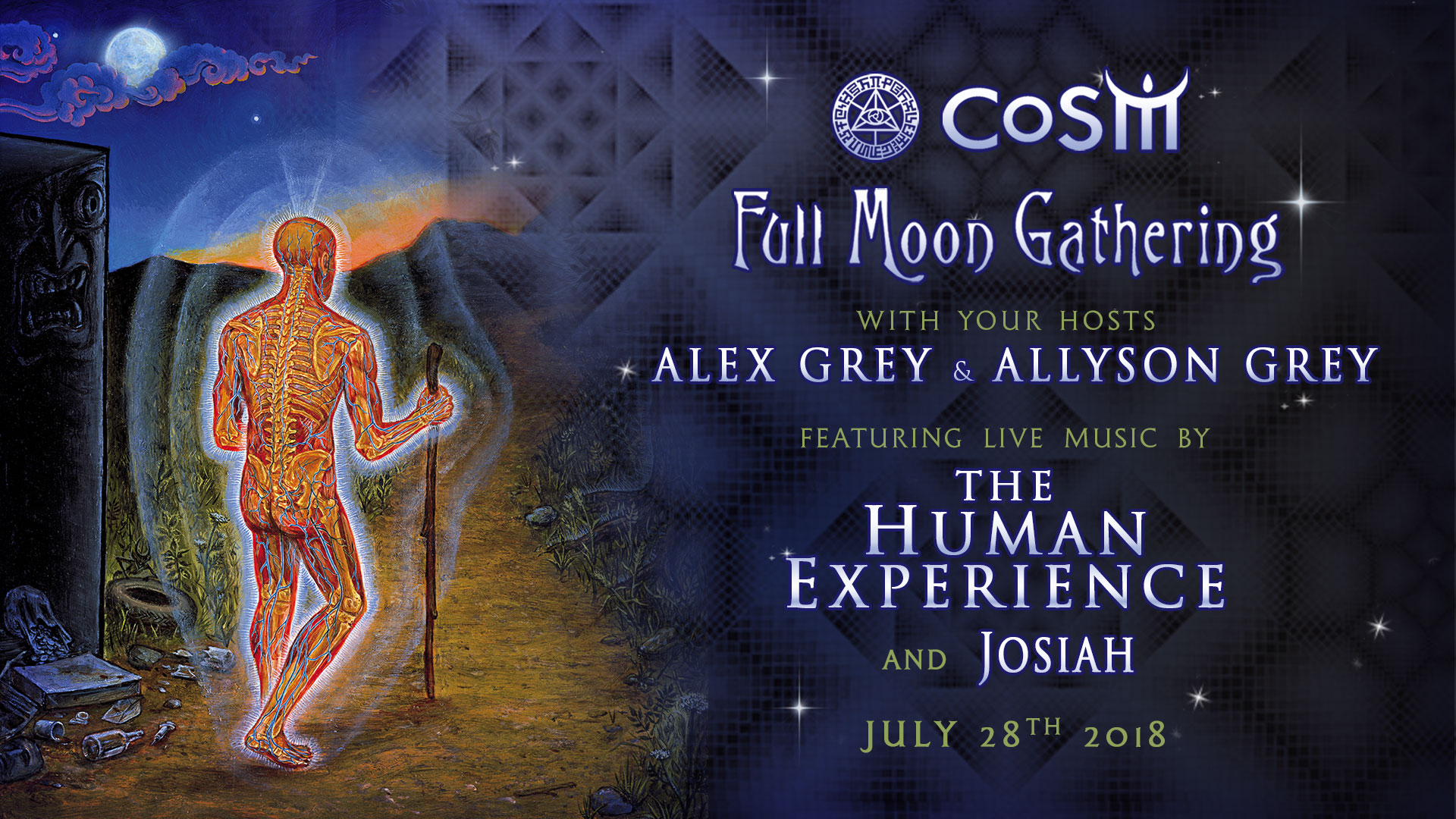 Full Moon Ceremony
Wisdom, Music, & More
with hosts, Alex & Allyson
7:30pm - 9:30pm
"Sacred Space is the work of a community."
—Alex Grey, "Art Psalms," page 190.
Sacred gatherings on the Full Moon magnetically attract the ocean of love.
Join us for CoSM's July Full Moon Gathering as we celebrate the high tide of the spirit.
Opening ceremony led by Alex & Allyson in the Library; 7:30pm - 9:30pm.
After Celebration; 9:30 - midnight.
Seating for the performative program begins at 7pm.
Photo by, Digenger
Full Moon After-Celebration
Featuring Live Music By
The Human Experience & Josiah
9:30pm - midnight
Enjoy downtempo music by The Human Experience & Josiah
Make declarations in the community sand mandala facilitated by Rosie & Dr. Mike.
Reserve  your "Supportrait" by Alex Grey, created for one guest or couple, to support CoSM.
Ask Allyson about Art & Life.
Live Painters: Aloria Weaver, David Heskin, Chelsey Crandell,
Chris Morphis, Genevieve Wood, Michelle Vigeant
Body Painting by Keiara Gallodoro.
Tarot by Madame Ximon.
Check out the outdoor fire circle and fire performances.
Be transfixed by the twinkling trees courtesy of laser wizard, Thai Ghai
Homemade snacks & treats in The Mushroom Cafe.
Artful treasures in the CoSM Shop.
Come to your favorite art sangha
and celebrate the orb of night.
BUY TICKETS
Sunday @ CoSM:Morning Yoga
with Shipra Saraogi
10:00 am - 11:30 am
Sunday, late-morning, come to CoSM for the ultimate out-of-body experience,
Morning Yoga with Shipra.
A CoSM favorite, Shipra gently guides yogis & yoginis toward their body's own potential. Through illuminated guidance, Shipra leads participants toward rejuvenation on a safe journey to deepen any asana practice.
All levels of experience will be comfortably nurtured and challenged in Shipra's yoga class. Yoga begins at 10am, $10 donation requested. Mats available.
Art Church:
The Light Body
with Alex & Allyson
1pm - 5pm
Make art with us this Sunday afternoon accompanied by music and poetry intended to turn on the Light Body. Discussion will include an art historical overview of figurative luminosity as a recurring motifs throughout world art. Holy people are often painted with glowing haloes and auras. Yogic chakras, acupuncture meridians and points, provide a multi-cultural cartography for lights of the soul. Come prepared to create. Bring a sketchbook and colors.
Love,
Alex & Allyson