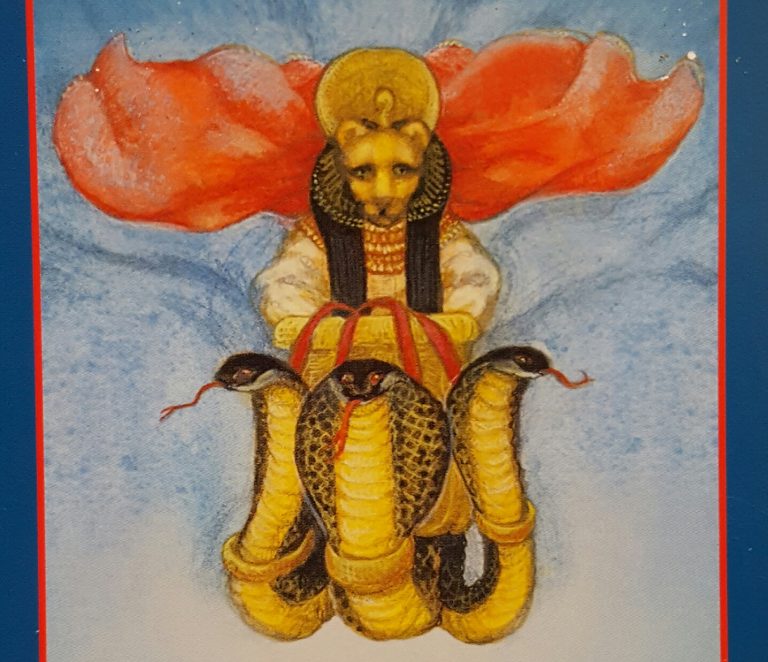 Saturday @ CoSM:

Full Moon Workshop:
Egyptian Mysteries: The Goddess Sekhmet
with Nicki Scully
3:00 pm - 6:00 pm
Sekhmet is the lioness-headed goddess of the Egyptian Pantheon, a fierce protector of truth, balance, and the universal cosmic order. She is the feminine face of the sun, and her name means Power, or Mighty One. Known and feared as the goddess of war and destruction, she also represents the transformative power of kundalini energy, or sekhem, and is the Egyptian goddess that harnesses this power for healing.
As "She Who Comes in Times of Chaos," Sekhmet takes offerings of fear, rage, illness, and pain and transforms them into alchemical gold, the universal medicine for physical, emotional, and soul healing.
During this afternoon's presentation Nicki will take you on a shamanic journey to Sekhmet's sanctuary in Karnak, where you will receive initiations and healing from Nicki's new book, Sekhmet—Transformation in the Belly of the Goddess.
Nicki Scully
has been teaching healing, shamanic arts, and the Egyptian Mysteries since 1983.
June Full Moon Gathering @ CoSM:
Full Moon Ceremony
Music, Poetry, Wisdom & More
hosted by Alex & Allyson
7:30 pm - 9:30 pm
Share art and spirit with community and celebrate the return of the Full Moon. Full Moon gatherings occur monthly and each celebration is an unique and crystalline experience. Join us for a performative evening of wisdom, poetry, music and art. Alex & Allyson lead the Opening Ceremony in the library from 7:30pm - 9:30pm. Seating begins at 7:00pm.

Full Moon After-Celebration:
9:30 pm - Midnight
Enjoy live music and performance painting by all-star artists, Alex Polanco, Ken Zeltakalns, Jeremie Zook, Joness Jones, Krystleyez, Morgan Mandala, Nicole Palapoli, Randal Roberts & Seth Leibowitz. Have your body equisitely painted by Caren Charles or Keiara Gallodoro. Henna by Hannah. Chat with Allyson about Art & Life. Celebrate the "Orb of Night" with visionary family and cosmic friends. Alex Grey loves to create one "Supportrait," a drawing of one guest or couple with proceeds supporting CoSM.


Featured Live Painter, Krystleyez.


Hand of Lakshimi, by Randal Roberts & Morgan Mandala
Sunday @ CoSM:
Morning Yoga
with Emily Rose
10:00 am - 12:00 pm
Sunday, late-morning, come to CoSM for the ultimate out-of-body experience, Morning Yoga with Emily Rose.
A CoSM favorite, Emily gently guides yogis & yoginis toward their body's own potential. Through illuminated guidance, Emily leads participants toward rejuvenation on a safe journey to deepen any asana practice.
All levels of experience will be comfortably nurtured and challenged in Emily's yoga class. Yoga begins at 10am, $10 donation requested. Mats available.
Art Church:
Sacred Geometry
with Alex & Allyson
1:00 pm - 5:00 pm
Behind the veil of the visible world, a matrix of divine proportions and underlying grids plot the mathematics of biology, space and time.
Sacred geometry ascribes symbolic and sacred meaning to shapes and proportions, positing that God is the Geometer of the World. The design and construction of the architecture in cathedrals and temples, mosques and synagogues, altars and spiritual Visionary Art utilizes sacred geometry in determining artistic choices.

Adam & Eve 

by Alex Grey, 96 x 96 in. (243.84 cm square),

Harmonic proportions inspired by Father Desiderious 

(1832–1928)
Art Church this Sunday will explore Sacred Geometry, exploring one to six-sided figures. A talk demonstrating the principle of sacred geometry Woven into natural forms are all the geometric principles including how the Golden Section and Fibonacci Sequence is embedded in flowers, growing plants and the structure of all living creatures.
With compass and straight-edge, we will delve into the meaning and craft of contemplative drawing.  Bring supplies, if you can.
Recommended are:
a sketch pad (11″ x 14″),
a decent compass
one 12" or 18" metal cork back ruler.
Look forward to creating with you this special summer Full Moon Weekend!
Love,
Alex & Allyson