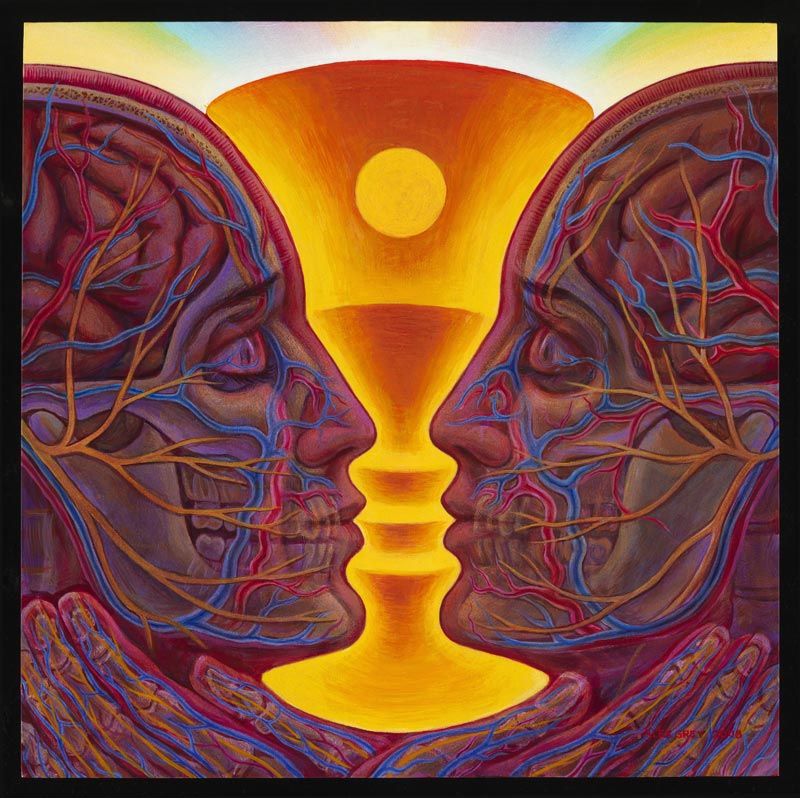 Love is the cosmic glue that brought us into existence and binds us to spirit. A partner in love is a sacred mirror reflecting back at us our light and our shadows. How do we identify this special someone whom we may allow into our life to make us a better person?  Come to
Art Church this Sunday at CoSM
and discover seven qualities of a good partner. You may know others. Bring them to share. Join in a discussion on why successful relationships are evolutionary. Hear how biological strategies like adaptability, symbiosis and "survival of the fittest" apply to relationship choices and sustainability. What is the anatomy of a healthy disagreement? Can "reciprocal altruism" result in a holy love pact that lasts a lifetime? It is our experience that a transformative bond can activate a spiritual/creative life and open a universe of possibilities otherwise unimaginable. Come to CoSM for the entire Art church journey that includes a discussion on how we can have the undeniable treasure -- a life in love.
Whether we are single, couple or group, a higher relationship of love and transformation is our ultimate quest. An individual or couple can widen their circle to include friends and then open their heart to sacred community affirming the creative power of love. The building of temples is the work of a people committed to leaving a trace of their values and vision. Community can love a project into existence as an offering to the Divine. The inevitable consequence of love is the building of temples. An update on the building of Entheon will round out the discussion.
Visionary Salon Saturday Night
CoSM is initiating a new program called the
Visionary Salon
this Saturday, 7 - 11!  Doors open at 7pm, around 7:30 there will be a discussion on creativity and community. At 8:00pm - Dusthead performance & live painting, 10pm -  time for mingling and the CoSM shop & cafe will be open.
Dusthead is amazing! We've had a love affair with the Moksha Family Art Collective in Miami for some years, turned on by their annually created visionary culture festival in Little Haiti to honor Art Basel Miami with the best in contemporary visionary art. Dusthead is a musical performance group of the Moksha Family Art Collective. Their music is brilliantly original. Percussion, electronics, vocals, strings... we found it mesmerizing. Here's a listen: 
https://soundcloud.com/dustheaddusthead
Love and Happy Valentine's Day,
Alex and Allyson
1/14/2013