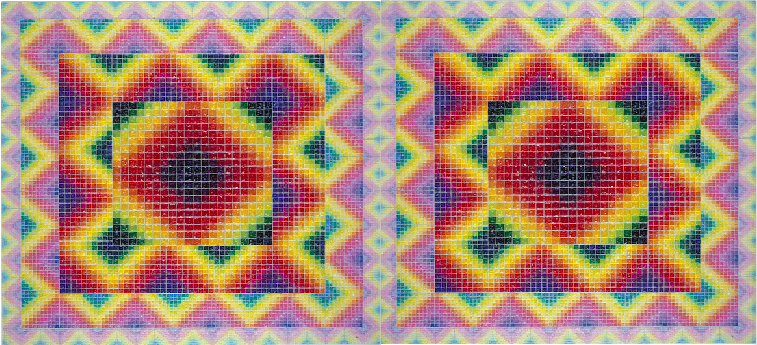 The Art of Sacred Circles @ CoSM
Creating Mandalas:
Expressing Your Inner Light
with Eileen "Rosie" Rose & Dr. Mike Garger
July 28th - 30th
In many spiritual traditions, the mandala is considered a symbol for wholeness and is used as a focal point for meditation and introspection. – When you move deeply into the process of creating a mandala and enter into the sacred circle, you awaken to the energetic essence of your true self…your luminous self, and open yourself up to profound healing.
Join Eileen "Rosie" Rose & Dr. Mike Garger at CoSM for a heart opening, empowering weekend of immersing yourself in the sacred circle. Creating mandalas in an active meditation combining the mindfulness based practices of art and spirituality to achieve a greater connection with the authentic Self.
Learn how to develop body/mind awareness using simple Chi Kung movements in order to enhance and direct our energies.
Regardless of artistic ability or previous experience, using basic materials, straightforward techniques and meditative focus, we will generate a profound inner experience while creating luminous mandalas.
Sign up today! For a full materials list and more information:  
Learn more.
It takes a lot of angels to build a Chapel of sacred art. CoSM Members are those angels. Celebrate art as a spiritual path with Chapel building as the ultimate expression of mystic communion. Become a member of CoSM today, and support this  sanctuary of Visionary Art.
Membership is $100 for a calendar year beginning with the date of purchase.
CoSM Members receive:
• Exclusive Membership Card
• Free General Admission
• Entry to Full Moon events for one year
• Entry to Art Church events for one year
• Discount for Room Rentals Monday through Thursday with Coupon Code
• The Latest Issue of CoSM Journal of Visionary Culture
• Members Quarterly Newsletter
Be a part of this growing community of creative visionaries. Sign up today!CoSM's Annual Membership BBQ
with Alex Grey & Allyson Grey
Saturday, August 5th
3:00 pm - 6:00 pm
Take a tour with Alex and Allyson, who will recount the history of the land, and the past, present and future of CoSM. Outdoor Dinner, weather permitting. Rain: in the dining hall.
This is a complementary event for CoSM Members. [Not a +1 event.]
Sign up anytime before the BBQ, even at arrival.
BBQ Includes:
• Presentation and tour of CoSM, including the Grey House,
Wisdom Trail and Entheon Site
• Dinner with Alex & Allyson Grey
• Entry to Full Moon Gathering
All attendees MUST R.S.V.P. Pre-register online to reserve dinner for the BBQ.
Mark Henson Returns to CoSM, August 12th.


Psychedelic Poster Art:




Explore the History & Create a Poster



with Mark Henson
Saturday, August 12th, 1:00 pm - 10:00 pm
This year is the 50th anniversary of the "Summer of Love" - a flowering of arts and culture that happened in San Francisco in 1967. Music and Art that came out of the nascent hippie movement is still a powerful force in the music, art and fashion of today, 50 years later. One of the major influences in this cultural renaissance was the poster art that could be found on shopfronts and phone poles everywhere.
Art by Wes Wilson – © Bill Graham Archives, LLC. All Rights Reserved
Printing color art in those days before digital technology was an elaborate and expensive process. Young artists in collusion with a few printing shops came up with simple techniques to produce colorful and imaginative imagery that puzzled and captivated even the most disinterested viewer with contrasting color schemes and sinuous and almost illegible calligraphy. While we no longer produce graphic images in the same ways, many of the techniques developed by these artists can be recreated using modern digital tools such as Photoshop and Illustrator.
"Summer of Love" anniversary posters by Mark Henson
Join visionary legend, Mark Henson, for a full day workshop exploring the history of psychedelic posters and the artists who created them. Learn how they were made followed by making your own unique version of the Psychedelic poster.
Evening Visionary Salon:
Summer of Love
50 Years of Changing the World Through Art
with Mark Henson
hosted by, Alex Grey & Allyson Grey
Saturday, August 12th, 7:30 pm - 10:00 pm
50 Years ago, there was a flowering of artistic and musical activity that seemed to magically appear everywhere simultaneously. Much of this creative energy was centered around the Haight-Ashbury neighborhood in San Francisco.
Out of this vortex of creativity a new-yet-old style of popular art developed on the streets, mostly based on advertising for musical concerts, "happenings", and hippie businesses.
Art by Wes Wilson – © Bill Graham Archives, LLC. All Rights Reserved
Apart from advertising there was also a large amount of politically-charged artwork created in the form of posters used to promote a wide variety of political causes, as well as promoting the general themes of peace and love. While many of these posters borrowed from the artistic ideas of the concert posters, or were created by the same artists, many demonstrated a simpler style, somewhat related to the social realism of the '40's. All of this art was created with the specific intention of fomenting positive social changes in a society gone crazy.
1967 poster "Make Love Not War" (Weisser, Tarot Press)
Join Mark Henson as he talks about Art and Artists from these two branches of the Visionary Art family tree, how they affected his own artistic efforts, and how they evolved into the advertising, political propaganda, and Visionary Art of today. A free-wheeling conversation with Alex and Allyson Grey, Mark and you!
Love,
Alex & Allyson