Allyson and Alex Grey with the 3D printed Entheon DJ booth, on stage at Bicycle Day, 2013.
April 18-19, 2013 -- On our California tour, we stopped in San Francisco to host our annual Bicycle Day Celebration. While in the Bay Area, we joined the MAPS conference in Oakland to lead a Body and Soul Drawing Ritual, an experiential happening that includes vision practices, music plus yogis and yoginis to inspire our drawings.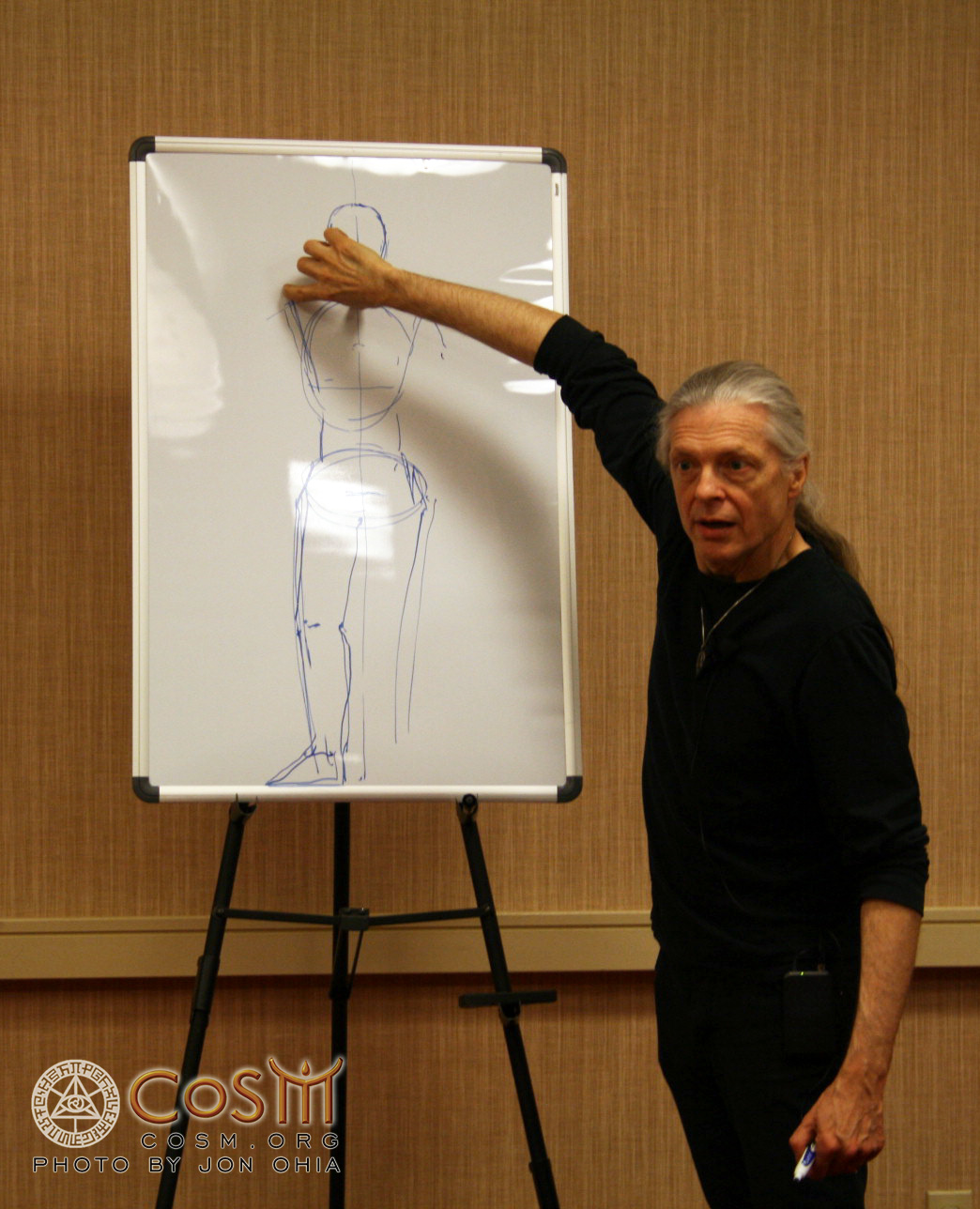 Alex Grey shows the proportions of the human body.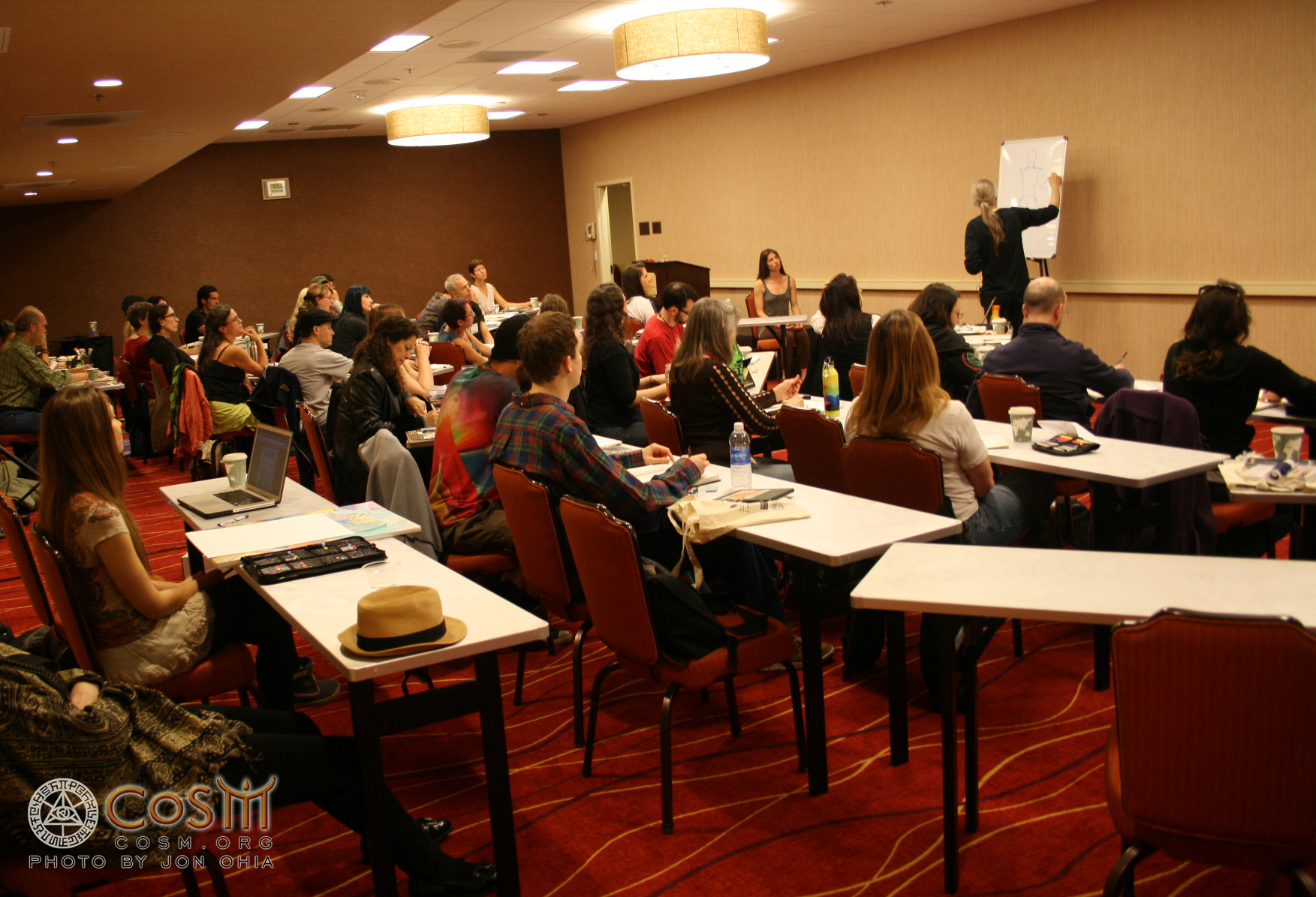 Students listen attentively as Alex shares his wisdom.
San Francisco, 
April 19th
 -- Thousands joined in CoSM's fourth annual celebration of
Bicycle Day.
 It was the 70th anniversary of the day Dr. Albert Hoffman took his famous bicycle ride after being the first to ingest his original chemical formula, LSD-25, the most powerful psychoactive substance ever formulated. For this special occasion, the freshly printed 3D-modeled Entheon DJ booth was unveiled. Musical artists Kaminanda, Bluetech, Random Rab, and Shpongle launched the remarkable sculptural stage set. On the venue's top floor, a sensational exhibit of visionary art was on view, organized by in the Tribe13 gallery. Music, dancing, fashion, and creative decor combined to create a rare and extraordinary atmosphere for Bicycle Day 2013.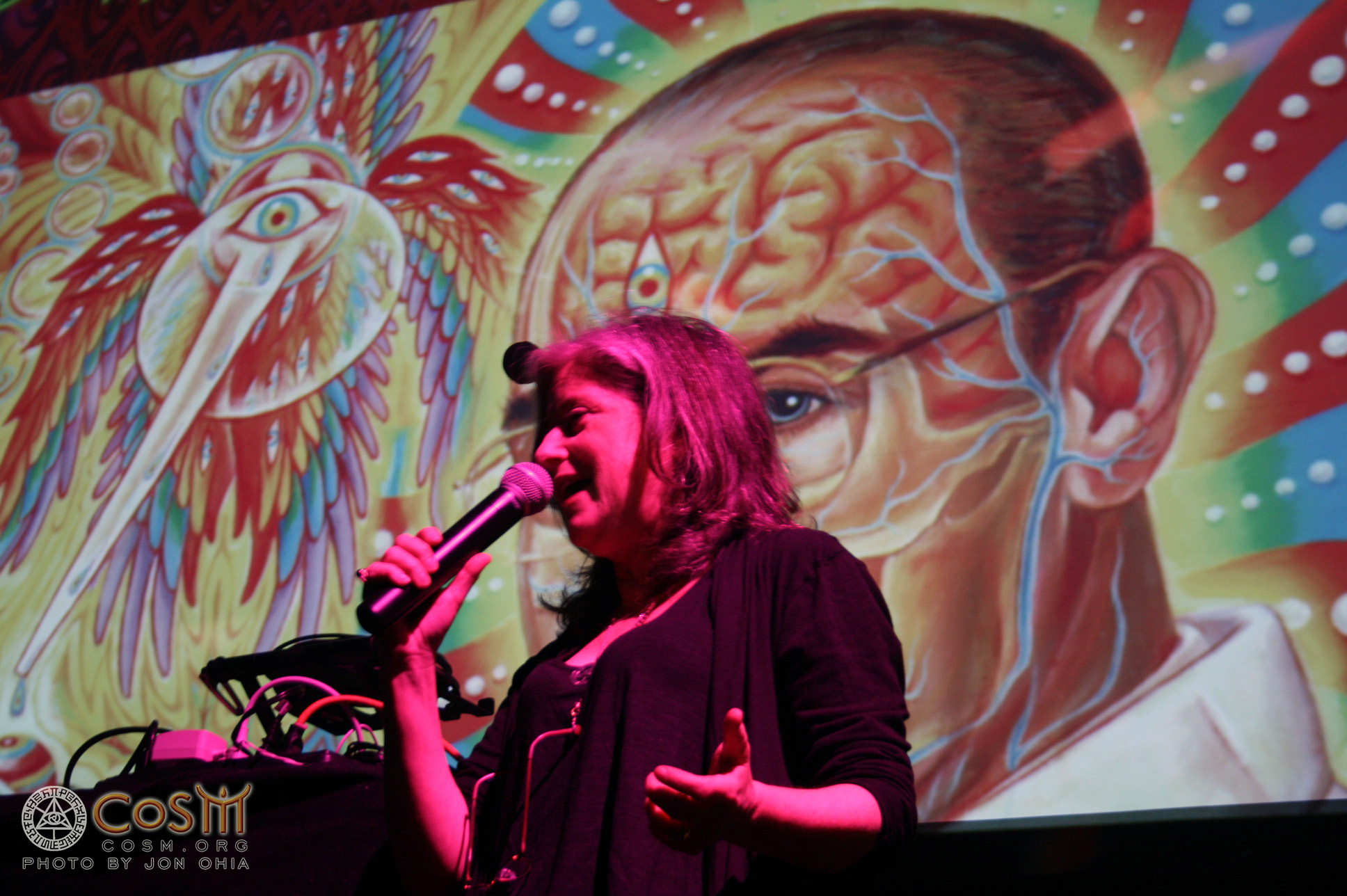 Allyson welcomes friends before a projection of Alex's portrait,
"St. Albert and the LSD Revelation Revolution."
Alex and Allyson painting collaboration on Bicycle Day.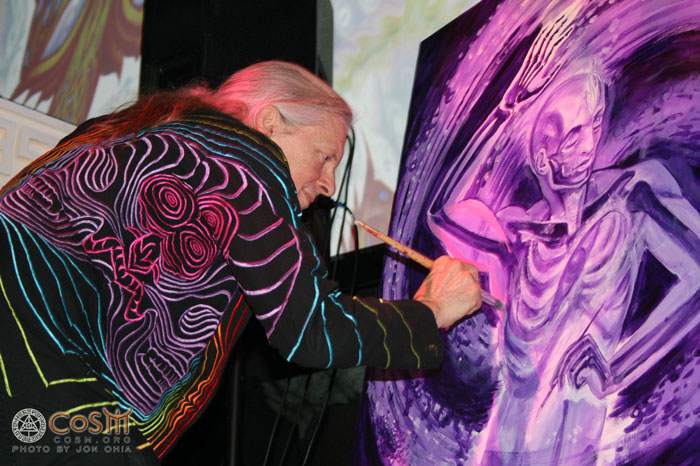 Alex Grey live painting.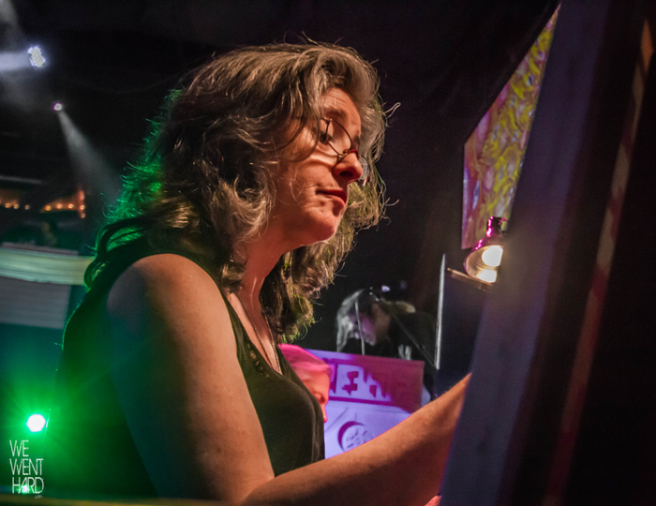 Allyson Grey live paints as Random Rab plays music from the Entheon DJ booth.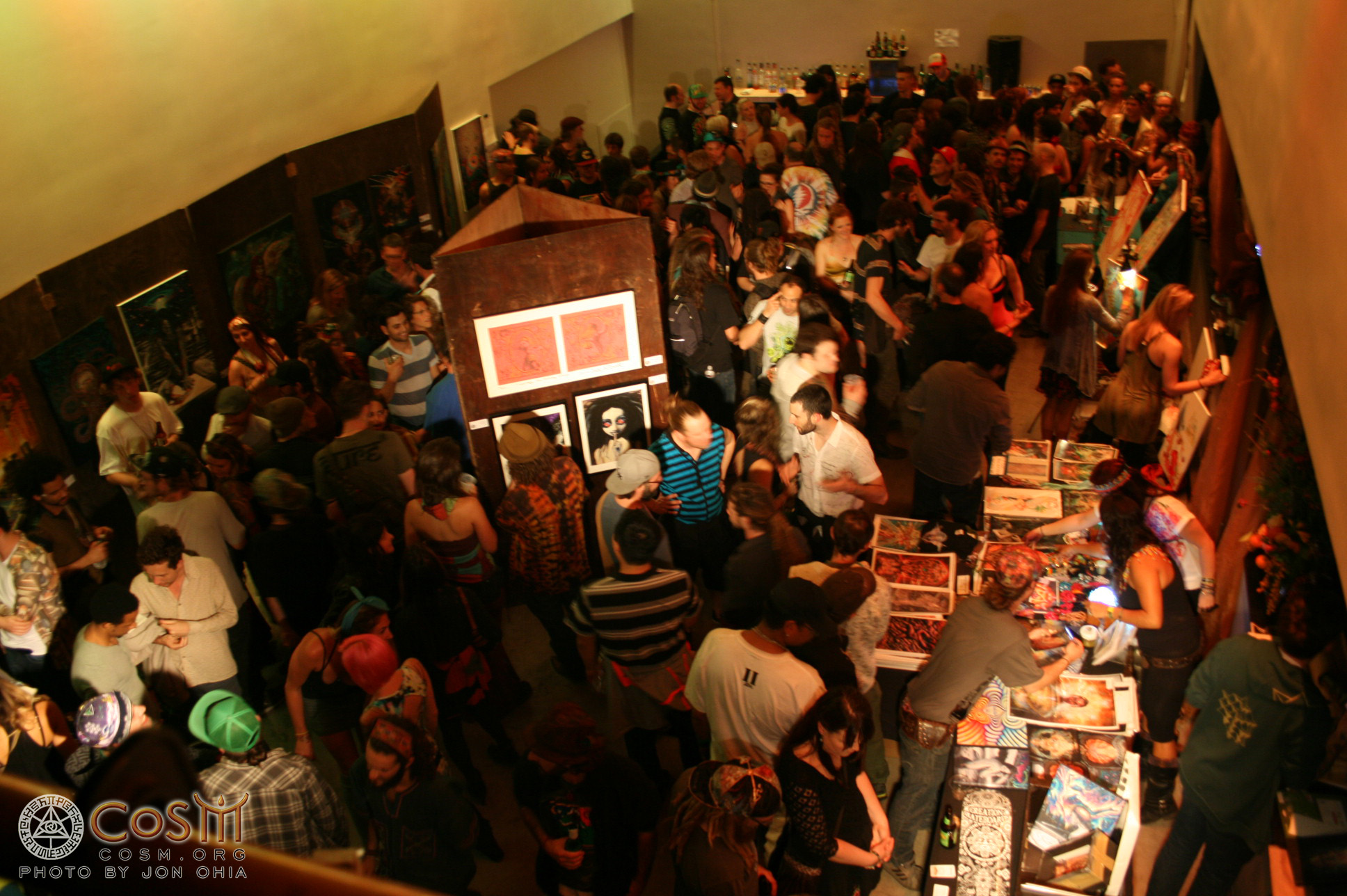 The Tribe13 Gallery buzzing with conversation.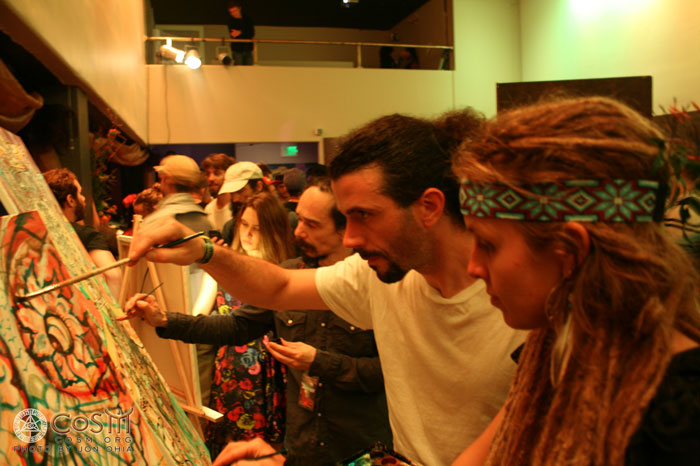 Artists Amanda Sage, Randall Roberts, Roman Villagrana, and
Joness Jones paint together in the upstairs gallery.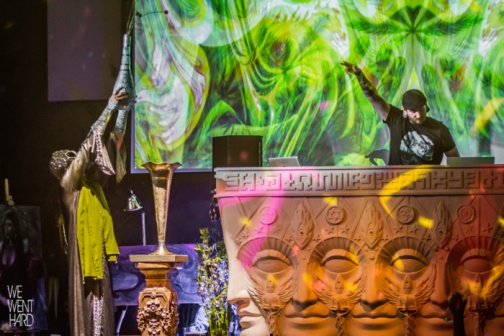 To the smooth sounds of Bluetech, Anthony Ward "dances flower sculptures into being."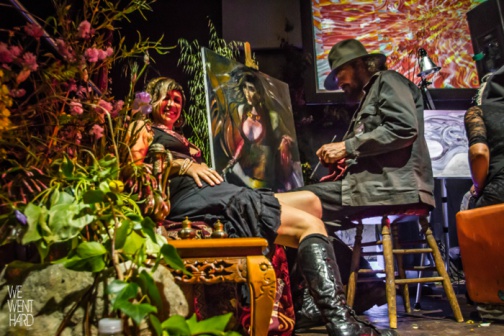 Legendary artist, Stanley Mouse, paints a live portrait of a lovely model.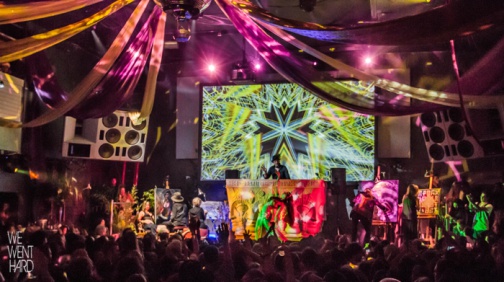 Simon Posford rocks the Shpongle dance floor.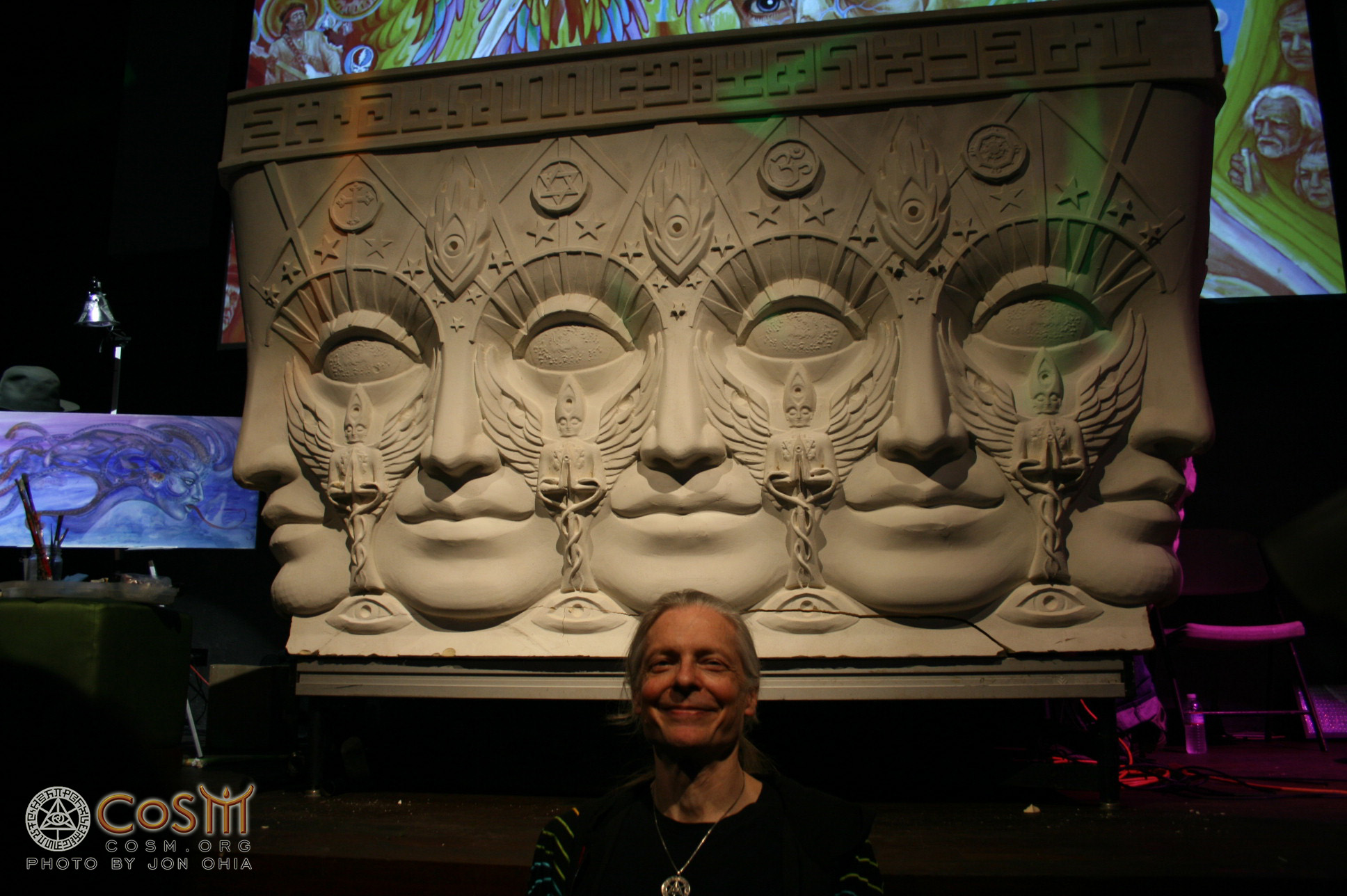 Alex Grey with the 3D model of his Entheon temple design.
A special thanks to the photographers at wewenthard.com for their fantastic captures of Bicycle Day.