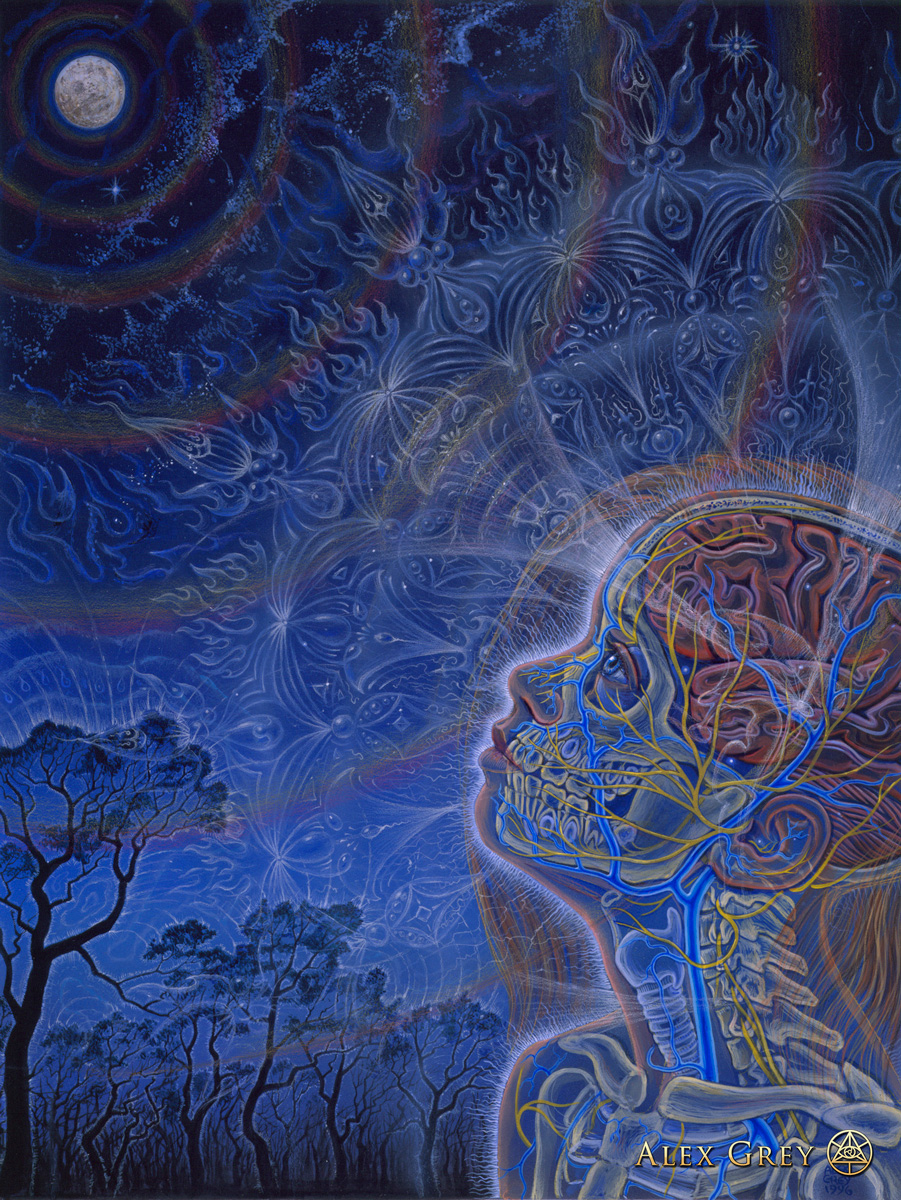 [callout]
Friday Night @ CoSM:
[/callout]
CoSM's Grey House, The Mushroom Cafe, and CoSM Shop will be open for extended hours from 6-11 PM this Friday. Explore CoSM's Library with books on mysticism and the arts. Sip and snack in the Parlor before the blazing hearth. Contemplate paintings and sculpture throughout Grey House and the grounds.
[callout]
Worldspirit
Movie Screening
7:30 pm - 10:00 pm[/callout]
Check out CoSM's improved screening room in the LIbrary.
By the warmth of a burning fire, enjoy a screening of WorldSpirit, documentary featuring Art Psalms by Alex Grey to the music of Kenji Williams, with appearances by Allyson Grey & Zena Grey.
Worldspirit
was performed for a live audience on December 12, 2003 at Historic Sweet's Ballroom in Oakland, California USA. The film is a landmark audio-visual experience featuring poetry and storytelling by Alex Grey, music by electronic composer and violinist Kenji Williams, and multi-screen projections of Alex Grey's world-famous paintings.
"
Worldspirit
is a prayer
for the realization of our integration
with the web of creation
and for the transformation of our species.
From one gripped in fear and self annihilation
to a species that stands for love,
wildly creative peace and liberation."
-Alex Grey
Getting cozy with a journal, sketch book & colors, and a friend is recommended
Enjoy your
Friday night dinner
at CoSM; a delicious, healthy meal prepared by the house chef.
Vegan and vegetarian options available.
RSVP
— Reserve a meal ticket in advance.
845-297-2323 x104
[callout]
Saturday @ CoSM:
[/callout]
[callout]
Full Moon Workshop
Awakening the Cosmic Voice: A Voice Journey with Stephanie Rooker
3:00 pm - 6:00 pm[/callout]
Just as we share the air we breathe with all living things, we are swimming in an infinite sea of vibration that is existence. Through deep, embodied listening, we can explore our profound experience as part of this sea of vibration. Awaken the power of the unique vibration we each hold within helps us actualize our essential harmony with the world around us.
This workshop introduces exercises in tone, sound, and song to awaken your cosmic voice and skillfully weave it into the universal tapestry of vibration.Integrating healthy vocal technique with fundamental principles of sound healing, we cultivate a deeper familiarity with and trust in our voices, such that they become the resounding instruments that they are meant to be. Joining in the dance of sound and silence, we open the creative channel and allowthe voice to flow freely through us, unconstrained by inhibition.
Go beyond the fear of singing and dive into the pure joy of the experience.
No previous singing experience necessary
- only the desire to free your voice!
Stephanie Rooker
is a vocalist, composer, voice teacher,sound healing facilitator, and founder of Voice Journey Sound Center in Brooklyn, NY. Performing since childhood, Stephanie has a background in Western Classical technique as well as Jazz, Blues, and Gospel vocal styles.
[callout]
February Full Moon Gathering @ CoSM:
[/callout]
[callout]
Full Moon Ceremony
Music, Poetry, Wisdom, & More
with hosts Alex & Allyson
7:30 pm - 9:30 pm[/callout]
Share art and spirit with community and celebrate the return of the Full Moon. Full Moon gatherings occur monthly and each celebration is an unique and crystalline experience. Join us for a performative evening of wisdom, poetry, music and art. Alex & Allyson lead the Opening Ceremony in the library from 7:30pm - 9:30pm. Seating begins at 7:00pm.
[callout]
Full Moon After-Celebration
[/callout]
Enjoy live music, interactive art making, and performance painting. Alex Grey loves to create one "Supportrait," a drawing of one guest or couple with proceeds supporting CoSM. Chat with Allyson about Art & Life during the After-Celebration. Check the progress of live painters Alexa Spaddy, Genevieve Wood, Louie Izzo, and Matt Dell. Celebrate the "Orb of Night" with visionary family and cosmic friends.
[callout]
Sunday @ CoSM:
[/callout]
[callout]
Sound Body Yoga
Experience the mindful union of breath, movement, & sound
with Stephanie Rooker & Sarah Capua
10:00 am - 12:00 pm[/callout]
Sound Body Yoga is the union of yoga and sound healing. In a wholly integrated practice, Sarah Capua and Stephanie Rooker pull from the depths of their own rooted lineages to illuminate profound and nourishing tools of practice. Movement is weaved deeply with the breath, with postures, breathing practices, visualization, and intention all directed toward cultivating awareness and connection.
Students are held in a container of intuitive, improvisational sound, drawing them inward in self exploration and outward to the community that supports our practice. Sound Body Yoga aims to access the whole of ourselves and the incredible wealth of inner support available to us when we are embodied in our breath, our body, and our voice.
Join Stephanie and Sarah in a sound yoga journey Sunday morning before Art Church.
Class begins at 10 am. All levels of experience welcome. Mats available.
[callout]
Art Church: Portraying the Self
hosted by Alex & Allyson
1:00 pm - 5:00 pm[/callout]
Few pictures through the ages are more honest or experimental than self portraits. Self portraiture can nobly and expressively convey the deepest feelings with sincerity. The mirror enables an artist to capture their most personal view of reality. The degree of comfort with which self portraits capture physical features, environmental conditions and the artist's inner world can leave a faithful record of self scrutiny through the creative process. Facing one's moods, expressions and shadow, the artist can go beyond likeness and represent inner turmoil, inner spirit, and higher possibility.
This workshop will allow the exploration of various mediums, examine the history of self-portraiture, offer immersion into the soul through self-revelation, and address philosophically the nature of the self.
Love,
Alex & Allyson