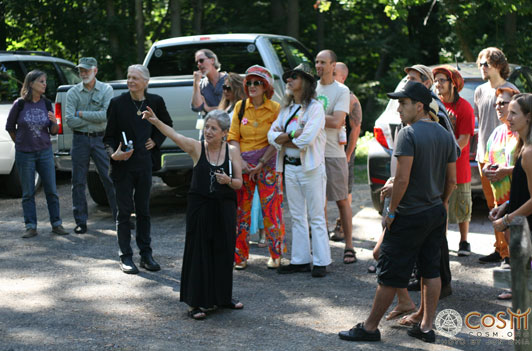 Every August we celebrate the members of CoSM at a member's only barbeque, a banquet honoring those who take a "stand" for the future of CoSM with an annual commitment to build sacred space. Festivities began with a tour of the site, led by Alex and Allyson, who recounted the history of the land. As we toured the Wisdom Trail, walked the labyrinth together, experienced the vast vista of our neighbor's farm and the meadow of the future Chapel, Alex and Allyson articulated the present and and we all envisioned the future of CoSM. Dining outdoors in perfect August weather offered a nourishing space for conversation and bonding between spiritual creative visionaries. CoSM members enjoy privileges, including entry to Full Moon and Art Church events for one year, discount admission to many CoSM events and workshops, the latest issue of CoSM Journal of Visionary Culture and more. Membership is available to everyone at any time and can be secured online here.

Then, the Full Moon Ceremony came alive in the library with performances by two extraordinary poets -- the ecstatic, mystical marriage of politics, Paganism and non-dual awareness of Brett Bevel and Hip Hop testifying from the Seat of the Soul delivered by Fun Yung Moon. Next, Jenna "Lotus Star" brilliantly debuted her new song Tasting Grace. Combining classically trained Indian sitar ragga style with the mastery of improvisational jazz, Dr. Jon  made love on sitar and Marshall Lefferts on  tablas. Divine dancer, Zola, awakened our inner eagle through the activation of the "Hu" breath, as she spun a dancing prayer of peace for Israel. Reflecting on completion and new beginnings, Allyson shared one of the final torah portions, offering a parsha that reminds us of the end of the Jewish calendar.  Alex's delivered an Artheology sermon on Choosing the Beauty of the Moment and the importance of building sacred space together.

Following the ceremony, hundreds enjoyed acrobatic performances by Secret Circus, a lazer light show by Silent Stream, and magestic fire spinning  at the fire circle. Music by DJ Eli and Djedi, live painting by Adam Psybe and Sharon Stelluto, lively dialog, dancing, and art brought us all to midnight and the celebration's conclusion around the fire.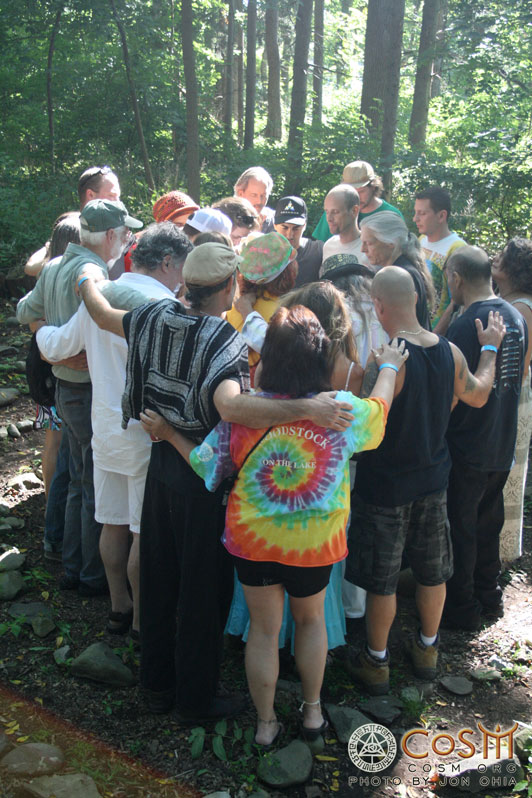 CoSM members walked the labyrinth together and offered prayers of intention and gratitude in the center.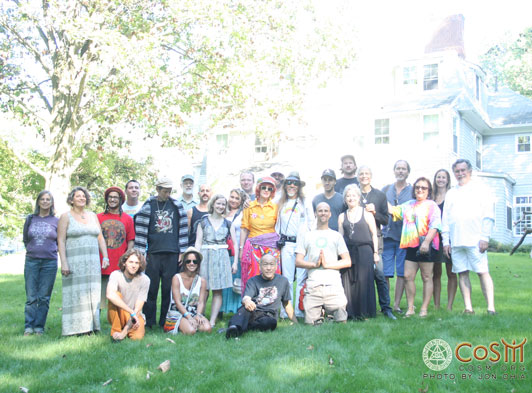 CoSM member group photo.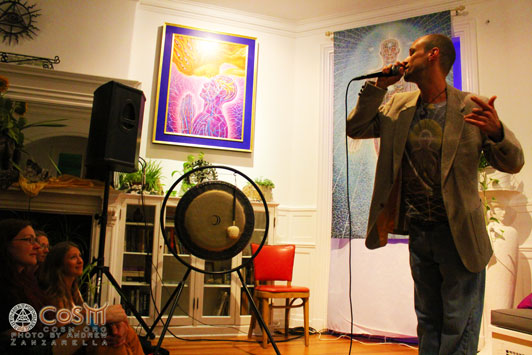 On the edge of our seats for Fun Yung Moon.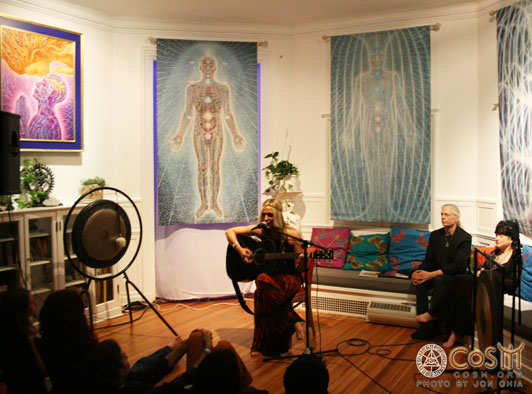 Jenna regales with original music.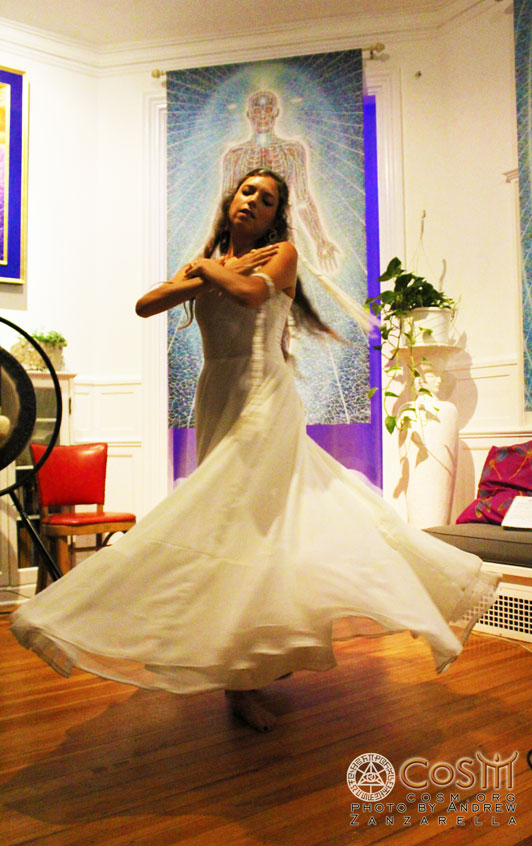 Zola spinning for peace.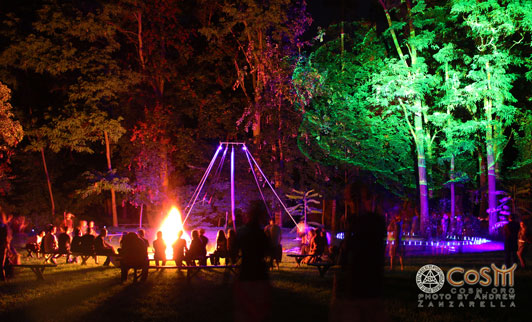 Outdoor gathering by illuminated by multiple sources of light.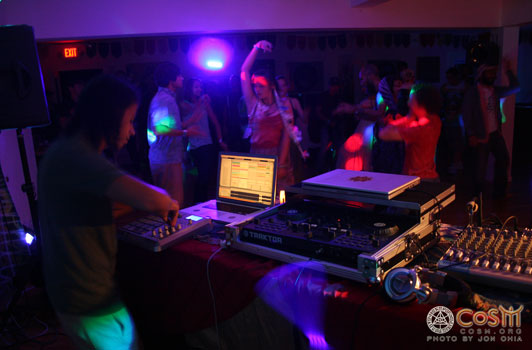 Dancing to Djedi.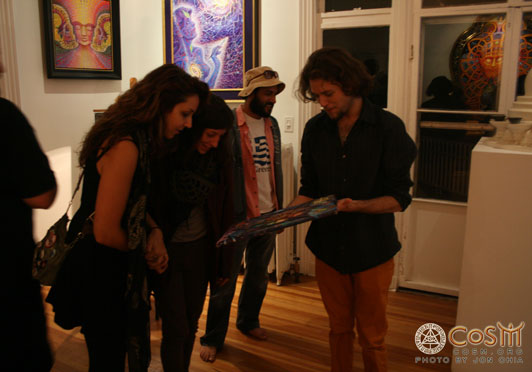 Sharing art in the CoSM gallery.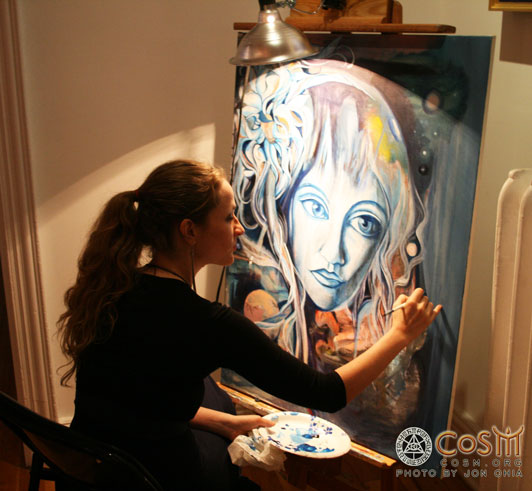 Sharon Stellutto live painting.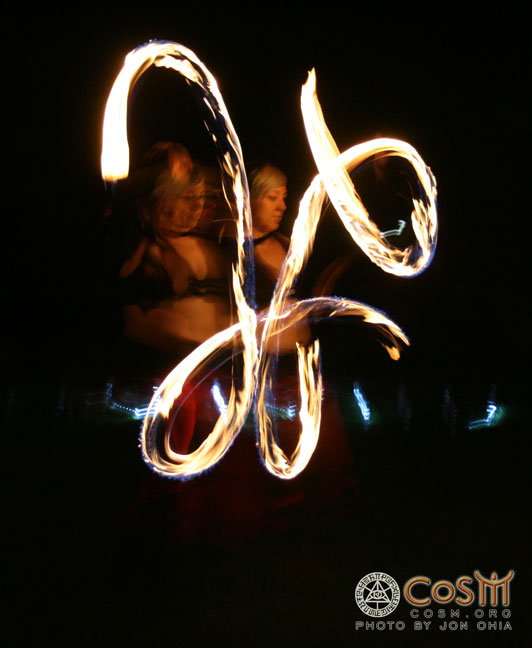 Erica Bansen spinning fire.