CoSM has always had a proximity to the Hudson River, about 1,500 feet, as the crow flies. In CoSM's former Manhattan location on W. 27th St., our distance to the river was nearly the same as here in Wappinger, New York. The river empowers our location both physically and spiritually. The Hudson River is a tidal river, a moon river, wider than a mile, flowing upstream away from the ocean and back, changing directions every six hours.  The strange thing is, the upstream flow ends just past our town.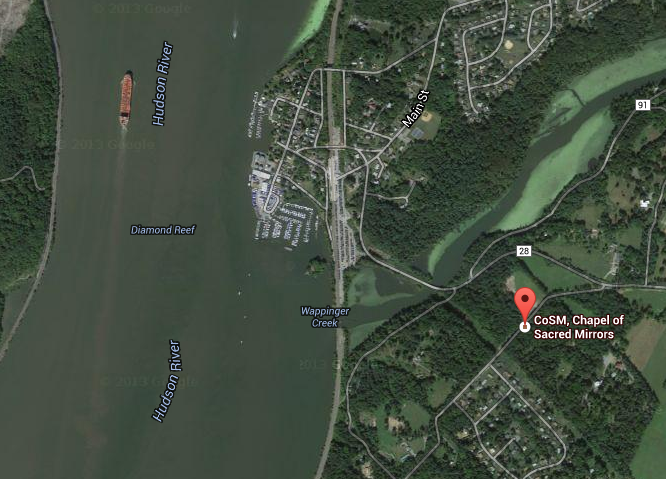 Here is an excerpt from "Guidance for Servants of God," Art Psalms by Alex Grey.
Spiritual Liberation is an Ocean of Love.
Each being is a spring, stream or rivulet
That journeys toward the Ocean.
A powerful river is made by many streams.
The community is a River.
Join the River.
Remember the Ocean and joyfully flow toward It.
In the greatest rivers,
The Ocean flows inward according to the tide,
A Moon River.
The worship of a community is like the tidal forces
That draw the Ocean of Love upstream into the river.
A community can fuse with the GodForce
To enact a Divine plan.
Sacred space is the work of a community.
Metaphorically, we can harness the flow of the River as it relates to Community. There have been an unbroken chain of 139 Full Moon ceremonies over the last 11.5 years. Why join a spiritual Community other than to manifest a unique psychic ecosystem and progress together toward the Ocean of Love Bliss, then to harvest that energy bringing it upstream to illuminate our worldview, the re-invention of service and worship and build a temple?
CoSM MEMBERSHIP DRIVE
CoSM Membership Drive month flows into the August Full Moon Ceremony that begins with a Members only tour and barbecue. Join us in walking the land and hear about the vision and actuality of building Entheon together at CoSM.
A spiritual life involves aligning yourself with a creative force of wisdom, deeply examining what you believe and it also includes belonging. Research finds that "belonging" increases one's sense of life's meaning. Finding a home for our soul, a place of shared ideals, increases meaningfulness in our life and promotes longevity. Even the most isolated and holy Indian Sadhus living in Himalayan caves join their community for the Kumbha Mela Festival every twelve years. The Sangha or spiritual family is considered one of the pillars of Buddhism.
Thank you for considering becoming a CoSM member. At CoSM we are devotees of the One Creative Spirit flowing through all sacred traditions, through all of Nature, the Cosmos and each of our infinite inner dimensions, expressing through each of our unique lives.  We believe a creative life is important to our emotional, mental, psychic, and spiritual health.
Embracing a spiritual life that includes CoSM means affiliating with a radically welcoming community that celebrates visionary consciousness culture.  Renew your membership during this month's membership drive and help us add one hundred new members before the August Full Moon.
Join like-minded visionaries for a tour and Membership Barbecue preceding the Full Moon Ceremony. Family membership welcomes you and a loved one plus children.
Click here to renew your membership or become a new member
During CoSM membership drive, join your spiritual family with a commitment to support CoSM.
An individual membership for $100 receives:
• Exclusive Membership Card
• Free General Admission
• Entry to Full Moon events for one year
• Entry to Art Church events for one year
• Disount Admission CoSM events
• Discount for Room Rentals Monday through Thursday with Coupon Code
• Discount to MAGI, Mystic Artists Guild International Programs
• The Latest Issue of CoSM Journal of Visionary Culture
• $10 Discount on Celestial Celebrations for Members
• Gift a CALL-IN Membership -- Get 20% off your next online store purchase.
Refer a friend who signs up for membership and receive 15% off your next room rental.
STILL DREAM FESTIVAL in NORTHERN CALIFORNIA
California community please come to the amazing arts festival Stilldream happening in Belden in the Feather River Canyon. We will be joined by some of our favorite electronic musicians and visionary artists.  See you soon!
Click here for tickets
Love,
Alex and Allyson