Friday Night @ CoSM: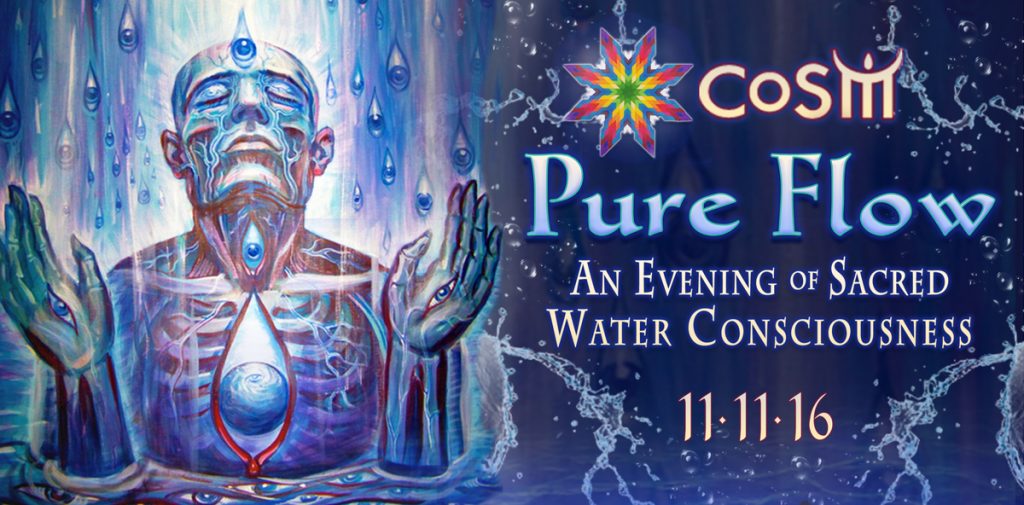 Pure Flow
An Evening of Sacred Water Consciousness
7pm - 10pm
Imagine a purifying healing rain of life energy showering over you from the highest heavens washing away fear, anger and any heavy negativity so you have complete access to all the light, love and creative energy of your soul. At this precious freaky time come together with CoSM community to pray for the waters of life.
Raise awareness for Earth's sacred waters and learn about how fossil fuels are threatening our waters. Show support for Earth Guardians. Raise funds for indigenous youth at Standing Rock Indian Reservation, the Hunkpapa Lakota and Yanktonai Dakota Indian reservation in North and South Dakota.
Rachel Marco-Havens, Co-Director of Earth Guardians, Director of Youth Engagement, will address the massive build out of fossil fuel infrastructure in New York State and point out the direct connection between the issues in New York and the No Dakota Access Pipeline (NoDAPL) movement.
Through song and prayer lead by Bethany Yarrow of Bethany & Rufus, they will be sharing experiences at Oceti Sakowin Camp in North Dakota and bring attention to the AIM Pipeline being installed in the Hudson Valley.
CoSMonauts are committed to providing support by taking action in our own back yards. Live painting at the event will be CoSM artists Alex Grey, Allyson Grey, Caren Charles, Alexa Spaddy, Louie Izzo, Hilary Astrid and more. An art auction will follow to raise funds for Earth Guardian's mission: To bring leadership training, moral and emotional support to Standing Rock's Youth.
Join us at CoSM on Friday night for this "Pro-activation" dedicated to the Sacredness of Water. Enjoy the CoSM woodlands by day (noon-6pm) and stay for an evening of art, music, compassion and prayer.
Saturday Full Moon @ CoSM: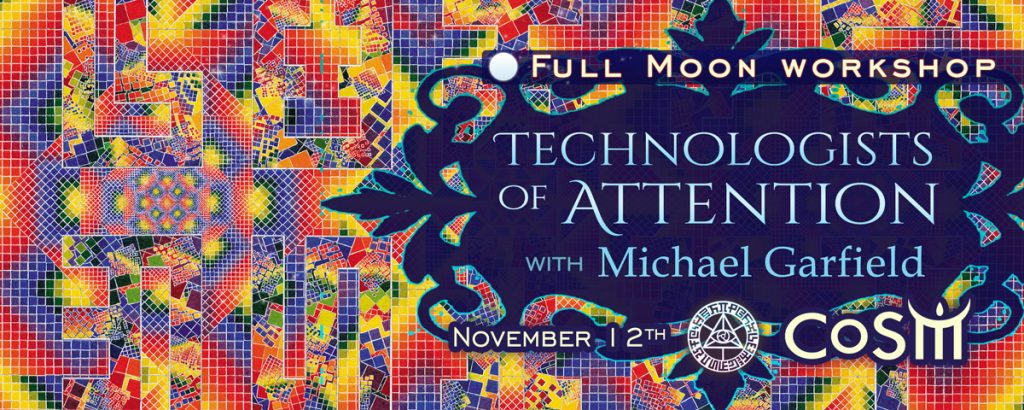 November Full Moon Workshop:
Technologists of Attention
with Michael Garfield
3pm - 6pm
Regardless of the medium, art ultimately acts on attention -- it gathers, gardens and transforms, coordinating each of us within the body of the social super-organism.
Join scientist-turned-multimedia-artist, Michael Garfield, as he draws from his experience as both a natural history illustrator and live painter to empower the Creative Life with deeper understanding of psychology, cognition and communication. Seek and discover new opportunities to change the world by changing how framework and contents of perception.
Learn how to bridge art, science and spiritual practice through fun live painting exercises and develop new eyes for the extraordinary power you channel as an artist. Admission to the workshop includes dinner prepared by the house chef and entry into the Full Moon Gathering. See you then!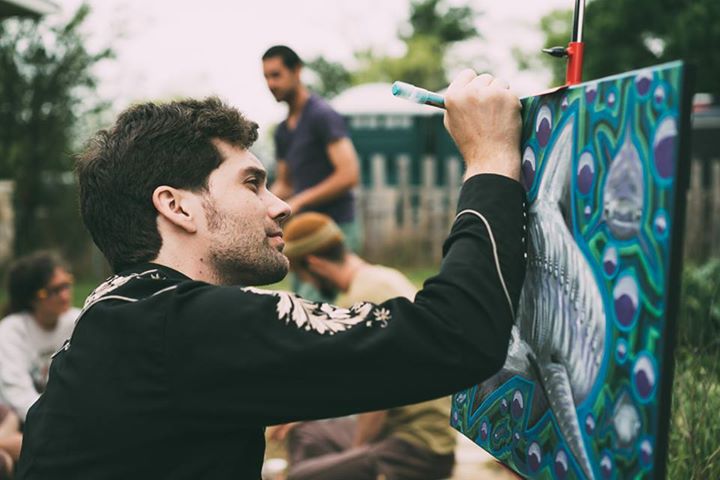 Paleontologist turned psychedelic "performance philosopher,"
Michael Garfield's
mind-expanding work maps the evolutionary landscape and our place in it. Former editor in chief for visionary art hub SolPurpose.com and contributor to many more (including Big Think, Reality Sandwich, H+ Magazine, and KenWilber.com), Michael writes about (and from) the intersections of emerging planetary consciousness, accelerating technology, transpersonal psychology, and the lived experience of cosmic participation that transcends our narratives entirely.
November Full Moon Gathering @ CoSM: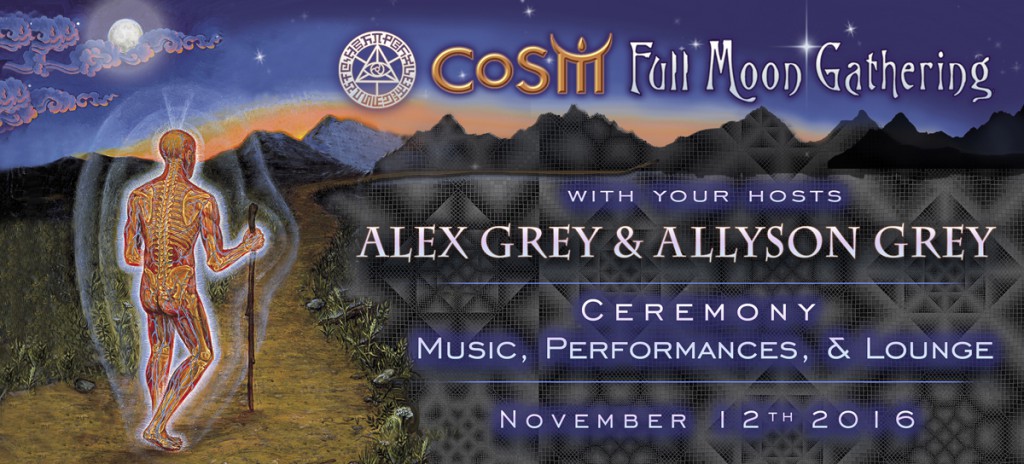 Full Moon Ceremony
Saturday, 7:30 to 9:30pm
with hosts Alex & Allyson and a "Spiritual Variety Show"
of Music, Poetry, Wisdom and more
Join us for the 172nd consecutive CoSM Full Moon Gathering, a performative evening of wisdom, poetry, music and surprises. Embracing the richness of diversity, we share art and spirit with community. Alex & Allyson lead the Opening Ceremony in the library from 7:30pm - 9:30pm. Seating begins at 7pm.
Full Moon After-Celebration
10pm to midnight
Enjoy live music, interactive art making, performance painting and the outdoor -- fire circle and fire performances. Alex Grey loves to create one "Supportrait," a drawing that supports CoSM of one guest or couple. Chat with Allyson about Art & Life during the After-Celebration. Check the progress of live painters Brian Zickafoose, Joness Jones, Juan Carlos Taminchi, Linzy Miggantz and Perry Kroeger. Celebrate the fullness of the moon with friends at the high-tide of the spirit in CoSM's visionary substratosphere.
Sunday @ CoSM: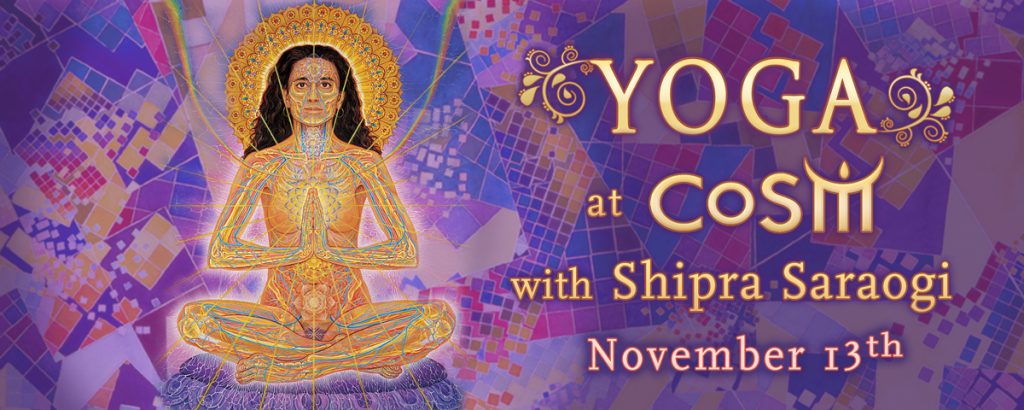 Morning Yoga
with Shipra Saraogi
Sunday, 10am - Noon
CoSM offers the ultimate out-of-body experience — Yoga with Shipra, late-morning on Sunday. Be gently guided toward your body's own potential. Deepen any asana practice and rejuvenate with friends of all levels of experience. Be comfortably nurtured and challenged by a sublime yogini. Shipra rocks steady.
Yoga begins at 10am, $10 donation requested. Mats available.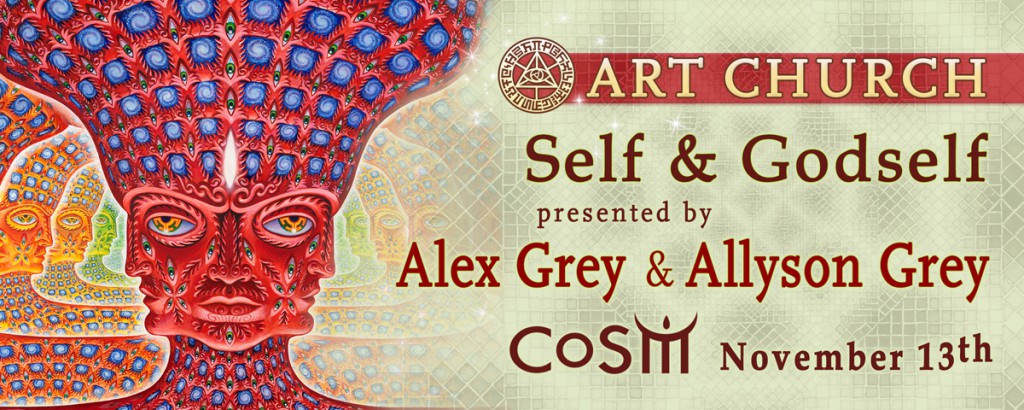 Art Church:
Self & Godself
hosted by Alex & Allyson
Sunday, 1pm - 5pm
Depicting the physical self through art can reveal the eternal self, sometimes masterfully, as we see in the work of Van Gogh, Rembrandt and Frida Kahlo. The process of looking into a mirror and drawing or painting a portrait allows for an authentic reflective encounter with our true nature, our Godself.
Esteemed architect, Christopher Alexander, said that the greatest art is a reflection of the "Eternal Self." Our sense of self conditions how we shape our reality and is a central organizing element in our worldview. The perennial philosophy, as put forward by Aldous Huxley, states that humanity has two aspects of self — a contracted egoic smaller self, which is protective of its boundaries and defensive in order to survive, and the eternal self, the self with a higher or transcendental aspect, the Godself. The Mighty I AM presence, holds the thought, vision and relationship with Divine Presence within and above us, an image of the idealized Self.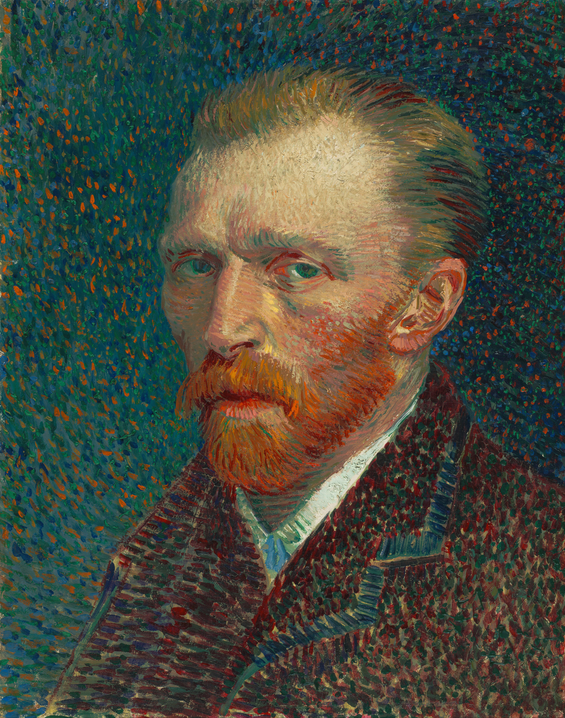 Self-portrait by Vincent Van Gogh
At Art Church on Sunday afternoon, we will draw or paint our expressive appearance, our shadow and our higher possibility. Examining the masters of artistic self-revelation, we will confab about the higher self. Come at noon to enjoy CoSM indoors and out. Lunch at The Mushroom Cafe and join Art Church for drawing and revelation about how artists have portrayed the self. Program begins at 1pm.
Love,
Alex & Allyson