3/20/2013 - A retreat is related to withdrawal from ones everyday life. Our next journey will be to the Paradise Artists Retreat in Santa Fe, New Mexico where we will paint, share the Body & Soul Ritual, consult individually with artists about their work and future, lecture and live-paint with electronic musicians. Why would artists go on a retreat? Optimally, we would focus and go within during our creative time. It would be uninterrupted and have periods of introspection allowing oneself to advance their creative work that distinguishes their passionate focus.
When we gather together in retreat with respected colleagues we learn from each others techniques, how to improve our skills, add to our tool box, a deeper understanding of our craft. We see how other people do it. Brothers and sisters share similar interests, concerns and visions. Artists leading workshops at the Paradise Retreat are each masterful and visionary in their approach to painting, creating an energy field that envelopes a web of talents.
The Body & Soul Ritual is a group drawing experience we have led all over the world from Moscow to Buenos Aires.
Join us at the Paradise Artists Retreat in Santa Fe next week for the full journey.
During the Body & Soul Ritual we create seven chakra drawings from root to crown, during music keyed to each energy center, with a nude yogini to inspire our work. A brief meditative vision practice initiates each drawing to glimpse of the interplay of body and soul. Through this focused drawing practice we activate our light bodies and pour the energies directly into our work.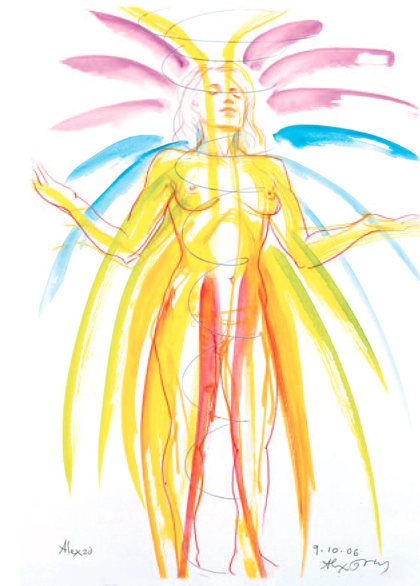 The class will begin with advice on proportions, design and technique. Bring a sketch book and drawing supplies -- watercolors, colored pens and pencils, simple portable materials you love. Paper and pencils will be available. All levels of ability are welcome.
We will also lead The Ritual in support of MAPS Psychedelic Science Conference in Oakland, California April 18th. A Body & Soul Ritual weekend will be held at CoSM in Wappinger, New York May 10-12.
Love,
Alex and Allyson