FULL MOON
The Full Moon, luminous circle in the sky, perfect symbol of our soul. archetypal sphere, symbol of spiritual wholeness. God is a circle whose circumference is boundless and whose center is everywhere. Full moon, a Sacred Mirror, reflecting the greater light of the sun, as our soul reflects the greater light of God. Our being is bathed and baptized in the milky moonlight. Sacred gatherings on the Full Moon magnetically attract the ocean of love. Declarations, commitments and celebrations made on this monthly high tide of the spirit, are aligned with heavenly forces.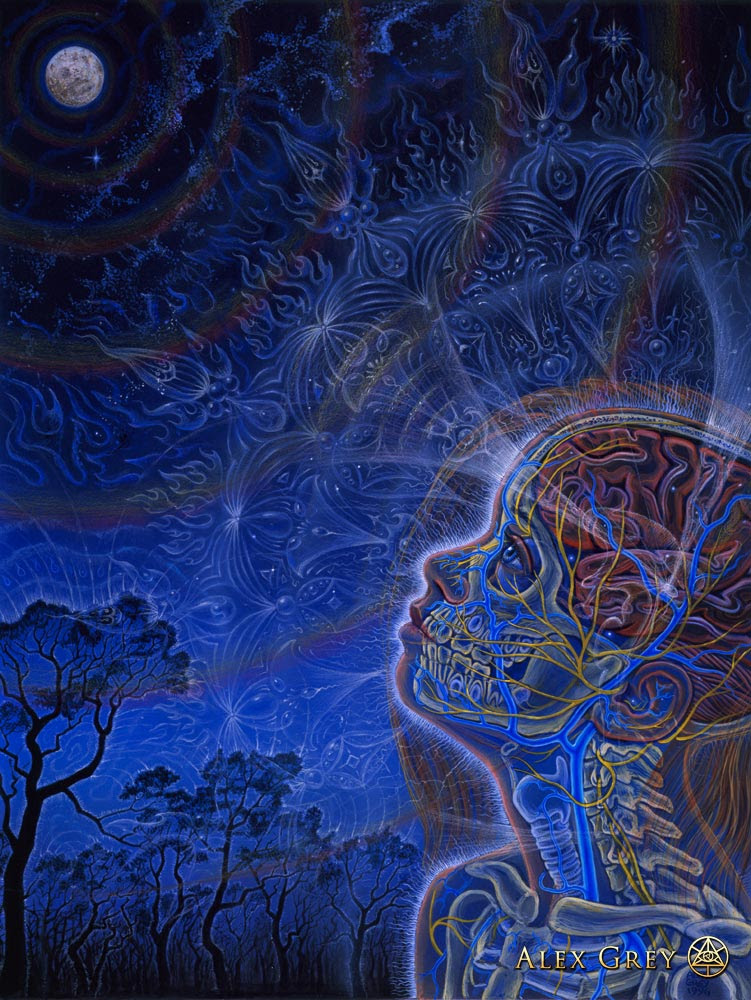 "Wonder" by Alex Grey
Join us on Saturday for CoSM's 140th consecutive Full Moon ceremony. We look forward to honoring our members, new and old for the Annual Full Moon Members Barbecue and Tour. Engage in dialogue about plans for CoSM's future, along with the most up-to-date news of the building of Entheon.
CoSM 2014 FULL MOON MEMBERSHIP BBQ
Saturday, August 9th
ART CHURCH: The Light Body

Make art with us
this Sunday
afternoon accompanied by music and poetry intended to turn on the Light Body. Discussion will include an art historical overview of figurative luminosity as a recurring motifs throughout world art. Holy people are often painted with glowing haloes and auras. Yogic chakras, acupuncture meridians and points, provide a multi-cultural cartography for lights of the soul. Come prepared to create. Bring a sketchbook and colors.