Rick Doblin on Science and Sacraments
Long-time friend of CoSM, Rick Doblin, returns for this Saturday's Visionary Salon. Founder of the Multidisciplinary Association for Psychedelic Studies, MAPS, Rick is among the most intelligent and effective advocates for the healing properties of psychedelics. MAPS, founded in 1986, is a non-profit research and educational organization developing medical, legal, and cultural contexts for people to benefit from the conscious uses of psychedelics and marijuana. MAPS envisions a world where psychedelics and marijuana are safely and legally available for beneficial uses, and where research is governed by rigorous scientific evaluation of their risks and benefits.
Research funded by MAPS is responsible for the treatment of shattered U.S. veterans returning from Iraq, plus victims of sexual assault and violence, helping patients to resolve their psychic trauma within 1-3 treatments with supportive therapists. Rick brought psychotherapists from war-torn Jordan, Palestine and Israel together to learn about the remarkable healing properties of MDMA for soldiers suffering from severe Post-Traumatic Stress Disorder. MAPS has always embraced visionary art as an important outgrowth of psychedelic culture and just published a new book about Visionary Art featuring H.R. Giger and many others, written by Stanislav Grof with a foreword by Alex Grey.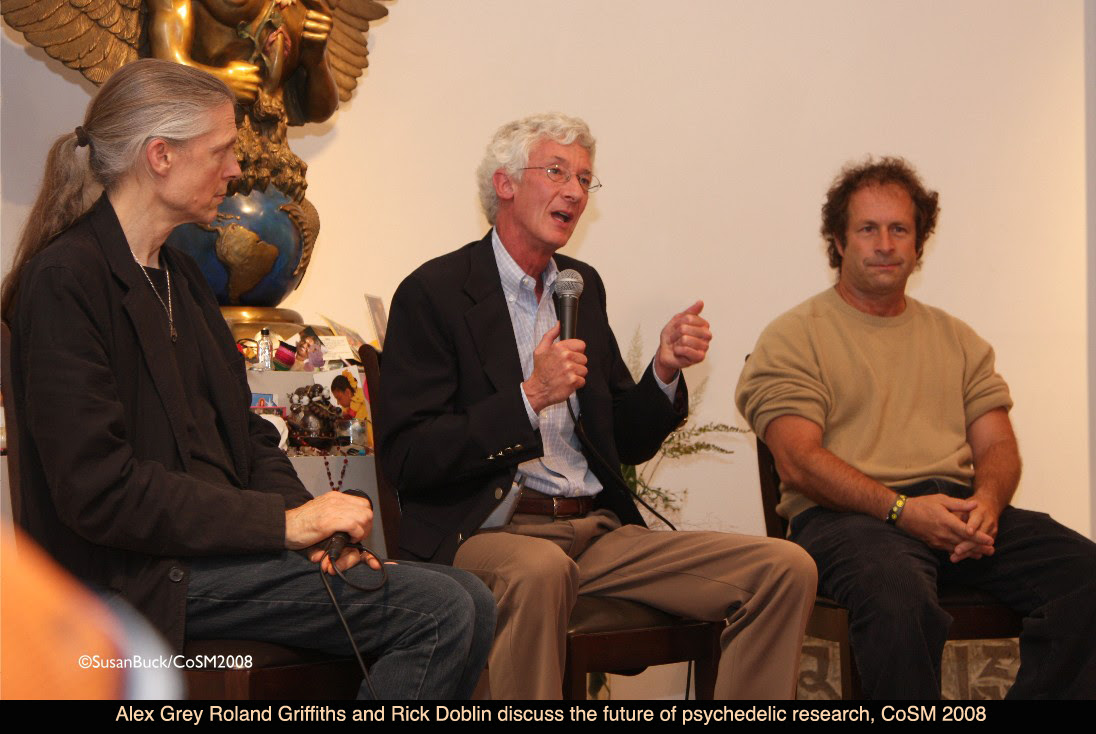 Rick Doblin got his doctorate in Public Policy from Harvard's Kennedy School of Government. His dissertation was on "the regulation of the medical uses of psychedelics and marijuana." For Rick's Master's thesis, he surveyed oncologists comparing smoked marijuana vs. the oral THC pill in controlling nausea experienced by cancer patients. His undergraduate thesis was a 25-year follow-up to the classic Good Friday Experiment, which evaluated the potential of psychedelic drugs to catalyze religious experiences. Rick also conducted a thirty-four year follow-up study to Timothy Leary's Concord Prison Experiment, and was among the first to be certified as a Holotropic Breathwork  practitioner by its originator, Dr. Stanislav Grof.
When CoSM, Chapel of Sacred Mirrors, first opened in New York City in 2004, MAPS was the first organization to hold their benefit party there.  At Burning Man in 2006, MAPS and CoSM worked together to build Entheon Village. Rick joined Johns Hopkins scientist Roland Griffiths at CoSM in 2008 to discuss the future of psychedelic medicine.
Come to CoSM this Saturday for a very special afternoon and evening of talks by Rick Doblin, an unstoppable super-hero of mind expanding compassion and one of our most profound teachers.
Zig Zag Zen: Buddhism & Psychedelics
A newly updated edition of the book, Zig Zag Zen, published by Synergetics Press is being launched at the Rubin Museum of Art in New York on Wednesday, June 17th. Get a personalized copy of this groundbreaking book when you join authors Allan Badiner, Alex Grey and Julie Holland at the Rubin to discuss the deep spiritual connections between psychedelics and Buddhism.

Electronic Music Training at CoSM
Derek Van Scoten, aka DVS, great friend of CoSM, has performed his amazing blend of live guitar and electronic mixes at numerous CoSM events.  Now DVS is sharing his Ableton wisdom in a special workshop on live looping, performing and music production at CoSM.  Sign up and study with this skillful wizard to advance your musical mastery. Music, art and the exquisite nature of June in the Hudson Valley weave together a memorable opportunity for musicians at CoSM.


Summer Solstice
Summer Solstice tickets are still available and going fast.  Purchase tickets online now (before it is too late) for this annual multi-sensory extravaganza in the CoSM woods.  Come for the opening at 8pm when we will share a multicultural perspective on the Solstice, followed by live-painting and performances by many friends.  Check out all the extraordinary music producers and performers.  Align with the Cosmos and celebrate the longest day of the year at CoSM!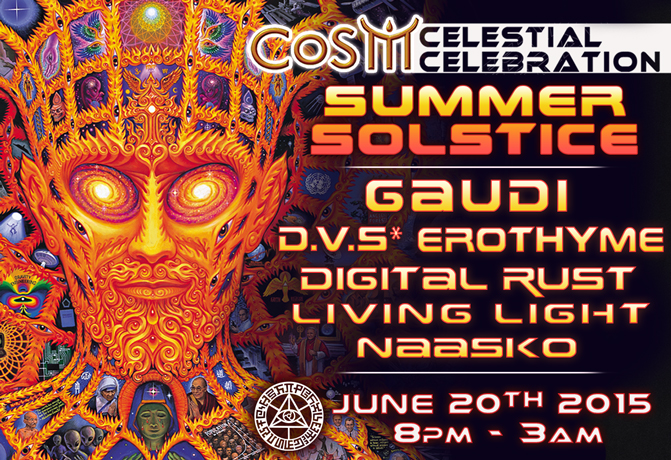 Much Love,
Alex & Allyson